Hello my dear readers here is next chapter. Hope you all like it 
Previous episode links
Episode 5 https://www.tellyupdates.com/meri-jaan-hain-woh-episode-5/
Episode 4 https://www.tellyupdates.com/meri-jaan-hai-woh-episode-4/
Episode 3 https://www.tellyupdates.com/meri-jaan-hai-woh-episode-3/
Episode 2 https://www.tellyupdates.com/meri-jaan-hai-woh-episode-2/
Episode 1 https://www.tellyupdates.com/meri-jaan-hai-woh-episode-1/
Recap: Sonakshi is admitted in Rohit's hospital. Kartik saves Naira from goons. Naksh gets back home and gives a nod to Adi and Zoya's relationship.
Episode starts
Shooting spot Next morning
Virat and Zoya are engrossed in their mobiles when a set assistant runs to them
Virat: Arrey arrey calm down yaar..why are you running like this?
Set Assistant: Sir…Sonakshi mam had an accident in the sets so we are double checking everything 
Zoya: What? How is she now?
Set Assistant: She is admitted in the Sippy hospital mam
Zoya is shocked to hear the name
Zoya: Sippy hossspppiitttallll
She faints. Virat holds her
Virat: Yaar….yaar…Zoya….
He lifts her
and takes her inside the caravan
Few minutes later Zoya gains consciousness 
Virat: Zoya..what happened?
Zoya: Woh naam sunke…it was..where..Raima…Raima lost her life
She starts to weep. Virat hugs her
Virat: Shsh..shaanth..shaanth hoja. Now you have fainted..take your leave and jao
Zoya: Kahan?
Virat: Cricket stadium…Adi ka match hai aaj
Zoya: But…
Virat: Leave na yaar Zoya…
He takes her to the car and whispers something to her driver
Virat: Wish luck to him …
Zoya smiles and leaves from there. Virat gets into his car and gets off. 
Garden Cafe
Manvi , Ritik and Shivanya are sitting in the cafe waiting for their coffee
Ritik: Thanks yaar Manvi
Shivanya: Haan Manvi, without your efforts this duffer would never have proposed me
Manvi: So this is a thanksgiving treat right?
Ritik: Yeah kind of
Manvi: So Shivanya this IPS officer is your responsibility, take care of him . And most importantly be with him forever. Dont let him go anywhere else without you.
Saying this she laughs and winks at them. Just then her mobile rings
Manvi: Hello
Viren: Manvi…an important source will be coming to our office regarding the girl whom Prerna told but Im going for a very important meeting 
Manvi: Ill go Jiju
She disconnects the call
Manvi: Sorry guys…got to go
She gets up and leaves. In a hurry to go she runs and slips on the way. The files in her hand fall making papers fly
Manvi: Arrey…..
She gets up rubbing her hurt knee but slips again, this time a hand holds her. She looks up to see Virat. Thats it she is awestruck
Manvi in mind : Is this really Virat? Am I dreaming? 
Virat pulls her up on her feet
Virat: Hello miss….hello….
Virat shakes her and brings her to senses
Virat: Careful miss..what happened? You were running fast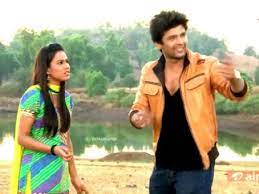 Manvi: Meri pa…pa..papers 
Virat: Okay wait dont run and fall down again
He collects her papers and gives them to her.
Virat: Take care miss
Saying this he walks off. Manvi is shocked beyond words and stands rooted to her spot till her mobile rings and makes her run to her car. 
Cricket Stadium, 3 pm
Adi is in the dressing room with his team. They are all nervous for the match especially Adi as it is the selection match for the Indian Team. Thats when an attendant walks in
Attendant: Adi sir , someone is waiting for you in the lounge
Adi : Okay Ill go
He walks to the lounge and finds Zoya standing near a pillar waiting for him. He walks behind her and pulls her from the back to a corner 
Zoya: Hel..
Adi turns her towards him
Zoya: Adi..tum…
Adi: Haan mein…your hero
He slowly bends to kiss her
Zoya: Its a public place 
Adi: Chodo na..sab…
Zoya: Aren't you tensed for the match?
Adi: Seeing you all tension disappeared. Now all I need is my energy tonic
Zoya: And whats that?
Adi: 15 ml of romance 
He kisses her on her cheek
Zoya: Ab bas hogaya na romance. Go and get ready for the match. You have to get selected for the team. Once you do it..we can make ourselves public
Adi: When you are here , Ill automatically get selected 
Zoya: How?
Adi: You are my lucky charm darling. Your presence is enough for my victory . I love you
Zoya: Love you too Adi 
Just then toss announcement happens. He gives a quick peck on her forehead and runs towards the dressing room. Zoya settles in the lounge . The scene freezes.
NGO Office
Manvi reaches the office and finds Prerna there
Manvi: Dii…what happened?
Prerna: Found out about that man
Manvi: And he is?
Prerna: That scoundrel's name is Naveen. He is trying to marry his sister's daughter, who already loves someone else
Manvi: What a guy ? Yuck…
Prerna: Not guy..the girl is 19 while he is 50
Manvi: What? And the girl is forced for marriage?
Prerna: Thats right
Manvi: Dont worry di..we will save her with the help of law
A lady is hidden from their view and is listening to their conversation. She calls someone and informs the same. The scene freezes 
Hospital, Night 11 pm
Sonakshi is in bed while Kartik is with her
Sona: Kartik…lets better go home yaar
Kartik: Shut up di. You need rest. Chup chaap rest karo
Rohit: Please listen to your brother 
Sona is shocked to find Rohit there at that time
Kartik: Doctor…
Rohit: Came to see whether the super woman Parvati has recovered so fast …the way her husband underwent an open heart surgery in the show
Sona: What?
Rohit: Yeah ..I saw how your Devi Maa comes into you, you operate your husband and he speaks soon after the surgery . So she didn't heal your hand and leg that fast?
Kartik laughs as he hears this. Sona stares at him after which he tries so hard to stop laughing 
Sona: Its a show sir..
Rohit: But shows should show possible things only…how can someone do a surgery so easily after praying to God while a surgeon who studied for years struggles to finish every surgery 
Sona: Maybe the surgeon has to study well. Uneducated surgeon will definitely struggle 
Rohit: Are you making fun of a doctor?
Sona: If you make fun of my profession, I will definitely give it back
Rohit is about to tell something when Kartik intervenes
Kartik: Sir..its pretty late in the night. You have come all the way to see your patients..please dont tense yourself and di..stop it..please
Sona turns her face away. Rohit makes a stern face, examines her and leaves from there.
Few hours later
Kartik is sleeping in a bed so peacefully. Naira walks in with a tray with coffee and wakes him up
Naira: Good morning love
Kartik smiles and wakes up
Naira: Get up sir
Kartik: Hayee what a beautiful morning. I wish every morning is like this. 
He holds Naira closer
Naira: Brush toh karo
Kartik: Before that app paas toh aayiye
Naira laughs and pushes him down
Kartik falls down with a thud. He opens his eyes to find himself in the hospital room. 
Kartik in mind : Why am I in the hospital for just a small push? Where is Naira
He is about to call out for Naira when reality strikes him. His head pains and he holds it
Kartik: Ouch…so it was a dream…but how realistic….kaash…
He blushes on thinking of Naira. The scene freezes 
Precap:
What happened to Adi's match?

Naveen lusts for Prerna

Naksh apologises to Rohi 

Naira's dream project