Hello friends. Here is the new ff of mine. I hope you people will enjoy this ff like the previous ones too. Kaira will be main lead while Urvashi will be starred in role named after her. Few other characters are added to whom you will get introduced during the course of the story. Let's go to story now.
WEDDING VENUE ( BIKANER)
A girl of 25 is running here and there.
Woman: Ruhi..Ruhi…beta…
The girl who was running is revealed to be Ruhi
Ruhi: Ji…Ishima
The woman is Ishitha. Ruhi's mom ( Here Ruhi is Ishitha's own daughter)
Ishitha: Go and see if Naira is ready or not
Ruhi: Sure Maa…
Ruhi runs to a room. A girl of her age is getting ready. She is revealed to be Naira and it's her wedding today.

Ruhi: Naira..are you ready
Naira: Yes ..am I looking good
Ruhi: You look gorgeous my dear
A guy enters the room. He is Naksh Naira's brother
Naksh: Naira..are you ready for this marriage..you know na Kartik is a struggling actor…he has denied his family business and financial support..this wedding is because….
Naira: Bhai…I know…but I love Kartik..and I know him too..he has been my childhood friend..his life is in cinema and he doesn't want anyone to disturb it that's why. Moreover I love Kartik if he is successful or not..I  can't unlove him as he is not a successful actor yet
Another guy comes there too..He is Aditya Ruhi's brother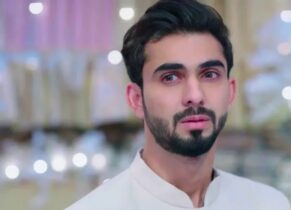 Aditya: What about Urvashi huh
Naira: She is…
Ruhi: Bhai log leave na…It's her wedding today..Naira will definitely make Kartik successful and succeed in her love too
Naitik comes there.
Naitik: Naira beta…( He is stunned to see a beautiful Naira.)
Naksh: Papa…
Naitik: Princess baraat has come. Get ready soon
Naitik takes Aditya and Naksh with him. The scene freezes.
Naira is taken to the mandap. She is so happy to see that Kartik and her dream wedding is happening.
Varmala is brought and Kaira exchange the garlands and the wedding rituals take  place.

Kartik fills Naira's hairline. Naira's eyes get wet in happiness.
Kartik's face show no reaction. But Naira's eyes are fixed on Kartik throughout the function. She is admiring him.
Ruhi: Naira…don't eat him through your eyes…he is legally and ritually only yours..you have an entire life for it
Naira blushes.Ruhi hugs her.
Naitik and Akshara get emotional. Raman and Ishitha console them. The scene freezes.
Scene shifts to Kartik's bedroom in Goenka house. It's all decorated for the first night. Naira is inside. She is nervous, excited and what not. Her heart beat gets faster as Kartik comes there.
Kartik goes to Naira
Kartik: Naira…
Naira: Kartik..
Kartik: I….
Naira: Kartik..I know ..I don't except anything tonight..I know why you agreed for this marriage.
Kartik's face turns sad.
Naira: Kartik..don't worry about anything. I am happy with being here with you this moment.
Kartik: Naira tomorrow morning we will be going to Mumbai..it is a single bedroom apartment…
Naira: Kartik I know about life in Mumbai so you don't worry
Kartik smiles at her.
Kartik: You can change in the restroom over there while I change here.
Naira grabs her clothes and gets inside the restroom.
Sometime later Kartik and Naira get changed. Kartik grabs a blanket and goes to the couch
Kartik: Naira..you sleep on the bed I'll be sleeping on the couch.
The lights get off and Kaira settle down to sleep. The episode freezes.
PRECAP: KARTIK AND NAIRA ARE THE AIRPORT. KARTIK GETS IRRITATED  ON SEEING A MAGAZINE. WHY?
HELLO FRIENDS PLEASE TELL YOUR VIEWS ON THIS EPISODE IN THE COMMENTS BELOW.