Woh Chaand Toh Mein Hoon – HER LOVE FOR HIM (EP2)
Hai friends thank you for your overwhelming response to the first episode. Please keep supporting. And here is the next episode.
Its next morning and Naira is getting ready for her flight when Naksh comes there. He hands over a key to her
Naira: Whats this bhai
Naksh: The key for our villa in Mumbai
Naira keeps the keys on the side table
Naira: Bhai..I already old you that I am going to live the life which Kartik is living. I'm his life partner. I am going to share everything. Please don't show him down like this. He is a talented actor and one day ek villa kya he will own a great house like Mannat in Mumbai
Ishitha and Akshara come there
Ishitha: Well said Naira. This is what every wife should learn. Akshara your daughter is your chavi
They bless Naira as she leaves the room with her luggage.
Aditya: Naksh I am afraid for Naira
Ishitha: You need not Adi. She is a responsible and matured girl. Moreover she loves Kartik that's what takes for a happy marriage
Adi: But Kartik …
Ruhi: Don't worry bhai..love always finds the right way
Raman: Exactly take our case your Ishima is a Tamilian and I am a punjabi we got together only because of love. You both be happy. Naira will manage herself.
Just then Kartik and Naira come to get their blessings. The scene freezes.
Kartik and Naira are at the airport.
Announcement: For the kind attention of the passenger the flight number ******** from Udaipur to Mumbai is delayed by an hour. Passengers are asked to collect their refreshments from the counter number 5
Naira: Kartik..I'll get them for us
Naira goes to get the refreshments while Kartik sit in a chair and grabs a magazine.
He starts flipping it…pages go by and…he is shocked to see
Article: Zarurat fame Actress Urvashi spotted at the airport with the director of the movie who is
also her rumoured boyfriend. Seems like Urvashi and Ishaan fell head over heels with each other when they met on the sets of the movie a year ago. Currently Urvashi is acting in Ishaan's next  movie Ishq which also stars Ishan as a male lead.
He gets irritated and throws the magazine away.
Just then Naira comes there
Naira: What happened Kartik
Kartik: Nothing
She keeps the snacks down and sits near him
Naira: Kartik..Yes your dadi wanted us married and we got married but that doesn't change the fact that I'm your childhood bestie. From a small scolding to big dreams we spoke everything. Then why don't you share your worries with me. Don't ever forget that I'm your friend.
Kartik shows her the article.
Kartik: I never …never thought …she will…will…break my heart …I love…sorry loved her..lot
Naira in mind: Kartik…I know you loved her but..she isn't worthy for your love. I will give you all the love you deserve and one day you will too tell me that I love you Naira and that is the day when I'll confess my love to you
Kartik rests his head on Naira's shoulder and cries.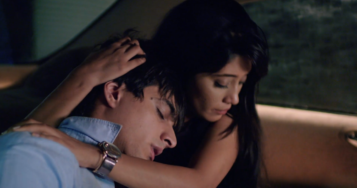 The episode freezes
PRECAP: ITS NAIRA's GRAHAPRAVESH
HEY GUYS DO YOU WANT KARTIK AND URVASHI's PAST AS A WHOLE FLASHBACK OR AS SMALL SMALL SCENES . DO MENTION IN THE COMMENTS AND DONT FORGET TO  TELL YOUR VIEWS IN THE COMMENTS.