Hai friends I never expected this much love for the first episode. Thank you so much for it.
Mishti is looking at the muffler and tears are rolling down her eyes. She sees the initials  AM on it and remembers Abir while Abir is sitting inside his room on a couch looking out at the snow fall. He too thinks of Mishti and the flashback rolls on
7 years before: Abir is working as a Lieutenant in the Indian Airforce. He is flirting with a girl while his friend rushes
Rahul: Hey Abir…Abir
Abir: What man
Rahul: Naman Arora ..has come to meet you
Abir: Naman Arora…Arrey Vivek's dad
Rahul: Haan
Abir goes to meet Naman
Abir: Namaste uncle
Naman: Namaste beta.. I came to tell you that Mishti has joined in a hospital here
Abir: Mishti..Acha..Vivek's sister he has told about her
Naman: I tried to stop her but she said that she wants to live in the place where her brother lived in his last days. I don't know anyone other than my father in law and you here. Please take care of her.
Saying this Naman leaves. Abir is excited to know about Mishti's arrival. Just then the girl he was flirting with asks for a lift.
He takes her in his jeep and his speeding car meets with an accident. Abir gets unconscious while the army forces are alerted about the accident. The rescue team takes him to the hospital
Meanwhile at the hospital
Mishti goes there with her documents.
Mishti: I'm doctor Mishti Arora . I have come to report today
Just then Preesha comes there
Preesha: Hello doctor Mishti..doctor Sania told that you will be coming today. By the way I'm doctor Preesha from Chennai
As they are talking Abir is rushed in
Rudraksh: Preesha..Preesha
Preesha: What happened Rudra
Rudraksh: AM had an accident he is bleeding profusely and is unconscious too do something
Preesha and Mishti run to Abir. On seeing Abir in that state Mishti gets emotional without her knowledge
Abir is taken inside and treatment proceeds when Preesha's phone rings. She gets news that her mom fell ill and rushes home with Rudra.   Mishti stays with Abir the whole night.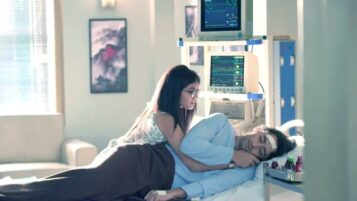 Mishti is brought to reality when Rithu comes to her with her notebook
Rithu: Muma…muma…
Mishti keeps the muffler inside and wipes her tears
Mishti: Haan beta
Rithu: What is the meaning of AM
Mishti: Abir Mehra
Rithu: Does 9 am mean that
Mishti hits herself on her forehead
Mishti: Beta that means morning 9 am. Acha..you have your homework na..let's do it now.
Mishti takes Rithu with her. The scene freezes.
Preesha is sitting with a book on her bed when Rudra comes there
Rudra: Preesha
Preesha doesn't respond
Rudra shakes her
Preesha: Rudra what happened
Rudra: Where are you lost
Preesha: Rudra.. I'm worried for Mishti..what if
Rudra: No no don't talk like that Abir will be safe
He consoles Preesha.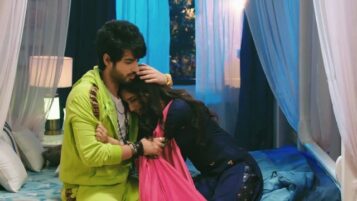 The episode freezes.
PRECAP: MISHTI GETS TO KNOW THAT ABIR IS BACK TO INDIA SAFE.
HEY GUYS PLEASE MENTION YOUR VIEWS ON THIS EPISODE IN THE COMMENTS BELOW.