Woh Apna Sa Review: Just another family drama filler with strong cast
Zee TV's new show Woh Apna Sa brings a mature take on relationships involving a love triangle with a third person titled 'Woh'. It is a different story, because of many perceptions attached. When a life partner is wrong, life for a person gets spoiled. In such case, the entry of new love means a fresh breeze and hope. The story revolves around Aditya, Nisha and Jhanvi.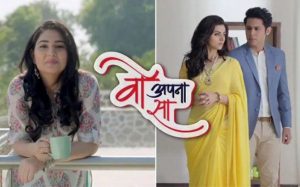 Aditya is married to Nisha. His marriage is a disaster. Aditya has realized it and is helpless to do anything about it. On the other hand, Jhanvi is a real gem who enters Aditya's life to help out his family. Aditya and Jhanvi connect, while Nisha plots and executes her mad games. Jhanvi becomes Woh in a supposed happily married couple. Problems arise in Aditya's home by Jhanvi's entry. Jhanvi and Nisha get judged to know who is perfect life partner for Aditya.
Main Characters:
Aditya Jindal: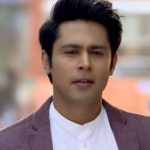 Aditya is a loving, caring and a simple person. He loves his family a lot. He manages the family business, and also does a good son's duties. He is raised by Kaka and Kaki, and is indebted to them for giving him parents' love. Aditya takes care of his ill father, while he lost his mother at a young age. He can never imagine to hurt his family sentiments. He realizes his life's biggest mistake was to marry Nisha. Even though, he has to silently live his life with the wrong life partner for family's sake. Aditya does not love Nisha, but tolerates her for the sake of family and children. Aditya meets Jhanvi and falls in love with her.
Nisha: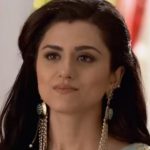 She is Aditya's wife. She is a very scheming and evil minded woman. Nisha is selfish, greedy, disloyal and disrespectful. She has all the negative attributes, which she covers up by her sugary sweet image. She plays a good bahu and good wife role in front of her inlaws. Just Aditya knows Nisha's true face. Nisha always threatens Aditya about hurting her inlaws. Nisha lives life on her own terms. Nisha can go to any extent to fulfill her wishes. She parties with her friends on name of puja. She does all the devilish things to give shocks to Aditya. She is sure Aditya will never hurt his family by exposing her truth, and plays with his emotions.
Jhanvi: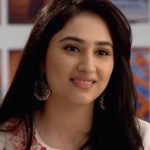 She is a sweet, simple and lively girl. She talks a lot and always does drama. She is genuine and does not pretend anything. She loves her family a lot. Jhanvi does not like to become reason to break anyone's family, after realizing her mother's pain. Jhanvi's mother has raised Jhanvi and her sister Surbhi alone, after their father left their mother for another woman. She respects elders and holds good values. She spreads smile along and is very helpful. Jhanvi defines a perfect life partner. She possesses all the good qualities one would like to see in wife or bahu. She does not have high expectations from life, and takes life as it comes.
Cast:
Disha Parmar as Jhanvi
Ridhi Dogra Vashisth as Nisha
Ssudeep Sahir as Aditya
Amit Behl as Kakusa
Story So Far: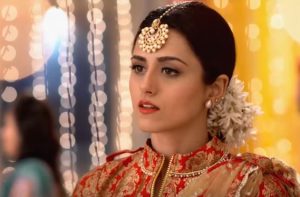 Aditya's wife Nisha is seen doing all the arrangements in Raj and Neha's wedding. Kakusa and Kakima are happy for their son's marriage. Nisha impresses everyone. Kakusa asks Aditya and Nisha to welcome the newly weds Raj and Neha. Aditya asks Kakusa and Kakima to do the rituals as its their right. Kakusa calls Aditya and Nisha as Shiv and Parvati. Nisha is much loved and respected. Aditya asks Nisha about Babasa. Nisha tells Aditya that he was in car. Aditya does not find Babasa and leaves in car to find him. Babasa gets troubled by street dogs. Jhanvi passes by. She spots the dogs troubling the elderly man. She saves him from the dogs. Raghav looks for Babasa everywhere.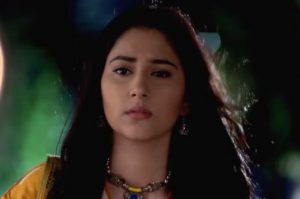 Jhanvi asks Babasa to come out, as the dogs have gone. Babasa gets her bracelet and likes it. He keeps it along. Aditya feels frustrated to be so irresponsible. Jhanvi gets a card from Babasa and calls Jindal's home. Nisha answers the call. Jhanvi asks her to pick her family member Babasa. Nisha disconnects the call. Nisha lies at home that she is going to look for Babasa. She takes her kids to chinese restaurant. Jhanvi gets address from Babasa and goes to drop him home. Nisha spots them and takes Babasa home to get all credit. Nisha nicely talks to Jhanvi and sends her off.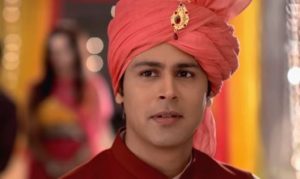 Aditya hugs Babasa. Nisha acts to get sympathy and makes a false story. Jhanvi comes home and falls in her sister's plan to scare her. Her mom cries and tells her that goons have kidnapped Surbhi. Jhanvi worries knowing Surbhi is missing. Surbhi and her mom try to stop Jhanvi. Jhanvi catches their drama and asks them to lower their overacting. Jhanvi tells Surbhi about dropping Babasa, and meeting Nisha. Aditya confronts Nisha for having chinese food at the time when Babasa was lost. Aditya shouts on Nisha for taking kids along and presenting a bad example. She asks how can he expect her to take care of Babasa. He tells Babasa was your responsibility. She does not have humanity and asks him to see his family himself.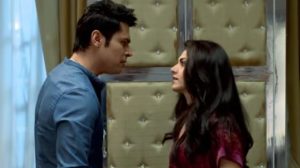 She admits she is a devil. She asks him to be a man some day and tell family that his wife is a devil. Aditya tells her that he can never tell her truth to his family as he can never hurt them, that's why he is bearing her since eight years. Aditya talks to his daughter and presents Nisha's good image. He has Jhanvi's bracelet with him, which he found in Babasa's hand. Nisha goes to greet Kakima in morning and praises her sweetly. Kakima finds Nisha a perfect bahu. Nisha tells Aditya that Kakimaa thinks good of her. She wants to live like a princess and enjoy her life. Nisha and Aditya get into an argument. The new bahu Neha's Muh Dikhai ceremony is kept.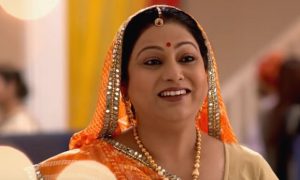 Nisha asks Kakimaa to make Neha wear their ancestral necklace. She impresses Neha. Aditya leaves kids to school. He sees a dog running in middle of the road and runs to save the dog. He feels the dog came under the truck and worries. He then sees a girl/Jhanvi taking care of the dog. Nisha gets Neha for Muh Dikhai ritual. She stops Kakima and tells Kakima should start the ritual, but I want Kakimaa to do the ritual at last. She asks Kakima to give her any gift she asks. Kakimaa agrees as she blindly trusts Nisha.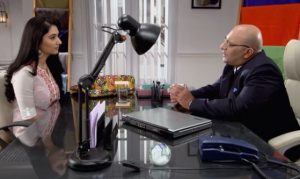 Jhanvi comes for an interview at Aditya's office. Kakusa takes her interview. Aditya does not see her. Jhanvi answers about life and colors, saying life is colorful, its like a movie, every color gets a story along. Jhanvi's words impress Kakusa. Jhanvi's values are seen. She talks of respecting elders. Kakusa gets impressed and gives her the job. Nisha tells everyone that Kakima is Yashoda Maa for Aditya, after Aditya lost his mother at a young age, Kakima never thought for herself and always thought for others. Nisha talks emotional and says its time we children take care of Kakima now. She wants to free Kakima from duties. She asks Kakima to give the house duties to Neha, who is like a sister to her. Kakima asks how can I give keys to Neha, when Nisha is elder bahu. Nisha asks Kakima to give keys to Neha and not refuse her.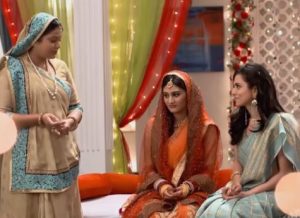 Kakima hands over keys to Neha as Muh Dikhai gift. Everyone praise Nisha to be such a loving and caring bahu. Jhanvi informs family that she got the job. They decide to go out for treat. Nisha helps out Neha in kitchen. She influences Neha by her sugary talk. Neha feels lucky to get Nisha as her sister in law. Nisha asks Neha to help her in binding the house with love. Nisha finds Jhanvi's bracelet in Aditya's coat. She calls up Aditya to ask about the bracelet. She doubts if he has an affair. Aditya tells her that the bracelet belongs to the girl who found Babasa. They have an argument. Jhanvi eats chaat with family. Jhanvi thinks to meet Babasa. Her mom asks Jhanvi to meet him by excuse, as Babasa has her bracelet.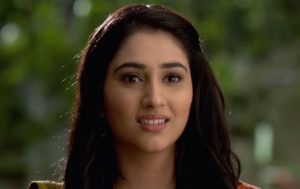 Jhanvi goes to meet Babasa and get her bracelet. Nisha asks Aditya about the bracelet in front of the family. She thinks how will Aditya tell them her lie that a girl found Babasa and Nisha has acted to find him. Kakima tells Aditya would have got this for you. Nisha sounds upset and tells them that Aditya did not give it to her. Babasa says its mine and takes it. Nisha asks him to leave it. Babasa snatches the bracelet and it breaks. Aditya tells Babasa that bracelet will remain with him. Jhanvi reaches there. Aditya takes Babasa to room. Nisha checks at door and meets Jhanvi. Jhanvi asks whether she can meet Babasa. She tells about Babasa having her bracelet, if she can have it back.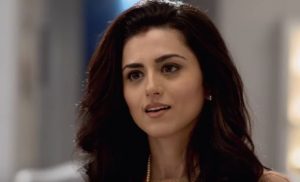 Nisha tells Jhanvi that Babasa got calm by your bracelet, he liked the ghungroo sound. Jhanvi asks Nisha to let Babasa keep the bracelet. Nisha asks Jhanvi to come later to meet Babasa. Nisha tells Aditya about Jhanvi coming to meet Babasa. Aditya rushes to see the girl who helped Babasa. Jhanvi helps a begging boy on the way. Aditya calls her out. Jhanvi leaves in taxi. He misses to see her. Jhanvi comes home. Surbhi gets annoyed that Jhanvi did not get her favorite bracelet back. Jhanvi tells her about Babasa got unwell, Nisha said Babasa was finding peace with bracelet ghungroo sound, so she did not insist Nisha to return bracelet. Surbhi understands situation.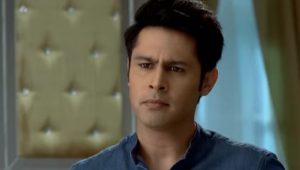 Nisha argues with Aditya. She wants to own everything, money and power in her hands. She asks him to sign and name this house and CEO post to her, so that they both live happily and kick out the family members. Aditya burns the papers, shocking Nisha. Jhanvi's father turns up at home to give them cheque for expenses. Jhanvi's mom refuses to take his help. Jhanvi reminds him that their relation ended when he left their mom to marry someone else.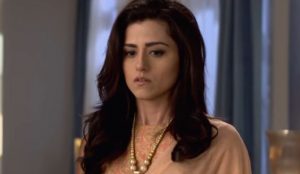 Kakima comes to talk to Nisha and Aditya. They appear happy in front of Kakima. Kakimaa informs Nisha about puja kept for Raj and Neha. She asks Nisha to make prasad and see all arrangements. Nisha asks Kakima not to worry. Kakima blesses her. Aditya asks Nisha not to do anything wrong. Nisha makes a party plan with her friends. Jhanvi and Surbhi cheer their mom by dancing. Jhanvi wishes she never becomes a reason for any family breakup. Aditya prays for his family's peace, happiness and unity.
Our Take: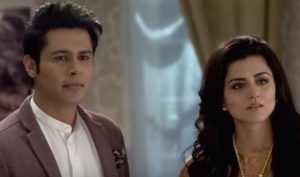 The show marks the comeback of three talented lead actors, Ridhi Dogra, Disha Parmar and Ssudeep Sahir. Concept is clear in first week episodes itself. There is nothing sort of suspense or curiosity factor to witness any big changes in story. Character definitions are not much unique. Talking about leads, Ridhi plays Nisha's negative character perfectly. Ridhi's wonderful acting talent surprises viewers, as her role of Nisha is dual faced. Viewers will like her playing good Nisha and then hate her watching the selfish materialistic Nisha. Ridhi surely shines out in her cunning Chameleon character.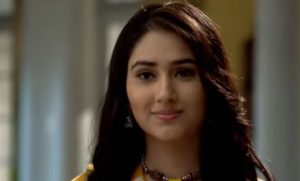 Disha and Ssudeep's characters are very much positive. They don't have much to exhibit their talent. Disha's character Jhanvi relates much to her girl next door role in Pyaar Ka Dard Hai. Ssudeep is a natural in every frame. He leaves a strong intense impact by his smile and even anger. His character Aditya is much lovable. The actors and their chemistry are the USP of the show. The show is simple, yet bit different. One may enjoy watching it for a couple of times. The twists by antagonist Nisha can be expected to take show higher in terms of drama.
Overall: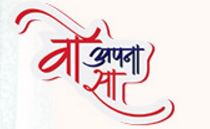 It's a normal family drama. There is nothing much to offer. The leads win the heart. Love triangles, hunt for true soul mate, sobbing marriages and wrong life partner issues are the highlights of most shows these days. It brings a simple-begin love story. One may go for Woh Apna Sa for a change.
Our Rating:
2.5 out of 5
Feel free to post your reviews in comments below. All off-topic comments will be deleted.