Tumse hi… kaira & keesh Ff – Episode 2
Naira was in her room when her phone rings.. The screen flashed 'Kartik' . Naira in a hurry took the phone..
Naira : Did you talk to your parents..??
But unfortunately it was not kartik but it was suwarna..
Suwarna : I am kartik's mom..
Naira ( a bit embarresed) : Namaste aunty
Suwarna : Naira.. kartik has told us everything.. but ..
Naira : But.. what..
Suwarna : Before we come .. we should take the permission of other members also so we need a little time..
Naira : Ji.. aunty baise bhi.. i also have to talk to my whole family about this..
They both wishes eachother and cuts the call
Just then Naksh enters her room.. From his face it was clear that he is very happy about something..
Naira : Kya baat hai bhai.. i think you are quite happy..
Naksh : You will be also happy after hearing this news…
Naira : What news..??
Naksh : Gayu is back …
Naira : Sacch mein.. Gayu di aa gaya..
Naksh : Yep.. Naira and we are going to udayipur today itself..
Naira and Naksh shares a hug..
—-:
GOENKA MANSION..
Suwarna : Manishji.. i hace talked to Maa.. about that girl.. but i don't think she liked it
Manish :  I know maaji won't like it.. afterall she won't understand the idea of love marriage and all.. i think thats why she invited us all of sudden..
Keerti enters there..
Keerti : Pappa.. We have packed the bags..
Manish : Yeah.. we are also ready. lets move..
---
UDAIPUR…..
GOENKA MANSION..
Suhasini is happy to see her elder son and family..
She hugs each and everyone except keerti.. Keerti does feel bad about this but she tries to smile..
Dadi goes near kartik..
Dadi : Come and sit with me.. I have something to talk with you..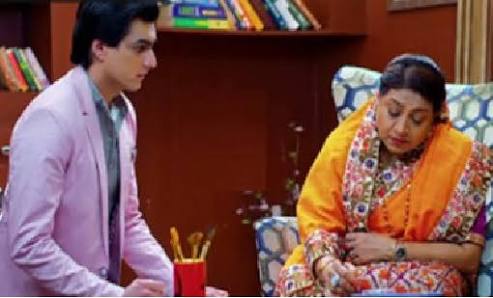 Dadi : Its time for you to get married kittu..
Karthik : I know dadi.. infact i have talked about her to mom.. and i am sure that she have informed you..
Dadi : Ofcourse.. Suwarna said.. but sorry kittu.. I have already given word to a family..
Karthik :Dadi.. you should have atleasr asked me..
Dadi : Today.. we are going to meet them.. and please don't embariss me there.. I have laready done with one… (she looks at keerti).. If anything like that happen.. then … no one will see me alive..
---
SINGHANIA MANSION..
Naira , Naksh & Naitik comes to sighania mansion and all were hapoy to see them..
Naira and Naksh took blessings from Dadi , Badi dadi , Dadiji.. She went and huged her karishma chachi and Naman chachu..
Naira was searching Gayu.. who was missing
Naira : Gayu di khaha hai..
Gayu suddenly comesout ..
Gayu : Mein yaha hoon Naira..
Naira : Gayu di..!!!
They goes and hugs eachother…
Naksh : I think they have forgotten me..
Gayu : No.. how can we forget you..
The trio joins in a hug..
Naitik : Choti maa..  Maa.. aur babuji nahi aayi..
Choti ma : Woh.. Rajashree is having some health issues..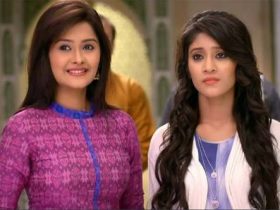 Babhi maa : Don't worry Naira .. she is fine.. she just needs a little bed rest..
Naksh : Mishti kaha hai…
Karishma : Wo school gayi hai.. Aaj uski exam katam ho raha
Naksh : That means …
Naira : Masti..
Babhi maa :Ji nahi..
Dadaji : There is good rishta for..
Naira ( in gauys ear) : Congrats di..
Gayu looks at her confused..
Naitik also looks at Gayu..
Naitik : If its a good rishta we can move forward..
Choti dadi : Ah.. they are coming to meer her today evening…
Naira : Today evening.. oh gayu di we have a lot to do.. Come na..
Badu dadi : Shuru hogayi enn bacho ka..
---
GOENKA MANSION..
Karthik was in his room he was quite angry and sad.. Shubham and Keerti were on his side..
Shubham : Yaar how. could babhi do this na..
Keerti : We all know that its not easy for dadi to digest a love marriage .. she always believes in arrange married..
Shubham :Yeah.. but why can't she understand.. Di..You are also..
Karthik : No.. shubham.. i know what i have to do… I will say no.. I don't care about the consequences..
Shubham : We are also with you bhai..
---
SINGHANIA MANSION..
Naira is in her room showing dresses to gayu..
Naira : I don't understand.. what will I wear.. gayu di what are you wearing..
Gayu : I haven't yet decided..
Naira : Aaree.. Go and decide .. after all  you are Naira's sister.. and you should be perfect..
Gayu : Okay.. Naira cool..
Gayu goes out of the room. where choti dadi comes to her..
Choti dadi: Kush hai….???
Gayu : Ji dadi .. bahut kush hai..