TROUBLESOME LIVES AND UNENDING LOVE TALES – PART 22
AT UDAY'S HOME
Amith [ mind voice] I think Uday has seriously taking the pic. Kahin yeh apni behan ke liye mujhe ?
Uday : Amith, your coffee,
Amith : Thanks
Uday : Kyat tum ? Coffee banane waali ko thanks bolo
Amith ; Ji
Hi Sir
Avantika smiles and looks Amith
Uday : Mera hamesha se yeh sapna raha hein kee yeh Avantika chabra se Avantika kumar bane .
Amith : Uday let me clarify things. I think you are expecting so much .But I am not like that.
Uday : Tum doctor ho aur kya chahiye mujhe ?
Amith : Kya mein Avantika se 2 mnts privately baat karun ?
Uday : Why not ? Yahan mein , meri behan, dadi aur judo rehate hein. Aur koi nahi
At balcony
Amith : How should I tell you , but Avantika I am sorry. Tum mere liye sirf ek acchi friend ho.
Avantika : Mein samajh sakti hun, Infact aapke chehre se hee samajh gayi kee aap mujhse pyaar nahi karti
Amith : Avantika I don't know
Avantika : Wait wait wait aapko kuch kehane kee zarurat nahi hein. I knows that you are in a dilemma. Thing is my bhai just mistook me while reading my article about you, seeing your pics at my fb post and all.
Amith ; Article ? Kahin aap sunday times magazine kee editor toh nahi ?
Avantika : Aapne mujhe sahi pehchana. Mein reporter bhi hoon.
Amith : How can I forgot that it was you who did my interview for unknown heroes – right ?
Avantika : You remembers article and interview, but forgets the one whose effort behind it.
Amith : Sorry, next time onwards won't forget you. Nice to meet you.
Avantika : Toh kya irada hein aapka ?
Amith ; Matlab
Avantika : I mean you have to think about your life. Your engagement which was broken because of me naa
Amith ; No don't think so. She is possessive but not like the way you think. Actually it's not the picture  which you captured with me and neither your article. The matter is else.
Avantika ; Then why don't you sort out things with , what's her name ?
Amith : Bhavya
Avantika : So go and talk with bhavya. Mein baat karoon ?
Amith : Sure. Shayad who aapki baat samjhegi.
Avantika : So let's be good friends
Amith ; Yeah.
They hold each other's hands and smiles …..

Amith : Kahin maine aapke dil ko thoda to nahi
Avantika smiles and nods her head in sign of No
Amith : Aaj se hum donon acche dost honge. And thanks again kee aapne mujhe acche se samajh liya
Avantika ; Dost hoon , apni dost ko pareshaan nahi dekh sakti….So keep smiling
Musu Musu Hasi Deu Malai Lai, Musu Musu Hasi Deu
Jara Muskura De Muskura De, Jara Muskura De Ay Khushee
Gham Baat Lee Too Apne, Hamase Too Le Hansee
Ho Gaye Ham Abh Tere, Too Ho Gayee Apani
Musu Musu Hasi Deu Malai Lai, Musu Musu Hasi Deu
Jara Muskura De Muskura De, Jara Muskura De Aaye Khushee
Plays…
Uday overhears them and thinks over Bhavya telling him that he is special. He wipes his tears and manages to give a smile .
Scene shifts to an open restaurant which was beside the beach
Bhavya : Kya baat hein Uday tummujhe yahan kyun le aaye ho ?
Just look at them
Amith and Avantika arrives .Bhavya stares them with doubt.
Uday : Meet my sister Avantika
Avantika ; Hi Bhavya
Bhavya : hello
Uday : Arrey kya hello –hi bole jaa rahe ho ? Seedhe come to the point.
Avantika : Amith just do it
Amith takes red roses and looks Bhavya.
Amith : Bhavya I can't resist myself more. So as you know me meri life mein koi nayi girl aane waali toh hei nahi. It's always you and I think it's high time we should break the barriers of ego and should unite.
Bhavya : For you it may be easy Amith. But I am not like that.
Uday : Bhavya let him speak well. Yaar kya tum bhi FACE BOOK ke pics ko reason banakar break up kee?
Bhavya : Baat uss pic kee nahi and I don't have any issues if you both pose for a photo. I am talking about those pic which ruined our engagement. Should I need to explain it Amith?
Amith keeps the flowers on table and looks Bhavya,
Amith : Bhavya , I still say that I am not that type of man.
Bhavya ; What about the proof which I saw before my eyes ?
Amith : Mein aisa aadmi hoon ? Bhavya please think about me well before taking any decision. Please Bhavya think about the moments which we spend together
Bhavya : How long you go behind those past , truth is visible naa and I believe in proof and truth.
Amith : Bhavya some one purposefully trapped me . I have nothing to do with that girl.
Bhavya : Oh Really? You share your bed with that girl just before the day of our engagement
Amith : Bhavya stop it. It's clearly a nasty offence against me and you are talking too much.
Bhavya : Is it ? Mr. Amith what you have done to me is really disgusting.If you want to make realtionship with a girl then why you put the effort for getting engaged with me ?
Amith : All these are not true.
Bhavya : Then what is truth ?
Amith : I don't know who is that girl. I don't know anything about the video.
Bhavya : My dad committed suicide when my marriage got broken and I will never forgive you for that Amith.
Amith : Bhavya listen to me, please
Amith holds Bhavya's hand.
Bhavya : I hate you Amith, Don't touch me ….And tum log Uday and Avantika I thought you both were besties for me. But you are supporting this man who cheated me. I didn't expect this from you guys.
Uday : Bhavya anger is not a solution for problems. Still you both can sort out matters
Bhavya : Who the hell are you to interfere in my personal life ? Uday I said you as special because I felt you are the real friend, but I got it now that there is no value for love and trust. And let me remind you never ever dare to do this again.
Bhavya walks away.  Amith gets disheartened .
AT UDAY'S HOME 
Avantika : Bhai sach batana tumhein Bhavya bahut acchi lagi thi ?
Uday : Woh toh abhi hein. She is a wonderful girl
Avantika : Aapke dil thodne mein aapki choti behan bhi ko kasar nahi chodi. Sorry bhai. But I think as they are lovers they should be together.
Uday : Meri chod tu apne dil kee baat bata de
Avantika : Bhai it's just crush. Crush and love both are different.
Uday ; Sach bata tujhe bhi Amit se
Avantika : Bhai aap pshycartist ho . And how can I hide from you ?
Uday : Koi baat nahi.Mere liye tum aur tumhare liye hamari choti see duniya aur Yeh Bruno bhi toh saath mein hein
Avantika : Yeah bhai
They hug each other. Bruno comes and bark .
Uday takes Bruno and pats his back
AT MAANAV'S HOME 
It's early morning and Archana arrives Maanav's home
Sachin : Vahini aap, Dada abhi tak so rahe hein
Archana : Sh!! Batana mat.
Sachin : Okay, I got it. That side is his room.
Archana slowly enters Maanav's room and looks Maanav's sleeping face. She finds Maanav searching for blanket. Archu takes the blanket and while trying to cover up Maanav with blanket her hair got stucks at Maanav's shirt. Maanav opens his eyes and looks her.
Maanav : I wish this could happen alwayas so that every morning you are at my body Archu and I could hug you like these .
Maanav tightly hugs her.
Archana : Maanav wake up
Maanav : Naa , I know you are making excuses from me to run away. But today no way archu you have to be with me.
Archana : Woh Aaayee, tumhari aayee darwaze mein.
Maanav : Kya ?
Maanav quickly releases Archu and stood up from bed. Archana laughs.
Archana : Tum apni aayee se itna darte ho , Maanav ? I was just joking only.
Maanav's face become red like an angry bird.
Archana : Sorry But I can't stop my laughter.
Maanav ; Accha itni hasi aa rahi hein ?
Maanav comes more close near Archu and quickly kisses at forehead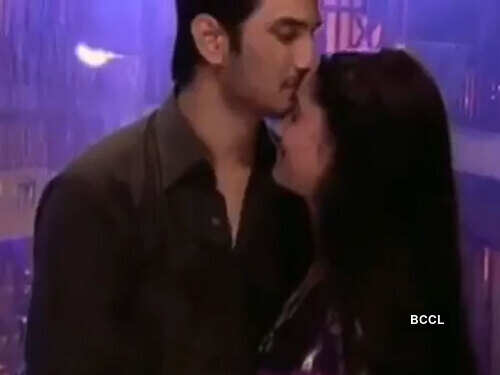 Archana blushes in happiness . She couldn't look him more and she turned her eyes from him. Maanav touches her shoulder. Archana closes her eyes and gently placed her head on Maanav's chest. Maanav smiles and hugs her .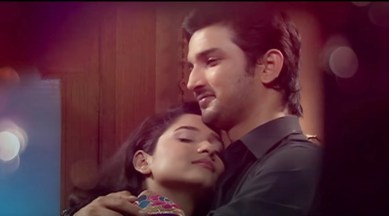 Pavitra rishta plays…..
AT KAPOOR HOUSE 
Tanuja ; Happy that you all arrived so soon.
Mr. Naresh Rana : Tanuja ji , aapko kyaa bataye jab se Harsh missing hein tabh hamari gussa ekduk pighal gaye. Badi Bahu bhi abb nahi hein. Aur Yash ke halat dekhkar socha kee ek baar apne bacche se mil le.
Tanuja ; Ji, so can we fix the date of marriage ? I don't want any delays any more.
Mr. Naresh Rana : Sure . Next week we can make their engagement . Mein aaj hee pandit ji se baat karke shubh muhurat aapko inform karunga.
Tanuja : That's good. Namaste
Yash : Paapa 2 minutes. I just want to
Naresh :Haan haan kyun nahi ? Jaa beta andar jaa
Yash reaches at the kitchen.
Swethlana and Yash looks each other
Yash : Mujhe bas woh dhoodh peda de do Sam
Swethlana : It's in the  plate.
Yash : Not this way. I want to taste it from you.
Yash keeps Peda on her mouth. Yash and Swethlana have the peda and finally when their lips came close Yash gently kissed on her nose.
Swethlana smiles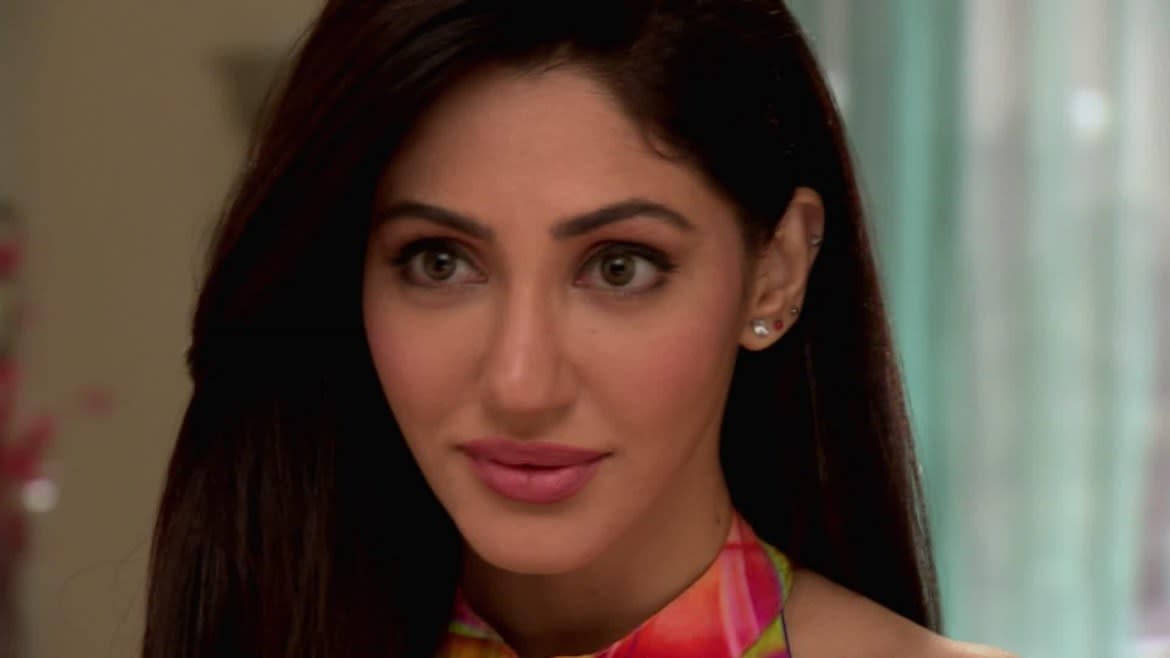 Yash ; Make your lips more sweet as honey Sweet heart. Once we ties the knot I will always eat from your lips
Swethlana shyly keeps her hands over face and turns back. Yash kisses at her neck from back side and holds her hand
"Bheegi see bhaagi see " plays ….
AT OBEROI MANSION 
Jhanvi : Shivaay Anika ko kuch bataya toh nahi hein naa ?
Shivaay : No badi maa. Aap theek hein ?
Jhanvi ; Mujhe kya huwa hein ?
Shivaay ; Aap aaj subah kee coffee nahi lee hamesha bade paapa aapke liye banate hein and
Jhanvi : Aadaton ko chodne ki koshish kar rahi hun Shivaay. Please leave me alone for some time
Shivaay ; Ji
Shivaay comes to hall
Omkara ; Shivaay Mom said anything ?
Shivaay : She is fighting with her pain Om . Itna toh mujhe samajh aaya.
Om gets inside Jhanvi's room
Omkara ; Mom kyaa thodi der aapke godh mein let jawoon ?
Jhanvi : Kyun ?
Omkara ; Bas aapko akeli nahi dekha sakta mein
Jhanvi hugs Om and gets emotional.
Om lie down at Jhanvi's lap.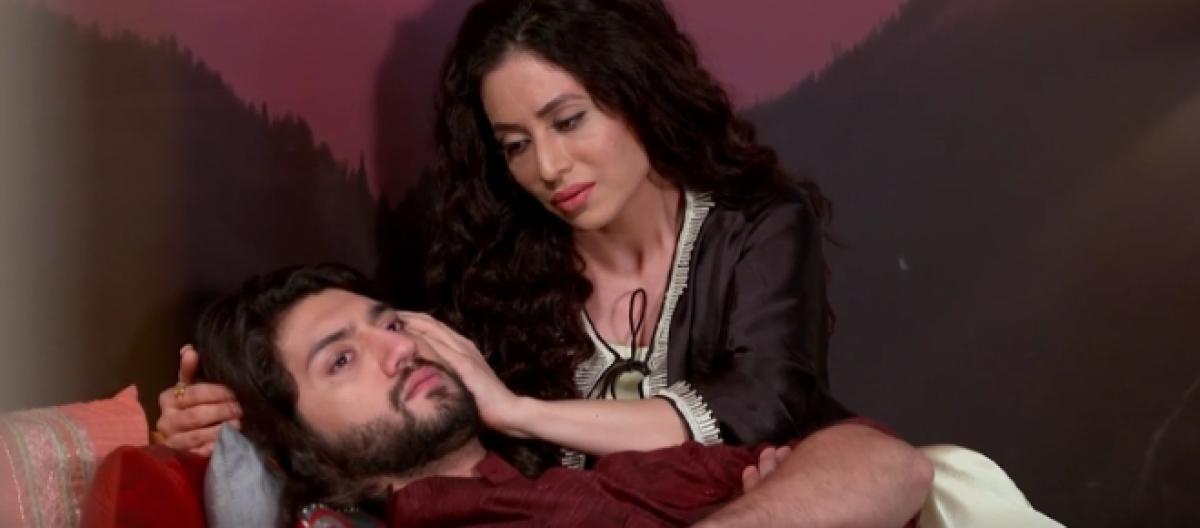 Omkara : Why  paapa became like that ?
Jhanvi : We often find hard to get answers at life, it's our fate.
AT UDAY'S CLINIC 
Uday ; Yes Miss Sara  , how can I help you ?
Sara: Doctor Actually I am not a patient. Just that my step dad is forcing me to getting married with a film producer who is double of my age -Yusuf Khan who is a womanizer I made a drama of mental illness . That's all. Aap bas mujhe do chaar din apni clinic mein admit kara do, uske baad apne aap yeh sab theek ho jaayega, I swear.
Uday : What ?
PRECAP ; YASHLANA ENGAGEMENT