TERE HI ISHQ MEIN…. (EPI 12)
GOENKA MANSION..
It was fully decorated ..
Soon does the Singhania's enters…
Suwarna and Dadi with manish and Akhilesh welcomes them inside..
They gets inside… Naksh's eyes were searching for his keerti..
Gayu ; Naira and Ananya were talking.. while suhasiniji enters between them..
Dadi :Gayu.. how are you..??
Gayu :Ji..Dadi.. i'm fine..
Naira : How are you dadi..
Dadi (ignored her): When will you complete your studies.. huh..
Gayu:Next year..
Dadi :Shaddhi.. ki baare mein kuch socha hai..
Akshara comes hearing it..
Akshara : We are thinking about it… once she is ready then there will be no delay..
Dadi :Yeah.. its good.. to get children married soon..
Naira : I don't agree with you..
Akshra looks at Naira.. Dadi was furious about her words..
Ananya :Naira … tum.. chal mere sath..
Mishti , Naira and Ananya are shown having drink..
Naira thinks " Where did this kartik.. gone.."
Suwarna : Kartik is here..
Naira gets shocked at looks at suwarna.. Suwarna smiles at Naira..
Naira again thinks in mind.. " Is she a telepathic.. or its just a co-incidence..
Kartik goes and stands near Naksh.. Naira goes to him..
Naira :Oh.. brides brother..  its time to call your sister.. call her..
Badi Dadi : They started it..
Nani :Nothing is going to happen between them..
Kartik :Oh.. Groom sister.. look here she is my princess.. my sister…
Keerti is shown entring down through the stairs.. with surekha and mansi.. accompanaying her..
Naksh :Wow..
Naitik :Did you say something..
Naksh :No.. Papa
Panditji :Muhurat nikalaa jaa raha hai.. so please do it fast..
choti dadi : Ji.. then .. Karishma naman… get the rings..
Karishma and Naman brings the rings..
Naira and kartik makes keerti and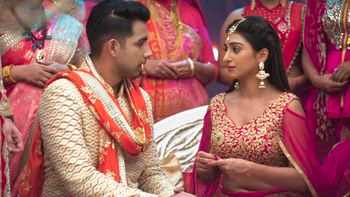 Naksh sit on their stage..
Akshara sings.. " Bhadhai ho.. Bhadhai song.. accompanying suwarna , Karishma and surekha.."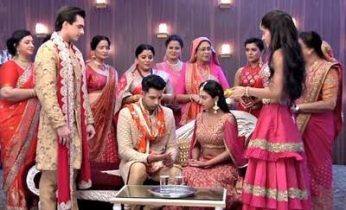 They both exchanges rings..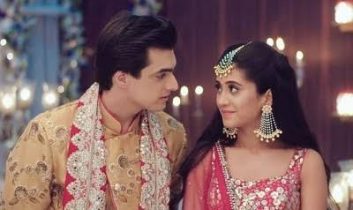 kartik :Have you thought of our engagement..
Naira : Not till now..
Kartik :What about a dance..
Naira : For sure…
Kartik and Naira dances on "Aaj hai saghai " Dadi was totally upset of that which Akshara did notice.. but was quite..
They grabed Naksh-keerti.. to dance.. They danced..
Naitik & akshara ; Naman & karishma , Varsha & shaurya , Vikram & Ananya joined them..
---
All the functions ends.. Naksh was leaving.. while keerti waves him from her room's window.. and naksh signals her that he will call her..
Naira sees this..
Naira :Mera.. piya.. ghar aaya.. ho ramji.. chalo chlate hai bhaiyya hum ghar abh..
Gayu :Naira.. you are making fun of him..
Naira:  After years.. i am teasing my bhai..
Gayu :Thats true…
Soon all reaches Singhania house.. All were tired so.. as they reach dozzed into bed..
Naksh was in his room.. he was about to sleep.. but a call co.es on his phone..
Naksh take sit… A sound of girl weeping hears..
Naksh :Tara.. Tara.. what .. happened.. are you fine.. tell something..
Tara : Naksh.. i .. i .. i a… am .. in a…big.. tro..troble…please save  m.e…me
Naksh :Where are you..
Tara : Naksh .. please..
Naksh :Tellme were are you.. i will come
Tara : I at mumbai.. please reach as fast as you can..
Naksh :I will be there by tomarrow.. morng..
Tara :Thanks… Naksh..