Sunn Zara – Listen to my heart Ft- Shivin and Tejasswi – SS Part 1
Hai friends. Thank you so much my dear friend JasmineRahul for such a wonderful suggestion. This SS is based on the new music video Sunn Zara.
Character sketch:
Dr. Aarav Malhotra : A psychiatrist at The Wellness Temple. A very caring and loving doctor
Ms.Nisha: Daughter of the industrialist Mr.Kapoor. Suffering from depression and substance abuse. Taking treatment from Aarav
Rishi: Nisha's fiancee
Kinjal: Nisha's friend.
Lets go to the story . Reality : Bold Flashback: Normal font
Aarav: I hope that we never meet again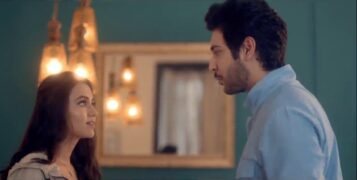 Nisha is stunned and turns to leave. Aarav hides something from her and leaves a deep sigh. 
Nisha gets into the car driven by Rishi. They are accompanied by Mr.Kapoor and Kinjal.
Kinjal : I'm happy that you are alright now
Nisha: I was not ill Kinjal
She gets lost into her thoughts meanwhile Aarav is sitting in the couch and thinks of Nisha
Flashback rolls on:
Nisha reaches THE WELLNESS TEMPLE.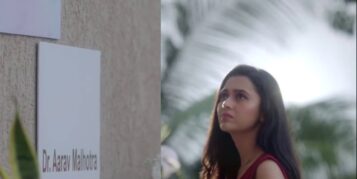 She enters inside to see Aarav. As her eyes are lost into him he comes to her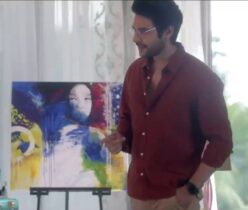 Aarav: Miss Nisha? Dr.Aarav [ he extends his hand for a handshake]
Nisha holds his hand.
Aarav: Please come and sit

Nisha is still lost and Aarav turns to walk towards the couch when he realises that Nisha hasn't left his hand yet. He leads her to the couch and they seat themsleves. Still Nisha is holding his hand
Aarav: Nisha..hand
She looks down and removes her hand in a reflex.
Nisha: Do you think I will get well soon?
Aarav: You are not ill
As he speaks Nisha takes a book in her hand
Aarav: This is just a procedure to have a fresh mind..don't think of yourself as a patient..
Nisha: When are we starting?
Aarav: Tomorrow….
Nisha : Okay thanks
She gets up and turns to leave
Aarav: Nisha
She turns back
Aarav: Book…is mine
She looks at the book in her hand and gives it to him
Nisha: Sorry
She leaves.  Aarav leans back on his couch and takes his tablet showing a news article regarding Nisha…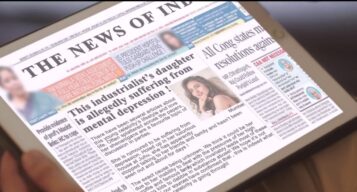 Aarav: Poor girl on one hand she has to fight this depression and on the other this media never gives her a peace of mind.
He keeps the tablet aside and lays on the couch with eyes closed.
 Nisha , Kinjal and Rishi reach  a resort to celebrate her home coming. 
She stops there near the pool.  
Nisha reaches the pool to see Aarav sitting with his legs into the water and listening to songs. He gestures her to come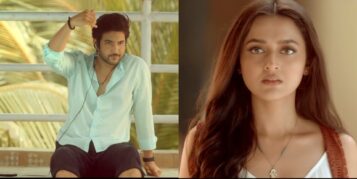 . She goes to him
Aarav: Keep your legs into the water. It will feel good.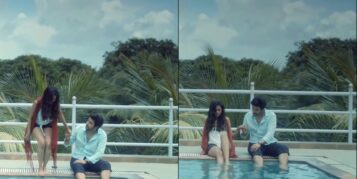 She hesitates at first but within moments she lets the feet inside the water.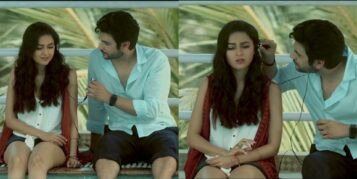 He plugs in one side of the earphones in her ear.
Sunn Zara Arziyan Main Mangta Hoon
Mere Khuda Se Teri
Sunn Zara Khwaab Meri Neend Mein Bhi
Karte Hain Baatein Teri
Sau Baar Khuda Se Maanga Hai
Mannat Ka Tu Woh Dhaaga Hai
Tu Pyaar Ke Badle Apni Yaadein De Gaya plays in the background.
Kinjal shakes her and brings her to reality. 
Kinjal: Where are you lost?
Nisha: Nowhere
They take her towards the restaurant.
Slowly Aarav splashes the pool water. Nisha follows him and starts to play in the water.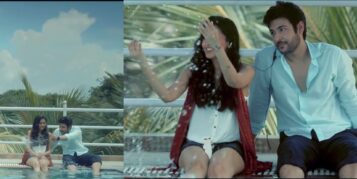 Nisha is brought to reality now as Kinjal sprays water on her
Nisha: What happened?
Kinjal: Icecream….
She gets the icecream in her hand..
Memories come again
Aarav and Nisha are enjoying the icecream and having fun together.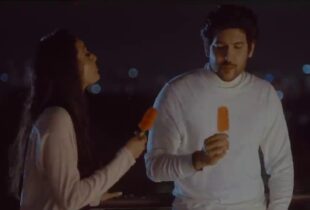 Aarav: Nisha.. your problem is that you never open up..if you do actually you are one of the best people I have ever met
Nisha: I need a companion like you to open up
Aarav smiles at her enjoying the icecreams
Aarav is brought to reality as his assistant comes in.
Assistant: Sir…can we give appointment
Aarav: No not now..I need to be alone
Aarav goes to the dustbin and picks up a paper thrown inside. He sees that and remembers
Aarav : Nisha…write your sorrows in this paper crush it and throw it at me
Nisha: I can't
Aarav: You can

He insists her. She writes it and crushes it and aims at him. He blocks her view with a pillow.
She smiles at his cute gestures and throws it at the pillow.
He pulls her closer and shows that "SHE BELIEVED  SHE COULD AND SO SHE DID"
Her face shrinks. He gestures her to smile.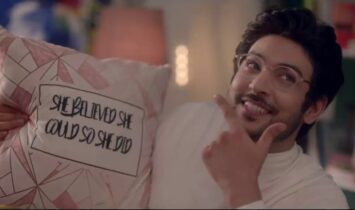 Nisha and Rishi are walking around the resort. She sits in between as she is unable to walk further.
Rishi: What happened?
Nisha: I am unable to walk further 
Rishi: Ok you sit here I'll go towards the camping site and come. 
Nisha: Alone?
Rishi: Haan..if not call Kinjal to bring the car..you won't be able to walk anymore.
He leaves her behind. Nisha recollects the memories….
Nisha and Aarav are going for a jog. After covering some distance she pants and and stops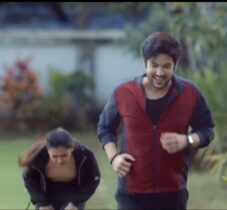 . Aarav who didn't notice this jogs a bit further but soon comes back to her. He gestures her to join him. But she refuses.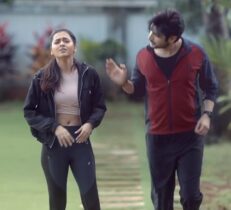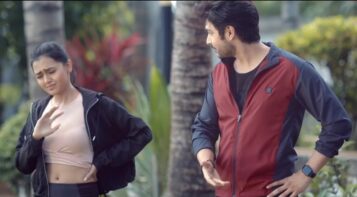 He extends his hand to her. She holds it and they jog together.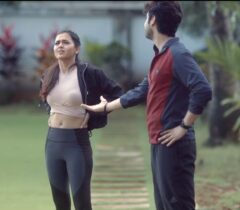 Nisha rushes to the car and drives back to Aarav
To be continued
Hey guys do tell your views on this SS in the comments below.