SHADOW AND SPRING [ISHKARA FF FOR "SHOW SOME ISHQ" by Renima] Part 11

Warning: A non-numeric value encountered in /home/ftpusers/tellyu/public_html/wp-content/themes/publisher/includes/func-review-rating.php on line 212

Warning: A non-numeric value encountered in /home/ftpusers/tellyu/public_html/wp-content/themes/publisher/includes/func-review-rating.php on line 213

Hello my ishqies and ishkarians, So as per promise, here comes the update of shadow and spring…..Hope you will like this episode……
For summary pls check the links….https://www.tellyupdates.com/shadow-spring-ishkara-ff-show-ishq-story-far/
For new promos……..https://www.tellyupdates.com/shadow-spring-ishkara-ff-show-ishq-new-promos/
Story continues from the 10th episode ….if u guys forgot it, then pls check the links…..https://www.tellyupdates.com/shadow-spring-ishkara-ff-show-ishq-renima-part-10/
Please read all parts and kindly drop your views……
@ Entrance, City Hospital…….
Goon : Ishana, Cover ur face with this scarf and move towards the back side……There you will find Maahi……He will help you to meet Omkara……
Ishana : Thanks bhai……
Goon : Remember, you have just 10 minutes only…Go and meet your lover……But don't say anything about where you was and what all things happened with you……
Ishana : U can trust me bhai……..I will not say anything……
Goon : Right after 10 minutes maahi will pick up you and one more thing…u should cover your face when u pass through the coridoor…..
Ishana : I got it, Believe me, I will not cheat you……. [goon nods his head and ishu covers her face and goes……]
Scene shifts to the back door
Ishana sees a man standing at the floor engaged in a phone call…..His face was not clearly visible 2 her ……
Ishana : Excuse me……Are you Mr. Maahi ??
The man turns back and removes his glasses from eyes and smiles…….Ishana gets shocked 2 see him……
Ishana : Shivaay Bhaiya!!!!
Maahi : Shivaay nahi hein…..I am maahi……
Ishana : Shivay bhaiya…..What happened to you ??
Maahi : Me!!! Girl, I am solid guy……Like the cracker…….Every one are scared of this burning cracker…….
Ishana : Why are u calling me as girl ?? Bhaiya, it's me…..Ishana……..[ishana removes her scarf]
Maahi : Ishana ?? Who is Ishana ?? I am hearing this name for the first time in my life……
Ishana : Shivaay bhaiya…..What's wrong with you….
Maahi : The same thing I want 2 ask you……Like the recorded tape , why are u repeating the same name….Shivaay…..Shivaay….
Ishana : Shivaay Bhaiya!!!
Maahi : Shivaay…..Shivaay….Shivaay……..Girl hear it clearly…….Apun Ka naam Maahi hein……Shivaay bol- bol ke dimaag kaa ganga raam mat kar……
Ishana starts crying…….
Maahi : Aeey Girl, Stop crying……..Shivaay Singh Oberoi looks like me………That's all…….
Ishana : What ?? But how is it possible ??
Maahi : Don't know……..Why are u…..[he couldn't continue his words as he gets call from the goon who dropped ishana at the entrance of city hospital]
Goon : Aey Maahi, Did u finished the work ?
Maahi : Bullet, why u send this girl ? She has misunderstood me that I am that oberoi tip top man shivaay…
Goon : Give phone to Ishana …..
Maahi : Haan….One minute…. Girl….oops…..Ishanaji…..Bullet wants to say something……Hold it….
Ishana picks phone from Maahi….
Ishana : Hello….
Goon : See Ishana……..The man who is standing near u is not ur omkara's brother…… look at his eyes and dress…….Do u think this can be shivaay singh oberoi ??
Ishana turns her eyes towards maahi and says…."yeah, this can't be shivaay bhaiya….he never talks like these….."
Maahi : That's what apun telling to this girl…….This girl's brain is like bheja fry……She can't understand any thing…..
Goon : Ishana…..Give phone to maahi….
Ishana : Ji….
Goon : Maahi, U know naa……what all things u have to do…
Maahi : Bullet, first u tell me shivaay has reached the spot……
Goon : I have send a guy there……Our plan's first step has worked……
Maahi : Okay……Apun will call u after 10 minutes……[maahi cuts the call]
Ishana : U looks like shivay bhaiya…..
Maahi : Bhaiya….Behan…….Don't say these kind of words……Apun have no sentiments in life……..Now come to the point…..First wear these glasses and tie your hair…..U need a makeup ….[maahi extends glasses to ishu]
Ishana : U mean makeover ??
Maahi : Haan…..
Ishana ties her hair and wears the glasses
Maahi : Now u are looking like chaal baaz….
Ishana : What ?? Chaal Baaz ??
Maahi : Wooh picture chaal baaz…..heroine sreedevi changes her get up and…. I meant that only……
Ishana : Maahi bhaiya…….
Maahi : No need of bhai-wai….Just maahi…
Ishana : Don't know why, but your face resembles shivay bhaiya……Can i call u as bhaiya….
Maahi : Haan…naa……Leave it………Girl we have no time……Now the system of CCTV is not working …..And the main leader shivaay is not here……That long hair…..boy…..what's his name….
Ishana : Omkara ….
Maahi : He is in ICU……Bullet has been removed from his body, he is out of danger…..
Ishana : Is it true ??
Ishana smiles with teary eyes and folds her hand…… Thank God…..
Maahi : U can say thankyou-wankyou later once he gains consciousness back……For now he is alive….that's all….We need to work soon……Now CCTV's are not in proper condition…..Police hasn't felt any doubt on it…….I will be waiting at entrance…… Right after 10 minutes u will get a msg in this phone…That means red alert……U have 2 cum back……[maahi handovers his phone] As soon as u will get upstairs, u need to turn left and there u can see ICU board……..Inside ICU, only ur lover will be seen……Doctor and nurse have gone gangaraam…..
Ishana : Ji!!
Maahi : Girl, I said u can see only omkara there….
Ishana : Bhaiya, if oberoi family members will find me…..what will I do ??
Maahi : They are sleeping…..
Ishana : What ??
Maahi : Girl, don't ask further questions…….They can't find u……If any way, they see u, this make up and scarf will make them confused…….U came here 2 meet long hair naa… Just go …..
Ishana : Ji…..[ishana wears scarf and covers her face…….She starts running through stairs and finally she reached near ICU…
Scene shifts 2 ICU….
Ishana finds sanky, tejvi, rumya, priveer, anika, dadi been seated in chairs outside the ICU…..As maahi said, she finds all sleeping…..Ishana feels something is fishy…..
Ishana : How can all get sleep at same time ?? Ishana couldn't think much as there was less time for her to meet Omkara…..Ishana rushed inside ICU……
Ishana finds Omkara sleeping calmly at the bed…….She slowly reached closer to him and touched his forehead….BGM…. " Kal kyaa pata mile naa mile… Nazdeeqkiyaan…. Oh Saathiya…….Saathiya……Saathiya……" plays….
Omkara……..I am sorry…..I have hurt you a lot…..I know how much pain you would have bear in the past two years……..I am not able to tell what exactly happened as it can affect your life……For your sake, our separation is necessary…….Omkara……..You stood as the ray of hope, you walked me in each step of life and all those moments, I was thinking that beneath your tender concern, I can live forever……The intensity which I feel in your touch and in your eyes converted myself to love you from the depth of my heart…….I started dreaming a new world with you, where am your pari and u are my prince…….But destiny did unfair to us…..It again seized the peaceful life from me, earlier the loss was limited to me only……But this time it affected you also, because you loves me so much………The moments of love and passion were so few, it was almost ready to sweeten in mellowness, but unfortunately the darkness tamed in our lives and the most harsh thing was to hide from your eyes when you was closer to me……I am hating that worse night, when I was taken to the darkness…….I am fighting with it, Om…..But don't know how much I can survive in this fight……. Moreover your quest of searching me hadn't changed even a bit…….That's making me to feel scared….I can't let you go out from me……Om……
Ishana gently removed scarf and glasses from her face….She waved her hand on Omkara's head and kisses on his forehead…..She sits beside Omkara and holds his palm]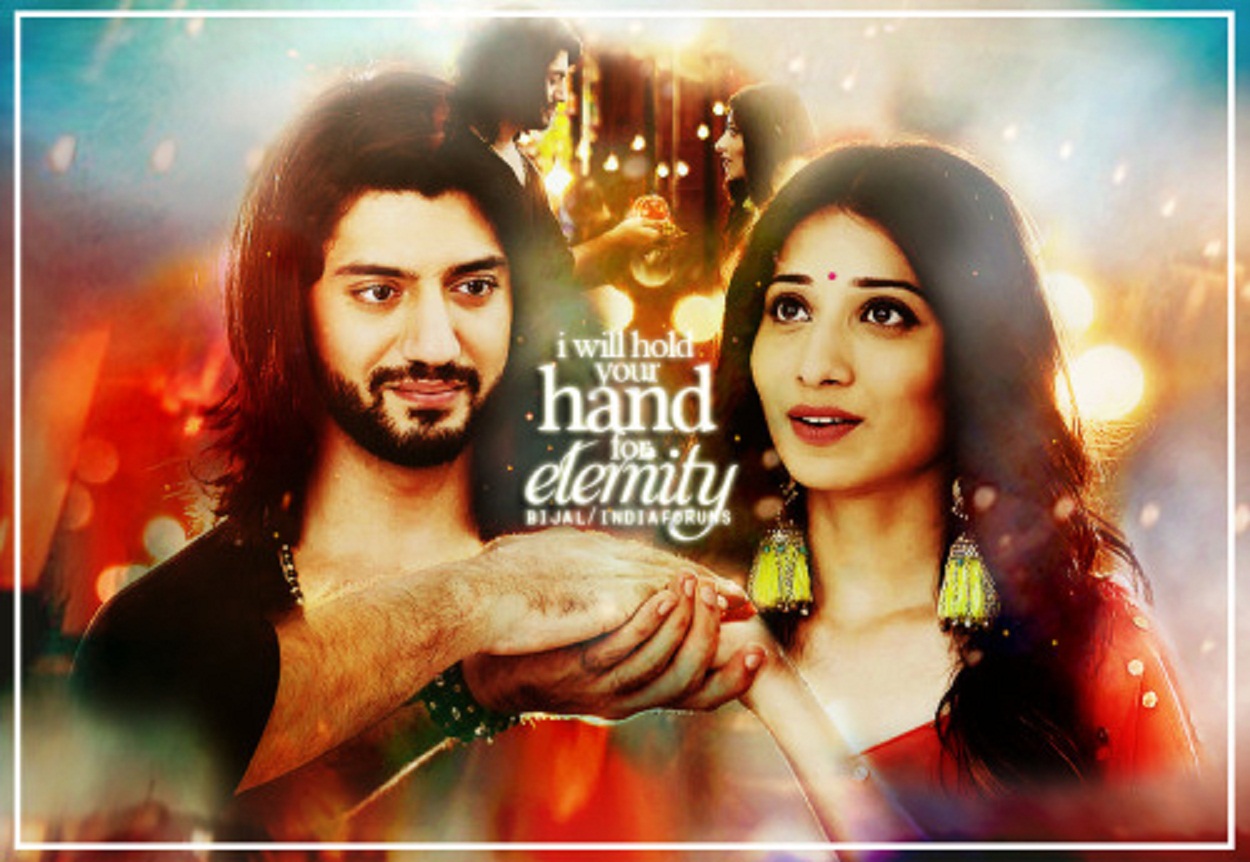 Ishana : Omkara…….For me you risked your life, Omkara…..And I am so bad that I am not able to do anything to you………I am sorry…….Omkara….I am sorry……[ ishana's eyes get teary and drops of tears fells on Omkara's palm…]Whenever I was confused, whenever, i faced fear….. I used to hold your hand like these……..Don't know how long I will keep your hand in my hand ?? But when I sense the warmth of your hand, I will start tightening my fingers  you will hold my hand and looks me through your magnetic eyes which will convey me that it's the courage, it's the strength, my fingers will be locked securely in your fingers and there I can feel that I am yours and you are mine…….In that quivering silence, we never speak out anything, but our eyes used to speak and our hearts used to share our feelings……Ishana touched Om's hand gently and placed it on her cheek…..I am causing lot of trouble to you……Perhaps that what's destiny wants to do….Then why it happened ??? [ishana's voice broken in midst as she was finding hard to control her tears…….The corners of her mouth turned wide and she screamed "Omkara" and burst out her tears…..]
Ishana's pain was on extreme, but she couldn't burst out in more tears as maahi's message alerted her with a beep sound…….
Ishana : Time is over….I need to go Om….[ishana kisses om's palm]  She slowly released om's palm from her hold and wear scarfon her head and turned to leave…..But soon Om's hand hold her hand from back…..Ishana turned her eyes towards Omkara and gets shocked to see Omkara in half- opened eyes…..
PRECAP : SPRING ARRIVED AND OVER NIGHT IT CHANGED AS DRY DARKNESS….FOR A NORMAL PERSON, IT'S HARD TO FIND WHY THESE HAPPENS WITH HIM/ HER…..DEEPER THAN THE TEARS, UNEXPECTED FATE BURNS OUR HEART AND IT'S SO TOUGH TO MAINTAIN OURSELVES AS NORMAL…….
AN : @ Fenil….Sorry, I came to know about your birthday so late…..Belated Birthday wishes to you and what i want to convey is been posted in your wall……

Warning: A non-numeric value encountered in /home/ftpusers/tellyu/public_html/wp-content/themes/publisher/includes/func-review-rating.php on line 212

Warning: A non-numeric value encountered in /home/ftpusers/tellyu/public_html/wp-content/themes/publisher/includes/func-review-rating.php on line 213