SaIna OS ~ LOVE NEEDS WORDS
---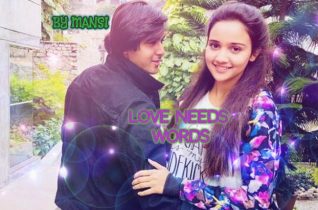 ---
---
Morning @7….
Churchgate Station
A girl is coming out of the station and looking for a cab to go for a seminar….Her face is blurred…..She gets a call from home so she picks it….
After few min…
She is crossing the road….A car is coming in her direction but she didn't noticed that….Suddenly she notices the car very close to her but it was very late then….
Screchhh!!!!…..A sound comes as she fell down….She turns and her face gets cleared and she is none other than Naina…..She gets up….A boy is coming out of the car which hit her….She looks at him….His face gets revealed and he is Sameer…..
Sameer "Hey….Are u ok?"….
Naina doesn't respond as she is lost in his eyes…..He shakes his hand against her eyes….Naina comes back to senses….
Naina "Ohh haa"….
Sameer "U ok naa?"….
Naina "Yaa I am absolutely fine….I am happy ur car didn't got any scratch"….
Sameer "Ohh no no….I was more worried about u getting hurt…By the way can I drop u somewhere?"….
Naina "It's fine….I can manage"….
Just then a pass from Naina's hand falls down….Sameer takes it and reads….
Sameer "I think we both going in same seminar….Soo we can go together"….
Naina "Ok then!!"….
Naina gets super happy….Sameer too gets very happy but he just doesn't know why….They both sits in his car….He droves….
******
In the car…
Naina "I am Naina Agarwal"….
Sameer "I am Sameer Maheshwari"…..
They talks about their life…..They enjoys each other's company….
******
Kala Ghoda
Their destination came….They registers themselves and goes to attend the seminar…. Sameer thinks to sit besides her….Naina too wishes the same….They both sits besides each other….They listens attentively to the seminar….
Suddenly Naina's pen fell down….She bends to pick it up….The same time Sameer too bends down to pick it for her….In the process their hands touches each other….Both feels a connection with each other….Naina takes her hand back and let Sameer pick the pen for her….She blushes….She felt butterflies in her stomach…..Sameer too felt something for her….
As it was obvious both turned inattentive towards the seminar….Both were thinking about the moment some time before…..
******
Evening….
After the seminar got over both exchange numbers….
Sameer "Can I drop u back home?"….
Naina "I mean"…
Sameer "No nothing I am dropping u home is final"….
Naina "Ok!!"….
They​ both got into his car…..Sameer puts some music which she liked a lot…..SamAina continued talking endlessly…..
******
Agarwal Mansion
Naina's home came and he had to stop the car….Both didn't wanted to part ways….Naina comes out from the car….
Sameer "I guess we would meet again right?"…
Naina "Yes!!"….
Saying this Naina walked inside her home while he drove away towards his home…..Naina immediately got into her room and taking her cell out typed 4-5 liners and send him via message…..She was waiting for his reply but it didn't came….She was disappointed….
Naina "This means he doesn't feel what I am feeling towards him….I shouldn't do"…..
BG "Naina didn't knew Sameer received her message and wanted to give reply too but since he was driving he couldn't…..She failed to notice that….."
******
 Maheshwari Mansion
Sameer got home and did his dinner….Since he was very tired he straightaway went to his room and slept…..
******
Morning….
Sameer wakes up and takes his cell to give reply to Naina's message….
******
 Agarwal Mansion
Naina is in her room devastated….Her cell buzzes just then…..A smile crept on her face as she notices his message which reads "Hey, Nain sorry couldn't reply u immediately…..It was a wonderful time with u….Soo can we meet again?"…She felt on cloud 9…..
She replied "Sure we can…Do let me know when"…
He replied "Yupz I will"….
Saying this both happy hearts went back to their routine…..They did chat regularly but it was mostly from Naina's side…..She knew one thing he didn't replied to her messages immediately but she told herself he must be busy in work…..She was questioning herself was it just crush,attraction or more to it…
******
On the hand….
Sameer had fallen in love with her but was being cautious…..One day he message her "I have a meeting in Powai(Her workplace) tomorrow…..Will u meet me for lunch?"….
Naina immediately replied back "Yes!"….
******
The D day finally came….Both were earning to meet each other…..
Sameer wanted to hug her but little non expressive he was he stopped himself…..He felt it's too early…..They had an awesome time at lunch….Both knew this is something more than they thought of….Naina got up to leave when….
Sameer "Nain, I thought u would take a half day off for me….
Naina "Sameer u could have told me before….Now what will I say to the boss?"….
Sameer "Ohh no worries it's completely ok….I can understand that"….
Naina "Done!!"….
Sameer "Means u"….
Naina "Yes!!"….
Sameer was very thrilled to know this…..Naina concluded it was love!!!!…..Both were on cloud 9…..
Sameer "Would u like to drive?"….
Naina "I….I"….
Sameer handed her keys of his car….He taught her driving as she didn't knew it….In the process his hands touched hers….She was mesmerised by his touch…..He felt really happy….He thought he found his girl….Eventually their meet got over….
******
Time passes….
Their talks increased over the phone and messages, more from Naina's side…..Finally,it was clear they both had fallen for each other….Soon Naina confessed her love on calls….Sameer wanted too but he believed in face-to-face conversation…..He would write to her but very rarely…This was annoying her but she blinded in love ignored it….
******
Finally, they met for their actual date….He took her to a deserted road and stopped his car in the middle of the road….They are holding each other's hands….It was the most magical moment….
Tann lade toh tann mukk jaaye
Rooh jude toh judi reh jaaye
They confessed their love to each other…Sameer too confessed as he could no longer hold it back…
Tujhse kiya hai dil ne bayaan
Kiya nigaahon ko zubaan
Waada wafaa ka kiya
They both came out of the car and hugged….It was soon converted into a passionate kiss….
Tujhse liya hai khud ko mila
Liya duaavon ka sila
Jeene ka sapna liya…
Just then rain started…..Both got soaked in it….
Dil ke makaan mein
Tu mehmaan rahaa, rahaa
Aankhon ki zubaan
Kare hai bayaan kahaa ankahaa…
Sameer cupped her face….SamAina starred each other in the eyes deeply….
Kuch toh hai tujhse raabta
Kuch toh hai tujhse raabta
Kyun hai yeh kaise hai yeh tu bata
Kuch toh hai tujhse raabta
It was difficult for both of them to leave each other but it had to end that day….
******
Naina was head over heals in love with Sameer….He knew she was the one for him but he needed time…..
******
Sameer wasn't in messaging or calling much as initially he was….Naina was becoming vulnerable as this bothered her….
Naina is in her room thinking "I think after that Big Day the passion had died"….
BG "Naina failed to understand that Sameer is an ambitious guy and less expressive than she was….."
******
Naina was like a baby who needed love….Misunderstandings crept in….Sameer was facing tough time in his business….He wanted her to understand that….He was feeling very guilty​ of not giving her time….She knew his nature and also knew she being a professional too did take her time out to meet him but didn't knew why he was not able to…
******
Agarwal Mansion 
 Naina's room 
Naina is standing near window….
Naina "Why don't u understand…..Why?"….
******
A point came where Sameer had to go for frequent tours for his business…..This made Naina more vulnerable…He didn't call her for 4-5 days a row…She thought his passion for her was over….She warned him she would stop messaging him, as she couldn't bear it anymore….And it indeed happen but his love for her didn't reduced as he knew when he would meet her she would be fine…..
*******
Soon Sameer got little free but he was a bit hassled as Naina's messages had stopped….She didn't replied to his messages for 2 days….He was getting restless now….He couldn't even sleep….
Sameer "If I am feeling so vulnerable, that she didn't message or call for 2 days, how she would have been feeling, when I didn't call her for 5 straight days…Nor even I message her"…
******
Finally, Sameer called Naina but got no response….
******
After sometime…
His cell rand and it showed Naina calling….He picked her call….
Sameer "Nain, where are?"……..
Someone on the other hand "This is Sameer right?"….
Sameer "Yes!!"….
Someone on the other hand "This is Naina's sister Preeti….I am sorry Sameer I couldn't pick ur call earlier, or inform u"….
Sameer "Inform about what?"….
Preeti (Crying) "Naina had suffered a brain hemorrhage in her sleep….No one knew what had happened….She is admitted in hospital but isn't responding to treatments….Doctors tried their best but they told no treatments/medicines are working….It seemed she didn't want to live….But I completely forgot about u….She always spoke how ambitious u are and dedicated to ur work….She was very happy with u"….
Sameer fell in his own eyes….
******
 City Hospital
Sameer comes there and directly ran into ICU not caring what her family would think….He didn't wanted to lose her….He had become very weak….For the first time​ ever, he understood what Naina wanted…It had been many days he and she had spoken….He saw a lifeless body of "HIS NAINA" lied on the bed…Her heartbeats were very slow….He sat beside and held her hand and kissed it gently….He cried like a baby would….
Sameer "It's of no use of talking all this now…But Nain plz forgive me..I mistook ur love….I simply didn't understand u needed me, neither my money nor my gifts…All u needed few words from me….And in 24 hrs of a day, I couldn't give u any….Plz come back don't give me such a huge punishment….I always knew u are there so I always took u for granted but that took u away from me….Plz Nain I need another chance, don't go away, plz"….
Suddenly, the heartbeat machine started beeping….He was startled and called the doctors who came and checked her….The Doctors came out and told something to her family….They all came inside to see her….Preeti took Sameer's hand and took him inside….
******
Inside….
Sameer's face lit up a bit seeing Naina breathing well….He looked towards her, she was back to life now, but unconscious…..He crashed to the ground and wailed….
Sameer "I didn't speak to u for ages, u went away from me and my little few words brought u back to life….Ur needs were so simple but I didn't understand u"….
Naina's mother Bela thanked him….Preeti too thanked him….Sameer took Naina's hand and kissed it and slipped the diamond ring he had got for her into her ring finger while making a promise to himself and her…..
Sameer "I will make ur weakness, the strength of our love….Communication, spending time, simple needs to keep our love strong….A simple way of saying to u, that I love u"….
Naina (mumbled) "Sameer!"….
He kept looking at her…
******
~~~~~~~~~~~~~~~~~~~The End~~~~~~~~~~~~~~~~~~~