Reborn For You My Love. #RiAnsh #IMMJ2 (Episode 1)
Hi guys, here's the first episode. Hope you'll will like it and will enjoy reading it.
Episode starts with:
A beautiful girl is seen playing with cute white coloured puppy. Her hair was blowing in air, her juicy pink lips were adorned with her beautiful smile. Her chubby cheeks were red in color.
RIDDDHHHIMMAA!! A voice came from behind and girl looked at the direction of voice  revealing her face.
And girl revealed to be our cutie pie Riddhima.
RIDDHIMA!! Again that voice came.
RIDDHIMA: yes mom.
She replied back at which Aarohi said.
AAROHI: Come here baccha.
RIDDHIMA: Coming mom.
She said and ran towards the direction of Kitchen where her mother Aarohi was waiting for her.
RIDDHIMA: Say mom, what happened??
AAROHI: Riddhu go and give this tea to your dad he is getting late for his office. And you also go and get ready for the hospital after giving this tea to him.
Riddhima simply nodded in yes & took the tea from Aarohi's hand and went from there. She went towards Ardeep's room and knocked there.
Come in!! Deep said from inside.
Riddhima slightly opened the door and  went inside. She kept the cup of the  tea on the table and side hugged Deep who was setting his hair in front of a mirror in his room.
RIDDHIMA: Good morning dad.
DEEP: Good morning princess.
RIDDHIMA- here's your tea dad. Now I'm going to get ready.
She said and ran towards her room's washroom and after sometime she came wearing a yellow coloured dress with opened hair and minimal makeup.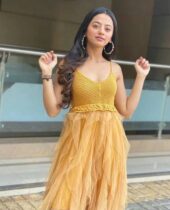 After getting ready she went to the dinning table and did her breakfast. After that she hugged Ardeep and bid bye to them.
AT VR MANSION:
There was shown a huge and lavish bedroom with beautiful and amazing interior.
At the corner of the room there was a beautiful and cozy couch.
At center there was a big and lavish bed and side table with a lamp on it.
And one big washroom with a huge bathtub.
And in front it was a very big mirror.
A man in his mid twenties is seen getting ready in front of a mirror.
He was our Hero VANSH.
He set his hair with a gel. Wear his watch and apply a perfume and smiled at him self. He was not looking less then a Greek god. He was wearing a black tuxedo as cherry on cake.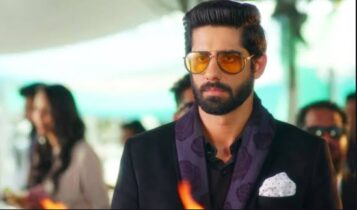 After getting ready he went to do breakfast where everyone was waiting for him. He went towards Ajay and Uma and took their blessing.
Siya came towards him and hugged him.
SIYA: Good morning Bhai.
VANSH: Good morning princess.
After spending some family time, he went to the VR ENTERPRISES.
AT LIFELINE HOSPITAL:
Here Ridhhima was going through her files and was checking her patients when someone came to her cabin making her jump in happiness.
Riddhima ran towards the person and hugged him/her tightly while the other person patted her back and stroked her.
They both got back and the other person kissed Riddhima's forehand.
The person revealed to be Roshni.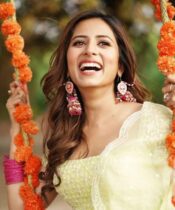 RIDDHIMA: Didu I'm gussa, why didn't you came to meet me.
She said and made a angry cute face with a pout.
While roshni smiled at her cuteness
And pulled her cheeks.
And holded her ears asking for sorry.
ROSHNI: I'm sorry Riddhu actually I got busy with my hubby's business.
RIDDHIMA: Hubby's business or hubby's love hmmm.
Riddhima teased her while Roshni blushed at her statement. They both talked for sometime and Roshni went from there.
While Riddhima continued checking her patients.
After sometime she also went from there to her home.
In way to her house Riddhima was busy in talking on her phone and she didn't realized that a car was coming from front in full speed and was about to touch her. But in nick of time it stopped and rotate in 360 degree. While Riddhima was standing there numb and shocked.
The owner of the car came out from the car and pulled his goggle with full attitude and looked at shocked Riddhima who was trying to understand what just happened.
Owner of the car was none other than VANSH.
He went towards Riddhima and looked at her dark yet beautiful eyes. Both were staring at each other as their life depends in it. Both were feeling different seeing each other.
Vansh unknowingly touched her arms and feeled like current passed through their bodies and both looked at each other again.
Riddhima broked the eyelock and smiled at him.
RIDDHIMA: I'm really sorry I didn't realized… And thank you for saving me.
Vansh was still lost in her beauty and was still staring her. He came to the reality when Riddhima waved her hand in front of him.
RIDDHIMA: HI I'm Riddhima Raichand.
VANSH: HI I'm Vansh, Vansh Raisighania. And it's OK.
He said and both passed a smile to each other.
Riddhima looked at her phone and saw Aarohi was calling her she hits her forehead with her palm.
She again said thank you to him and said bye. She started going from their but again their arms got brushed with each other and the same feeling rushed from their body. Both looked at each other and was thinking about the feeling they both were feeling.
Riddhima went from there while Vansh looked at her retreating figure with a smile and caressed his arms where they both get touched.
He also sat on his car and went from there with his mind occupied by her thought.
AT NIGHT
IN RR ( Riddhima & Roshni ) MANSION.
Riddhima was laying on her bed. She was busy in thinking about today's incident and about Vansh. Thinking about Vansh unknowingly  a smile crept on her face.
She also touched her arm where they got touched with each other and smiled.
She took her dairy and started writing about today's incident.
AT VR MANSION
Here Vansh was also engrossed in her thoughts and was smiling sheeplessly. He smiled thinking about her innocent face, dark black and beautiful eyes & her melodious voice.
He was unknown with this new feeling which was growing in him.
Thinking about her He slept hugging his pillow.
AT RR MANSION:
A girl is seen sitting on a big and royal chair in her royal attire with a boy who was also in his royal attire. They were looking like they are King & queen.
They were looking very happy with each other and were spending some quality time with each other.
When some goons entered their and and left some arrow in their direction and it hit in the chest of the boy and he shouted.
Riddhima waked up with sweat all over on her face shouting at top of her voice and was breathing heavily.
She took water from side table & drank it in one go and tried calm herself.
RIDDHIMA: What was that?? Why I'm getting these type of dreams from 2 to 3 days?? Is it related to my past or what?? Kyaa yaar Riddhima, you are a doctor and thinking about past n all. If you will think this you have to consult a doctor.
She thought to her self and chuckled. She took her bag which was kept at the side table and started finding something in it.
She found something which was unfamiliar to her a ring  of a man written V on it. She think something and got to know that it was of Vansh.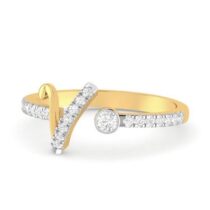 FLASHBACK:
When Vansh touched her hand unknowingly his ring slipped from his finger and fell in her hand bag.
FLASHBACK END.
Riddhima took the ring in her hand slept holding it near to her heart with smile on her face…
PRECAP: Riansh met again. Some flashes of Past.
That's it for today hope you'll liked it. Do tell me how was the 1st epi in the comment section will be waiting for your sweet and lovely comments. And please do vote.
LOTS OF LOVE❤
TAKE CARS GUYS❤❤
STAY HOME & STAY SAFE❤❤❤