RAB SE SONA ISHQ: TWINJ- EPISODE 20
Episode 20..
Continue from twinkle reading kunj note she cuddles  the note and look at chocolate carton.
Twinkle: I'm impressed mr Sarna im mean now I understand you didn't give me anything when you give everyone something.This is so sweet.I don't have words no one did this for me till now. I'm mean kunj extremely happy now I m.Not even one packed for me whole carton. Your heart is big that I understand.Take out one chocolate bar and keep all inside her wardrobe.
While in Sarna Mansion servants keeping all things back to the place removing all decorations things..
Kunj went in kitchen he had headache very badly.so decided that make coffee for himself and his chiller party as well.
He make coffee for everyone and went to lounge where all siblings sitting together. Kunj keep the coffee tray on table.
Rahul:what is this?
Kunj:coffee
Rahul: thanks it's needed badly.. even I'm missing your coffee.
Rudra:thanks Bhaiya. They all take their coffee mugs..
Om:finally kunj one week is left in your wedding.they all giving teasing smile to kunj.
Rudra:yeah O next time Bhabhi too sitting with us here.i can't believe finally my twinkle bhabhi is coming omg.Kunj look at rudra excitement and get little bit surprised. While Rahul enjoying it..
Rahul: I'm quite surprised kunj.. see you should be excited this much for your wedding but rudra is more than you.
Rudra: why not I'll after all my bhabhi is coming..
Kunj:he take the sip of coffee than. I'll tell you why he is so much excited. Because his those pending notes who will complete?
Rahul: who??
Kunj:dumble Sarna. Wanted bhabhi for notes haina Rudra..
Rahul: idea wasn't bad rudra. He and Rudra did hifi..😛😂😂😂..
Kunj: impossible man..
Anjali: see kunj he didn't like his biwi will do work of rudra. Kunj look at Anjali.
Kunj: kuch bhi why I'll.do whatever you people want to do with her..
Rahul:we people can't do anything with her only you something he winked at Kunj.😉Anjali like omg what he said while Rudra and om covered their eyes with their palms 😛😛.. Kunj looking here and there Anjali slap Rahul playfully.
Anjali:you speak whatever comes in your mind???
Rahul:Arey what I said wrong in this wifey.
Anjali: kunj didn't understand what do you mean.
Rahul:acha in Naughty way. Kunj looking other side turn his face try to hide.Rahul make him turn his face but didn't move. See your brother didn't understand acha Kunj you don't know what I mean.Rahul went near his ear and whisper something double meaning in his ear. Kunj look at Rahul and while Rahul laughing like rolling on the floor.
Kunj:di your husband is shameless see my two brothers are sitting here even sisters.
Rahul: guys did I said anything wrong which sound cheap.all nodding their heads in no expect Anjali.
Rudra: explain G to us..
Rahul:see kunj he wanted I'll explain him.
Kunj your Rudra brother did PHD in this all m I right..
Kunj:you and he amazing okay..
Om:Arey kunj what you both talk..
Kunj:nothing such important.Kunj narrated them everything whatever they talk regarding on their wedding.all like twinkle matureness.
Om:Twinkle is right kunj..
Rahul:yeah.. from now only she scared of kunj😂😂. Kunj throw cushion at him.
Kunj:she scared of me very lame..
Rahul: Arey you didn't give her anything that time. Kuomru looking at each other with smile..
Om: who told you that he give her what he bring for twinkle.
Rahul:when.. what you brought for her
Rudra: Bhaiya brought Bhabhi favorite thing chocolates.
Rahul: hoo so you know about her favourite things???
Kunj: I don't know only this rudra tell me that twinkle like chocolate so bring for her too I just went for Aayat..
Anjali:whole carton of chocolates my brother bring for his to be wifey.
Rahul:ho ho kunj I didn't know about this.
Kunj:now you know na.I m confused which she like so all now happy.
Rahul: now priyanka what's going on my sweet silent movie saali.
Priyanka:nothing jiju..
Twinkle laying down on bed she take her phone and message to kunj..
Twinkle:HI..
just than Kunj phone beep.Kunj See the screen and see twinkle send him message.. he see and didn't reply her. While twinkle just messaging him sound of messaging rapidly coming.. all look at Kunj.
Anjali: who messaging you at this time..
Rudra: might be Bhaiya girlfriend..😛😂.
Rahul: girlfriend aur Kunj impossible..
Let me see. Rahul about to take kunj phone but before him kunj take in his hand.
Kunj:no one did it okay. Just twinkle message me.
Om: hoo must be telling you thanks.
Kunj: don't know..
Rudra: what she said Bhaiya.
Kunj: you can message her and asked..
Rahul snatch Kunj phone and open the message box..
Rahul: Hi.. she send. Even Rahul too send hi from kunj side..
Twinkle: Kunj.
Rahul: yeah I'm kunj only twinkle.
Kunj:you all didn't got anything guys.
Anjali: let us see your personal messages.
Kunj: we didn't talk to each other's personal very far di..
Rahul: should I asked her for date.
Kunj:noooo. Just for teasing Kunj.
Rahul: I'm sending her twinkle let's go for romantic date. Kunj snatch the phone and see he didn't send anything like this.Just than twinkle call kunj..
Kunj: Twinkle I'll talk to you later don't message me okay.
Twinkle: okay.. they all laughing to see kunj face expressions..
Rahul:let's start the shopping saale ki shadi hai we should look best not less than him.
Kunj:haa go right now only.. 😛😛
Rahul: acha.. after sometimes later..
Kunj get up..
Kunj: chalo im going to sleep.
Rahul: we know no Sleep just talk to your fiancé you escaping from here.
Kunj:when you know why you asking me there is no crime in talk to your fiancé.
Why I'll escaping from here good night. Kunj went from there while all look at each other faces..
Rudra:okye bye kal college hai.. G hmm😛.
Rahul: hmm😉😉. Let's go Anjali they both husband and wife too went while rudra and om looking at each other face.
Om: bye rudra. He went too while rudra leaving alone just went to his parents room.
Kunj entered in his room. First he takes his night dress and went in washroom quickly get freshen up. Come back and see the time.
Kunj:Twinkle must be waiting for my message. He went to his bed and lay down in sitting position.
Well Twinkle just waiting for kunj message
She playing with her nails. Her eyes stuck on phone screen. Kunj take his phone.
Kunj: let's hear what Mrs to be Sarna saying it.. Kunj message her
Message BOX..
Kunj: hi twinkle. As soon as Twinkle heard message beep she get so happy.
Twinkle: hi kunj.. why you take so much time..
Kunj: why I'll tell you when you messaging me that time I'm with my siblings.
Twinkle: okay..
Kunj: you message did any thing serious.
Twinkle: not serious just wanted to thanks you for your chocolates.
Kunj:hoo Both smiling while messaging each other's.. no need of thanks.Hope you like it. Twinkle having chocolate.
Twinkle:I love infect.
Kunj: what you eating at this time.
Twinkle: chocolates 🍫.
Kunj: at this time.
Twinkle:I just love chocolates I can have anytime.
Kunj:hooo..
Twinkle: but why you didn't give that time only.
Kunj: I can but in front of Aayat she started crying even she too love chocolates jitni do utni kaam hai us ke liye.
Twinkle:hoo.You know I love chocolates.
Kunj:I think you know all girls loves chocolates by the way rudra tell me about this. Aur what are you doing it..
Twinkle:nothing..
Rudra knock tej and Avantika room door and open it and went inside.Tej and Avantika laying down while Aayat is between them. They both see rudra and get up and sit.
Tej: what happened..?? With puppy face rudra went to bed and sit there.
Avantika: you here at this time are you okay na she checking his neck whether he don't have fever.
Rudra:mummy I'm okay., you send Aayat with me.
Tej: why..
Rudra:she can sleep with me I can't sleep alone O went in his room and Bhaiya too. Now where I'll go.. tej and Avantika look at each other face and laugh too see there son cuteness.
Tej: rudra you become big still can't sleep alone.
Rudra:yeah I can't if ghost will come.
Avantika:tumhare bache bhi na tej.I'm mean see rudra Aayat sleep now what can I do.
Rudra:hmmm..
Tej: go and sleep with Bhaiya. If not than sleep here.
Rudra:no I'll sleep alone.
Tej:sure.. rudra give hug his parents and went from there.
Rudra: if I go to in Bhaiya room he was talking to Bhabhi after me he didn't already he shy.Rudra went inside his room he looking in whole room closed all windows jumped on bed and covered himself fully but didn't off the lights.
Twinkle:Rahul Jiju come on time..
Kunj:hmm he don't know about our wedding just his work complete so he come but he was going to London I only suggest him to come India till our wedding not done my family will be stay in India only na:.
Twinkle:acha after our wedding you all going back to London.
Kunj:yeah.
Twinkle: you didn't feel good here missing your place.
Kunj:yeah not much but yes sometimes.
Here life and there is different.There time went so fast.When you stay there you too love..
Twinkle:hmm right ab toh mujhe rahana hi hai for lifetime with you.In sad tone..
Kunj:Twinkle I'll call you Okay one minute.
Twinkle:hmm.
Kunj:I'll check rudra did he sleep or not alone he can't. Kunj immediately get up went to rudra room he see rudra.And understand his situation. Idiot can't sleep alone don't know from where this ghost coming in his mind.Kunj went near him.
Kunj: rudra get up..
Rudra: little bit in sleep. Haa Bhaiya.
Kunj: come with me.
Rudra: where.
Kunj: get up. He get up still sleepy kunj hold him and take in his room made him lay down and come and lay down beside him. Now sleep here.
Rudra:he smiled brightly and cuddled Kunj now ghost will not come you with me.
Kunj:di is right you and Aayat truly my kids.
Rudra:woh toh hai hum. Rudra closed his eyes while Kunj do video call to twinkle she received the call.
Twinkle:hoo Rudra Look at him cuddling you like a kangaroo baby. 😂😂..
Rudra:yes I'm Bhaiya Baby Bhabhi maa😛. You know what Bhaiya Bhabhi didn't let me call her Bhabhi in college.
Kunj:acha asked your twinkle bhabhi.
Twinkle:it just normally. You both brother carry on I'm going by goodnight.
Kunj:okay goodnight. Kunj and twinkle end the calls. While rudra take kunj phone and doing something. What you doing it rudra.
Rudra: just checking what Bhabhi post today.
Kunj:means?? Rudra show Kunj twinkle insta pictures. Kunj looking and see twinkle caption in one of twinkle pic she giving hell extremely gorgeous look. And her caption is.. Kunj read it.. TOO GLAM TO GIVE A DAMN.
Rudra:killer look Bhaiya.Kunj see many boys comment too.
Kunj:you people know I don't know waste of time what's the need of this all.
Rudra:today everyone do expect that you.
They read twinkle bio in that she written she is pretty single.. Kunj read this and turned his face.
Kunj:sleep Rudra Leave this all. He take his phone and off the lights.In mind why she wrote this she is single when she is engaged with me can she write taken. Kunj why you thinking this all Kunj it's her life.He closed his eyes and soon sleep took over them..
While whole night twinkle thinking about herself soon she leave her house most important his father without him she can't live. After marriage she went so far from her family which make her crying from now only but while crying she sleep..
Next day in Sarna Mansion. Everyone get up and they get freshen up. While Lata and Prithviraj went to meet with guru to final wedding date fixed even hansh and Bebe as well from there.they wanted all things happened in auspicious time..
in mandir they sitting beside guru ji.
Hansh:now tell us date guru ji.
Guru ji: I told you last night only aaj se one week later best wedding auspicious time was so twinkle and Kunj wedding date is fixed you all just started planning only 7 days is left. They four of them happy so much their happiness has no boundaries they feed sweet each other's and left for there place..
Priyanka call everyone for breakfast.
Kunj: where is dadi and dadu.
Prithviraj: here. They both went to everyone . Lata having sweet box in her hand. They both went to Tej and give hug.
Tej congratulations finally your son wedding date is fixed after 7 days your son become Some husband.Tej get so happy.They feed sweet everyone. After they sit for breakfast..
Lata: now we should started the wedding preparations we have very less time.
Prithviraj: yes I wanted in my kunj wedding nothing is less people just shocked to see their wedding.
Manohar: haa MAA we'll do whatever you and Papa wanted your Kunj wedding done like a king.
Prithviraj:he is my king.Kunj look at his family member faces they are really happy.He never thought his wedding give them this much happiness. They finished their breakfast.
Kunj:let's go rahul.
Lata:where??
Kunj: office.
Lata: no office now Tej please.
Tej:now no office till Kunj wedding. You people go and do your shopping and even twinkle shopping.Avantika please you both go with them and let twinkle take whatever she wanted like last time I don't wanted she become sad asked her what she wanted each and everything happened according to her what she like.
Avantika:yeah okay Tej I'll tell Leela ji.
Kunj: at least I'll check my work I'll come soon.
Tej: okay.
Rudra:even me and pinku too. Quickly all went.
At Taneja Mansion.They all having their  breakfast all just thinking about wedding planning
Rt: kabir check everything I don't want anything less.
Kabir:okay Papa. Amritsar will see my sister wedding.
Bebe:haa. Leela chal we have lot of work to do.twinkle ke dresses everything.
Twinkle: MAA I have to submit my project so I'll go college and did it today and I'll come quickly.
Malika:good Twinkle till than me and mehar see other work. Mahi and twinkle left for college. Soon they reached and find rudra and Priyanka as well.
Rudra: bhabhi.,
Twinkle: haa..
Rudra: nothing7 days only.
Twinkle:I know.. they went in their classes submit their project.Twinkle come to know that Chirag went out of the town.She get happy..
Avantika call to Leela she pick up her call.
Leela: yes avantika ji..
Avantika: Leela ji we taking twinkle for shopping today it is okay. I mean.
Leela: why I'll have any problem aap ki hone wali bahu hai. You take her anywhere good Twinkle shopping is so hard.
Avantika: haa so you will send her with malika.
Leela: okay ji.
Sometimes later Leela message twinkle that Avantika taking her for shopping.So twinkle directly went with rudra and Priyanka Sarna Mansion While mahi went with Yuvi Taneja Mansion Kabir call Yuvi come and help him in wedding preparations.Soon Rudra and Priyanka along with Rudra they reached Sarna Mansion.They went inside Avantika and others just waiting for them only.
Avantika:good Twinkle beta you come.
Usha:Twinkle you go and get freshen up
Than we'll go for shopping.pinku take Bhabhi and show her washroom.Priyanka take Twinkle in her room.Twinkle went and get freshen up.Till now kunj and Rahul too come back from office.Twinkle come there kunj see her.
Lata:now you all should go.
Anjali:chale Twinkle..
Twinkle:hmmm. They all went out side and all sit in two cars and left for shopping. Soon they reached designer shop.They all come out of the shop Kabir and Malika or Mehar and abeer or Yuvi ,mahi already there because kunj message them.
They went inside.First they started seeing dress for twinkle all functions. Twinkle started selecting outfit for herself all sitting and seeing her twinkle seeing each and everything. Kunj look at her shocked to see her she takes hours in normal clothes.
Rahul: man kunj she just searching dresses itne me I'll complete my meeting.
Kunj: that time you all talking very much and praising her now see her.It just start.
Twinkle: hmm this is best.
Designer:mam you try this.
Avantika:yeah twinkle go and take trial.
Twinkle:okay.Twinkle take the clothes and went in trial room. She wear the dress and come out all see her twinkle looking like a angel in the dress.
Rahul:true man sabar ka fal meetha hota hai. Taking so much is worth it.
Avantika: best twinkle. Like this after 5 hours Twinkle almost shopping done everyone get bored girls too did their shopping there only. After.
Rudra:mummy when our time will come.
Usha: kunj your shopping now let's do your shopping than we go for twinkle bridal dress.
Kunj: still bridal dress is left MAA she take so many dress..
Twinkle:ha so what.
Om: now lets go don't fight here.After they went to mall and boys went in their section. Rahul and Anjali started selecting clothes for Rahul while Avantika and Usha for tej and Manohar. While Kunj seeing clothes for himself he just confused.Twinkle come and stand beside him.
Twinkle: may I help you. Kunj look at her.
Kunj:sure.Twinkle helping Kunj to take his clothes.Kunj like twinkle choice.after long time their shopping finally done.They come down all holding shopping bags.
Twinkle: I'm hungry now all look at twinkle face.
Rahul:same.
Rudra: let's have something first they went to food court and take their seat and Kunj and om went to give oder and come back.
Anjali: finally we done shopping almost.
Avantika:yeah.
Priyanka: mummy what about Aayat.
Anjali: yes she will crying.
Avantika: don't worry about her shopping she went with his pa.His pa never forget about his princess.
Om:that's true bade Papa and Aayat.
Avantika:Twinkle Arey you happy.
Twinkle:yes.❤️not like last time Kunj look at her. Soon their food come they all having everyone was really hungry.They get relief when something went in their stomach.
Avantika: twinkle and Kunj now You both go to designer shop I take your appointment already selected your wedding outfit. Till then we all see other works okay.
Twinkle:okay.. after they all went to home back to see other work.In this time Prithviraj and Lata busy in selecting jewellery for twinkle they call jeweler
Prithviraj: show us something good,
Jeweler man: sir what you wanted unique thing.
Lata: yes after all Meri bahu bhi unique hai.
Kunj:let's go twinkle.
Twinkle:yeah.They both sit in car.. twinkle looking outside of the window just than she see something and laugh. Kunj look at her.
Kunj: what happened..
Twinkle:Kunj see what a name of shop single.Kunj remember something..
Kunj:ho single..
Twinkle:yeah single next must be taken
Kunj: you are too single twinkle get confused and look at Kunj face.I'm pretty taken twinkle now going to marry to you.
They reached designer shop they come out.
Twinkle: finally my favourite designer my dream to wear Sabyasachi lehanga on my wedding..
Kunj: now don't take hours twinkle what did you said like last time ha. Because of you I went here and there just fulfilled your wishes that ring still I remember Kunj Sarna never begging in front of anyone just for your antic ring I did and my pa scold me too. Twinkle smiling..
Twinkle:aww so sweet. Now let's go Kunj.
They went inside twinkle see so many dresses are there all is so beautiful. Designer come and shake hand with Kunj because he knows him..
Designer: hi Kunj.
Kunj: hi.
Designer: your mom call me..
Kunj:yes to show something for her.
Designer: yeah sure. They sit. he saw all type of work lehngas to twinkle but she didn't like them she wanted something different.
Twinkle: this all is good but I wanted something new and classy.
Kunj:that you can't find it twinkle..
Designer:no Kunj twinkle you have idea in your mind you can tell me we'll make your type of lehnga.Twinkle started explaining him design while he make the sketch of dress. Kunj just looking at twinkle.Twinkle tell him each details of her dress she wanted this work on here and there. Finally the sketch get ready as per twinkle design. Now you can see this twinkle. Twinkle see the sketch and get happy.
Twinkle: yes I wanted this same.
Designer: designs is difficult but for you we'll make it soon.
Kunj:we want after 7 days only.
Designer:okay we try to do our best. Here only twinkle done with her main accessories and bangles and all's.
Other side Sarna Mansion everyone return back from shopping while Kabir and Malika along with abeer and mehar even mahi they went taneja house.Lata and Prithviraj see shopping bags so many..
Lata:finally done..
Usha: yes mummy ji..
Prithviraj:where is kunj and twinkle.
Avantika:they went to for their wedding dress.
Lata: see Avantika and Usha this we take for twinkle.They see like as well. Tej and Manohar too come all shocked servant coming they all holding Aayat shopping bags.Aayat in Tej Arms she slept in car only.They sits down get tired hell.
Tej: very tired day..
Rudra: so many bag of this bachi.
Avantika: yes Tej what is this??
Tej:Arey you all went for shopping just leave my doll so I take her.
Avantika: this fine but this bags..
Tej: inside in these bags my doll clothes and other things.. Avantika check all things and look at Tej.
Avantika: Tej you know na she is a small girl this Indian dress for her why.
Tej: avantika you know last time she trouble herself to see all kids of her age wearing Indian clothes but you make her those western. Let her na her brother wedding is I can't make her sad whatever she wanted I'll fulfilled her and you don't see this so many why and all's. She is so small in our family.
Avantika:no one can't win with you in your daughter matter..after sometime later kunj come back he return alone. Lata asked him where is twinkle he tell her that he drop her home she wanted to go..
Tej:now don't sit okay other thing too left you om and rudra see guest list and you Anjali beta finalized wedding invitation card send pics to twinkle and asked her okay.
Rahul: we should hire wedding planner they done everything on time. We can tell them what type of arrangement we wanted.
Tej: good idea Rt too saying me same.
You Rahul talk to kabir and went to wedding planner just than Kunj.
Kunj:pa I know one wedding planner and she is really good all celebrities wedding she planned.
Tej:that's superb.you people should go to wedding planner started your work we have very less time.
Om:yeah. Kunj you call that planner at Taneja Mansion there we can discuss all things even bhabhi ji too there kunj give look at om he saying in front of everyone.
Sorry😂😂😂..
At night Taneja Mansion. Twinkle and Malika along with Mehar busy in kitchen twinkle try to cook something there Kabir come.
Kabir: hoo my twinkle cooking something I'll oder something from hotel..
Mehar: why..
Kabir: because we can't eat burn food 😂.
Twinkle:very funny Bhai haa I didn't make
For you. So don't worry.
Kabir: haa i m thinking about kunj what will happened to him.
Twinkle: acha don't think about him I'm here for him I'll make food for him and my in laws too. Kabir shocked to see new avatar.
Kabir:hoo soon Sarna anger omg.
Twinkle:why you all calling me Sarna Sarna haa I'm twinkle Taneja get it with sad voice tears come in twinkle eyes.
She leave the cooking and went out of the Kitchen went in hall she sit in side couch.
Tears coming from her eyes automatically Kabir and Malika or Mehar come and see twinkle. Rt see twinkle sitting alone and sad he went to her and sit beside her he see tears in twinkle eyes get shocked.
Rt:Twinkle beta why you crying.Twinkle look at Rt face. All come and see twinkle.
Twinkle:papa😭😭this all calling me Sarna. I'm Twinkle Taneja na. She hugged Rt tightly Papa I'll not go anywhere to leave.
Rt:haa don't Twinkle Puttar look at me haa you'll not leave me okay what people think about my power full daughter she crying don't cry okay who calling you. Twinkle make puppy face and forwarding her hand towards Kabir.
Kabir:no Papa I'm just teasing her..
Rt; don't tease my twinkle. And you should
Be happy twinkle you got such a beautiful family. Now go and see your wedding things.
Twinkle: okay. Twinkle went in her room. While Rt remove his glasses and wiped his eyes Leela look at him.
Leela: please ji don't do this if you become weak how she'll.
Rt: yeah but Leela when time is coming
Near my twinkle will leave me alone how I stay without.her
Leela: you just tell twinkle now that she should be happy she got such a beautiful family even you too happy our twinkle going in so beautiful family they love her so much. Rt consoles himself. After everyone had their  dinner kunj call kabir that tomorrow he will come to his place with wedding planner.after hectic day everyone was tired every much. So they sleep soon next day they have to do lots of work.night went quickly and morning come.
Sarna brothers sleeping peacefully together avantika comes and open the curtains sunlight coming on their faces. Which disturb their sleep..
Avantika: you all get up fast don't you people know that we have lots of work rudra did you forget your Bhaiya wedding is.rudra immediately get up went in washroom even om while Kunj still sleeping anyhow Avantika wake up him.
Same with twinkle she sleeping nicely without any tension while whole family member was busy in work and just thinking how to deal with this all preparations. Leela went in twinkle room find her still sleeping.
Leela: babaji what I'll do with this girl in some day she going to her sasural still sleeping till 11.. leela pulled the blanket and forcefully send twinkle in washroom.
Kunj get ready had his breakfast. He call wedding planner talk to wedding planner and tell to come at Taneja Mansion.
Twinkle come downstairs and see everywhere just hustle and bustle going on.All working like machine running and here and there busy on phones while Bebe and Leela along with mahi packing all gifts those they giving to Sarna family in wedding.Twinkle went in kitchen have something come out and sit beside Leela.
Kunj reached Taneja Mansion along with om and wedding planner he called to Kabir they come.they entered in hall everyone see them..
Kabir:come kunj.they sit down.
Kunj:so here is wedding planner.
Leela:this good kunj. You all sit I'll send coffee for you all.
Kunj:kabir she is wedding planner sameera. 🙈😂😛
Kabir:hi now twinkle see your wedding planner now tell her what you wanted..
Twinkle:no Bhai you all see na I have to do other things too. Bas I wanted everything perfect in my wedding.
Kabir:great.
Sameera:so can we go with your father.
(yaar how can I forgot you yaar my wedding planner 😂😂😂never ever)
Kunj:yeah. But twinkle you can see what pa tell her..
Twinkle:okay. They sit and discuss each and everything in between twinkle tell sameera she wanted this here not there. Than they finalized the wedding card.. Mahi come with coffee and give everyone while giving coffee mug to om their hands touch 🌺.in each wedding function they keep dress code.In haldi yellow colour outfit.in mehndi green with floral design.
Than sangeet all golden theme.This three functions they decided to celebrated in very grand way. After sometimes later.
Kunj:now sameera you know each and everything..
Sameera:yes kunj I'll start my work didn't give any chance of complaint.
Kabir:so let's start the work guys we don't have time.
Wedding planner started her work with full of energy.All Invitation cards send to all guest.along with wedding card they giving
Gold coins and chocolates too.
Next day twinkle was sitting in her room Mahi come in twinkle room with her wedding card.
Mahi: di see your wedding card it's so pretty.Twinkle take card in her hand and see her eyes went on card what written in front of the card.. twinkle caress the card and her eyes become wet..
It's written TWINKLE WEDS KUNJ.
Than twinkle open the card.The card in box style it's open like box in middle cake design.DI tomorrow is your haldi im so excited finally..
Twinkle:hmm.
Finally the day as arrived today is twinkle and Kunj haldi.. in both family everywhere hustle and bustle. Avantika and Usha seeing each and everything.
Avantika:usha you go and see your sons did they get ready or not.Till than I'll see haldi.Usha went in kunj room see they all boys make his room clothes shop.
Usha see Yuvi om rudra or Rahul sitting looking stunning they wear yellow colour kurta with white salwar in different style.
Usha:looking hot my boys all thanks.😍.
Where is my boy I'm mean groom. All looking towards washroom door just than door is open kunj come out he looking damn hot in this Indian wear.. he went to usha who looking at him.She cupped his face aww look at my son looking so handsome.
Kunj:even my MAA too. He kissed on her forehead.
Usha:you all come down now okay.They all went downstairs boys sit in side.
All ladies come down they looking really beautiful. Aayat come to kunj and show him her dress.
Aayat: Bhaiya how I'm looking. Twining we all..
Kunj:so pretty my doll.
Aayat: Bhaiya why we get ready so much.
Rudra:don't you know Aayat Bhaiya is getting married today is his haldi..
Aayat:what Bhaiya you getting married why you married to me did you forget that day.. kunj and other's remembers that Aayat marry kunj while playing ghar ghar all started laughing.
Kunj:yeah Aayat.
Aayat:I'm your bride na..
Rudra:haa Meri MAA.
Rahul: kunj she is your wife😛😂.
Prithviraj: now we should leave they must be waiting for us.all nodded in yes they went out and sit in their cars and left for Taneja Mansion.
Leela and Malika running here and there seeing each and everything.
Twinkle in her room getting ready while her friends with her..
Chinki:Twinkle looking good now only.I'm so excited your haldi finally.
Asha:yes yaar.
HALDI CEREMONY 
 Haldi decoration..
Sarnas arrived Kabir and abeer standing to greet them.While garden decorated so beautiful in all colours.Everyone freezes to see the arrangement it's really pretty.
Leela come and meet with them.
Leela:finally my son in law is come. Kunj take their blessing.
Avantika:arrangement is really outstanding Leela ji.
Leela:yes.
Rahul:so this is your sasural saale ji.
Kunj:haa. They all sits..
Rahul :where is your bride kunj ji..
Kunj:how I know I m with you.
Rudra: Arey Kabir bro where is my bhabhi.
Kabir:go and see your bhabhi 😂😂..
Mahi look at om Kara who looking hot in his long hair.Om eye went on mahi he see her and freeze to see her beauty.Rahul see om Kara and give smile and turned his face started teasing Kunj.
Lata:we should start the haldi ceremony.
Bebe:yes Leela call twinkle..
Anjali:yes where is our bhabhi show us.
Just than Mahi see twinkle coming with her all friend.
Mahi: here di is.. all turned and look at twinkle she coming looking so beautiful wearing yellow colour dress with floral jewellery which enhancing her beauty more.bg song din shagana da..
Din shagna da chadheya
Aao sakhiyon ni vehra sajeya
Haan.. [vehra=courtyard]
Mera sajna mileya
Sajna milan vadhaiyan
Ni saajan doli leke aauna
Ni vehra sajeya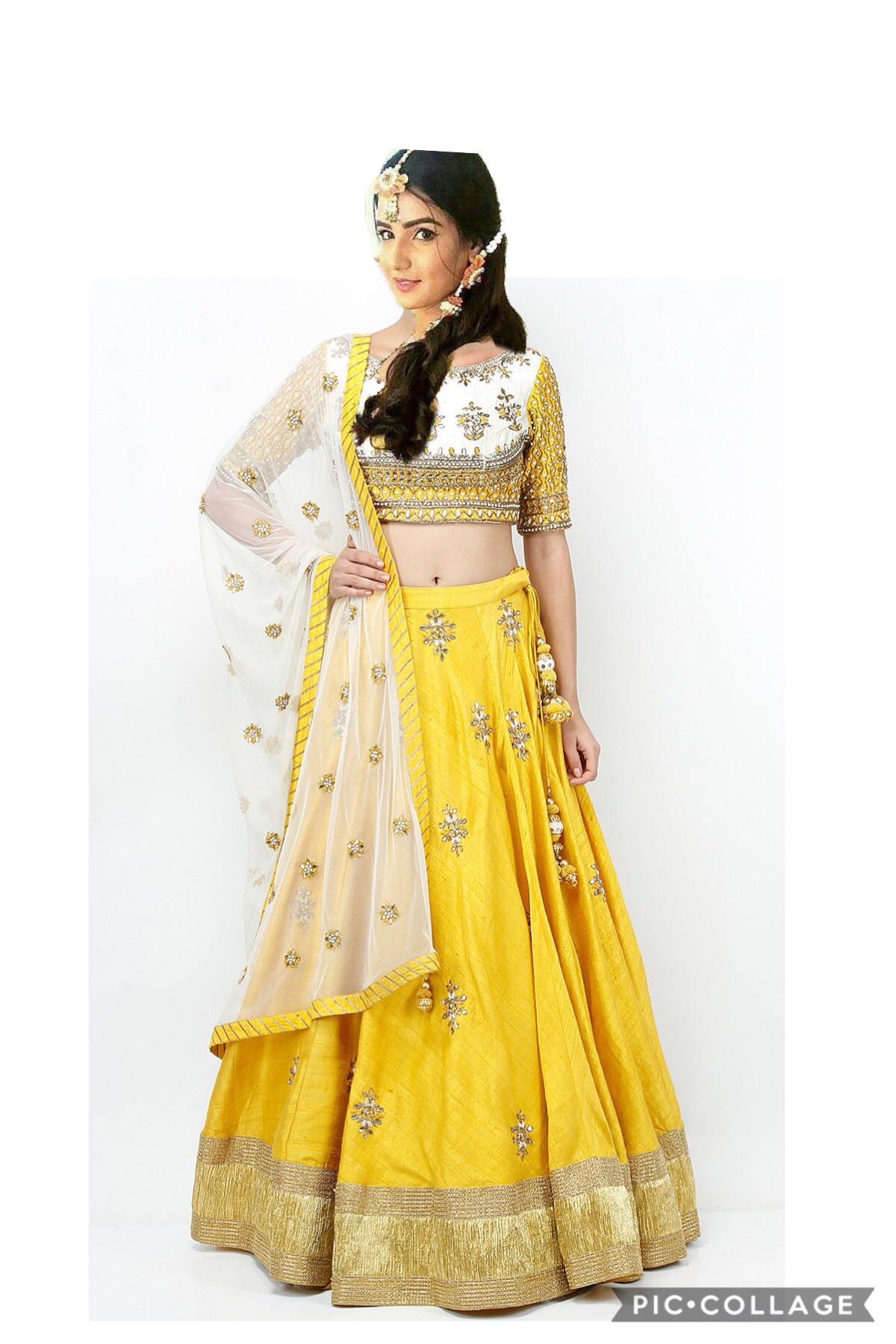 Kunj look at her and lost in her beauty while twinkle looking down.
Asha and Chinki make twinkle sit. Anjali make kunj beside her.
Leela:girls now start the haldi. All started hooting. Twinkle you looking so beautiful.. all praising twinkle beauty lot.
Mera sajna mileya
Sajna mileya
Sajna mileya haan..
Wo ho…
Din shagna da chadheya
Aao sakhiyon ni vehra sajeya
Haan…
Kunj: please don't apply so much just little bit.,
Malika:see our groom no please kunj today no little bit get ready to see Indian haldi.
Kunj:what type of friend you are., 🙄
Avantika:Priyanka where is haldi bowl.
Priyanka bring haldi bowl. She give to lata she remove the red cloth from blow.
She went near twinkle and Kunj first she caress their face shower her love on them. Than take haldi with green leaf.look at Kunj And kunj.
Lata: ready..
Kunj: dadi please you know na..
Lata:today no one stop me. You know na kunj I'm just waiting for this day. She look at Kunj with love eyes kunj melted. Camera main clicking pictures..
Mera sajna mileya
Sajna milan vadhaiyan
Ni sajan doli leke auna
Ni mera sajna
Kunj:okay do whatever you all wanted to do. Lata and Prithviraj apply haldi first on kunj face and twinkle face.
Than Bebe and Hansh turn come. Avantika and tej too come and see kunj.They never thought this day come so soon they see their son here.
Tej:mera beta he hugged him.Kissed on his forehead all see this get happy.
Avantika:Tej chalo.they both apply haldi on kunj face fully Kunj laughing too see his father. Leela and Rt too apply while applying haldi on twinkle face their eyes become wet too see their daughter applying haldi.
Usha come she apply on kunj nose and hug him
Now all elders turn end now it's youngster they just waiting for their turn only. They all giving devil look which scared twinkle and Kunj.
Twinkle:guys please don't do anything with us.
Chinki: hat.. 😂😂. Rudra and om Kara come and apply haldi on kunj and twinkle face.
Om: kunj so happy for you.
Rudra: even me too Bhaiya. Both brothers give hug to kunj and twinkle too. Rudra apply haldi on twinkle face fully and hands too.Now Kabir and Malika they too did same.
Kunj:kabir please leave me..
Kabir:not jija ji..😂😂..
Rahul:bro first tight hug toh banta hai.
Dholna ve, Dholna ve
Ranjhan Mahi dholna
Dholna ve, dholna ve
Heer jogni dholna
Dholna ve dholna
Tu mera naseeba dholna
Dholna ve dholna
Main jugni teri dholna
He give tight hug to kunj and twinkle than take haldi in his hand smudge haldi on their faces.Chinki and Asha and or Mahi didn't leave kunj they hide his face under haldi twinkle see this and laughing loudly,
Now Aayat turn most special.. she come and look at Kunj.
Aayat:hehe Bhaiya look at yourself.
Om: Aayat haldi lagao. She take haldi in her tiny hands beautifully apply haldi on kunj and twinkle face she get so happy started jumping Kunj pulled her and kissed on her cheeks..
Kunj:my baby😍😍.
Twinkle: now done haldi.
Yuvi:who told you twinkle.They all started playing haldi holi all running behind twinkle and Kunj.Twinkle about to escape but rudra caught her and all Sarna kids pour all haldi bowl on twinkle.
Twinkle:you all😭😭😭.Papa.
Kabir:now  no Papa baby.
they stand twinkle and Kunj together take buckets in buckets
Water and milk or rose petals inside.They all throw on twinkle and Kunj they closed their eyes. All elders see this and enjoying it. All laughing on kunj and twinkle they drenched fully Kunj see rudra.
Kunj: wait you. He run behind him while he too.
Rudra: pa save me from Bhaiya he went to Tej and hide behind Tej back. Kunj come and see rudra.
Tej: kunj Leave na today.
Kunj:pa look at my stage what they make it.
Tej:it's their right and day too.Let them.
Rudra show his tongue to kunj. Than Rahul and om or rudra hold kunj both hands throw haldi water on his face three of them make kunj condition hell. Rudra and om pulled kunj cheeks.they all click their pictures. Rudra take Twinkle in his arms like bridal style spinning her. While twinkle screaming Rudra stop. 😂
Jaavan na main bin shehnaiyan
Satrangi rubaiyaan
Sunaa ja tu harjaiyaa (x2)
Shamiyaana sajavan
Doli leke main aavan
Aatishbazi karaake
Tenu leke main jaavan
Later.
Leela:you both should go and change before you catch cold..
Twinkle:okay MAA.They both went inside
Kunj: where I'll go.
Twinkle: come with me. They both went upstairs and goes in twinkle room there already keeping twinkle and Kunj another clothes.
Twinkle give to kunj. You go and get freshen up.
Kunj:okay thanks. He went in washroom while till than twinkle looking at herself and laughing to remember all funny moments.Kunj come out of the washroom
Ruffles his hairs. Twinkle look at him.
And laughing while Kunj get confused.
Kunj:why you laughing.?
Twinkle:wait I'll tell you.. twinkle went near kunj face Kunj get confused. Twinkle take her duppta and remove haldi from kunj face which still there didn't remove.. see kunj.
Kunj:hoo this idiots give me haldi bath didn't going out.
Twinkle:hmm looking good yellow Sarna.
Kunj: acha first look at yourself yellow siyappa queen if anyone see you get heart attack 😂😂😛.
Twinkle:very funny..
twinkle went in washroom Kunj take towel and wiped his face and went downstairs.
He went in garden everyone waiting for kunj only.All having Juice while Aayat sitting alone Kunj went to her.. sit beside her and make her sit on his lap.
Kunj:what happened to my Aayat.
Aayat: nothing Bhaiya.
Kunj:good come with me. Kunj take juice for Aayat make her drink.
Aayat: I'm thirsty so much.
Kunj:I know why didn't you drink something. Now we with me..
Rahul:come bro.
they all sit together all chit chatting with each other's.Just than twinkle come she sit with everyone.
Yuvi:Twinkle I post our photos.See so many likes comes within some seconds.See the comment hot twinkle 😂. kunj closed his fist.And remember again single 😂 twinkle.He get up from there take Rahul with him.
Kabir:what happened to him. After sometimes everyone sit for dinner all take their plates.While twinkle finding something fishy in kunj she don't know.She went to rudra and asked him.
Twinkle: rudra what happened to your Bhaiya haa. He giving me looks even that day too.
Rudra:acha don't know. May be get jealous when Yuvi bro read the comment. He went from there. Twinkle open her account and see just than something click in her mind she look at her bio than remember kunj words single and taken.
Twinkle:Ofish because of this he behaved like this even that day too.I'm pretty single twinkle laugh first.Yeah I'm not single anymore.She change her bio write taken.Send the picture of this to kunj.
Kunj having his dinner twinkle take her plate went to him sit beside kunj.Hi kunj.
Kunj:hmm🙂..
Twinkle: sorry she said this went from there. Kunj get confused and he check his phone twinkle send him something.
Kunj: now what she send me.. Kunj open the phone see twinkle send him photo of her bio. Kunj about to delete but he stop his eyes caught something.kunj read something smile appears on his face which twinkle seeing from side.Taken. 😛
And read twinkle messages.
See Mr Sarna I correct na I'm not single pretty taken with you 🤗don't get angry.
Kunj look at twinkle she started looking
Somewhere else.Later twinkle about to fall kunj save her he hold her hand.
Kunj:carefully Mrs Sarna..
Twinkle: acha. I'm fine. Now happy.
Kunj:yeah why not today is my haldi I'll.
Twinkle: acha you happy because of haldi huhu.She about to go kunj held her pulled her to him.
Kunj:Arey Twinkle I'm just kidding.Don't be angry. Nice bio😍.He said this and went from there. Both of them smiling like anything after they all having sweet paan.
Rudra:2 days mores to go.Than our bhabhi with us😍😍..
Kabir: this devar is very much excited for bhabhi more than husband ji😛😛 what's the matter.
Rudra: I love my bhabhi lot haina twinkle nodded her head in yes while others giggles.
Om:really Rudra. 😂. Twinkle your this devar is very selfish. He just waiting for his bhabhi so he make you complete his notes 😂😂. All like WHAT😱😱😱.While Kunj and om laughing so loudly..
Twinkle:ho Rudra so bad..
Kunj: hehe Rudra.To see her face expression she'll not do anything of your .Poor baby.
Rudra:no bhabhi they just jealous with our bond nothing else.
Abeer: you know Malika Kabir was so excited for his wedding.
Yuvi: yeah we all know for what he is excited winking at Kabir.
Kabir:haa even you all will too.
Rahul:yeah Malika you didn't tell me how's your honeymoon😂😛.
Malika:awesome now I can't tell you in details hope you understand in hint 😛.
Rahul: what a girl. Kunj and twinkle just look at them 😂😛. What they were talking.
Kabir:now Kunj turn.
Rishi:haa romance 😂😍😛..
Kabir:yeah Kunj don't forget to tell me.
Rahul:what a bother of yours twinkle he was interested to listen about your romance life😂😛..they all started talking cheap Kunj closed his ears.
Kunj: stop please what you all were talking Chii have some shame.
Kabir:let see brother after 2days..
Rahul:yeah on your first night.. 😛. Twinkle become all red.Kunj went from there all laugh at him.after this function too end happily 😍😍.Sarnsad Sarna about  to go.
Anjali: dadu you all go me and Priyanka staying here.
Rudra:why😡..
Anjali: our wish.
Kunj: but why di..
Anjali: we all girls planned bridal shower.
All like what is this now.
Rudra:bridal shower what is this ??
Anjali:it just a part no boys only girls.
Lata:ho okay you stay here only.
Kunj: now bridal shower is too left.. this siyappa queen na just now she take Haldi shower 😛😛..
Rudra: G is only bridal shower there is no groom shower.. 😂😛..
Rahul:no Rudy. Only bridal shower.They went to Sarna Mansion.While girls get freshen up wear their PJ.. they planned bridal shower in their guest house. All girls went to guest house and on the lights and see their arrangements done by wedding planner😛..
Malika:girls lets  starts.. they all wearing tshirts .bride➰tribe written on their tshirts. And on twinkle BRIDE.
Bridal shower means a party, held for a bride to be before her wedding , to which her friends bring gifts.
Even twinkle wearing sash and tiara..
they play the loud music and started dancing like crazy.
At other side Rudra went in kunj room. Find om and Rahul too there he sit with them.
Rudra: I get bored.
Rahul: why..
Rudra:don't know what this girls doing it. Om call to Mahi.While om look at his face.
Om:why I'll.
Rudra:itna kyu chid rahe ho.
Rahul: wait I'll call to my wifey.Rahul call to Anjali she pick up his call and went in side.
Anjali: yes husband ji.
Rahul:hi how's you what you doing it I'm missing you buttering on her..
Anjali: don't buttering on me so much tell me what you wanted.
Rudra: di let us see what you girls doing it I never see bridal shower please in puppy voice.
Anjali: okay. Anjali do video call and stand her phone in side while Rahul connected his phone with TV..
They all sit and bring popcorn.. first little bit dark than lights come..
Rudra:dance hoo.Twinkle come they see her Their eyes pop out👀.
Rahul:bride to be interesting Kunj.All girls dancing playing games while boys see them and too laughing to see their anticness.Kunj just see twinkle her cuteness.
Om:awesome bridal shower.
Rudra: I thought they take shower with bhabhi 😂😂😂.
Kunj:you are truly dumb Sarna.
Rahul:really Rudra used your common sense. After they all sleep while girls too.
Another day come today is twinkle and Kunj Mehndi omg.Mehndi function happing in Sarna another house..not there where they living right now because before wedding bride can't go to her sasural.
MEHNDI FUNCTION.
Whole house decorated nicely in mehndi style
.Tanejas comes Avantika take twinkle.
Make her sit.Others applying mehndi.,
Before applying mehndi twinkle and Kunj give pose for media their wedding is in limelight.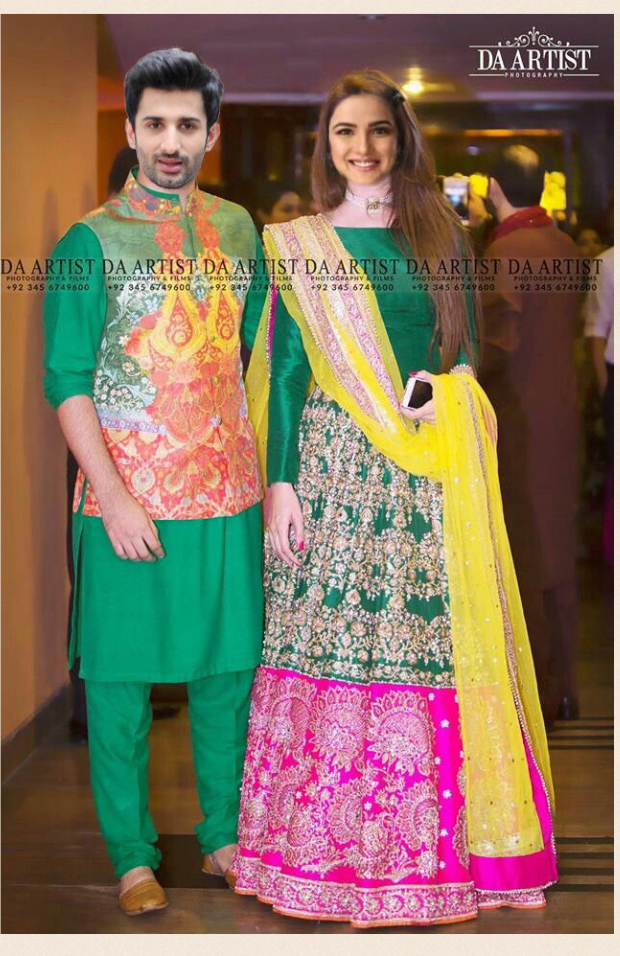 Everywhere just talking about kunj Sarna wedding.
All familyMember wearing matching clothes in green colour.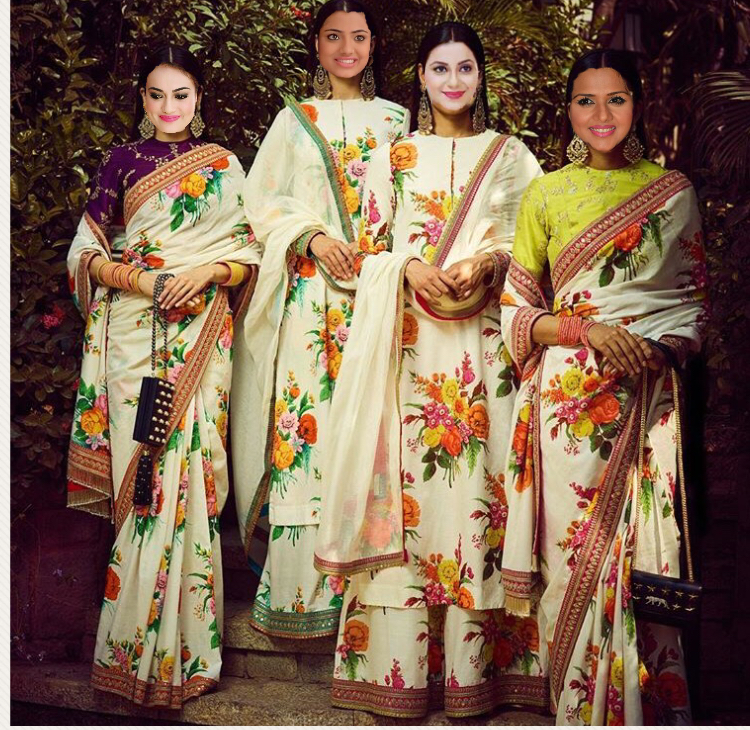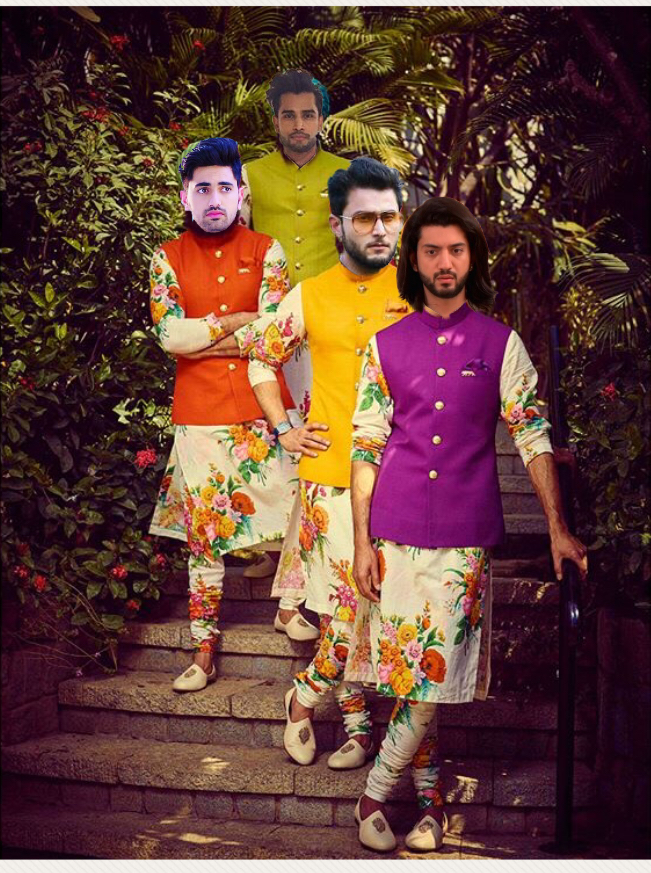 Kunj see twinkle and mesmerised totally he don't have words for her to describe her beauty in words.
Application of mehendi comes under the solah sringar of a newbie or to-be bride.
Lata:twinkle sit for your mehndi.Girl apply best mehndi design on my bahu hands okay.Twinkle sit and give her hand to mehndi girl.Twinkle mehndi starts while boys busy in their self. After sometimes later Avantika call Kunj and make him sit beside twinkle.Kunj see twinkle hands wet mehndi design looking beautiful in twinkle hands.Hairs coming on her face which irritates her lot. Kunj tucked her hairs. Others done with Mehndi only twinkle left because her bridal mehndi so it's takes time.song in bg
Mehndi Hai Rachnewaali, Haathon Mein Gehri Laali
Kahe Sakhiyaan, Ab Kaliyaan
Haathon Mein Khilnewaali Hain
Tere Mann Ko, Jeevan Ko
Nayi Khushiyaan Milnewaali Hai
Kunj:dadi why she applying mehndi this much overall her hands and legs..
O Hariyali Banno
Le Jaana Tujhko Guiyyaan Aane Waale Hai Saiyyaan
Thaamenge Aake Baiyyaan, Goonjegi Shehnaayi
Angnaayi, Angnaayi
Mehndi Hai Rachnewaali, Haathon Mein Gehri Laali
Usha: because she is bride na Kunj.
Anjali and Malika come stand beside Kunj both hands.She applying this mehndi because of you only Kunj it's your name mehndi let's see when colour will come.
Kunj:acha because of me than don't apply. 😛I didn'ti d I didnot like it..
Anjali:still 😛😍,, now you go.. ladies singing song all see them. They all teasing twinkle with Their song lyrics
Kahe Sakhiyaan, Ab Kaliyaan
Haathon Mein Khilnewaali Hain
Tere Mann Ko, Jeevan Ko
Nayi Khushiyaan Milnewaali Hai
Gaaye Maiya Aur Mausi, Gaaye Behna Aur Bhabhi
Ke Mehndi Khil Jaaye, Rang Laaye Hariyaali Banni
Mehndi girl: what's your husband name..
twinkle: woh girls hooting.. and look at twinkle she blushed and said KUNJ❤️🙈.
She write Kunj name on her hand. After twinkle get tired due to mehndi she have to sit more.Later finally at last twinkle mehndi is done.She take breath.show everything
Gaaye Phoofi Aur Chaachi, Gaaye Naani Aur Daadi
Ke Mehndi Mann Bhaaye, Saj Jaaye Hariyaali Banni
Mehndi Roop Sanwaare, O Mehndi Rang Nikhaare, Ho
Now it's time to Kunj find his name in twinkle mehndi.They all come..
Anjali:now Kunj find your name in twinkle hands..
Rahul:yeah did it.show you are Kunj Sarna.
Chinki: acha lets see. Twinkle show her hands to Kunj. Kunj started searching his name in twinkle plam  but it's so difficult boys face dropping down.
Kunj:you didn't left anyplace twinkle.
Twinkle:find na Mr Sarna.
Kunj: acha challenge.
Twinkle: yes 😎😜,
Kunj:challenge accepted Kunj Sarna never loose the challenges. Kunj find his name here. All girls,, 😨.. where.. I'll show you.
Kunj name written between in her fingers so cleaver she is but can't win.. Kunj giving look to Kunj.
Twinkle: don't get happy so much. You just find first letter of your name what about others letters😎..
Kunj:what only K na..
Twinkle:no Kunj ji.Find in my mehndi your name all letters not only K I'm too smart. This one Words is old.girls started clapping. With cute angry face Kunj finding again his name somehow he find his all letters in twinkle hand. She ask her mehendi artist to scatter all the alphabets of groom's name all over on her mehendi.
Kunj:KUNJ.
Twinkle:good poor.All dancing in side.
Hariyaali Banni Ke Aanchal Mein Utrenge Taarein
Mehndi Hai Rachnewaali, Haathon Mein Gehri Laali
Kahe Sakhiyaan, Ab Kaliyaan
Haathon Mein Khilnewaali Hain
Tere Mann Ko, Jeevan Ko
Nayi Khushiyaan Milnewaali Hai
Twinkle feel thirsty and hungry.All sit for dinner. Avantika make food plate for twinkle and give to Kunj..
Avantika: take this and go and feed twinkle she can't feed itself because still her mehndi is wet.
Kunj: mummy you can do na this I'm not.
Avantika: Arey Kunj she is your wife not mine now go okay. She handover plate in his hands and left Kunj look at plate. But he went towards twinkle she sitting just adoring her mehendi Kunj sit beside her.
Kunj: mummy send this for you.
Twinkle:but right now I can't.
Kunj:I know I'll feed you.
Twinkle:okay please get water for me.
Kunj: yeah. Kunj went and bring water for twinkle. And make her drink with his hands all siblings and friends come and sit beside twinkle and Kunj. Kunj look at them he thinking now how he feed twinkle in front of them.
Anjali:Arey feed her she is hungry.. Kunj looking at their face Lata and Bebe or Avantika Usha Leela and sapana Anita come there giggles to see Kunj.
Bebe: ha Kunj twinkle can't stay hungry.
Avantika:my this son is so shy why., Kunj tore the roti and twinkle open her mouth Kunj feed him food.
Rudra:Bhaiya me too. He too come Kunj feed him too.While Rudra too Kunj.
Twinkle: bas Kunj I'm done..
Kunj: sure..
Twinkle:yes. Something left near twinkle lips. Kunj see this and tell her she try to remove but can't go.Kunj see everywhere no one is there he removed it.Twinkle see him their very closed face. (Sajna ve)
There Sameera come and talk to Kunj twinkle just see them and make faces..
Twinkle:😂😂😂.this planner kuch jada hi sadu ko nahi chipak rahi Hai.Sameera listen this because it's enough audible for her but didn't said anything. She went from there.
Sameera: huhu what she think of herself. I'll chipaku to her husband as if he is Sidhant Gupta woh hota toh koi baath hoti 😂😛😎..(sorry)…
After even qawwali sharyari program is too.
All family member come And sit down. they wearing qawwali hats too. Boys and girls team.Aayat in boys team she sitting on Kunj lap.
Rahul: let's the qawwali.YES ALL.
Asha: who coming from your side.
Om: rudra..
Rudra: yes.. Kaalii ghataa hai, aa aa, mast fazaa hai, aa aa. Boys waha waha…
Kaalii ghaTaa hai mast fazaa hai, jaam uThaakar ghuum ghuum ghuum
Jhuum baraabar jhuum sharaabii, jhuum baraabar jhuum*
Yuvi: waha waha😂😂😂😂..
Avantika: chii rudra..
Yuvi: now your turn girls..
Anjali: me.. Qawwalon ki mehfil mein aapka swagat hai, ❤️😛.girls waha waha..
Bhes majnu ka liya maine jo laila hokar
Rang laaya hai dupatta mere maila hokar
Rudra:waha waha boys look at him.
Rahul: you are In our team na rudra so no waha..
Anjali:While looking at Rahul.😜.Hai agar dushman, dushman zamaana, gam nahin gam nahin –Hum Kisi se kum nahin".
Waha waha di kill it. Now boys again.
Rahul:Tumse milke dil ka hai jo haal kya kahein, ho gaya hai kaisa yeh kamala kya kahen. Winked at Anjali.
Yuvi: jiju control 😂😂😛.
Mahi: Arz kiya hai
"Irshaad Irshaad"
Dil mein chhipi yaadon se sawaru tujhe
Tu dekhe to apni ankho me utaru tujhe,
Tere naam ko labo pe aise sajaya hain,
So bhi jaau to khawbo me pukaru tujhe…
waha waha. Om kara look at mahi and give her smile.. Rahul see omkara admiring session..
Rahul: now my saala omkara😂..
Om:Har lamha yun kal Ko talash raha hai yeh dil,
Guzri yaadon ko fir se jeena chah raha hai yeh dil,
Koi mujhse bhi puch le kyun khamosh hai meri aankhein,
Meri zindagi ko fir se maang raha hai ye dil..Mahi smiling.
Malika: Twinkle show your power..
Twinkle: look at Kunj even he too her.in very romantic way. Her eyes on kunj face.
Rab Kare Zindagi Mein Aisa Mukaam Aaye,
Meri Rooh Aur Jaan Aapke Kaam Aaye,
Har Dua Mein Bas Yehi Maangte Hain Rab Se,
Ki Agle Janam Mein Bhi Aapke Naam Ke Sath Mera Naam Aaye.. Kunj look at her.
Rahul: waha twinkle mast..
Rudra: now Bhaiya.
Kunj: I don't know this all.
Lata:offo kunj try to do na.
Kunj:But dadi I you know I don't know qawwali and all..
Rudra: qawwali Bhaiya se muh se uff. Buttons ko band karna and qawwali bolna yeh impossible hai😂😂dono..
Kunj:om you know speak behalf of me.
Chinki:nahi chalega.
Prithviraj: kunj bolte mera pota hai.. Kunj thinking.Than look at twinkle face..
Kunj:While looking down twinkle picture in his mind.. Sadiyo se ek sapna hain, kaho pura karoge tum,
Bhul jao mere siwa sb kuch, kaho aisa kroge tum
Nahi kuchh or tamanna ab, ke bs mere ho jao tum
Kabhi na chhor ke jaoge, kaho aisa karoge tum,
Faqat ek lafz sunne ko, kayi barson se tarsa hu,
Mujhe apna banaa lo, kaho aisa karoge tum….!! Each and everything didn't expect this from kunj. Rudra just look at kunj.
Rudra: Bhaiya pinch me.. yuvi did. Rudra scream Haaaaa.
Rahul: kunj great man..six direct.Twinkle still didn't believe on her ears she looking at Kunj continuously.
Yuvi: show your power Kabir bro..
Kabir:Hum Ruthe To Kiske Bharose,
Kaun Hai Jo Aayega Hume Manane Ke Liye,waha waha..
Ho Sakta Hai Taras Aa Bhi Jaye Aapko..
Par Dil Kaha Se Laau.. Aapse Ruth Jane K Liye.waha.waha. Malika laughing slightly.
Malika:immediately araz kiya hai..
Aapki ye nigaah meherbaan ho jaye,
Yeh zameen bhi aasmaan ho jaye,
Shak ho agar mere ishq par,
To jab chaahe mera imtihaan ho jaye!😂. Kabir and Rahul throw money on malika..
😂😂.everyone turns end it's really funny they all spend gala time..
Maya:now nanu you too somewords for Nani..
Anjali:yes dadu….
Rudra:dadu dadu.. Prithviraj look lata who nodding her head in yes..
Prithviraj:Arz kiya hai
All:wow😱😱😱😱😱…
"Irshaad Irshaad"
Aae meri Zohra zabeen, Tujhe malum nahin Tu abhi tak hai hasin aur mein jawan, tujhape qurabaan merii jaan merii jaan lata smiling like anything.after they all started dancing on beats.twinkle and Kunj hands touching while others purposely push twinkle in kunj.he hold her tightly giving them answer back😂.
Finally episode end on their happy face.
________________________________
T: hi twinkle Taneja now going to become Sarna.
Kunj:yes.. do this siyappa queen going to become my wife uff.. both giving each other looks. And push too.lets see keshi hogi yeh arrange marriage
t: yes humhari shadi tom and Jerry going to tie in one knot. Don't know how I live with his sadu.
Kunj:huhu. Tashan e tashan e Ishq play..
__________________________________
finally done ufff after so much time.. two function is complete now sangeet and shadi..😎🙈
my kamini wedding planner..
hope you all like episode guys I give my best. Whatever I planned I did it. Give your views please.. stay tuned