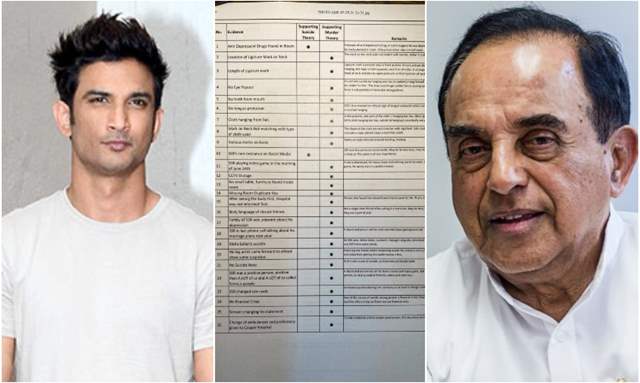 Sushant SIngh Rajput's unfortunate death case is taking shocking turns every single day. As we got to know that recently SSR's father filed an FIR against Rhea Chakraborty and 5 others in Patna and things have started to move fast in this case since that very day.
Rhea moved the Supreme court asking them to put a stay on the investigation done by the Patna Police and move the FIR to Mumbai itself so that Mumbai Police can investigate. This itself is a fishy move and has made the fans suspect Rhea and her intentions more than ever.
In the latest developments, Rajya Sabha MP Subramanian Swamy has alleged that actor Sushant Singh Rajput was 'murdered'. Swamy took to Twitter and shared a document which showed 26 points that supported the alleged murder theory. The list states 'no froth from mouth', 'no tongue protrusion', 'various marks on body', 'no suicide note', and many other points that support that Sushant was muredred and only 2 points: 'anti-depressant drugs found in room', and 'SSR's non-existence on social media' support that the actor died by suicide.
Sharing the list, Swamy wrote on Twitter: "Why I think Sushanth Singh Rajput was murdered."
Besides, Swamy also questioned if Mumbai Police is following the CrPC. "Mumbai Police thinks FIR stands for "Final" Information Report as per M3, not "First" Information Report as per the Criminal Procedure Code. So to register the  "FIR" the Mumbai Police is waiting for all the information to come in. Is Mumbai Police following M3 prepared Cr.PC?" he said.
Have a look at the list he has shared:
Why I think Sushanth Singh Rajput was murdered pic.twitter.com/GROSgMYYwE

— Subramanian Swamy (@Swamy39) July 30, 2020
Well, now only time will tell and reveal the truth. What do you think? Was it a murder or a suicide?