Manzil GoHem GoGi RicIta SS Part 7

Warning: A non-numeric value encountered in /home/ftpusers/tellyu/public_html/wp-content/themes/publisher/includes/func-review-rating.php on line 212

Warning: A non-numeric value encountered in /home/ftpusers/tellyu/public_html/wp-content/themes/publisher/includes/func-review-rating.php on line 213

Manzil (Destination) Part 7
Ricky found a letter on the table and read it.
Gopi:Ricky beta…I got the love of a life time in a few days from you.That's enough for me.Now I am going back to my old house.Once in a while you come to visit me.That's better.
Ricky was shocked.Sita took the letter from Ricky and read it. Sita were shocked.
Ricky:Why did Maa leave me?
Ricky cried insanely.
Sita:She realized that it's better to leave us alone for our happy life.That's why she left.
Ricky stared at Sita.
Ricky:How do you know that?Did you tell anything to Maa?Tell Sita….
Sita blasted:Yes..I told her that because of her I have no importance in your life.I told her that because of her I am lonely and I have no married life.
Ricky screamed:Sitaaaaaa..because of you I lost my mother again.
Sita:You have not lost your mother Ricky.She just shifted to another house.She said that we can visit her any time.
Ricky:No Sita.When I am alive I won't let my mother live alone.I will bring her here.
Sita was irritated:Then what about me Ricky?I am always alone even when I am staying with both of you as you want only your mother.Sometimes I feel that you are not married to me,but to your mother.
Ricky screamed:Yes…I would have married her if she was not my mother.She is the best woman anyone could get.Infact in childhood I wanted to marry my mother.But later on I realized the purity of mother son relationship.
Sita:Disgusting.I am reminded of the drama I learnt in college.Oedipus Rex.The son marrying his son and producing children.But there he did it without knowing that she is his mother.When he and his mother realized the truth,he blinded his own eyes and his mother killed herself.But here you and your mother have no guilt.
Ricky:I don't know what to say Sita.How can ypu stoop so low to talk like this about my relationshi with my mother?I feel that you are not the Sita I loved.My Sita used to understand me a lot.You don't trust my love for you.
Sita:Even I feel that you are not the Ricky I fell in love with.
Ricky:Leave it.You won't understand anything.Insecurity has made you blind.Now I really feel that my true love is only mother.Your love is not true.
Sita:Ya..you blame me and always support your mother.Now you are saying that only your mother's love is true and my love is fake.You should say this to me who always loved you.I am a fool to love you Ricky.
Ricky:Shut up.Anyways I am going to bring my mother back.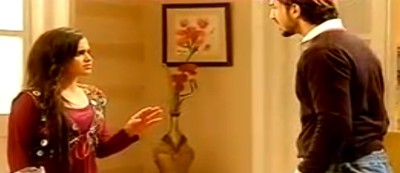 Sita:Then i will leave this house..not to end our relationship ,but to make you realize my importance in your life.
Ricky was shocked and shattered.
Sita left the house tearfully.
Chalte Chalte, Mere Ye Geet Yaad Rakhna
Kabhi Alvida Na Kahna
Kabhi Alvida Na Kahna
Rote Hanste, Bas Yunhi Tum
Gungunate Rahana
Kabhi Alvida ….
Pyar Karte Karte, Hum Tum Kahin Kho Jaayenge
Inhi Baharon Ke, Aanchal Mein Thak Ke So Jaayenge
Sapanon Ko Phir Bhi, Tum Yunhi Sajate Rahana
Kabhi Alvida ….
Beech Rah Mein Dilbar, Bichhad Jaaye Kahin Hum Agar
Aur Sooni Si Lage Tumhen, Jivan Ki Ye Dagar
Ham Laut Aayenge, Tum Yunhi Bulate Rahana
Kabhi Alvida …(Chalte Chalte).
Sita reached home with her luggage.
Raman and Ishita welcomed her.
Ishita:Ricky did not come?
Sita:No Ishimaa.
Raman:Why?
Sita's eyes got filled up with tears:Because he does'nt want me.

She burst into tears.
Raman and Ishita were shocked.
Raman:What happened?Why Ricky does'nt want you?Is there any woman in his life?Then i won't leave him.
Sita:Yes,there is a woman between us.His mother Gopi.
Raman Ishita were shocked:What?
Sita ran to her bedroom.
Raman:What is this Ishita?
Ishita:I don't know Raman.Guess the usual Saas Bahu fight.But seeing Gopiji I don't think she is a typical mother in law who fights with her daughter in law.
Raman:Even i never expected this from Gopiji.

Ricky reached Gopi's house.Gopi was stunned to see Ricky.
They both looked at each other tearfully.
Gopi:Ricky!
Ricky:How could you leave me again Maa?
Gopi:I did'nt leave you Ricky.It's just that I decided to stay in a separate house.These days staying separately is normal.But love does'nt decrease.
Ricky held her hand:But I can't live without you Maa.I want to see you daily.
Gopi was very emotional:But Ricky!
Ricky:I lived in a hell for many years without you.Recently only I got a heaven.And I don't want to break it.
Gopi wept:But please try to understand it beta.
Ricky:I don't want to hear anything.You did it for Sita.Right?She left home.
Gopi was shocked:What?Sita left home?Why?Did you scold her?
Ricky: I just told her that I can't live without you.So she left.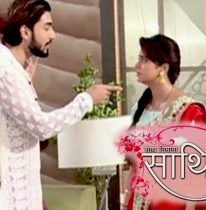 Gopi:How could you just let her go like that Ricky?She is your love.
Ricky:If my love is true she will return to me.I will not beg her to return.
Gopi:There is too much of ego in you.I will go and call Sita.She left because of me.So I will bring her back.
Ricky:No Maa.You won't sacrifice your self respect to request her to return to me like you did years back for your cruel husband.I won't tolerate you getting insulted again.If Sita loves me sincerely she will come back.
Gopi:But Ricky…
Ricky:Don't say anything and come back.
Ricky forcefully carried her luggage with her to the car and drove back to their house.
After a month…
Gopi:You are longing to be with Sita.But you are not even calling her.Is this love Ricky?Your love for Sita is so weak.You are becoming like your father.
Ricky:Maa!How can you compare me with my father?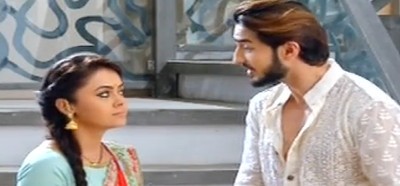 Gopi:If you are different from your father and loves him prove it.Go and call her back.
Ricky:It was her decision to leave.So I can't call her back.
Gopi:If you are really planning to do such foolishness out of ego by not bringing back Sita..then I won't eat any food.
Ricky was stunned:Maa!
Gopi:If you can be stubborn I can also be stubburn.If you don't listen to me I will really starve till my health deteriorates.
Suddenly Ricky put his finger on Gopi's hand.
Ricky:Please don't say like that Maa.I can't live without you.If anything happens to you I will die.Please don't starve and trouble yourself physicaly i cannot bear it.
Gopi felt pain in her heart.
She thought:Sorry beta.I had to hurt you by blackmailing you emotionally to reunite you with Sita.Otherwise it will become too late when you realize what you lost by leaving Sita.
Gopi:When there is true love there is no place for ego.If you think that you really love Sita kill your ego and call her back.
Ricky looked at her emotionally.
Gopi:I thought a lot Ricky.I realized that Sita is not wrong.Any newly married woman will love to spend maximum time with the husband.Sita too longed for your presence.But just think what you did.You took it for granted and never spent enough time with her.You should have found time to be with her.I realized that I was also wrong.I became blind in your love that I never realized that now Sita too has equal right on you.I should have tried to make your bond stronger by making you both spend more time together.But like a possessive mother i was always behind you and unknowingly I never gave privacy to you both.Now I realized my mistakes too.But I promise that now onwards I will make sure that you both will have a lot of happiness in married life.I won't let your marriage fail.If it happens i will never forgive myself.Not only a wife,a husband should also try to work on the marriage to make the marriage successful.
Ricky wept silently.
Ishita caressed Sita:For how long you will fight with Ricky Sita?
Sita:It's not fight Ishimaa.I can't take it anymore.
Sita hugged Ishita emotionally.
Ishita caressed her to console her.


Raman:This happens everywhere Sita.
Sita:Where else does it happen?Ishimaa..have you ever been in my place?
Ishita:No.Because I was mature enough to understand that I can't take Raman's mother's place.A wife has a different role to play in a man's life Sita.There is no comparison between a mother and a wife.You are comparing yourself with Gopiji.That's foolishness.
Raman:Ishita was always in her parents' house.She could never be away from them.But i never opposed it like some stupid heartless husbands as I wanted her to be happy.Asking your spouse to be away from the parents is cruelty Sita.
Ishita:And you are doing cruelty by asking Ricky not to bring his mother back.If Ricky tells you to avoid us you will be so hurt.Would you be able to love Ricky if he tells you to be away from us?No.Right?Like that if you try to remove his mother from his life you will fail to maintain your place in Ricky's heart.
Raman:You should understand why Ricky and Gopi are extra close to each other.It's because Ricky missed his mother in childhood when he wanted his mother the most and Gopiji was all alone devoid of her son's love.Since her husband was cruel to her she was even more attached to her son.After many years finally they both have united.So they will try to spend maximum time with each other.Internally they will be insecure about losing each other like before.So they will try to be with each other always.Ricky trusted your love.So he was sure that you will understand his situation.That may be the reason that he could'nt give enough attention to you.But unfortunately you did'nt understand that.
Ishita:Instead of hurting your heart like this you should have talked to Ricky and sorted out the matter.He loves you.He would have understood you.He was ignorant of your feelings as he is also not that mature.Sometimes words are needed to make your spouse realize what's going on in your heart.You should never get angry with your husband for taking his mother with you both for outing.Instead you should tell him that sometimes they need to spend some private time.Then he would have understood it.Staying away from your husband for your ego will only hurt you more Sita.


Sita burst into tears.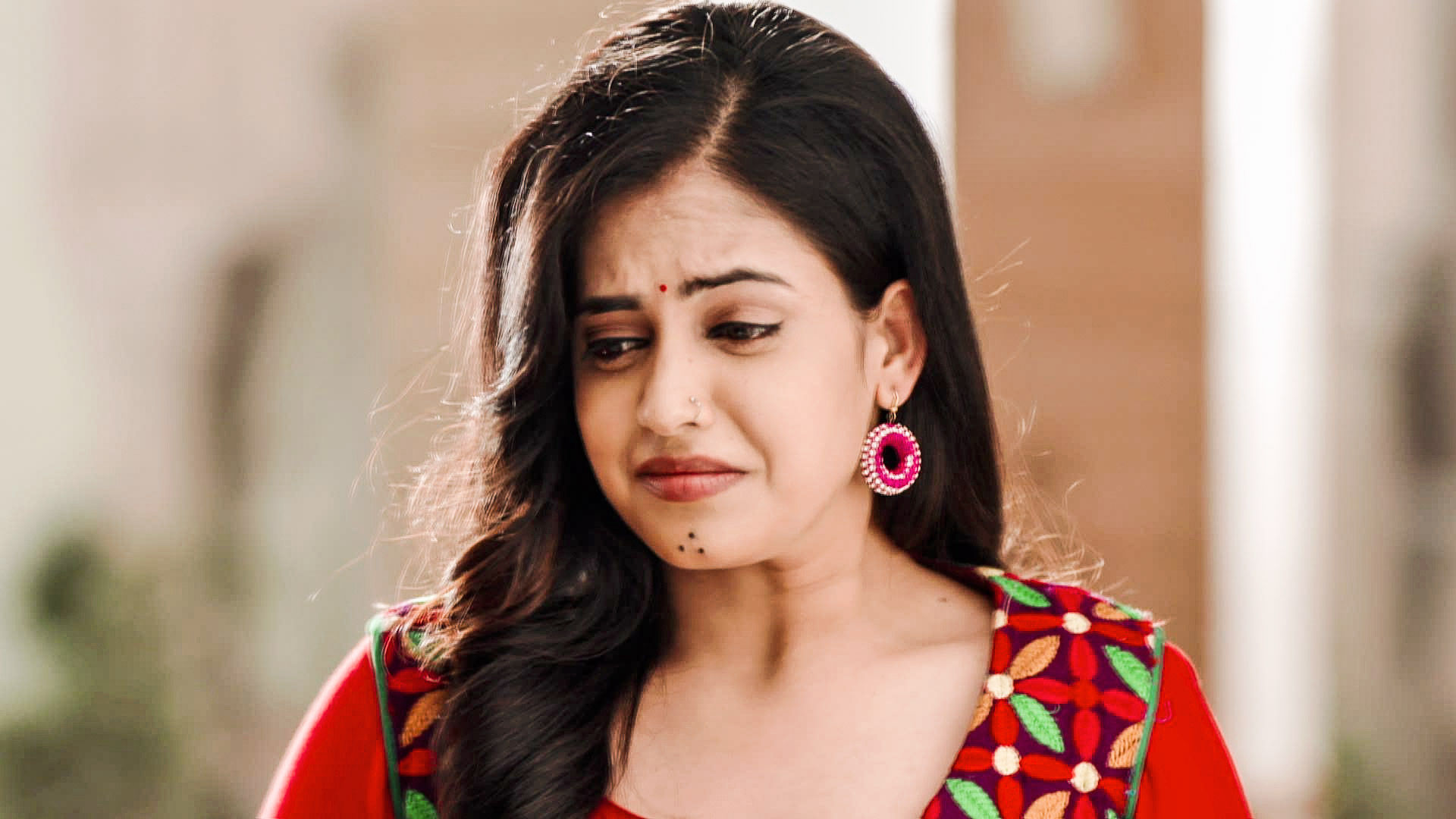 Sita:If Ricky loves you why can't he he call me back?
Raman Ishita became sad.
Raman:He may be always controlled by ego like you.
Sita was walking on the road.Suddenly she was pulled into a car.A masked man was holding her and sitting on the back seat.
She screamed:Who are you?Why did you kidnap me?
He sealed her lips with a plaster and held her hands tight.
The car reached a lonely place.Sita was scared.

Warning: A non-numeric value encountered in /home/ftpusers/tellyu/public_html/wp-content/themes/publisher/includes/func-review-rating.php on line 212

Warning: A non-numeric value encountered in /home/ftpusers/tellyu/public_html/wp-content/themes/publisher/includes/func-review-rating.php on line 213