Events Of Love GoGi RaHem FS Part 3

Warning: A non-numeric value encountered in /home/ftpusers/tellyu/public_html/wp-content/themes/publisher/includes/func-review-rating.php on line 212

Warning: A non-numeric value encountered in /home/ftpusers/tellyu/public_html/wp-content/themes/publisher/includes/func-review-rating.php on line 213

Silsila Hai Pyar Ka …Events of love Part 3
Gopi went to the washroom.Then walked to the hall.
Suddenly she bumped into someone.
Gopi:Sorry.
He:Sorry.
They both looked at each other.
It was Jaggi;the identical twin brother of Ahem.He could'nt believe his eyes.
Jaggi:Gopi!
Gopi looked at him in disbelief.
Ayein Dil Ezzajat Hain Tujjh Ko,
Kar Le Mohabbath Jaraa,
Jeetne Bhi Chhahein,
Sapnne Sajaa Lein,
Aankhoon Se Khawaabon Kaa Hain,
She thought:Ahem was inside with Rashi.This can't be Ahem.His pant's colour is different.Does that mean he is…Jaggi?
Gopi stared at him.
Jaggi became very emotional:Gopi…how are you?
Gopi's eyes became teary.
She thought:It's Jaggi.Oh God..I did'nt want to see him at all.But God brought him near me.Why?
Yeh Shilshila…
Haa…Yeh Shilshila…
Yeh Shilshila…
Haa…Yeh Shilshila…
Hmmm…Hmmm…
Flash back…
Ahem and Rashi were studying in Medical college together.They were lovers.
Jaggi and Gopi were best friends in Engineering college.Krishna was their senior in college.He passed out early.
Jaggi imagined gifting a red rose to Gopi and proposing her:Gopi…you are the only girl I love in my life.You are my best friend as well as my passionate love.My love for you is endless.Do you also love me?
Gopi blushed taking the red rose from his hand:I love you too Ahem.
They both were so happy that they embraced each other.
Jaggi's dream broke.
He blushed:I should make my dream real.
One day Jaggi went near Gopi with flowers.
Jaggi:Gopi..this is for you.You love flowers.Right?
Gopi:Thank you so much Jaggi.
Before she could take it from him Jaggi said:I love you Gopi.I don't know when my friendship turned into love.But..I really love you Gopi.
Gopi was shocked.Her face became dull as she became upset.
Her tears rolled down her cheeks.
Jaggi:What happened Gopi?
Gopi:I feel very bad to hurt my best friend.Because I always wanted to make my best friend happy.But now I am helpless Jaggi.I love Krishna and my marriage got fixed yesterday.
Jaggi was shattered.

The flowers fell down from his hands.
Gopi:Jaggi…please forgive me.
Jaggi wiped his tears:It's ok Gopi.It's not your fault.



Jaggi walked off.
Gopi:Oh God…I feel so painful and guilty to break Jaggi's heart.
On the wedding day Gopi's eyes searched for Jaggi.But he was not there.
Ahem:Jaggi did'nt come with us Gopi.
Gopi thought:I know why Jaggi did'nt attend my wedding.He cannot see me with Krishna.It hurts him.
Present…
Gopi suppressed her pain.
She thought:I got punished by God for breaking Jaggi's heart.But I did'nt do it purposefully.I am sorry Jaggi.
Jaggi could'nt take his eyes off her.
Ayein Dil Ezzajat Hain Tujjh Ko,
Kar Le Mohabbath Jaraa,
Kyaa Sochtaa Hain Tu Aaj-Kal,
Mujjh ko Bhi De Tu Bataa…
Jaggi:Gopi..you look the same.Same innocence n simplicity.
Jeetni Bhi Chaahein Sapne Sajaa Le,
Aankhon Se Khawaabo Kaa Hain,
Gopi smiled:You too look the same Jaggi.
Yeh Shilshila…
Haa…Yeh Shilshila…

They shared a sweet eye lock.
Yeh Shilshila…
Haa…Yeh Shilshila…
Haa…Haa…
Haaa…
Haa…Haaa…
Hmmm…(Silsila Badalte Rishton Ka)
Suddenly Ahem and Rashi came clapping hands.
Ahem:Finally you guys met.


Rashi:The reunion of best friends.

Jaggi and Gopi smiled.
Jaggi:By the way where is Krishna?
Gopi became dull.
Ahem:First we will go home.Then we will talk about it.
They told everything about Gopi and Krishna to Jaggi.He was shocked.
Jaggi:How could Krishna be so cruel to an innocent loving girl like Gopi?
Rashi:It was Gopi's fate.But we will give her maximum happiness.
Jaggi went near Gopi.Gopi was crying thinking of Krishna's torture.
Jaggi gave her glass of juice.
Jaggi:Drink this Gopi.You will feel better.
Gopi sipped water.
She was crying.Her tears pained Jaggi.
But she wiped her tears.
Jaggi:Gopi…I came to know everything.if I was there I would not have let Krishna hurt you.I swear…if I see him i will not leave him .I will kill him.
Gopi:No need Jaggi.Krishna got his punishment.
Jaggi:But I promise Gopi.I will not let your eyes be wet.I will fill your life with happiness.
Gopi stared at him,
Jaggi:I mean we all will give you a lot of happiness.And I will be always with you.Because you are my…
Gopi looked at him deeply.

Jaggi:Because you are my best friend.
Gopi looked at him emotionally.
She said in her mind:Even if you don't say anything I know what's in your mind Jaggi.
But I lost faith in love after Krishna betrayed me.
Gopi:I am happy Jaggi.You all are there with me.
They both smiled.
Ahem and Rashi came.
Rashi:We will be always there with you Gopi.
Rashi kissed her cheek.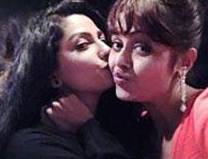 Gopi:My bestie Rashi..this is specially made for you.Your favourite Halwa.
Gopi fed her halwa.
Rashi:Wow Gopu…thank you so much.
Rashi grabbed it and ate.
Ahem:If Rashi gets halwa she will forget everything.
Everyone giggled.
Ahem:What is this Rashi?When you see halwa you are forgetting me.Poor me.
Rashi said cutely:Oh Ahem…don't be sad.You are sweet like halwa.
Rashi pecked his cheek.
Ahem was stunned.
Ahem:Wah Rashi..this was an unexpected surprise.Loved it.


Rashi blushed while others smiled.

Ahem:Since Jaggi has come why don't we all go out for dinner?
Rashi:Excellent idea.
They all went to a restaurant for dinner.
Ahem and Rashi were chatting and eating food.They romanced feeding each other.Jaggi's eyes were fixed on Gopi.
Rashi whispered in Ahem's ears:Ahem..look at Jaggi.
Ahem saw seeing Jaggi staring at Gopi.
Ahem smiled.
Ahem:Jaggi..you will eat something or will keep looking at Gopi?
Rashi:You too eat well Gopi.
Jaggi and Gopi became embarrassed.
Ahem and Rashi were busy chatting and eating.
Jaggi:Gopi…you look very pretty in sarees.You always looked pretty in sarees.
Gopi blushed.
Jaggi:Gopi..do you remember our college days?How much we used to enjoy!
Gopi:Yes.Those were Golden days.I can never forget them.
Ahem,Rashi,Kokila and Janko became happy seeing Jaggi Gopi's friendship blossoming again.
Rashi smiled at Gopi who was chatting with Jaggi.
Rashi thought:This is what I wanted to see in you Gopi,You can be like this only with Jaggi.
They played music.
Rashi:Nice music Ahem.Very romantic atmosphere too.
Come Ahem.Let's dance.


Ahem:Sure.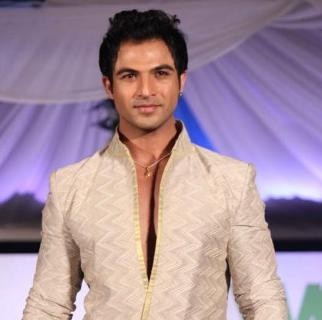 Jaggi thought:Wish i could dance with Gopi.But she won't dance with me for sure.
Ahem and Rashi danced there while Jaggi imagined dancing with Gopi.
Tujhko main rakh loon wahan
Jahan pe kahin hai mera yakeen
Main jo tera na hua
Kisika nahi, kisika nahi
Le jaye jane kahan
Hawayein hawayein
Le jaye tujhe kahan
Hawayein hawayein
Begani hai yeh baagi
Hawayein hawayein
Le jaye mujhe kahan
Hawayein hawayein
Le jaye jane kahan
Na mujhko khabar
Na tujhko pata
O o o… Hawaye..
Banati hai jo tu
Woh yaadein jane
Sang mere kab tak chale
Inhi mein toh meri
Subah bhi dhale
Shaame dhale mausam dhale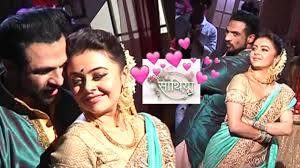 Khayalon ka shaher
Tu jaane tere
Hone se hi abaad hai
Hawayein haq mein
Wohi hai aate jaate
Jo tera naam le
Deti hai jo sadayein
Hawaye hawaye
Na jane kya bataye
Hawaye hawaye
Le jaye tujhe kahan
Hawaye hawaye
Le jaye mujhe kahan
Hawaye hawaye
Le jaye jane kahan
Na mujhko khabar
Na tujhko pata
O o o.. Hawaye..
Chehra kyun milta tera
Yun khwabon se mere
Yeh kya raaz hai
Kal bhi meri na thi tu
Na hogi tu kal meri aaj hai
Teri hai meri saari
Wafayein, wafayein
Maangi hai tere liye
Duaein, duaein
Le jaye tujhe kahan
Hawayein hawayein
Le jaye mujhe kahan
Hawayein hawayein
Le jaye jane kahan
Hawayein hawayein
Le jaye tujhe kahan
Hawayein hawayein (Repeat once)
Le jaye jane kahan
Hawayein hawayein
Le jaye mujhe kahan
Hawayein hawayein
Le jaye jane kahan
Hawayein hawayein
Le jaye tujhe kahan
Hawayein hawayein..(Harry met Sejal).

Warning: A non-numeric value encountered in /home/ftpusers/tellyu/public_html/wp-content/themes/publisher/includes/func-review-rating.php on line 212

Warning: A non-numeric value encountered in /home/ftpusers/tellyu/public_html/wp-content/themes/publisher/includes/func-review-rating.php on line 213