THE BEAUTIFUL DISASTER- SHIVIKA OS

Warning: A non-numeric value encountered in /home/ftpusers/tellyu/public_html/wp-content/themes/publisher/includes/func-review-rating.php on line 212

Warning: A non-numeric value encountered in /home/ftpusers/tellyu/public_html/wp-content/themes/publisher/includes/func-review-rating.php on line 213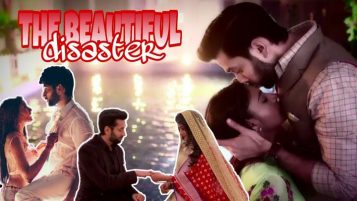 "Hey you are sitting here?" a manly voice came from behind breaking Anika's trance. She looked back and found Shivay standing there.
"What happened Shivay?" she asked pulling out one of her leg from the cold and calm water of the pool. Shivay came forward and sat beside her dripping his foot in water.
"Do you remember our first meet Anika?" he asked putting his hands over hers. She came close and rested her head on his shoulder. He wrapped her through her shoulder.
"Hmm…" Anika softly hummed.
They both closed their eyes to remember their crazy, weird but the most beautiful meeting.
FLASHBACK
"Hey catch her… arre someone catch the bride, she is running away from her own marriage… arre catch her" Some men shouted running behind a bride who is wearing a veil covering her entire face.
"What happened bhaisaab?" another men asked.
"She is Mallika…. She is running away from her own marriage catch her" one man waited to explain and then again ran behind the bride to catch her.
The bride was running and as the veil has covered her eyes she is unable to see anything clearly. BOOM!!!…. The bride suddenly banged over a man and was to fall but the man held her tight in a protective hold. The veil slipped from bride's face.
Her beautiful brown orbs got locked to his deep, mysterious yet so calm blue orbs.
"Hey she is not the bride" one of the men who were running behind her shouted.
"Who is she??" another voice came out from the crowd.
"She is Anika… Mallika's friend" the first man answered.
Those mans running behind went to them who were still lost in each other's eyes.
"Mr. Oberoi leave her…" someone said breaking Shivay's trance. He soon left her and she landed down screaming "Ouchh!!"
She got up and threw away the veil "heyyy Mr. what do you think of yourself?? Why did you leave me to fall?? Tadibaaz" she said and was going away from there when everyone blocked her path and started questioning her.
"Uffffff…… stop sttoooooopppp…." She shouted at the top of her voice. "Okay listen you all want to know the truth…. Fine wait I am telling what has happened…." Anika took a pause.
Shivay was still looking at her mesmerizingly. His eyes were stuck to her beauty. "Beautiful…" he murmured.
Anika continued her story "…. Mallika and Siddharth always wanted a runaway marriage but both of their parents denied thinking about the society so at the last moment I, Mallika and Siddharth decided that they are running away… so I got the dress up of the bride and the groom who is sitting there is not the actual groom Siddharth, so basically the moral of the story is Mallika today's bride has run away with her groom Siddharth…… ufff understood?" she huffed after completing.
"That means Mallika and Siddharth both ran away from the marriage?" Mallika's mother asked.
"Yes auntyji… and be happy she has run away with the groom whom you have chosen… so the khane waale parties… enjoy the marriage and yeah both bride and groom will return after their marriage at mandir in filmy style. Well my work is done so I am going… buh bye… enjoy" Anika went out and Shivay was standing with a complete O shaped face.
He could not register what happened in just few minutes. He soon ran after her. "Their she is…" his heart spoke noticing her getting troubled by her scooty. He soon went near her and tried to start a conversation "Hiii.." Shivay said.
"Hello" Anika answered back still troubling with her scooty.
"I can give you lift" Shivay said a bit hesitatingly
"Yeah of course… why not waise bhi from morning my Champa is giving me troubles" Anika said with sparkling eyes. Anika and Shivay walked up to his car and he made her sit comfortably inside the car. She was silently staring out while he was driving and occasionally stealing glances of her.
"Ohhh Mr. whatever you wanna say… say it don't look at me through the corner of your eyes… it feels awkward" Anika answered directly looking into his eyes. His deep blue, grey green… satrangi eyes attracted her again.
This time Shivay broke the eye contact and spoke "I understood the entire matter but you should have cleared everything before… then you wouldn't had to run"
"Arrreyyy… yeah I know I was shouting that I want to say something but they didn't allow me to and don't know why started chasing me so I also started running" she explained making weird faces.
"You are weird" suddenly slipped out from Shivay's mouth. He cut his tongue thinking she would react negatively but to his surprise exactly the opposite took place.
"Ohhh really?? Thank You… actually very less people marks me as weird and now you have become one of them… I love to be called weird… thank you" she exclaimed happily.
His lips curved up unknowingly. He smiled looking at her. She kept on saying about her and Mallika's friendship. They soon reached near Anika's home. Anika came out of the car.
"Bye… Mr…" she stopped when she realized they haven't shared their name. Understanding her thoughts Shivay answered "Shivay… you can call me just Shivay…"
"Ohh yeah me Anika…" Anika said. She bid him bye and went into her house. Shivay stood their staring at her till she went in.
FLASHBACK ENDS
Anika's lips curved up. Shivay put up his head and stared at her face which was glowing due to the moonlight falling over her face. He pecked his lips over Anika's hairs.
"You know what Anika…" Shivay asked. Anika got up from her position and asked "What?"
Shivay continued "THE FIRST TIME I SAW YOU MY HEART WISHPERED 'THAT IS THE ONE'….. Your fall on my hands… your smell… your eyes… everything just attracted me towards you… and yeah your weirdness marked my feeling as love. And in my life that BEAUTIFUL DISASTER of love took place" Anika's eyes sparkled. She hugged Shivay tightly.
"And do you know one thing I HAVE NEVER BEEN THE ONE TO BELIEVE IN LOVE AT FIRST SIGHT SO I BLINKED TWICE BECAUSE AT FIRST GLANCE MY HEART ALREADY KNEW IT WAS YOU" she completed. She slowly kissed Shivay on both his cheeks.
"We first met on a wedding in which you helped the bride and the groom to run away because they wanted a runaway marriage, and tomorrow is our marriage… we are one soul from the day I saw you as WHEN I SAW YOU I FELL IN LOVE, AND YOU SMILED BECAUSE YOU KNEW." Shivay completed.
"I LOVE YOU…." Anika whispered in Shivay's ears
"I LOVE YOU TOO…" Shivay whispered back.
They again cuddled to each other. The moon, the water, the nature witnessed the pure love of these two love birds. Shivika's story after their first meet was made possible due to their friends Mallika and Siddharth, whose common friends were ShivIka. Yeah many of us don't believe in LOVE AT FIRST SIGHT… but it exists, it exists to prove every time that you may not get a perfect life partner but you will get the partner who will be perfect for you. SO FRIENDS IN YOUR LIFE WAIT FOR THAT ONE MOMENT WHEN YOUR EYE WILL STICK TO SOMEONE FOR LIFETIME, AND THAT MOMENT WILL BE NAMED AS LOVE AT FIRST SIGHT FOR YOU.
* * *
FEEL FREE TO POINT OUT ANY MISTAKE
I have wrote this one shot long back for one competition, didn't manage to win it but will be really grateful if you all give it a read and pour your valuable views about it.
Love to all of you, stay blessed and healthy in the upcoming year and keep smiling always.
-NILANJANA

Warning: A non-numeric value encountered in /home/ftpusers/tellyu/public_html/wp-content/themes/publisher/includes/func-review-rating.php on line 212

Warning: A non-numeric value encountered in /home/ftpusers/tellyu/public_html/wp-content/themes/publisher/includes/func-review-rating.php on line 213