Manmarziyaan~Becoming One Soul~ RiAnsh TS
Plot: suggested by AshRiansh. Starts from when Vansh was out for a business meeting.
Vansh was out for some business meeting for 3 days and here in VR MANSION Riddhima was missing him like hell. She used to sleep on his side of bed instead of her while holding His blazer smelling his perfume and day time she used to miss him a lot.
One day:
Riddhima was in her room sitting on the bed and as usual missing her husband Vansh who not even bothered to call her from 2 days and she was really angry with him, just then her phone rang with 'MY LOVE' Written on the caller ID she smiled and picked his phone immediately.
Riddhima: How are you Vansh? Do you eat something? Are you taking care of yourself properly? Why don't you called me from two days, you know how much I was tensed for you? When are you coming back?. Why are you not replying.
She said in one go while he smiled at his cute little wife's non stop talks.
Vansh: cool down Riddhima. Let me speak than only I will reply naa. So let me answer all your questions one by one. I'm fine, yes I'm taking proper care, I didn't called you because I was busy in my meetings so sorry for that. So I'm coming back tomorrow. Chalo now my turn to ask questions. To tum akelo ho to tum fir se bachelor life jee rhi hogi naa.
Riddhima; umm yupp I'm enjoying this life so much. Yeh kamra aaj sirf mera hai aur is bed pe sirf mera hakk so cool no..
She said while playing with her ring.
Vansh: Umm log kehte hai ki Jab insaan ko bahne naa banane ate ho to wo kisi cheez lo dhund taa hai apna dhyaan divert karne ke liye Jesse ki abhi tum apni Vr ring ke saath Khel rhi ho.
Riddhima: Tu… tumhe kese pata tumne iss kamre mein CCTV lagwaya hai naa…
She asked looking here and there in the room while Vansh smiles.
Vansh: Jab dil ki aankhon se dekho to CCTV ki zarurat nhi padti Riddhima khaas kar ki tab Jab mere dil ki taar tumhare dil se judi ho to.
He said and she looked down blushing hard.
Vansh: Okk riddhima I'll call you later and yess will meet you tomorrow.
Saying so he declined the call smiling. After the phone was ended riddhima decided to sleep early so that she can meet her love tomorrow being fresh. Before that she took a empty jug from her side table and went out to take water from kitchen.
Going there she passed through study and saw the lights were on she went there and saw Angrey was talking to someone on the phone.
Angrey: Yes boss, Par aapne bhabhi ko bata diyaa kyaa??
Vansh: No angrey abhi nhi bataya Maine use ki mein aaj aa rha hun kal nhi because I want to surprise her. And you will also not tell her that I'm coming today.
Angrey: OK boss I will not tell her.
He said Unknown to the fact that riddhima was listening to his talks making faces but suddenly she smirked at looked at Angrey…
Vansh slowly entered inside the room thinking that Riddhima will be sleeping as it was mid night. As he entered inside the room he was astonished by seeing the room decorated beautifully and candle surrounding the whole room.
But he was quite surprised seeing the whole room empty so he called out Riddhima's name and was shocked seeing Riddhima standing in front of him wearing a shirt with a knot tied in front and a very short cream colored skirt.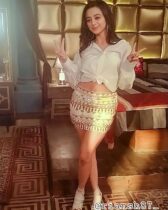 She walked towards him moving her legs s*xily while he gulped his saliva seeing her coming closer to him.
'Like what you saw Mr. Raisinghania' she asked him smirking naughtily.
She went towards him and encircled her hands around his neck.
'Seems like Some one is in mood to burn me with her hotness.'
He said pulling her closer while she naughtily 😏 and tip toed on her feet whispering in his ears pulling him closer by his collar.
She said and planted a small kiss on his neck biting there and he groaned in pleasure.
'Aapke iradee kuch Theek nhi lag rhe Mrs. Raisinghania'
He said as he pulled her more closer smelling her intoxicated fragrance.
'Bilkul sahi keh rhe hai aap Mr. Raisinghania humare iradee aapko lekar bilkul bhi theek nhi hai'
She said and pushed her on the bed hovering upon him like a hungry lioness sitting just above his hardness she started opening his shirt button sensually touching every bit of his bare chest as he groaned in pleasure.
She bent a bit and captured his lips in hers smooching, biting, licking them while he also kissed her with same passion. He pulled her and came upon her without breaking the kiss.
Breaking the kiss he looked at her face.
'Vansh before this I want to tell you about my past. I was Kabir's fiancé and he send me to you to spy on you but on the karwa chauth I broked all my ties with him. I promise Vansh I never chea….
She was stopped as Vansh sensually rubbed her cheeks on his and she closed her eyes in pleasure and he kissed her cheeks.
'I don't need a clarification sweetheart, I know that my love is always loyal to me, so now be quite and save your energy as you will need it today.'
He said while she blushed hard and he again captured her lips kissing her passionately sucking and biting her lips. But suddenly he left her and room and went from there while she groaned in frustration. After some time he came back with a bowl in his hand and went towards her while she looked at him confused.
He kept the bowl on the table and pulled a handcuff and a blindfold. He climbed upon the bed and blindfolded her and handcuffed her hands with the bed post.
'Vansh what are you doing, why the hell you have blindfolded me and handcuffed my hands.'
She said being annoyed and he kept his thumb on her lips touching them softly.
'Patience sweetheart, patience. I wanna pleasure you to the another world that you will chant my name as a prayer.'
Saying so he kissed her forehead and unbuttoned her shirt touching her inner thigh with his rough hand. After unbottoning her shirt she was laying beneath him only in her br* he took the bowl from the table and took a ice cube from it placing it in her br* while she whimper on the sensation. Leaving the ice there only he slowly traced a feather from her head to her whole body while she moaned his name in pleasure Ohh how soothing it is listen his name in her voice to his ears.
After the ice was melted he opened her br* and her twins pooped out from that tight bra and now she was half naked in front of him. He took another ice cube and putted it his mouth tracing it from the valley of her bosoms while she again moaned his name on the cold sensation on her body. Leaving the ice he went towards her bosoms and sucked her left twin like a small child while kneading the other one and she pushed him more in her…
To be continued…
Banner by Me KatariaTanya7777
And an amazing and beautiful cover by yoursonly_clichegirl
Thank you dear for making such a beautiful cover I just loved it its amazing..❤❤❤
Your Author
Tanya 💝