Hai friends sorry for the delay I just got busy. Thank you for your views given down in the comments. As per demand Nakkul's character Akash and his love story will be shown and he will be paired up with Drashti . Though they wont be the main lead their story will be shown. Lets go to the episode.
Naira calls Kartik. Kartik is lying on his bed when his phone rings. He sees that it is Naira and picks it up
Kartik: Hello Janeman…
Naira: Kartik..I need your help
Kartik: Hukum farmayiye
Naira: Day after tomorrow is bhai and bhabi's first anniversary
Kartik: That means a grand celebratio and a surpirse tomorrow night
Naira: Exaclty
Kartik: I'll inform bhai and bhabhi too. We will make it grand.
Naira: Great. Kartik I can' talk about the planning now. Bhai and bhabhi will get a doubt
Kartik: Lets meet at the park tomorrow morning and discuss
Naira: Great idea..okay its too late. Good night
Kartik: Naira..naira..
Naira: Kya hai?
Kartik: Thodi dher aur baat karo naa please
Naira smiles…
Chukaar gayi
Teri chuhaaan
Beheke hu mein aur
Meheka hai maan
Maare khushi kee
Maar jaun naa
Pagal banayee
Yeh ishqpun
Puree badaan pe tera naam chal raha hai
Dekho na pyaar pyaar pyaar likh rahaaa
Yeh woh khushi hai jo
ye dil hi jaanta haiii
Sassoon se in dhadkano tak
Palko ki jhapki tale
Yaha waha
Haiii tu
Mujhme rawa
Haiii tu
Yaha waha
Hai tu
Mujheme rawa
Haiii tu
Yaha waha
Plays in the background..
After sometime Naira yawns..Kartik looks at the time its 12 pm
Kartik: Baab re Naira its 12 pm…I'm so sorry..
Naira: Arrey Kartik why are you saying sorry?
Kartik: Then what its me who made to stay awake till now..you sleep or else tomorrow you say that Kartik because of you I slept late and felt lazy the entire day..Good night jaan
Naira: Good night Kartik
Kartik: I loooo(he yawns)ve you
Naira giggles
Naira: See you are sleepy too..sleep well Bye
Kartik: Bye
The scene freezes on their happy faces.
Its the next day morning. Kaira and Anupre meet at the park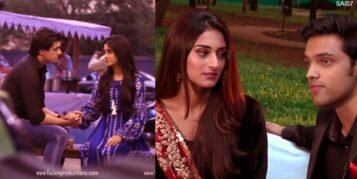 Anurag: Naira..Kartik..do you guys have any idea on how to do it?
Kartik: We have some vague idea bhai..just need to improve it
Prerna: We must make it very special for them
Naira: Bhabhi really missed her family during the wedding this anniversary will suffice for it
Anurag: Don't worry Naira hereafter Keerthi has 2 families which will never leave her alone
Prerna: She must have been traumatized by that Aditya this celebration must make her forget those bad moments
Anruag: Idea..I got an Idea
Kartik: What's that bhai?
Anurag: Mid night surprise party. All families can gather at their house and surprise them
Naira: But bhai and bhabhi will be guessing it
Kartik whispers something to them.
Anurag: Brilliant idea
Their chai arrives and 4 of them sip it and enjoy the moments of togetherness. The scene freezes.
Vadhera house is shown. Viren is at his table. Jeevika brings him coffee but he doesnt notice her and is staring somewhere.
Jeevika: Virenji…virenji..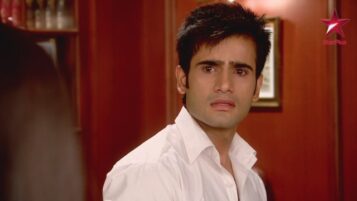 She shakes him
Viren: Jeevika..
Jeevika: What happened? You seem upset
Viren: Nothing
Jeevika: There is something definitely
He holds her hand and makes her sit on a chair next to him.
Viren: Love isn't beautiful for everyone
Jeevika: I didn't get you. Whose love are you talking about?
Viren: Akash..I know him for years but till now I never knew that he is under so much pain
Jeevika: What happened Virenji?
Viren: Usually I dont visit his house but today morning I went there to talk about Aditya's case thats when I got to know something bitter.
Jeevika: Whats that?
Viren: Akash's wife Naina is in coma…
Jeevika: Oh my God
Viren: Jeevika she is like that for past 2 years and he has not told anyone about this..today I got to know that after i accidentally bumped into her while searching a restroom if not even I would not have known
Jeevika: What happened to her?
Flash back rolls on:
Akash is working as an IPS officer in Delhi. Naina is a forensic expert working in his department. They become close friends while working together on a case.
They go for parties and enjoy their lives.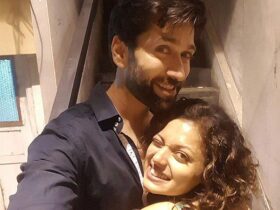 Akash and Naina fall in love with each other.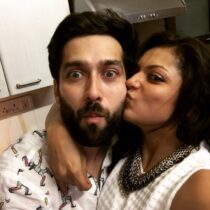 Akash Proposes Naina on her birthday. She accepts his proposal happily.
They get married and lead a happy life for 6 months. Akash gets transferred to Chennai while Naina stays back in Delhi.
On New year's night Akash comes to Delhi to be with Naina . He gets off a bus near their house on one side of the road while Naina is on the other side. She runs to hug him but unfortunately she is hit by a speeding bike and falls unconscious. Akash rushes her to the hospital.
Doctors inform him that Naina is in coma.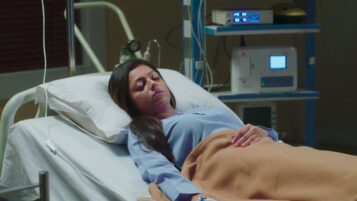 Akash gets shattered.
He gets too involved in work to forget his worries
Its been 2 years since Naina fell into coma. Akash has brought her home when he shifted to Mumbai the previous month as he didn't want her to be in a hospital scenario anymore.
Flash back ends
Viren: He showed so much interest in Keerthi's case as he didn't want anyone to lose their love.
Naira and Kartik who came to invite Jeevika and Viren for Keesh anniversary are standing at the door. They are also stunned.
Jeevika notices them and gets up.
Naira: Sorry bhai and bhabhi for eavesdropping your conversation..we actually
Viren: Arrey Naira no problem..
Kartik: Akash bhai seemed to be very serious person..I guess this sorrow made him like that
Viren: Thats true Kartik he was such a funny guy when I met him earlier.
Jeevika: Naira Kartik what will you have?
Naira: Bhabhi no formalities please..by the way how is your health?
Jeevika: I'm fine.
Kartik: Are you having the medicines on time?
Viren: I always make sure of that
Kartik: By the way we came here to invite you for Keerthi and Naksh's wedding anniversary party
Jeevika: Kartik why are you both straining..you could have informed through phone and we would have come
Naira: Prerna di told that you had fever so we thought we will visit you and invite too.
Viren: We will come definitely.
Kartik and Naira take their leave. The scene freezes.
PRECAP: NAINA GETS SEIZURES. KEERTHI AND NAKSH GET SHOCKED. WHY??
HEY GUYS DO TELL ME YOUR VIEW ON THIS EPISODE IN THE COMMENTS BELOW. I'LL MEET YOU WITH NEXT EPISODE TOMORROW.