HUMNAVA~ FIRST LOVE , LAST LOVE- TWINJ. SHOT..4
Shot: 4..
????????????????????????????
After listen Alisha words twinkle was hell shocked. Alishaaa she said in shocking voice.
Haan twinkle I have each and everything but I don't have baby and nobody is ready to give me and my family is very nice expect my husband she take her hands in hers twinkle please help me I just felt you can help she said. Twinkle don't know what to say.Alisha are you okay I mean how I can..twinkle said..
I know twinkle I'm looking bad it's okay acha bye take care of your mom and tell me if you need anything.. she said and went from there twinkle just looking at her.
Alisha me keshe no.she said to herself and went back to leela and sit with her after leela get discharged and they take back her home.
At Taneja [email protected]
Twinkle and rt bring leela back home they take her in her room while haider and Meera make dinner for them.Leela was resting in her room only. Twinkle adoring leela.
Kya Hua twinkle beta? Leela asked.
Kuch nahi maa Just thinking about you only if something happened to you Today than how I'll live she said in painful voice..
Haan when car hit me and I was shocked and think about you only leela said.
Thanks to god maa you are save twinkle added..
Haan that girl she come at right time only twinkle beta Leela said.
Haan Alisha maa yes if she not than my maa wasn't with me she kissed on her forehead and okay maa now you rest I'll see bhai and Meera twinkle said and went downstairs.they all sit and have dinner afterwards twinkle feed leela with her hands and give her medicine.
At Sarna Mansion Alisha sitting in her room and having apple in Tashan style.
Uff this twinkle didn't message me till now does she will get ready or not hmm but she is innocent girl love to help people like my Kunj than she definitely help me she think in her mind.Just than Kunj entered in room Alisha get up and make sad face. He didn't said anything just take his clothes and went in washroom and get freshen up and lay down beside Alisha.
Kunjj what happened you didn't have your food? She asked.
I'm fine sleep Alisha. He added in sad tone.
Why Kunj I know you angry with me because of my decision but trust me Kunj I'm doing this for our betterment she said and lay down and sleep..
Whole night twinkle didn't sleep just thinking about Alisha and her pain. Babaji in confused she save my maa if she not than what will happened to my maa.Because of her today maa with us.
And I can see pain in her eyes.But her husband so harsh with her I never thought in charity function he becoming so good and showing like he loves his wife like anything huhu money minded Alisha thinking so much about her. I will prayfor her soon happiness arrived in her life she really loves her husband lott he didn't understanding her value and she get ready to do his husband marriage so her marriage wouldn't breaks down so nice lady she is she said to herself and lay down and closed her eyes slept..
Next after Alisha decision Kunj didn't said anything to anyone just stay in his zone.Bebe and Usha can see Kunj sadness but they didn't asked him they itself think this time Alisha is right.Kunj went to his office and get busy in his work after this yuvi come with Arva they trio sits in Kunj cabin even Aditi too. Kunj Oder arva favourite milkshake and feeding her with his hands
You looking sad Kunj Aditi asked?
Nahi me kaha kunj said..
Acha Kunj babu we can see and read your face yuvi added. Kunj look at him.
Kya karu yuvi and Aditi Alisha didn't understanding my love she wanted I marry someone and we will get baby Kunj said.Yuvi and Aditi get shocked like anything ???.
what?? Aditi said,,
Haan aditi don't know why she doing this she don't wanted to adopt baby but ready for this nonsense drama and I'm not ready how can I I just love her that's it kunj said.
First time she going to do something good he mutter.??.
See Kunj if she wanted to do this than I don't think so it's wrong she just thinking about you all maybe Aditi said.
Whatever is it Aditi but what you decided Kunj yuvi asked him??
What I'll yuvi in front of her in helpless she going to cut her veins and I have to ready for this without my will.. Kunj said.
Don't worry from where she will bring girl chilled it Aditi said.
Ahah Arva doing noise Kunj kissed on her forehead and cuddles her.
Ofer side Alisha was eagerly waiting for twinkle but she didn't get anything and she get shocked. Her plain maybe failed which make her angry she standing near marine looking at other side. Standing edge. There twinkle come her eyes went on Alisha she thought she come here for suicide she get shocked and rushed towards her and hold her hand bring her down. Alisha are you mad Haan twinkle said..
Twinkle.. she added?
Haan twinkle if I didn't come than you will jumped from here haan she asked her. Alisha get confused than she understands and used her mind and started crying Kya karu me twinkle I don't have words so I come here sit in side she said. Twinkle look at her.
Why? Suicide she asked her?
My husband didn't left any other way for me Alisha said.
What. Twinkle said.
Haan twinkle nobody helping me where should I go haan she said.. twinkle sit beside her. Don't cry Alisha I can understand your pain and feel so ashamed on your husband she said.
No twinkle he is good don't say anything about him.Alisha added.
You love him this much after doing this all things with you still talking about him in good way She said.
Twinkle look here and there Alisha get up acha I'll go she added and about to going twinkle just thinking about Alisha she can't hold anymore and stop her. Alisha rukho twinkle said,she turned and look at her.
Haan twinkle Alisha asked?? She went near her.
Woh Alisha she said.
Haa. Woh Kya twinkle she added.
I M READY FOR THIS Alisha she said.
What..?Alisha asked.
Haan yes I'm ready to help you will do marry with your husband mr Kunj sarna and teach him good lesson after see you I melted it down I'll help and give you baby she said Alisha was shocked and hell happy she cuddled twinkle.
Hoo my god twinkle you give me best happiness thanks for this I don't have words for you.Hold her hands thanks really. She said and they both went in side cafe Nd sits there.
Acha twinkle you marry with him no need to give him any deed just give me baby she said.
Haan even will not as well I'm just doing for your happiness because you save my maa and I'll give you this happiness in return. I'll marry with your husband and it's my promise.. she added.
From there twinkle leave Alisha was hell happy she tell about this to her sister she too get happy.
Hmm great my plain work out so she get ready you will marry with my husband but never let you go closer to him neither let him that's why I filled bad things about him in your mind. Aww thanks baby and I'll get baby and everything is in my hands ???she said and went from there..
Alisha went home back and take sweet and feeding everyone they all get confused.
What happened beta why this sweets Bebe asked her?
Hoo Bebe have this you will go mad after listen news she said her.
Acha tell us Usha said..
so listen mummy ji and Bebe I get girl for Kunj who get ready and marry Kunj she said all shocked.
Really Bebe asked her!
Haan Bebe you know her she is twinkle my friend she said bebe and Usha look at each other's and remember twinkle and understands this make them more happy twinkle they wanted that type of girl for their Kunj and babaji bring anyhow..
Acha Bebe we have to do so many things. Acha I'll come she said and went in her room.
WhAt you thinking Usha Rani? Bebe asked her.
What you thinking Bebe that only mean twinkle that girl she is so good Usha added,
Haan even I'm so happy.Bebe said.
After give commitment to Alisha she will marry her husband now twinkle get shocked now how she will talk to her parents she went home and tell about this to haider and Meera firstly. They get shocked after listen this..
What twinkle you wanted to marry
Someone husband haan meera said.
Haan Meera Alisha helps me so even I wanted to help her she needs my help no one ready to help I can't see pain in her eyes twinkle tell them each and everything they get shocked and but happy as well. Leela and rt come with lots of struggles finally twinkle tell them as well leela and rt look at them.
Twinkle beta?? Rt added.
Please maa and papa help me let me do this na. Twinkle said.
Twinkle beta we wanted you marry but not like this if you ready than we can't say anything we just wanted you stay happy in your life leela added.
Haan you marry him officially than it's not crime and his family and wife is ready good rt said twinkle get happy she get her family support she told about to Alisha even she too get happy and tell they were coming tomorrow at her home to talk with each other's officially twinkle agreed..
Kunj come back and see everyone they busy in preparation he get confused and asked bebe what is this bebe.
Woh Kunj puttar we preparing for your marriage na bebe said Kunj get shocked.
Haan kunj baby Alisha come from back now go and get ready tomorrow we going to see your wife Alisha said..
Kunj looking everyone in shocking way.
What is this marriage haan? He said.
Yours Kunj baby Alisha added Kunj look at her.
What Alisha seriously Haan kunj said.
Yes Kunj I'm serious she said Kunj hold his mind and went from there having tears in his eyed.
Others get busy in preparation while Kunj was sitting in room in tension he never thought this phase come in his life as well.Alisha come in room and smiled. They sleep later.
At morning Kunj wake up and see Alisha she wake up so early. You wake up today Kunj asked her?
Haan baby because I have so many
Work to do she said and went downstairs.
See her people get sad but she is happy why because going to do her husband second marriage waha babaji he said and went In washroom..
They all sits for breakfast and finished Kunj with heavy heart..
Kunj don't go office okay we have to go her house today.She tell him.
You all go it's not necessary to me go there he replied back Alisha think it's good.Okay I'll handle.She added.
Nahi kunj puttar you Will go it's marriage not any joke.. Bebe said Kunj nodded in yes without doing any arguments..
After sometimes later in afternoon they all get ready and left for Taneja mansion. Kunj was all sad but can't do anything he was helpless in his wife love..
soon they reached TM.Went inside leela and rt welcomes them when rt see Kunj he get hell happy because he heard so much about him and twinkle wanted to
Marry with him for his wife happiness get happy more and more. she never find husband like Kunj he is so nice and humble.
Come leela said.They all went and settle down.Manohar and Usha or Leela and rt talking with each other's about this all things they tell them each and everything.
Where is twinkle Alisha asked?
She is coming meera said just than twinkle come downstairs along with Chinki as soon as Kunj eyes went on her he get shocked. She went towards all bebe and Usha smiling like anything she sit beside them.
You looking so pretty usha said.
Haan mummy ji Alisha added back.
See when twinkle tell us about this firstly toh we get shocked but understand each and everything and we like your Kunj leela said: haan true I heard so much about Kunj everyone wanted partner like him and I daughter get what else we wanted more.
Rt said.
But uncle Alisha and Kunj already Marriage how can twinkle and Kunj
Marry after this haan? Haider said. All look at him and agree as well.
Haan I know haider about this that's why I done my work my lawyer get ready paper of our divorce soon.She said Kunj get shocked he looking at her completely in shocking way. All smiled..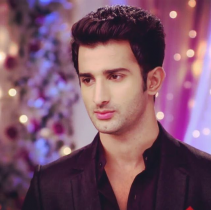 Hehe my family thinking about Kunj this aww baby but I'm not marry you for your goodness but for Alisha I'll teach you lesson after marriage see what real wife is… she think in her mind.
Everyone get busy in twinkle while Kunj looking here and there Alisha went in side and smirked while looking at them.
Haww Kunj.Why I'll give him divorce not at all I just told you all so no problem comes in your marriage when I'll get baby I'll throw you twinkle like a tissue paper.Don't see dream you will become his wife I'll taking you as my husband slave itself his wife Alisha ????.and other family
Members as well thinking they will get bahu nope.I m doing this for myself poor people Twinke is just for me who will give birth to my husband baby that's it. This deal for just 9 months only. She said in her mind. After this they discussed about wedding Alisha request she wanted soon. All agreed with her and twinkle tell she don't wanted high fun wedding just normal with everyone blessing all like her thoughts during this all session Kunj didn't said utter a word.They went back to home.
Everyone just teasing twinkle and praising Kunj while twinkle get tired hold her head and went in her room back.
Kunj was sitting in balcony and writing something in his book.Meri mohbbate testing me mene Alisha se pyaar kiya bas Don't know about her.He said himself.
After this yuvi and Aditi get to know about this they get hell happy now right lucky take entry in Kunj life itself Alisha bring her.
Kunj just giving silence he didn't said anything he is happy or not just so whatever Alisha wanted.They all get busy in wedding preparation.
Acha Kunj puttar you go and take twinkle for dinner bebe said this. Alisha listen and get shocked she think if they went alone and talk about than her all fake story come out.Before Kunj.No Bebe I asked twinkle she deny before wedding not she said. Pandit ji take out their wedding date their kundali's too match with each other's giving all good signs.So week passed tomorrowis twinkle and Kunj wedding.. Alisha taking out her clothes and other things from room Kunj entered and see her,
What is this Alisha Kunj asked her?
Woh baby I'm shifting in another room na she said.
Why Kunj asked her.
Because now you going to marry with twinkle and after tomorrow she going to stay with you here Alisha replied him Kunj hold side pillar and look at her.
Really Alisha why you doing this all things I didn't said you anything haan you do whatever comes in your mind haan now this he hold her shoulder you will not go anywhere it's our room you will stay here with me Kunj said in anger voice..
Nahi kunj I cant it's against rule of marriage she will stay with you and I'm here only na let her for sometimes than I'll come back to in my room okay cupped his face don't worry she said.
Mat karo Alisha aisa you making me away from yourself haan do you ready to share me with her Haan kunj asked her.So what Kunj and I know you just love me and share you with her physically I know you just love your Alisha that's it she finished. Kunj totally shocked she thinking this.
Listen today carefully Alisha twinkle twinklee will become my wife tomorrow officially and my wife is happy with this don't blame me that I hurt you because I wouldn't you at all nor her too.He said and went from there.
Hoo this Kunj na before wedding this much drama you busy in your goodness I know fire I have to put fire and I already does it slowly slowly it just raise more and more your goodness just looking and coming out in badness Kunj baby.This room each and everything is mine only.. she added she packed her everything and shifted in another room. Kunj crying yuvi come there and see him.
Why Kunj don't cry yaar yuvi said.
Yuvi I can't become part of this all things Alisha just doing this for baby I understand her motive Kunj said.
You don't care about this Kunj just stay happy life give you second chance yuvi said.
I don't want anything yuvi you might be not like Alisha but I love her truly she will regret Lot when she lost me fully. He said and went from there.
I'm sorry Kunj you are absolutely right if today we stop you than you will lose twinkle and she is perfect girl for you leave the situation her motive and all. The way you love her she not at all you and she thinking twinkle is innocent and can ruled on her that not possible I see her and understand she will give her back if she does something. He said.
So finally the day has arrived Kunj and twinkle marriage situation and circumstances is different kunj doing for his love happiness and twinkle for Alisha and as a human being and Alisha for her selfishness.Kunj get ready and looking beautiful more than first time bebe and Usha enjoying this time every bit of it.They do his Aarti and left for Taneja mansion.Whole house decorated beautifully just family members and friends.But still enough people, leela and rt do welcome Kunj perfectly and teased him he just give smile.. he entered and take everyone blessing and went towards mandap and sit everyone was waiting for twinkle she come down with her besties looking like angel all drooling after see her beauty even Kunj as well he always try to control on his heart but after see her always lose.She sit beside him soon pandit ji started mantars and twinkle and Kunj performing all marriage rituals perfectly.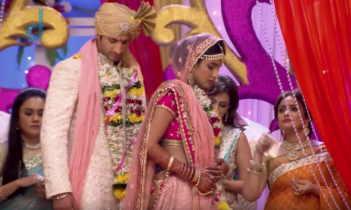 Alisha seeing them and happy but Kunj was cursing himself.DO HE WILL REALLY BALANCE BETWEEN HIS BOTH WIFES TODAY THEY MIGHT BE HAPPY BUT HE KNOWS HOW IS ALISHA.. but he promised while taking 7 vows whether he doing this marriage for his wife sake but he will fulfilled all duties of as a husband and give her all love and care and respect never addressed by second wife of him.He wanted Alisha become his first love and last love but she bring another woman itself in her husband life ready to share him don't know why but stay together forever with her Kunj dream maybe break it down today because twinkle entered in his life.
It's easy to choose between wife and maa if they are in same board you will get chance to save anyone only between them. He will surely save his maa because get wife back in another but not maa.Now at maa place Alisha bring twinkle who is her husband another wife and her sautan how he will deal between them. Pandit ji Tell Kunj filled twinkle hairline with vermilion he take pinch of sindoor and filled her hairline she closed her eyes and made her wear mangalsutra. Kunj see mangalsutra and get shocked this mangalsutra Kunj grand father bring when he born so whenever his grand son will marry will give his wife. When Bebe giving Alisha at her time she deny because it's old fashion and today see this in twinkle neck and looking good as well.
A soulmate isn't someone who completes you no a soulmate is someone who inspires you to complete yourself a soulmate is someone who love you with so much conviction and so much heart that it is nearly impossible to doubt just how capable you are of becoming exactly who you have always wanted to be. Pandit ji announced twinkle and Kunj as a husband and wife. They both look at each other's and went towards everyone and take all elders blessings they all get happy to see them together. Kunj looking at Alisha she is busy with her friends.
My bahu and Kunj looking so beautiful today bebe said and taking off evil eyes.
Haan Bebe see Arva your Kunj buddy and twinkle Aditi said and Arva smiling and went in Kunj arms they both sit on stage and Kunj busy with Arva twinkle seeing him with corner of her eyes.
Everyone clicked picture with them happily.
Wow Alisha your husband new wife looking pretty her friend pass the comment All youngsters look at her.
Acha Reena even I'm thinking only she is pretty and my husband toh damn no doubts in this and you today ready to marry with him after me and now as well.She said in taunting way and all giggles.And she went from there.After this it's time for Twinke bidaai Kunj went to leek and rt. Hold their hands.
Uncle and aunty you don't worry about twinkle she maybe did this all for my wife happiness and I too for her happiness but now she become my wife too and her happiness is my happiness I'll always keep her happy she ready to do this much huge this for Alisha than I'll too do anything for her always stand beside now she is more precious than Alisha for me now.I'll not give you any chance to complain me about anything.
I'll give her all respect and love don't think she will stay like second wife of me but for me she is my wife Alisha is ready than I'll too and I marry with her with All rituals and blessing and so fulfilled everything.Kunj said leela and rt just listen and get so happy to listen this words.
Kunj puttar we are blessed to have you really you are with twinkle and Alisha we don't care what world addressing our twinkle.Thanks for this proud of you.Rt said and hugged him.After twinkle meet with Each and everyone and cried Lot while hugging her parents.Alisha left before for Sarna Mansion.Kunj feel bad to see twinkle with tears. Chinki come and handover a bag to her. She get confused and asked her what Is this. She see. And get shocked Chinki twinkle said: arey it's for you tonight's it's your first night na after wear this your night become more s*xy okay keep it to yourself she said and give her twinkle irritate with this.
Chalo leela ji now taking your twinkle with us bebe said.They all went toward car. Twinkle sit in car Kunj bid bye to rt and leela and sit beside twinkle and drove off for Sarna Mansion they both didn't said anything just than Kunj feel something he take out and see and get shocked.
What is this Kunj said.. twinkle look at him and get shocked to see nighty in his hands which Chinki gifted her she immediately took it from him.
Mera hai she said..
acha mera ho bhi nahi sakta Kunj added in giggling way..
pass me the bag please twinkle said Kunj give her bag she immediately keep it in bag and sit and looking her other side.
I married with him babaji now don't know anything yes I did because of Alisha but more because everyone is ready and supporting me too.And don't care about him how he is but I'll be always loyal with him and Alisha as well. I can't Chance is fact now IM MRS TWINKLE KUNJ SARNA.. she said in her heart. Soon they reached Sarna Mansion everyone was waiting for them like anything yes it's small wedding but they make it grand anyhow. And waiting like it's Kunj first wedding. Kunj come out of the car and forwarding his hand to twinkle she look at him firstly than give her hand in his hands.She too come out of the car and went for inside.
They both were standing at door entrance all presenting there Usha bring aarti tali.
You know bebe that day we tell her come inside but she said not this time next time soon we never thought when she will come here as a bahu of this house. Usha said bebe too agree with her she does their aarti and twinkle do her griha Pravesh. Nicely she enjoying it Kunj see this and surprise she wanted Alisha does but she least interest that day also and today as well than she keep her both foots in red colour water and leave foot print and come ahead.
Great twinkle beta.They sit and do ring ceremony now Alisha get pissed off she don't wanted this all things but now can't do anything. Twinkle finding ring happily while Kunj just time passing. Twinkle find the ring all hooting for her.
Chal Kunj puttar made her wear ring. She said Kunj take ring and she forwarded her finger and Kunj put the ring in her finger all clapped for them.
Chalo it's quiet late now we should sleep in teasing manner. Usha sAid.
But maa Kunj have to lift his wife till the room did you forget this ritual of our family. Anjali added.
Haan anjali correct chalo Kunj babu.
Kunj look at twinkle she too him. Awkwardly he lift her in his arms she just looking into his eyed she notice he didn't said anything just quiet like a robot doing everything.All hooting.Than Kunj went towards his room, they entered in room and shocked to see the condition of room fully decorated in first night way.Kunj place twinkle down and stand she looking down.There Alisha come. Kunj excuse them.
Acha twinkle now you get freshen up.
Alisha said.
Hmm.she Hummed and Alisha went from there. She went in her room and find Kunj she get shocked.
Kunj what are you doing here Alisha asked him?
Why it's my room I'll be here na, Kunj said.
Acha don't act like baby go to your room back and to twinkle she waiting for you. Alisha said. Kunj surprise.
Really Alisha you didn't feel anything bad you made me marry with her fine now this as well why she waiting for me Kunj asked her,
You know why tonight's it's her and yours wedding night na Kunj she said.
Waha Alisha I'm surprised to see your new
Avatar haan how easily you talking about this haan.If I went than you know you are happy if me and she?? Kunj asked,
Yes Kunj I'll be why does any problem in this Kunj offo Kunj you thinking so much. Why Kunj its a matter for sometimes Kunj. If you will not go closer to her than how we will get baby she said.
Not we will just you will Alisha. Great you are happy I'm mad right she is waiting for me definitely she is my wife and our first night is tonight. Bye Alisha Kunj Said and went out of the room.
Twinkle sitting on bed and looking here and there see the room it's so beautiful.
That Kunj must be planning dirty plains I'm damn sure wanted to celebrate his wedding night after all.Let him come.
After sometimes later Kunj entered in room Twinke see him.He lock the door she take deep breath.He look at her. Kunj went towards wardrobe and take out his night dress and went in washroom and get freshen up by the time twinkle too change into comfy nighty looking damn hot Kunj come out of the washroom and see her freezes.Kunj going towards bed and she going in backwards assumed he coming near her due to this she falls on bed and due to flowers on floor Kunj leg slip and he falls upon twinkle.Both get shocked and look at each other's face. Feel something new:Twinkle closed her eyes. Kunj see her went near her face.
He about to kiss on her forehead he stop and get up she didn't feel anything open her eyes. And see him and stand up.
We should sleep now aap bhi tired hogi na. Kunj said.
Haan but twinkle said.
I know but we have life for this all things don't know what Alisha tell you.But i marry you with her happiness that sure but you are my wife and I'm your husband before she can interfere now she can't.There is no hurry meri Biwi ko bacha chahiye na she did this for that but if today I'll do something with you twinkle than it's look like a deal not a marriage Nd I respect marriage and now you too. Kunj said and lay down on bed twinkle fully shocked she didn't expect this from Kunj she didn't said anything just sleep beside him.
Kya hua Alisha I'll consummate our marriage and you will get baby haina nahi Alisha it's your perspective not mine how can I'll do this with her she isn't my slave but of my RESPECTED WIFE.i accept my life as it is I do not judge I do not dramatise I let life's events come freely and I welcome the lessons they convey and I stop struggling now I let go and know that god always gives me that which is most appreciate for me.
kunj said
himself he closed his eyes..
twinkle turned toward him and look at him he sleeping peacefully.I'm confused babaji leave everything on you only. It's such big decision I took it it's first and stay last one too.
Scene freezes on their face.
____________________________________________
How was the shot?
Hope you all like
Finally twinkle and Kunj married with each other now story start real ???.
Bye love you all.
Allahafize..