Falling Head Over Heels For a Wizard Riansh ff- An Emotional Reunion
Hello all here is next chappy. Hope you guys like it
Chapter 28: An Emotional Reunion
Ridhimaa and Vansh are shocked to see Gaurav with Harish and Avantika
Vansh: Mr and Mrs Sharma?
Avantika runs to Ridhimaa and hugs her
Avantik: Meri beti….my baby girl has grown so big that she is getting married now
Vansh: Sir..how…
Kartik and Naira enter with Pankhuri
Vansh hugs Kartik
Vansh: Kartik..so long since I saw you
Ridhimaa is shocked that she doesn't react anything. This makes Harish and Avantika concerned
Gaurav: Ridhimaa..they are your parents
Ridhimaa: Maa and papa?
Harish: Haan beta..
Ridhimaa: Where were you these many years? Left me all alone with dadi
Ridhimaa turns away in anger. Harish goes to her and holds her
Harish: Nothing was in our hands beta..when we heard the footsteps of the dark followers in our doorstep all we thought was to save you and Adi
Ridhimaa: Adi?
Avantika: Your brother..and now
She remembers what Shivaay told and stops from telling anything further
Avantika: And now..having lost him you are the only one for us
Harish: Haan Ridhimaa…will any parent stay away from the child at willingness? Our memory was erased…but now Kartik and Naira brought it back with Pankhuri's help
Vansh: Thank you so much Yaar Kartik..
Kartik: How is our wedding gift?
Aman: Excellent gift that no one could think of
Kartik in mind: Why wont it be? After all its a gift of a brother for his sister's marriage
Karan: Ridhimaa..please talk with them na..they have…
Ridhimaa on the other hand is crying silently yet pretending to be angry.
Vansh guesses this and goes to her. He turns her towards everyone
Vansh: See she is not at all angry..she is crying and acting to be angry
Roshini: But why?
Vansh: Arrey baav kaa rahi hai Ms.Sharma
Ridhimaa: Haan sahi kaha tumne..Ms Sharma Mr and Mrs Sharma se naraz hai
Harish: But why beta?
Ridhimaa: Dont I have that right?
Avantika: You have every right dear but we cant see these tears in your eyes and hatred for us in your heart
Ridhimaa: Its not hatred mom…its..its..
Vansh: Her pain in these many years
Aryan: Vansh is right aunty..Ridhu was always questioned about her parents, she would ask Dadi and Dadi will cry..this is an everyday story
Ridhimaa: And one day suddenly Dadi too left me…I was all alone…
Aryan: Though we were there for her, she always felt the vaccum of a family in her life
Ridhimaa: Whenever I came back home…there was no one to welcome me home. I had to open it myself and take care of myself.
Saying this Ridhimaa breaks down crying
. Avantika takes her into her bosom
Avantika: When I handed you over to Gaurav ji you were crying the same way. But that time your life was important..we did not want you caught as we knew that the powers were transferred to you..all it mattered was to keep my daughter alive even if she is away
Avantika too breaks down.
Gaurav: Bas..bas..its all over now. As per the destiny everything happened . Leave it. Harish and Avantika are the only parents in this wedding..lets celebrate their arrival with joy and not tears
Avantika and Harish are shocked to hear it while Vansh gets emotional
Avantika: You mean…Rai Singhanias are dead?
Gaurav: Unfortunately yes
Avantika: But Mrs.Rai Singhania was pregnant with her third daughter when we saw them the day before we were kidnapped
Maya: A lot happened after your Kidnap Harish…Nagesh showed his true colours. He found out the prophecy and cursed baby Ridhimaa and Vansh..in that shock Mrs,Rai Singhania went into labor and she died giving birth to her daughter
Chandrika : Mr.Rai Singhania went after Nagesh and…
Kartik: He killed them right in front of my parents whom he kidnapped
Avantika: He killed them too
Harish: But strangely something happened..as soon as he killed them he died too…then his men used crucio on us in that anger
Gaurav: Thats because by the time he passed the curse his powers were drained..after which using such a strong spell like Mrityu Dansham killed him
Chandrika: Soon as we knew who Nagesh was and you being in his custody we transferred Ridhimaa to her dadi.
Harish: What about Adi?
Maya: When we went to your house we saw it smashed by those idiots and could not find him
Avantika: Where is my son now?
Gaurav: He is a blessed kiddo dont worry he will be fine wherever he is and will come to is very soon
Kartik: That Nagesh betrayed us all ..he ..he
Vansh goes to Kartik
Vansh: Dont borry bro we will avenge our parents at any cost
Aman , Karan and Veer in chorus: We will help you with it
Aryan and Angre : We will help you too
Just then Ranveer walks to Pankhuri.
Ranveer in whisper: Pankhuri need to talk something with you
Pankhuri remembers Shivaay mentioning Ranveer knowing the secret
Pankhuri: Yeah
Ranveer: Its regarding Shivaay
Pankhuri coughs and in a loud tone: Ill have water and come
She leaves to get water. Ranveer too picks up his mobile and leaves
They get to a lonely spot in the corridor
Pankhuri: Whats it?
Ranveer: I am going out tonight with him in search of the guy who shot Ridhimaa but we need you help
Pankhuri: Where is Shivaay now? I left him at the Sharmas
Ranveer: I don't know where exactly he is..he just called me and asked me to ask a help from you
Pankhuri: Whats it?
Ranveer: He needs an invisibility cloak..and he asked me to the get recipe of a truth potion too
Pankhuri: Kartik has an invisibility cloak…and regarding recipe cant I come with you and brew it myself?
Ranveer: I convinced him to take me after many attempts and his strict order was to not bring you with us
Pankhuri: But…
Ranveer realises her concern
Ranveer: Pyar karti ho? Shivaay se?
Pankhuri gets silent
Ranveer: I know love once I see it. I can very well see love and the fear of losing it in your eyes
Pankhuri: Aur kya? If Haden catches him…
Ranveer: I promise you to bring him safe to you. Pyar ko koneka dard pata hai mujhe aur mein meri dushman keliye bhi woh dard nahi chahta hoon. Its my word to bring Shivaay back to you
Kartik and Naira come there
Kartik: I saw you both and guessed it's something about Shivaay
Ranveer is shocked to see them
Kartik: Dont worry boss we know about you well. Shivaay told us
Pankhuri: Kartik they need your invisibility cloak..
Kartik: Ill give it with pleasure..its where is it Naira?
Naira: At home…Ill ask Sirat to bring it
Ranveer: Sirat?
Naira: My sister..twin
Naira calls Sirat while Ranveer tells his plan with Shivaay to Kartik
Kartik: Happy that someone is there to help Shivaay atlast. Now only Aryan told me about your past. Losing a love is terrible . But you are fighting it out. I like it
Kartik hugs Ranveer
Ranveer: Her loss is something irreplaceable but now with you all and everything going on I have found a new purpose in life.
Just then Meghnand rushes inside the hospital. Seeing him come with such a speed Kartik, Ranveer, Naira and Pankhuri rush inside the room
Meghnand: Found it out..found it out
Gaurav: What did you find?
Meghnand: Auspicious days for Riansh Shadi
Aman: Riansh?
Meghnand: Arrey Aman Ridhimaa and Vansh yaar..kitne budhu ho tum
Hearing this Vansh and Ridhimaa blush
Angre: Dekho..dekho bhai is blushing
Meghnand: A happy occasion in the wizarding world after so long
Angre: Bhai..Sia doesn't know this yet
Vansh: We will tell her Angre..after all the time has come
Meghnand: The thing is tomorrow is the best day for engagement
Everyone together in shock: Tomorrow? How?
Meghnand: Are you even wizards?
They giggle
Karan: Lets begin the preparations
Harish: After all its my daughter's engagement
All rush out to prepare for the function leaving Vansh and Ridhimaa alone
Vansh pulls her into his arms
Vansh: Its our Sagaai tomorrow sweetheart
Ridhimaa: Im so happy…thank you so much for bringing this much happiness in my life
Vansh: What did I?
Ridhimaa: If I hadn't met you or loved you these things would have been a dream foreber
Vansh: Dream se yaad aaya..whats your long time desire? That day…
Ridhimaa: It is to over come my long time fear
Vansh: What ?
Ridhimaa: Haan Vansh..I have always been scared of dark streets…but I love walking in the moonlight
Vansh: But you were sitting in the dark in your terrace that night
Ridhimaa: Not that…its just the street..that too the street where you met me in rain. I never knew why but the day when dadi told as maa and papa's death day I feel so bad in that street that I avoid it every time in day during that day..and night tho..I never even step in it though I thought to overcome it
Vansh in mind: Thats the place where Nagesh cursed us sweetheart..thats why you feel strange and bad whenever you go there…I cant tell you as you will ask me what the curse was and..I dont want it
Vansh: Dont worry..Ill accompany you..then lets fulfill your dream
Ridhimaa: When?
Vansh: Now..see its almost night..Ill complete the discharge proceedings and take you with me
Ridhimaa: But..
Vansh: No buts..its a husband's duty to fulfill the wishes of his wife
He gives her a quick kiss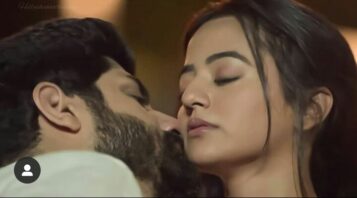 and walks out. The scene freezes
Hospital parking
Ranveer Kartik Pankhuri and Naira are waiting when a car speeds over to them. A girl looking like Naira but with hair shorter than her walks to them
Kartik: Sirat…be gentle in your driving
Sirat: Oh fo jiju what's the fun when you drive slowly ?
Naira: Where is the cloak?
Sirat takes a  bag and gives it to Naira
Naira: Ranveer here you go..and by the way Sirat this is Ranveer..Ranveer its Sirat
Ranveer is smitten by Sirat but he suddenly turns away
Sirat: What happened? You don't wanna look at me?
Ranveer: No..woh..
Sirat giggles
Sirat: Its fine…okay all the best for whatever you asked the cloak for. Im leaving
Sirat leaves from there
Kartik: She is a bit like that..dont get her wrong
Ranveer: No its okay..Ill leave..its time
Ranveer bids bye and the scene freezes
Haden's mansion in the jungle
Ragini is there along with Alga and Haden. A man with a hoodie and face covered with a mask enters the mansion
Man: Sir here is Ridhimaa's blood
Alga: Luckily we got it..they planned so hard to prevent it..
Haden: You did it mate..that Kabir idiot..I brainwashed him saying that sacrificing Ridhimaa will cure his werewolfness and asked him to gain her love which will protect us all in the ultimate and sacrifice her blood to bring the Dark Lord back
Alga: This time this guy did it..great
Ragini: What are you saying?
Haden: Later please..Ragini we need your blood..give me…
He takes a knife and takes her blood
Haden: Nagesh ji wanted to bring the dark lord out..he couldn't..now they got the Aeres potion and started the struggle and I bring the Lord back…
Alga: But a body for him?
Haden: Mine….he will have my body….I will be the Dark Lord
Haden laughs and it shakes the entire building.
He starts a sacrifice.
In the distance a light approaches the mansion and the episode freezes
Next Chapter : Keeping up the promise