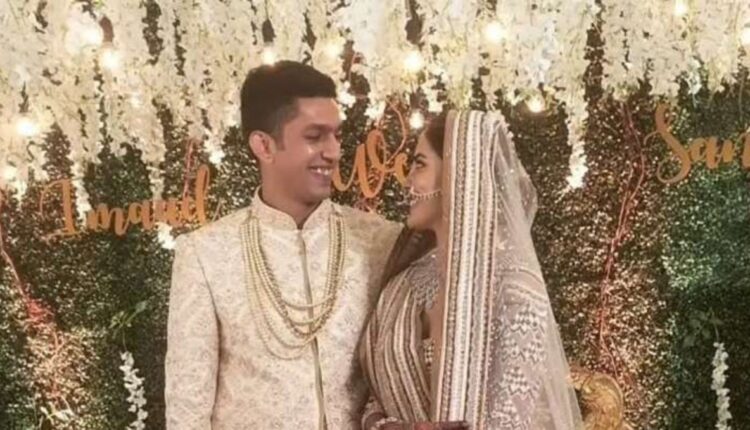 Divya Drishti fame Sana Sayyad says 'Kabool Hai' to beau Imaad Shamsi in an intimate 'nikaah' ceremony
TV actress Sana Sayyad, who is known for essaying the role of Drishti Shergill in the hit supernatural drama Divya Drishti, ties the knot with beau Imaad Shamsi. The couple got married in an intimate affair including the family members and close friends. The actress was shimmering in an off-white and brown lehenga for her nikah ceremony.
Click on this link to the pics from the wedding ceremony.
Sana kept her looks simple and accessorized the outfit with a diamond choker along with matching earrings. Sana's husband Imaad was rocking an off-white sherwani. The couple was looking gorgeous together and the love is evident even in the pictures from the wedding which are doing the rounds on social media. In one of the pictures, the couple can be seen with Divya Drishti co-star Nyra Banerjee and Neha Adhvik Mahajan, flaunting their engagement rings and posing.
Click on the link here to see the pics.
There's also a video doing the rounds on social media where Sana's stylist can be seen fixing her dupatta over her head.
Click here to see the video.
For the unversed, Sana and Imaad have known each other since their college days. The couple started spending more time with each other during the lockdown and decided to take the big step.
In a recent interview with BT, the actress talked about it and said, "Imaad has always been a very nice, shy, and humble guy. And also very handsome (smiles)! He is more like a friend and very cooperative. I found his simplicity and innocence attractive. What binds us together is the fact that we are both close to our families and career-oriented. We admire that about each other. It is imperative to give importance to your passion. More than me, Imaad always pushes me to work. People say that life changes after marriage, but I feel that my life will only get better. More than a partner, he is a friend…someone I can confide in, someone I love and admire. It's a beautiful feeling," she shared.