DIL KO KARAR AAYA TWINJ~SHOT14
Shot:14
sort out everything😍::
After gets to know about Meera and her past story what happened with her and what made kunj and Rahul do this really shocking for them I never thought about it in their wildest dream it really shook down tej and Avantika when they get to know just for a love their daughter suffered this much.they don't have any clue in their anger tej dead Meera in their hearts what she did really painful for them especially for tej who bear lot society humiliation.
Rest sarna family they don't know about Meera tej and Avantika even having a daughter also first that was shocking for them now this complete bolt out of the blue.
At twinj [email protected]
Kunj come to his house he can't take it anymore when listen to his father words really making him guilty what he did he never thought about his father once like Meera he too becomes blind no matter why he did reason?? Not matter in front of his father pain and tears.
While twinkle comes behind him she knows he will break again.He comes to his room and laid down on the bed hide his face under the pillow and sobbing she just seeing him.She leave him alone for sometimes let him cry as much as he wanted he will feel better..
Tej and Avantika come to sarna mansion after a shock they don't know how to react they just went in their room and sat in sides. Outside in the living room.
Tej bhai saab never tells us about his daughter even he had one daughter Manohar said..
Kya bata tha after that night no one takes meera name in front of tej and in the house too she is dead for tej lata said.
But dadi today when listening about her it's really painful yuvi said.They went in their respective rooms.
Avantika went to tej and cupped his face. Both of them had tears in their eyes which not taking the name to stop..
Tejjj meeraa we never thought about her in this years she suffered this much Avantika said.
Even Kunj didn't tell us about Meera Avantika he handling each and everything alone only we never try to know about Meera where she is.She toh leave us didn't care about her parents but we are her parents how can we become so heartless today when she saying and Kunj each word of their shaking my floor why life is so unfair with us first you and me suffered now Meera too tej said.. 
Me ek acha baap nahi ban paya Avantika today Meera is like this because of me somewhere na Woh ghar chod thi na yah sab hota tej added.
Nahi tejjj you are the best father why you saying Meera humhe samajh nahi paai tej that's why she suffered this much if she ever tries to tell us you not then me today maybe situation something else kaun se parents honge jo apne bacho ko khush nahi dekhna chahte hai you toh just doing for Meera betterment only in her madness she takes the decision and if Kunj helps her he rectify his mistake we and rest thinking our Kunj useless he was not doing anything just wasting his time.
Today seeing him like this proud moment ek bhai hone ka farz bade ache se nibhaya hai usne ek baar bhi humhe nahi bola usne I'm always proud on my son but today his value and respect increased he is my son today meera is happy with her husband and kids because of Kunj and Rahul tej I don't want anything from you.
I can't live without my sonnn she said and hugged him..
forget everything tej over jo bacho ne kiya bhul jate hai na let's give them one more chance life is very small tum hi toh bolte ho insaan galati karne ke liye hi aaya hai duniya mein tab hi toh woh galat aur sahi mein farak samajhega why can't we live happily humhare pass pehel bhi kuch nahi tha ab bhi bas humhara pyaar or support enough for us aur you only said Kunj and Meera was our lifeline forgive Meera too uske do bache hai humne toh socha bhi nahi tha tej. Our parents didn't accepted us tej we will not do the same woh pain humhe pata hai kya hota hai aaj tak she said tej wipes Avantika tears.
They will never understand us Avantika that's why I'm saying you leave the hope my father will accept you as his bahu tej said.
Koi na tej for you and for my happiness I will do till I can humhe ek hona tha us time ek fasla we took it to get married against our family Will ab naraz kiya hai toh manana bhi humhe hi padega na she said tej smiled.
No one is like you in this world my support system tej said she smiled and joint their foreheads.
Kunj doesn't know when he sleeps twinkle didn't disturb him.While Meera resting after medicine she feeling better after ages and somewhere sad as well how much she hurt her parents..
Next [email protected]
Twinkle went in the room with Kunj breakfast she sat beside him and caressing his nape hairs due to this Kunj
woke up and looking at her.He gets up and rubbing his head.
Good morning having headache itna rooge toh headache toh hona hi tha she said tears falls down from Kunj eyes twinkle wiped and kissed on his forehead.
See everything is solved na mummy ji and papaji forgive Meera di even you too twinkle said.
Twinkle I hurt them very much Whyy I did this he said.
You didn't do any crime today meera di is happy because of you they must be proud on you having son like you who fight with everything for his sister just Kunj you don't worry today they forgive Meera di even you too I know parents never stayed angry with their kids for a long time..
In front of Meera di pain their anger bow down that's love of mother and father jo hum bache samajh hi nahi pate hai kabhi she said he hugged him.
I'm happy papa forgive Meera di finally he said.
At sarna [email protected]
Everyone sitting in the living room and talking about twinkle and Kunj.
Twinkle is pregnant and we don't know? Avni said.
Yes, usha added meanwhile tej and Avantika come there.
Come tej lata said and he sits beside her.
Are you okay she asked.He nodded in yes.
Prithviraj sat opposite of him.
I don't know how I start tej whatever happened it's very bad and painful for us years back I do one mistake not understanding your love for Avantika I had one pain you choose your love over your father and went against me for this I was angry for you and didn't accept Avantika as my bahu always degrade her and hurt her she still never said anything to me respect me nicely even with Kunj too not considering him my grandson. When seeing you today what Meera did you get ready to forgive her and look at me in my ego what I did didn't think about my son once throw him out of the house and family in these years your mother with you I wasn't unhappy but I'm happy at least she is you she chooses her son over her husband because you are right again she chooses her grandson who too absolutely right Tej.
I always wondering no one is like me in my family who gave his everything for my country but I had my grandson who likes me more than I just give my everything to my duty didn't think about I have my own family jaise desh ko meri zaroorat hai wese hi mera bacho or mere family ko bhi meri zaroorat hai duty aur responsibility ko ek hi samjha tha raha mein aaj tak that day whatever Kunj has said absolutely correct Umar me chota hai but zindagi ke tajurba mujhse kahi jada hi hai mere pote ko he did whatever for his sister didn't think about his life once galati ki toh us galati ko sudhaarne ke liye kaha tak chala gaya tej insaan usko bolte hai usne apni duty aur bhai hone ka farz hi toh nibhaya hai aur tej lata always support you like her Kunj help Meera mene apne ego me sab Kho diya apne bete ko itna hurt kiya uske pyaar ko nahi samajh paya tum aisa mat karna I always proud on myself I'm great solider but now shaming on myself.
Great aur ego mein I destroyed everything when seeing you today and Kunj what I did great is kunj not me he said and fold his hands in front of tej..
What I did not forgivable I know will not say forgive me but you have time I lost you don't still forgive your this father Prithviraj added all shocked to see him.
What are you saying papa tej said and shocked..
Prithviraj gets up and looking at Avantika.
I'm not even your culprit even Avantika too who doing each things so I can accept her my bahu but I didn't her I didn't learn this border pe jang ladna kaam tha apne hi ghar me ek jang laga thi mene usme me hi haar gaya after years I accept my son because he is my blood but not you and your son who also my blood I'm so bad if I accepted my son love today this wouldn't ever happen even you too forgive me bahu ho sake toh Prithviraj said and folded his hands in fronts of her.She is stunned and looking at tej.
Socha tha ek roz jab zindagi se thak jayega yahi saaya uske kaam aayega woh tum log mere bache the but I scattered everything forgives me as well Tej and Avantika bahu he said.Tej and Avantika don't know what to say today Prithviraj saying this all to them reallyyy..
We held your fingers in childhood and showed you all the path what is correct and wrong when you get big doing something wrong why like before didn't scold you instead of breaking the relations rishta kabhi toot tha nahi hai bolne ne liye he added..
That's why saying you both because of me you both suffer lot don't need to do anything for me Avantika bahu because me uske layak nahi hu ek pathar bhi pigal jata hai me toh phir bhi insaan tha aur ek baap tha I give more importance to my ego and myself not to my son happiness jo Meera ne kiya because she thought her grandfather didn't understand her father how will her father will understand hers she did that you have true love with you Tej but she doesn't meera ne jo kiya not only because of you it's because of me Mene koi sa farz nahi nibha paya apni ek galati ke chakar mein that's why today sorry to you both for each and everything he keeps his hand on Avantika head.
Tumhe kabhi apni bahu accepts nahi kar paya sab se badi galati meri choto se galati hoti hai toh bade maaf karte hai na aaj tum mujhe maaf kar do he said Avantika shocked.
I waste lot time not now khush hu mere bete ko tum jesi biwi mili aur mujhe tumhari jesi bahu too he said tears escaping from Avantika eyes with happiness.Khush raho tum dono he said. While tej hugged his father..
(Ego destroyed everything in life.
Sometimes Ego can destroy everything what we have. So stop being egoistic and be kind to everyone.
Parents are the roots of the tree of life tej said and wiped his father tears.
Don't do this you making us guilty you did whatever I won't say mistake you are my father you can't be wrong ek maa aur baap kabhi galat nahi hote bas kabhi zindagi ki uljhan mein thode se what I did was absolutely wrong I just want you understand my love I never choose Avantika my love over your love for me you both are same you give me life and she becomes my life after you even I too not become your good son If I try then maybe like childhood you will understand me even I too in my madness get ready to leave everything we went from here but wasn't happy at all nah aaj bhi you don't need to sorry for anything tej said..
Aap humhe accept karo lo woh bhi koi force nahi hai dil pe kesi ka jor nahi hota
Hai rishte dil se bante hai na ki kesi shifarish se papa I'm angry with you you didn't understand my love galati meri thi Avantika ki kya thi you just blamed my wife for everything Woh toh galat hai na ab koi ghaam nahi hai we get your blessing bas enough for us tej said..
Aur papaji we never angry with you you are right at your place we hurt you our families that we know now understand jab bache kuch bhi bina soche samjhe kuch karte hai kya hota hai don't say sorry to us I don't want anything from you you just accept me and my kids yours we are too your family bas our wish is this only Avantika added.Tej and Avantika standing together they bend down.
Khush raho Prithviraj added and blessed them.All gets so happy.
You both go and even bring Kunj and twinkle back she is pregnant tej and Avantika bahu we don't know about them meri mistake tum dono mat karna you have gem son he said they nodded in yes. After breakfast tej and Avantika went to Meera place.
Meera was in the living room sitting on the couch kids and Adarsh was behind her for the breakfast she is not good yet but little bit meanwhile tej and Avantika come to there,
Arey nanu and nani aria and Aarush started jumping after seeing them tej and Avantika gets happy and went to them.
Maa and papa Meera said they sits beside her,
Hmm, how are you now Avantika asked and caressing her face?
Fine maa, she said and hugged Avantika.
She cupped Meera face and caress her hairs.
You need rest Meera she said.
We are saying that only nani Aarush said. And from back hugged Avantika and lock his arms around her neck she smiled.
How are you both Adarsh asked?
Fine we too tej replied.While Meera gestured maid she took aria and Aarush in the room Jaidev come there.
Again sorry maa and papa Meera said.
Jo hua leaves Meera we forget everything tej said.
Where is kunj?? Avantika asked.
They aren't staying here but to their own house maa and papa Meera tells them about Kunj.
He is really very angry with himself he hurts you both and worried about your health too papa Meera said.
Yes even forgive him uncle like you do Meera he did just for Meera happiness if you are on his place you will do same you too want to see your daughter life happy Adarsh said.
True for him just his parents and sister or his duty is important nothing else Jaidev said.
My papa always complaining Kunj is not his son to god really uncle you have a great son he is best in everything he can do anything for you all for Meera he gives his life we see him each second how he lived didn't think about his own happiness too Adarsh added.
I didn't demand anything from you Tej in my life today demanding to bring Kunj and twinkle back I want my son and bahu she said while looking at tej.
I will not deny you for the first time you demand something from me Avantika tej said they smiled and rests too.
Adarsh gives tej to Kunj house address after Meera they went to twinkle and Kunj house..
After feed Kunj breakfast twinkle sends him for a bath he went for a shower and come and get freshen up little quiet not saying anything he comes down in the living room scattered his case files distracting his mind while twinkle in the room cleaning the room.
Tej and Avantika reached they were looking at the house and went towards the door. They both looking at each other face.
At last, tej rang the bell Kunj wasn't in the mood to get up and open the door. He was just busy in his work not cared about who was at the door once. While twinkle heard and come down..
Kunj see doorbell ringing and you sitting she said and went to the door.
Twinkle open the door she raised her eyed and found tej and Avantika was standing at the door entrance she shocked and surprised to see them while tej and Avantika looking at twinkle then her baby bump they don't have any idea about her pregnancy..
mummy jiii and papajiiii aap she said.
They just look at each other.
Andar aane ko nahi bologi Avantika Said,
Nahi haan come she said and let them entered inside.
Twinkle don't know what to say Avantika and tej eyes went on Kunj who sitting in the side and busy in his work.
Aai na she said and went to kunj.
Kunjjj see who come twinkle called him he didn't look on twinkle again called him finally Kunj look up and shocked to see his parents were standing in front of his eyes.
He immediately leaves the pen and stands up without blinking his eyes looking at them while they too.while Kunj stealing the gaze looking here and there.He turned to the other side and having tears in his eyes.
See him now he even learned how to hide his tears and ignoring us tej said.Take his own house didn't bother to tell us about him we aren't that much bad tej said Kunj nodding in no without seeing them Avantika went towards him and keep his hand on his back.Make him turned.Never excepted this from you kunj Avantika added. Avantika sat down on the table Kunj bend down and cuddles her nuzzles his face in her embrace.
Maa I never wanted this I know I hurt you both like anything but me kya karta koi rasta hi nahi tha mere pass maa I wanted to tell you both but every time ek dar tha what will be your reaction I did to help Meera di and hide this all truth from you and maa I was helpless whatever I did for Meera di happiness I never thought in my one stupidity this all happened me toh acha hi karne gaya tha maa kunj said.
Before I never lied with you and papa you both already in much pain and I too become the reason of your tears forgive me he said and look up Avantika who having the number of tears in her eyes.
You kept everything in your heart alone why?? When we didn't understand you. Meera did even you too she is same from childhood but you are toh our matured son me and your papa don't know anything about our kids what they bearing and we happily living ek baar bol ke toh dekhte kunj Avantika Said.
I know maa but if you see Meera di in that condition can't see her. Whatever she did she get her punishment by her own hands maa she wasn't happy in her life I help her because of that she bears this all me toh apni galati sudharna chahta tha. You too wanted to see her happy only I thought I will see everything and handle too I did my best but I even hurt you both in this all mene jo kiya sab di ke liye kiya meri bas itni si galati hai kunj Said.Avantika cupped his face.
I know whatever you did for Meera was very appreciable who did for his sister you did everything for Meera to give her happiness and you did it jab sun ke itna dard humhe ho raha hai dekhte toh we can't see her in that condition ever can't even imagine you toh know kunj she didn't care about our feelings but we always never wanted her bad she said.
Pata hai maa di becomes mad that's why she suffered this much now she understood her mistakes Kunj added.
And about you, we are proud of you.You are our son you fulfilled your brother duty very beautifully I don't have any issues with you. Because I really love my son that day you went and leave the house didn't think about us we never wanted this Kunj after Meera your the one and only things to us our hopes and life depending on you only just get angry even you too lied with us like her. Especially your papa he never stops you do anything always support you Avantika said.
Galati hogi maa punish me but don't turn your face from me kunj said and looking at tej. Tej comes to near them.
He doesn't need of us Avantika he is great officer he can fight with anything alone why will he need us tej said.Tej sits beside Avantika.
Who said this I don't need you haan I need you both in my life always haan I'm great officer but I'm also a human being even I need my parents I can fight with everything alone but in my life, I want my parents you both.My intention was never to hurt you both especially you papa I thought I can manage everything alone humhari life mein pehel kaun se kam problems thi di and me added more Kunj said.
Haan thi problems in our life but we never cared about that we have you both at least you toh try kunj once I always telling you to join my business then also you didn't say anything why? Tell me you are agent I will not kill you, in fact, I will be the happiest person. Everyone saying my son is useless still you listening to why?? Tej Said. Kunj held tej and Avantika hands.
I never cared about the world what people saying about me I cared about you. I never see myself useless in my maa and papa eyes no matter what I'm doing in front of them they don't know the truth about me you both didn't say bas I'm happy now I'm feeling worse when seeing this tears and pain because of me that means for me which I never wanted papa he said and wiped out their tears.
Twinkle just seeing and listening them it's their moment she doesn't want to disturb them and it's needed very badly.
Meera ke liye you did this much never thought tej said.
I did for my sister even you both too did if you know about her aap hi toh kehte pape ek galat karta hai aisa nahi uske saath wesa hi karo phir us mein aur humhe kya fark rahega di ne kiya apne pyaar mein kiya she thought she will leave us and will happy like you both but she don't know aapka pyaar sacha tha whom she loving he didn't love her if she thinks one time she didn't suffer in her life forgive me I was the main culprit of yours my fault is this much I just helping her and wanted to rectify my mistakes baki ka Meera ka hi hai kunj said and they chuckled.Hugged his parents tightly.Twinkle smiling after seeing them get relief.break the hug.
We really proud of you kunj thanks whatever you did for Meera tej said and kissed on Kunj forehead.
No need of this it's my responsibility as a brother and I did for my own sister even I want to see her happy no matter she is wrong but the end of the day she is my one and only sister meri property ki half holder 🤪kunj said Avantika playfully slap on his cheek.
You forgive me na?? Kunj asked.
Haan why we will stay angry with you we thought but for one thing angry with you Tej said.
Now what?? Kunj asked.
Where is twinkle Avantika called her she comes in front of them.
You hide about Your sister that we understand but why this twinkle is pregnant Avantika said. Kunj looking at twinkle and then his parents.
Even you too beta tej said.
Nahi papaji he did I toh telling you both about my pregnancy twinkle said.
Haan you both become angry birds mother and father with me that's why mene bhi nahi bataya kunj said and they looking at Kunj with really.
Sorry I wanted to tell you both but situation wasn't suitable everything is messed up fully that's why I didn't tell about her pregnancy you both Kunj said.
Really itna toh right banta hai humhare tumhare hone wale baby pe tej said.
Kese ne kaha papa aisa aap dono ka sab se pehla and sab se jada haq banta hai humhare baby pe he will be your grandkid I know you both will be happy for this news directly deta aap dono ko 😉baby even your father will be shocked Kunj said and giggling.Tej and Avantika smacked on his arms.
He will be your baby great grandfather do you know tej said.
Hmm,🙄Kunj hummed.
I'm really very happy forgiving you just for our grandkid otherwise give you both big punishment tej said.
Do everything but don't away me from you both papa Kunj said.
Even we don't want this in this all get one good news becoming grandparents tej said and they smiled.
Pata bhi nahi chala mera beta baap bane wala hai ek wish thi woh bhi puri hogi tej added.
Haan adds on in our family Avantika added.
Yup twinkle missing you both more than me kunj said.
Pata tha why you will do us Avantika said and pulled his cheeks.Twinkle sits in the side.
In this condition you troubling her that's not good kunj tej said.
See I told this but she is too very ziddi ladki like your biwi she too can't stay without her husband 😎👅kunj said twinkle hit on his back. Kunj sits beside twinkle like you have your wife as your support system even I have my wife he wrapped his arms around twinkles shoulders.
Who stands beside me every time if she is not with me I don't know what I will do. This credit goes to you both only who find the best life partner for me I myself can't get it thanks to you both for this Kunj said. They see their son he is totally different today.
We are shocking who always complaining
Us why do my Shadi with her this and that today saying this all surprised both said together twinkle and Kunj giggles.
That toh she also said about me now she too saying she blessed get a husband like me 😎diya leke dund thi toh bhi nahi milta iss se kunj stated😉.
Achww 😏twinkle said.
Avantika took twinkle hands in hers are you alright na beta she asked.
Haan, I'm absolutely fine mummy Ji she said.
Dancing on my head how can she will
Be not fine🙄asked me how I'm kunj Said.
Acha that I will ask you na tej and pulled his cheeks.
ahaan papa, I'm not small baby you pulling my cheeks Kunj said.
Whatever 🙄tej said.
Ek beta ke saath bahu bhi agent mili hai waha waha tej Said.
You also didn't tell us about you twinkle Avantika said.
Hehe, she even didn't tell me about her Kunj said and tell them everything they shocked.
Really tej said.
Haan spying on me 😬 Kunj said.
Koi na you both are together and happy most that's matter for us Avantika said.
Don't tell this to anyone Kunj said.
Haan, we will not disclose anything about your wife tej said and teasing Kunj.
Ab toh everything is solved na, papa, we can live our life together happily let's go back to New York what we will do here Kunj said tej and Avantika looking at each other.
Nahi kunj we come here to take you both back to home tej said.
Whatt sarna mansion what we will do there you know dadu now leave everything you both did enough for him he never accepted us papa Kunj said.
I get ready to forgive my kids why not my father whatever he did with us and didn't accept you all koi na it's his loss today he regretting not we.
He gives more importance to his ego what he gets nothing na I just learn one thing let the things go because not get anything I did same with Meera after forgiving her in this all we just wasted our time tej said.
Acha 😏really forgives Meera di in two seconds your father too what about me koi special dushmani thi mere se slapped us you and your friend to my friend 🙄Kunj said.
Haan, you are really special to us tej said and hugged him.
No end this sad chapter from our life let's live and laugh. Mistakes happen by situations, not by intention so always try to know the reason behind every mistake of our loved ones that is the way to value a relation. That's why today proud of you like anything even Rahul too can scream and say you are my son tej said.Kunj smiled,
Why you are this much nice papa everyone hurts you both but in return, you both didn't say anything kunj said,
Because bol ke kya karna hai log dusro ke time judge hote hai apne time pe pata chalta hai kunj tej added and Kunj nodding in yes.
Whatever I said that day just aise hi not meant Kunj said.
Pata hai, tej added.
Ab chale I'm very happy I wanna celebrate this news I'm going to become dadii Avantika said. She twirls twinkle
Arey Arey meri maa calm down she is already jhalli now you think about my baby😝Kunj said.
We will see you do your work Avantika said.
For us Kunj forgives papa forget everything tej said.
Okay, I'm ready for everything If you both happy what else I wanted more papa Kunj said.
They quickly packed their things and ready to go back to Sarna mansion.
At sarna [email protected]
They reached and come out of the car Kunj held twinkle hand and went inside together.
They entered the entrance everyone already waiting for them.They get up to see them they about to enter inside lata stops them.
Wait today, not like this she said and Usha brings the thaali and went to them rest too.
Today properly I will welcome my both elders bahu of this house lata said.
Yes, Prithviraj added. She doing aarti then and put the tikka they smiled while Kunj looking here and there.
Tej and Avantika take Prithviraj blessing and lata's too they blessed them Kunj shocked to see this. Then tej gesturing Kunj he and twinkle too.
Bas twinkle beta Prithviraj said. Kunj went to his dadi and hugged her.
Missed you he said.
Me too huh you are very bad I'm katti she murmured.
Koi na he said and give her side hug.
By the way, tell me one thing yah mohabbatein ka Amitabh Bachchan baghban ka kese ban gaya I'm surprised Kunj said and giggling 😂.. lata slapped on his cheeks playfully: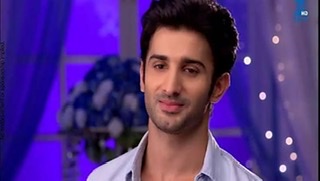 Hatt, he is your grandfather and my husband lata said.
Hoo really party chance 😧 Kunj said.
Yup my dear pota kabhi khushi kabhi gham ki me bhi 😎she added.
Wah 😏😏huh, kunj said they laugh out rest busy in themselves.
You cheater twinkle avni said.
Kya cheater how are you madam twinkle said.
Huh, such a liar pregnant didn't tell us khushi added.
Sorry guys you all know the situation twinkle said.
We know they said together and hugged her.
See together we will have two great Grandkids lata said and kissed on avni and twinkle Forehead each and everyone looking very happy.
Congratulations bhai saab even you going to be dadu Manohar added.
Hmm, I'm happy that time too when you going to be tumhare grandchild mine too tej added Kunj smirked 😏while rest keep silence.
Please whatever happened forget even we too always behave with you and your family every cold papa has a reason but we don't still we did it Manohar said.
It's okay tej said.
Even dadu now you are damn happy in your family you wanted your kid like to be you do something for our country see you have Kunj and twinkle both husband and wife yuvi said.
Haan ek saath do-do officer mile Prithviraj said who is extremely happy.
While Kunj went from there all looking at him.They miserably hurt and mistreat tej and Avantika he saw from his own eyes unforgettable for him and unforgivable as well.
Now what happened to him bade papa yuvi said.Avantika and tej looking at each other.
Nothing he is like this only annoying you don't worry about Kunj Avantika said.
Don't need to coverup bahu I know and we all know he is right Prithviraj said.
I will talk to him lata said.
No need I did mistake na now I will try my best to win my grandson heart Prithviraj said.
Yah dadu ek ke baad ek blast kar rahe advik said twinkle and Avi or Khushi giggles.
After sometimes later Kunj was sitting in his room busy in his thoughts. Avantika went to him. She sat beside him.
Coffee she said.
Thanks, he said and smiled.
Kunj will you listen me she said.
Yup say he said.
Forget everything Kunj papaji really guilty forget everything Avantika said.
Maa even you papa ka samajh me aate hai he is his father Kunj said. She cupped his face.
I know kunj you tell me one thing whom you love most and trust blindly she said Kunj looking at her.
Hmm, you and dadii he said.
Bas mummy ji your dadi always stood beside us and you especially for her it's her and your papa dream to stay like a family happy wali and I forget everything Kunj she said.
But what he did wasn't forgettable he always humiliates us and you most maa he will never accept us you know this even dadii too he said.
You said you didn't leave Meera because she is your sister like you he is our elder one and most he is your father father for tej let's closed this chapter brings new memories with our full family she said.
No one is like you maa great he smiled and kissed on her forehead.
Okay I will try for you but you know I can't too much clingy he said she giggles,
I know my dear son now come and meet with him he will be happy she said.
Ahaan not now I said na I'm fine if you are he said and hugged his mother.
If again they did I will not leave them don't care if he is major then I'm his boss 😎he said.
Haan, I know this she said and smiled..
While sanvi and raj even forgive Rahul and all get so happy back like before.
At [email protected]
They prepared special dinner today all ladies together twinkle really missing this there she was happy but family is family. 
They all laid down everything on the dining table. Everyone even come for the dinner.Avantika bring Kunj he takes the seat they all started having twinkle come and took the seat beside Kunj.Due to some work ruhi went out of the Amritsar.
We always feel bad we don't have a sister now that too over advik said.Kunj looking at advik.
Haan woh toh hai Meera hai tum logo ki behan ek loti lata said and they smiled.
Even dadu get granddaughter yuvi added.
Just then Kunj gets the call he takes the call.
Yes sir okay coming he said.
What happened?? Tej asked.
Nothing I have some work he said and went immediately.
What works at this time yuvi said.
Hoga koi office mein twinkle said.
Haan you husband wife will understand each other work working together he said.
We just worked on one same mission that's why we have different departments twinkle added After dinner. 
Tej and Avantika today get relief so sleep fast while rest youngsters sitting together and chit-chatting. On the dining table, even twinkle discloses that matter too kunj wasn't at that night who did with her but it was Vihaan they shocked and feel guilty for whatever has said to kunj.
Chalo bhai goodnight hell sleepy twinkle said.
Me too avni added.
Where Is this Kunj twinkle murmured she went in her room and after changing waiting for him. Kunj entered in the room.
Where are you mr agent she said.
Kaam tha bola na he said and sat on the bed.
Acha what work suddenly everything is fine she asked and sat beside him.
Yup twinkle everything is fine just meet up with some officer due to case he said.
Acha did you take your medicine or not even milk after here don't forget that he said.
Haan my dear husband ji and when I have you why I will be worried about myself she said and hugged him.
I'm so happy finally babaji everything is on the track Even solved what's say aren't you happy kunj we are back to our home and our room were so many memories of ours she said.
Hehe, pagal ladki I'm happy get my parents back what I want more than them he said.
And rest?? Dadu forgives Kunj na let's start a new life now she said.
Hmm trying that only acha I will bring your milk baby don't act smart with me he said and she making face and come down making milk for twinkle and returned back to the room.She making puppy faces and he made her drink the milk and give her the medicines too. He went for changing after come and laid down beside her.
Hell sleepy she said and Kunj blinked his eyes she tries to sleep while Kunj playing with side lamp.
So jao now what you want she said and pulled him.
She cuddles him and both happily sleep.
At [email protected]
Twinkle and Kunj get freshen up kunj having work today they come downstairs everyone standing for pooja Twinkle takes Kunj as well. Kunj shocked to see Avantika holding the pooja thaali.
Let's start the aarti lata said she nodded in yes And started the aarti Kunj just looking at his mother then Prithviraj there a time before today an aarti thali snatched from his mother hands today she doing this.She done aarti nicely and give everyone aarti and parshad she comes to kunj who looking at his mother who was so happy today he feels so bad she just wants this much love for this to get so many rejections and words. He took the aarti and parshad she went near his ears.
Time changed everything Kunj even papaji she said Kunj chuckled and feed her parshad as well.
Let's have breakfast  hell hungry tej said.
Acha bye maa kunj said about to go.
Arey has breakfast she said.
Nahi I will have I have a meeting with my mentor see you soon he said and went from there.They all had breakfast happily. While Usha and Avantika begin twinkle and avni have this and that.
Aah mummy ji before Kunj wasn't less even you too behaving like him she said.
Yes, I get a chance now to pamper my bahu she said and feedings her fruits.Twinkle went to her motherhouse for some hours and she even told them about this all things they too get happy for them All's well that ends well.She returned back.
At night Avantika and tej called Meera at sarna mansion she will meet with everyone today she is stable and better as well rest Taneja's and Malhotra's small get together.while Kunj didn't come home the whole day busy in the work. Sarna's excited to meet with Meera and her adorable kids.
Meera and kids along with Adarsh get ready fully they all set to go.
Excited biwi adarsh asked.
Yup lott going to meet with my entire family for the first time fully she said and they left for sarna mansion. Taneja's and Malhotra's come Rahul not come with them.
They entered Meera holding Adarsh hands while both kids holding their grandfather hands.She hugged tej and Avantika.
How are you feeling now? They asked.
Fine now completely she said and smiled.
Come I will introduce you with others tej said.
Sure she said tej took Meera to Prithviraj.
He is you grandfather tej said Meera bend down and took his blessings he blessed her and hugged her.With rest too, she meets happily.
We are your two brothers yuvi said.

Acha she said and they both hugged her she gets so happy and rests too.Rahul comes meanwhile.
Yah Adarsh Meera Said.
I will give his introduction he is Adarsh Sinha one and only Husband of Meera and Jaidev sir son that's it rahul said.
Very funny twinkle said. Adarsh too meet with each and everyone and takes their blessings.
And this two cuties avni said and pulled their cheeks.While they making faces.
Aur yah Jaidev sir hai my and Kunj mentor and everything Rahul said Jaidev smiled.
They all settled down and sits Meera was busy with yuvi and advik and rest girls while Rahul and Adarsh seeing them.
Come to us Manohar called aria and Aarush they deny and cuddles Jaidev more.
Ale yuvi said.
Like you they are obsessed with their dadu just Rahul said.
By the way, where is agent Kunj sarna Rahul said.
He is not at home twinkle said.
Sir, he was with you? Kunj asked.
Haan, we had meeting but after he went to hq Jaidev said. While Kunj entered and surprise to see Meera family.
Mumma maamu aria shouted happily.
Kunj went to them.
You are here sir Kunj said.
Haan family gathering Rahul said. Kunj
Rolling his eyes.
Take this file and analysis fast I need tomorrow kunj said and throw at him. He went upstairs.
What is this again work he murmured and keep the file in the side after Kunj get freshen up and come down and sits with Rahul.
Look Meera she is so busy with them like knowing them since forever Kunj murmured.- why she comes here Kunj said.
Hmm, chief gathering hai tujhe nahi pata hai kya aur yah bata angry dadu cool how? Rahul murmured.
Huh, don't ask he tell him he giggling.
Really you should send me that moment video Rahul added both giggling.
Arey why you both sitting there come to Meera called them. Rahul went while Kunj stayed there only.
What happened to him doesn't he like Meera said. 
He like pooch mat if he gets chance to blast them he will do quickly Rahul said and giggling.
Very lame Rahul Meera said.
He is right twinkle said and both hifi..
After they all sat for the dinner with lots of jokes and laughs enjoying the dinner Kunj just listening to them.
Daduu doesn't want aria said who full.
Okay, Jaidev said and wiped her face. Later dinner they enjoy the dessert.
Jaidev and Kunj sit together alone.
Looking off not happy kunj he said.
Nahi sir I'm bas aise hi you know I take time little to fit in something Kunj said.
I know take your time Jaidev said.
Let's go Adarsh now Jaidev said and they get up. 
Arey go later yuvi said.
Don't worry we are here only milte rahenge ab toh adarsh Said. 
Puri family agent kya feeling hoti hogi abeer Said.
Boring Meera said.
Why Mehar said.
Arey, they just talk about their work only which went above your mind I always get bored today get company best after ages Meera said and advik and yuvi gives her side hug in a very short time they get really friendly.
Hoo poor now you get our company yuvi said.
Haan best Meera said they giggles.
But you should be proud Meera rt said.
Haan kitna proud hota hoga aapko husband agent brother even father in law yuvi added.
Haan hota hai extremely she said.
Or sir what about you Rahul said and keep his hands around Jaidev and Kunj.
Even I proud on you both lot. Even your parents too you both have sons like them such a talented and dedicated officers they are Jaidev said. Raj and tej Or Prithviraj seeing Kunj and Rahul.
Our Stella not less Rahul said.
My father just mad behind these two Adarsh murmured🙄.
Don't forget that we are your senior 😎Rahul said and Kunj smirked 😉..
Haina Jaidev sir Rahul said.
Yes, you both are Jaidev said.
Soon we will get a promotion too Rahul added.
Bas doesn't fly Kunj said.
Chalo even I have to go tomorrow Delhi and be ready both on the time Jaidev said.
Yes, Kunj added.
Dadu you again going Aarush said and making puppy faces,
Arey doesn't worry I'm going just for one day Jaidev said.
Than awesome you will take us for game na Aarush said.
Yes take your nanu nani now Jaidev added they showing tongue and cuddles Jaidev legs, after all, they spend their all-time with Jaidev and this all is new for them will take little time.
Bye everyone and maa and papa Meera and hugged them.
Jai Hind sir kunj and Rahul said and saluted him.he nodded in yes and they left.
Get ready tomorrow I will not wait for you kunj said.
Okay, what I have to analysis in this Rahul said.
You know don't eat my head he said and went in his room.They all too went afterwards..
1 week has been passed away everything is on the track now Meera was hell happy she gets her parents and rests family. Even Prithviraj who spending a great time with Tej and Avantika feeling really guilty everyone pampered avni and twinkle lott.while Kunj like before didn't talk much just yes and no that's it.He went to Delhi for his work and come back at night.Right now he can't stay there a lot. Kunj was the too happy the whole family together.He didn't show much like others it's his nature.
Each and everything of MP sealed all of his properties and others things and in court, it was declared mp was criminal after all proofs proved him wrong in the court and give a final decision as well which is a victory for Kunj and rest too.
So they thought To planned a party just to celebrate their victory together, after all, they handwork for this lot.
At Aryan place keep the small party just
They all teammates called Adarsh and Meera as well.
Kunj and Rahul sitting in the side and enjoying their drinks while twinkle and rest dancing.
Look at your wife dancing 😝on high heel Rahul murmured.
Even yours too kunj said and give him back.Rahul looking at anjali who get so friendly with his teammates very fast but he is happy for her. Kunj seeing twinkle Aryan and twinkle dancing together.
Don't worry now you don't need to get jealous with Aryan anymore she holding your baby😝bichara Aryan Kunj Rahul said and both giggles.
That's why now leave her na otherwise not at all. Adarsh comes to them.
What you both doing here haan Adarsh said.
Nothing just planning for next mission Rahul said and giving him annoying look😏.
Very lame next mission ek ki toh celebrate kar lo adarsh added. Twinkle fully busy in dance she about to misbalance Aryan hold her on the time all shocked while Kunj immediately went to her.
Twinkleeee he said.
I'm okay she said and take deep breaths while Kunj looking at with anger.
You have gone mad haan you know you are pregnant dancing like others haan just now if you fall down then Kunj said and scold her.She making puppy faces really she falls down.All shocked and seeing Kunj. She hugged him.
Sorry, I'm fine see she said and giving him a smile.
Last time he said and she nodded in yes.
Sit here he said and take her in the side.
If you again dance and do this stupidity I will lock you kunj said.
Yes twinkle you should be careful now Meera said and they all settled down.
Sir today we win because of you most sara said.
Haan what mind he used mehreen we never thought about it Aryan said.
Haan leaves Abhinav sir shocked 😝Elena added.
All credit goes to Alia if she not then it's impossible to win and save our country Kunj said.
That's true she is the main hero of the mission but you bring her it was your mastermind Malika added.
Haan I know I'm the best not like you all kiddos 😝Kunj said and Rahul giggling.
Everything is sorted out so happy meera added.
Yup now sleep peacefully Kunj said.
Everyone is together I'm toh missing so cute everyone at sarna mansion yuvi and advik and rest too Meera said Kunj and Rahul split the drinks..
Careful Adarsh said both looking at Meera face.
Meera in few days you chanting their spell I'm surprised 😂Rahul said.
Why what do wrong in this haan Meera said.
See Kunj her Rahul said.
Kyun do you have any problem with them Kunj? Meera said.
Nahi nahi I don't have good to see you with them so friendly he said.
Yup I'm not like you na sadu she said and Kunj lost in something.
Forget everything Kunj they are really sweet and our family most Meera said.
Haan I know when I'm denying this ab I'm like this only he said.
Woh I know she said and pulled his cheeks then they started playing card games.Rahul and Aryan started throwing the drinks on each other.
Twinkle too kunj pulled her back.
Sat down here siyappa queen otherwise will not take you anywhere from the next time Kunj said and warned her she making faces and then she started dancing with Kunj.
You really changed Kunj twinkle Malika said. While Kunj arched his eyebrow.
Yes 😍😂bade bade insaan pyaar me change ho jate hai yah kunj sarna kya nacheez hai 😉she said very dramatically.
Hehe twinkle you both fighting lott if Abhinav and Jaidev sir see you both surprised Aryan said.
Today we are together because of them only she said and side hug Kunj.
Wanna work together again on a mission Rahul said 😂all bow down their heads.
Nah bhai Kunj ke saath nahi Aryan Said.
Arey ab chalega twinkle off duty pe hai na he will be no more jealous with you he makes her busy in babysitting in sometimes 😝Rahul said.
Haan yah bhi then chalega aryan Said.
See Kunj they are so mean huh very Bad Aryan katti twinkle said.
Even I'm thinking why don't you went to in their department Rahul 😂I don't need you.You eat my head lot kunj said.
Murder na kar du tera main Rahul said.
Kunj sir is the best mentor sara Said.
Really saraaaa 🙄Malika Said..
she knows the value of mastermind Kunj said 😎sara saluting him. They all laugh out and share a group hug.
This happened because of us MP over😎. Hum sabka hard work hai yah kesi ek ka nahi hai kunj Said.After had a great night together they all come outside.
I can't walk twinkle said.
Acha now dance madam Kunj murmured and lift her.

Hayee Kunj 😍Malika said. Kunj rolling his eyes and take twinkle from there and made her sits in the car and come and sits beside him.
Soon they reached to sarna mansion very late they are. Kunj comes out of the car and lifts her again in his arms twinkle smiling all the while went inside.
I'm really lucky having a husband like you she said.
Me too having a wife like you he added and she pecked at his lips in that position only.
They went into the room.Very tired I'm today twinkle and Kunj place her on the bed directly.
Sleep Kunj said in a sweet voice she blinking her eyes and pulled him more on herself their nose hitting with each other.she grabs his lips quickly and pulled him more while Kunj was careful.both kissing each other and lost in the night.
Next morning twinkle woke up fast she smiled and caressing Kunj hairs and kissed on his forehead and went for t get freshen up after sometimes Kunj too get freshen up.They all had breakfast together he started talking normally.
Today is Sunday everyone at home only chilling Kunj sitting with everyone in the living room Prithviraj and he was watching the news while rest busy in talks.
Arey dadu let us Watch match yuvi said.
Arey what so important in the match see this you will get to know about our country Prithviraj said.
News ke kya pata chalega yuvi murmured.
Kyun at least you can know what's going on around you kunj said.
You and dadu come from the same line so your point of view always matched yuvi added.
👅what about you rest business 🙄Kunj murmured.They both watching news only because of them rest too. Just then there Vihaan mother comes while yelling the twinkle name.
What happened to you Mrs Luthra Usha said.
Where is your so-called bahu twinkle haan she said and went to twinkle.
You cheap ladki what you did haan file case against my son Vihaan haan she said.
Whatt case when she said and get confused Kunj to come and side her.
What you wanna say tell me not my wife I file a case against your son and he knows why what he did with my wife for that he needs to get punishment Kunj said twinkle looking at him.
Acha biwi I'm warning you take your case back I wouldn't leave you and your so-called wife she said.
Really I you giving me warning do you even know In front of whom you are standing to go and do whatever you wanted Mrs Luthra stop shouting at my house do somewhere else lesson for your son this next time he will think twice to something like that with any girl in his life if you doing drama here than I will even arrest your for this and put more allegations on you and yours so better go from there Kunj said.
I will see you she said and went from there.
Kunj you did but why?? Twinkle asked. What do you mean why?? He did wrong with you it's completely wrong today he did with you next time with any other girl what about that twinkle if today we didn't take the stand and raised our voice then crime increased more I did what is correct he said she smiled her husband thinking so much.
Galat humesha galat hi rahega no matter if you take back your steps just to think what society will say about you then it's pathetic and our duty also this only he added.
Thanks to you kunj she said.Rest too gets happy most Prithviraj who can see his image in his grandson.
Even we are sorry kunj for blaming you without any fault of yours yuvi said.
It's okay not your fault whatsoever you see and heard tell that only nothing wrong he planned like that only Kunj said and patting on yuvi shoulder.
A normal [email protected]
Kunj was at home even Prithviraj while rest went to mandir they kept the pooja while Kunj having work so he didn't go while Prithviraj wasn't well both dadu and grandson at home fully alone.Kunj doesn't know about Prithviraj.
Kunj went into the kitchen for coffee he makes for himself.While Prithviraj feeling thirsty and even he having issues of asthma as well he coming down while coughing so badly holding the side handrail. Kunj come with the coffee going upstairs only his eyes went on Prithviraj and shocked to see him he about to falls down he leaves the mug and rush to him,
Daduuu he shouted and held him on the time.
What happened to you haan he said and he looking at Kunj.
Hum theek hai he said and breathless fully.
I can see leave your ego aside he said and take him in the room and laid him.
What you want tell me kunj asked him.
Paniii he said.
You sit here I will bring he said and went down and bring lukewarm water for him and his hands shivering can't hold properly the glass made him drink the water with his hands Prithviraj seeing Kunj.
Where is your pump wait he said and finding his pump and give him the pump he is a bit okay.
You go I'm okay now he said he can see how much okay he is.
You rest i m here only Kunj said and sits beside him.
Sleep you will feel better kunj said he nodded in yes and closed his eyes while Kunj pressing his leg.With half-closing eyes, he seeing Kunj and feeling so bad what he did with him. Prithviraj sleeps while Kunj pressing his legs so he will feel better didn't leave him alone..
Everyone comeback lata went to the room. And found Kunj In the room. She about to speaks Kunj gestured her no.He covered him with the blanket and they went down.
You all go and leave him alone so bad kunj said.
Hua kya usha asked? Kunj tells them everything.
He is not alone you are at home only know we know this good you handle your dadu lata said.
Really dadi 🙄if I'm not then? Kunj said.
My husband is not weak he is Major don't forget that she said and giggling.
I know this Mrs sarna your husband is Major but retired from his duty now age hogi hai he is not anymore strong fighter he said.
Haan tum the na kya fikar she said and Kunj nodding in yes.Tej and Avantika gets happy Soon with time Kunj will be fully opened with everyone and Prithviraj soon.
5 months [email protected]
Early morning
Ahaan Kunj leave me twinkle shouting she tries to push him.
Acha siyappa queen last 5 minutes he saying this for 1 hour. Kunj kissing on her neck while twinkle caressing his nape hairs and moaning his name both of them fully covered under the blanket naked. She finally pushed him hard.Kunj looking at her.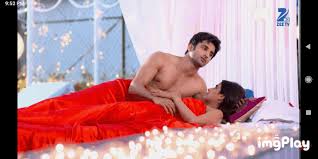 Not good twinkle he said.
Acha not good what I'm tired now and you aren't ready to leave me sadu sarna she said.
Whatever he said and caressing her cheeks and kissed on her forehead.
I love you twinkle he said.
Even I love you too kunj thanks for this surprised she said.
Finally, you get happy what I want more he added.
Yes, twinkle feeling very boring at home so kunj brings a resort for a week both spend quality time with each other and masti and romantic moments.Who is 9 months pregnant now looking so cute with her chubby cheeks and baby bump.
Happy anniversary first twinkle Kunj said and pecked at her lips she smiled.
Even you to happy announcement my dear husband ji she said and cuddles him.
The best gift she murmured and bite his cheeks.
Now you doing if I started then it's tough to stop me he said she giggling and pulled his cheeks
I'm romantic now what Happened to you mr innocent ji she said.He went near her face his breathe fanning on her skin.
What I will do after seeing you like this can't control he said and winked at twinkle looking at her head to toe she gets blushed and covered her face.
Ah blushing why? He said and removed her hands.


Don't look at me like this every time when you seeing with this gaze I feel shy she said and Kunj giggling.
You and shy impossible till now I see your boldness 😝he said and bite her cheeks. Ahah she moaned his name loudly.
Don't be you making me more go crazy he said and she slapped on his cheeks playfully..
Don't have shame on your face haan being in my company you totally spoiled 😝she murmured.
It's good for you na 🤪he said.
Hmm Woh toh hai I'm too loving your this shade see na Kunj pata hi nahi chala one year completed to our marriage seemed like maano kal ki hi baat hai how much we fighting like crazies she said.
Still, you irritating me in this months totally I know 😣he said.
Hehe if I will not irritate you than whom I will do you are only I'm cutest hottest husband she added.
You give me so many things but I don't have anything right now she said with a puppy face.
Koi na you give me immense love and happiness and most he keeps his hand on her belly our baby he said she smiled and rest her hand on Kunj.
Yes, Kunj few days our baby will be in our arms I'm so excited to see my baby she said.
9months I tolerate you ☹️babaji give me some more energy maa aisi hai don't know bacha kesa hoga 😒kunj Said.
Very cute and adorable dekh lena tum kunj sarna she said.
Once again thank you kunj for each and everything you filled my life with happiness and unconditional love she said and they share passionate kiss Kunj grab his neck.
Impossible you are she said and pushed him and gets up wearing his shirt looking extremely hot.
I will take my all revenge together siyappa queen he said.
Let's see you know we have to go for my routine checkup and you coming with me she said.
What I will do that dr eat my head he said.
Huh, we are going let's get ready fast at home everyone must be waiting for us she said and went in the washroom. After twinkle come and get freshen up she getting ready kunj come too after bath. She screamed just then.
Whatt happened he said and went to her she holds her tummy tightly.
Ahah baby kicked me so badly she said.
Ho twinkle you scared me kunj said.
Baby don't tease mumma now please we will kick your papa when you come out she said and giggling.
Acha as if I'm dumb kicked you both backed 😎he said and she started hitting on his chest he gives her back hugged.

I'm so happy now come soon my baby we will tease this siyappa queen mumma 😛he said and both get ready quickly and had the breakfast packed their things and left.They went to the hospital directly.
Kunj holds twinkle hands and they went in the dr cabin.
Come Mrs sarna dr Said. They both took the seats.
How are you now dr asked?
Well, dr twinkle said.
Come let's do your sonography final dr said and twinkle went with dr she laid down and Kunj standing beside twinkle and holding her hand. Dr doing her sonography and showing the baby in the monitor.
See your baby dr said and Kunj and twinkle looking at the monitor.
Baby is absolutely fine dr said twinkle and Kunj get so happy and twinkle having tears in her eyes and after they listen baby heartbeat as well which is magical for them. They sat back.
You taking proper diet I'm happy everything is alright just in last week maybe dr said.
Don't worry dr I will take care of her but you please before set everything I don't want at her delivery time anything happened kunj said.
You get really best husband who worried you so much dr said.
Yes, my husband, is the best twinkle said and dr prescribe some medicines after they went back she hugged him Kunj driving.
Kunj sab theek hoga na she said,
Don't worried about this I'm with you na Kunj said and kissed on her forehead.
In this passing months fully things changed sarna family tej and Prithviraj bond like before Avantika was so happy she getting all love and respect from Prithviraj and rest family members too that right of the elder daughter in law of the family Kunj too happy he didn't say anything never questioned to Prithviraj about anything he never talked just normal sometimes he doesn't want any drama while twinkle and Kunj cherished the twinkle all pregnancy times he always there for her side his duty for sometimes bearing her mood swings sometimes get irritated but that also melt his heart she is his everything. Her late-night cravings both yuvi and Kunj did all things for their wife's Kunj not very friendly with them but fine than before.
Meera and Adarsh sometimes went to Delhi due to Adarsh work last months come back to Amritsar now Kunj and Abhinav team again team up for a mission together with all enjoying and twinkle cursing lott their both department started doing work together last time they performed very well. Slightly twinkle having some issues in her pregnancy which is Okay but very risky as per dr just proper diet in starting she is very childish towards herself it was kunj who always strict with her and Avantika too but in their absence, if they aren't around them with avni she had all those spicy and street foods which really tempting her these months..
They back to home and Kunj parked his
Car and went inside everyone was sitting in the living room they happily coming.
Lo finally come avni said they went and takes the seats.
How was your holiday Khushi said.
Awesome 😍twinkle said.
They all loudly wished them a happy anniversary.
Let's do a party yuvi said.
No, I don't want any party 😶Kunj said.
He is always boring yuvi said.
Koi na we enjoyed a lot there next time you too try advik and yuvi twinkle added and they blinking their eyes.
What dr said?? Tej asked.
Everything is fine last week last date Kunj added.
Mine too same avni said.
So we all thinking to do their baby shower together lata said.
Great idea mummy ji Avantika said.
Then let's start the preparation Usha said they all started discussing the baby shower. Kunj gives twinkle her medicines.
Now sleep for sometimes twinkle suna kya kaha Dr ne kunj Said.
Hmm I know she said.
Okay, I have some work I will come and you and rest he said.
Where are you going now? She asked.
Arey just a small work he said and patting on her cheeks and went.
You go twinkle beta rest Avantika said and she went and resting.
While Kunj comes to the cemetery with a two flowers bouquet he stands and seeing someone in front of MP grave it was Alia urf MP mehreen sitting and resting her head on the gravestone tears escaping from her eyes and she completely changed not that bubbly Alia and strong mehreen anymore.
One thing is sure in this mission they have saved the world and many things solved in Kunj life but one big guilt was on his heart it was Alia heartbreak she didn't come out of MP memories till now he tries always talk to her but she always ignores and leaves the place she didn't back to Mumbai whatever things she gets as a wife of MP she donated in charity didn't take anything leave the MP house as well but she had his everything with herself.
She was the main support because of her today they saved the world and many millions of innocent souls from MP hands but inn sab mein apna dil haar gai.. that pain and guilt Kunj having on his heart because of him today someone lost her smile and lost the reason to leave he never thought she this much-loved MP.
Kunj having tears in his eyes and went ahead.
Alia, he called her she looking at Kunj and surprised to see him.


How's you he said and keep the flowers on juliet grave than to MP which is next to Juliet. Kunj sits beside Alia and seeing MP gravestone and remember how he used to come and just to spend time with his Juliet.

God is right Zindagi me kuch nahi badal tha hai bas logo ki jagah badal jati hai kal tak Yaha MP tha today you here Kunj said and looking at Alia.
You are here she said.
Haan I have promised MP after him I will always keep the flowers on Juliet grave just come it's been long time last we meet here and do this promise but I never thought in my dream he toh went and leave you behind one more lover he is very lucky having true love in his life first Juliet and now you jo hai use yaad kar ne ke liye kunj Said.
Each second of my life I'm missing MP but aap ko kya mr Kunj you are done with him he wants him here he is too she said.
Trust me Alia I never wanted to killed him if I know you love him I wouldn't killed him just for you many times Alia I warn him leave MP and surrender himself but he never listen to me today he is here because of his deeds Alia understand this why you make your life hell I know you love him but you have a beautiful life please today I'm sorry I thought after killing him I will be happiest but your tears changed my victory in sorrow I never want to see you like this today you are in this condition because of me I used you for my mission and changed your happy life into pain and tears please forgive I'm not happy at all to kill him I'm just duty Alia he toh went make my life boring sach maza hi nahi hai life mein before everyday ek spark tha din mein ab sab boring hogaya hai mera favourite criminal and I'm too his I know one thing itna bura duniya ke liye tha woh utna hi acha apne pyaar ke liye tha tabhi aaj tak nahi bhul paya juliet yah mission life time mere saath rahega itna personal hogaya hai he said and she slightly smiled.
Kunj held her hand please forget everything I'm not saying stop loving MP and forget him it was impossible I know pyaar kya hota hai jab pyaar karna seekha hai tab samajh me aaya hai mujhe like you I'm loving my wife lot if I thought something happened to her I will die just while thinking what would be your condition I can understand Alia he didn't left any option for me that moment also if he surrenders not for anyone leave my duty aside one moment leave he is my criminal just think he is your love for you I wouldn't kill him at least jaha hota tumhara pyaar toh zinda rahta I'm your heart culprit punishment please yaar Extremely sorry Alia forgive me kunj said and folding his hands in front of her Alia hugged him.
I know mr Kunj whatever you have done just for your duty and our country you aren't wrong Bas I can't bear this pain that's why I leave everything I know my love MP is criminal his hand red with many innocents blood but my heart loving
Him he knows he is bad but apne pyaar se bhut pyaar karta tha. I never see any fake love in his eyes for me always true love whenever I lied with him and doing my duty Kunj feels really bad I don't know and even not realised when I fall for him then realised it's already to late I can save him for my love before loving him I know one day he will end pyaar karna MP se humhari galati hai aapki nahi aur uski galati ki saza humhe mil rahi hai I don't want to come out of his memories never.
Never thought whom I come to destroyer he will have become the reason for my life he went but my heart went with him only Kunj she said and sobbing in Kunj arms..
Both get up and looking at MP and Juliet gravestones Kunj wiped Alia tears.
I can't decrease your pain I know this and wouldn't give you jhooti tasalli also Alia time will decrease your pain and you come out of your pain as well I offered you again come with me you have that ability you can do for your country something Kunj said and she looking at Kunj and smiled.
I just have you and MP in life koi na tha humhare that day I said you so many things in my pain and anger sorry for that she said.
It's okay I don't feel bad tell now feeling bad to seeing you lifeless. Both mehreen and Alia very strong now don't be weak please forgive me please Alia Kunj said.
Please hum aap se naraz nahi hai she said.
Acha one things is more tomorrow is my wife baby shower so please come and I will feel good and even you forgive me and Alia I'm always there for you you give your life for me this Kunj always ready for you just give me one voice Mrs Partap he said and both chuckled.
Baby showerrr really she said.
Yes going to become a father soon twinkle is pregnant come please he said.She blinked her eyes.
You went MP and leave a strong impact on my life first and last mission hoga meri life ka jo humesha yaad rahega kunj said in his heart and remember his and most funny conversations which makes Kunj giggles.
Kya hua Alia asked.
Nothing bas kuch yaad aagya tha he gives me a piece of advice spend life with my wife don't know when I'm gone his advice is useful I'm doing that only spending my life with my wife and duty as well kunj said.
Dead people receive more flowers than living ones because regret is stronger than gratitude..
They both come to their cars and bid bye and sits in their cars and went from there.
At [email protected]
Kunj comes back to home everyone having dinner he went and join them.
Your small work takes too much time Twinkle said.
Sorry, baba you may be busy in your baby shower celebration he said.
We have done everything yuvi said.
Great you are best in this all 😂Kunj said and having his dinner.
What you plan Twinkle khushi Said.
What she will plan haan nothing sit don't jump here and there twinkle he said and give her veggies.
Huh, you just behind me kunj it's my baby shower at least let me enjoy on that day also she said.
You aren't allowed later you can I will not say you anything she said.
Have fast he said and feeds her more all always adored them and their love never thought they will love each other's things much after seeing them who will say arrange marriage theirs.
In somedays two two babies will come khushi said.
Really so excited Usha said.They again sit together and discussing baby shower Kunj invited his teammates and twinkles too. 
Twinkle having swelling on her feet's this Kunj see and bring a warm oil for her and sits in front of her.
Keep your feet's here Kunj said.
Why she asked Kunj takes and keep her feeds on his thighs.
See kitna swelling hai that's why saying take care of yourself Kunj said and started applying her oil and messaging her feet's youngsters seeing them.
So adorable Kunj learn from Kunj something yuvi avni said.
Kunj it looks bad don't touch my feet twinkle said.
In which century are you living husband and wife both is equal and for me toh at least he said and giving her massage.
She just smiling and adoring Kunj how beautifully he taking cares of her didn't let her do anything just roaming around twinkle only. She really feels blessed to have a husband like Kunj.
Now come it's your sleep time Kunj said and held her hands.
I will send milk for khushi said.
Thanks but don't add chocolate power please kunj said and she nodding in yes Kunj takes Twinkle in the room and she laid down soon Khushi bring her milk.
Not fair yah cheating hai she said and crying like a small baby.
Everything is fair in love and war darling he said and made her drink and gives her medicine lastly some more days babaji finally I will get some peace Kunj said.
She making pouty lips Kunj bite her lips and pecked.
Don't make this faces twinkle I will eat you my panda he said.
Huh, yesterday not enough for you she said.
Never 😂he said and rest his head on her lap. Taking her hands and kissing on her fingers. While baby doing movement which tickles twinkle. See Kunj she said and keep his hand on her belly and even Kunj too feels baby movements.
So magical Kunj said and kissed on her baby bump.
Come soon now kunj said.
Now sleep twinkle please he said and she rests her head on his chest and he patting on her back. Soon within no time Twinkle sleeps and Kunj gets Rahul call. Hmm, bol Kunj said.
What are you doing Rahul asked?
Nothing twinkle so Rahi hai bas Kunj replies.
Hehe, now you doing wife sitting soon babysitting 😂Rahul said.
Saale apna time aane se then tujhe me bataunga samajh na kunj said.
Acha mujhe kya batayega maze tune liye hai mene nahi 😂real blast toh after baby hoga kunj I'm just waiting to see your that condition😝Rahul said.
Dost nahi dushman hai tu kunj murmured both pulling each other's leg like this only. Later Kunj too sleep with twinkle..
At morning [email protected]
Kunj woke up first and get freshen up before twinkle she becomes lazy head nowadays. Soon she woke up and giving him a smile.
Get up my panda you will get late for your medicine darling Kunj said and tickling her.
I'm feeling very lazy today she said.
You are always Stella ji chalo ab he takes her in the washroom she gets freshen up quickly then both had breakfast together feeding each other that all things increasing their love and strengthen their bond.
Everyone was busy in the baby shower preparation decorations and all's yuvi and advik seeing.While twinkle and avni sit for heena it's a ritual both happy. Kunj comes with the glass of juice for avni and twinkle.
My son totally changed Avantika said.
Kya maa aap bhi 😂kunj said.Twinkle drink the juice from Kunj hands.
See my heena how's it? She asked.
I don't know but looking good he said,
Dekho kesa hai mummy ji aapa ka beta 😏she said.
Ek dam best you should proud you are my wife 🤩Kunj said.
Don't fly at Abhinav sir come today I will complain about you she said.
Huh as if I'm scared of him 😎he said and giving her smile she making faces.
At evening time. Whole house decorated so beautifully very Lavished baby shower they have planned after all their third generation is coming.Everyone hell was excited.

Twinkle get ready beautifully by herself like a bride Even avni too in their respective rooms.Kunj gets ready already and went down didn't see twinkle yet.
All guest started coming Taneja's and avni mother family brings the sagun from their sides for their daughters.Rahul too comes along with his family Meera and rest too.
What about kiddos Rahul said.
We are here papa Aryan Said from the back they all come together. Kunj welcomes them and meets with them.
Wow looking beautiful everything Malika said.They took the seats and having soft drinks.
Call twinkle and avni lata said.Avantika gestured Khushi and Meher. They both went. Twinkle sitting looking herself. Meher entered in the room.
Omg twinkle you looking stunning Meher said and as soon as her eyes went on her. She went to her.
Kesi ki nazar na lage you looking truly beautiful today kunj hone after seeing you she said.
Hehe, he is already 😛twinkle said and Meher teased her twinkle blushed.
Now let's go, everyone, was waiting for you she said and twinkle gets up meher held her from shoulder.Khushi bringing her down who looking beautiful all seeing her yuvi smiling while seeing avni. Khushi brings her down and made her sits on the decorated jhulla.
Where is Stella ji Aryan Said they All teammates and Adarsh or Meera standing together.Just then Meher bringing twinkle.
Twinkle Elena said Kunj raised his eyes and shocked to see twinkle she looking damn beautiful in her dress like a bride just can't take off his eyes from her he just freezes and lost in twinkle beautiful she looking out of the world.
Look your husband Meher whispers in her ears who still standing on the staircase all looking at her only.She raised her eyes and look at Kunj who just looking at her which makes her blush like anything.
Meher brings her down made her sits beside avni.
She looking damn man Aryan and Adarsh said.
Arey Kunj back into the reality Rahul said and pushed him which brings him in sense.
You are dead Adarsh said and Kunj giggling.
You both looking so beautiful kesi ki nazar na lage lata said and take off evil eyes. Then pandit ji some rituals Kunj looking at twinkle she too beautiful smile they both having on their lips.
Now lets  start the ritual lata said and first Prithviraj and lata come with Sagun twinkle looking at Kunj.Rest too now what Kunj will say he blinked his eyes in yes she understood and take it from Prithviraj all things and they blessed both their bahu's
You looking really pretty avni beta and twinkle Avantika said and whispered something in their ears which makes them giggles one by one all ladies doing and giving them gifts and fruits sweets.Meera went along with her babies.
Maami you looking very pretty aria said.
Even you too cutie twinkle said and pulled her cheeks.
My both babies looking damn my poor brothers Meera said yuvi and Kunj chuckled.Malika and Elena or sara teased twinkle and avni as well.They all sit beside them and elders get busy with guests.Kunj looking at his watch.
Are you waiting for someone rahul asked?
Before kunj anything there Alia come.
Yes for her he said and went to her.
You come Alia Kunj said.
Sorry, I'm late maybe Alia said.
Nope come he said and they hugged.
Mehreen Malika said rest surprised to see her here.Kunj brings her to twinkle.
Mehreen Rahul said.
Not mehreen Alia Kunj said.
This I bring for your baby mr Kunj and twinkle she said and meet with twinkle and give her the gift.
Thanks, twinkle said.
I invited Alia for baby shower Kunj said.
Very good Rahul said and she took seats beside Elena.Kunj gestured her she giving him a smile he did best. Jaidev and Abhinav come and give gifts to twinkle.
Looking beautiful twinkle Abhinav said.
Thanks, sir why you both get late Twinkle said.
We have some work Abhinav said.
Koi na sir twinkle said.
Come Abhinav I will introduce you with my samdhi Jaidev said all hooting.He takes him and Jaidev Abhinav with tej and Avantika.
Kitna filmy hai 😂Aryan Said. After they all have the meal Twinkle didn't have anything.
Kunj was with Alia thanks for coming really means a lot.
Thanks once again Alia Jaidev said.
Yes, Alia this mission not possible if you aren't Rahul said.Alia just smiled Kunj and she went in side.
See twinkle your husband Rahul said.
Huh, I trust on my husband twinkle said having ice cream.
Thanks to you mr Kunj and I'm ready to work for you Alia said.
Really amazing Alia I will talk to Jaidev sir about you tomorrow only you will rock I'm sure kunj said.
Thanks again mr Kunj now I'm going bye she said and they hugged.
Bye Alia see you soon Kunj said and went.
Kunj back to everyone they all busy in gossips.
Kunj twinkle saying she doesn't you you can find another girl for you she will have her baby Rahul. Kunj sits beside her.
Yes yuvi said.
Aha try on someone else not on me I know she can't say this 😛Kunj said.
See I told you know my husband trust me you just always flamethrower twinkle said.
Love stick puppies abeer said.
Arey this Kunj always said this word to Meera and Adarsh Rahul said.
Yes now see he itself busy behind his wife whole day Meera said and pulling Kunj cheeks.
Kya di don't irritate me kunj said.
I will shoot you Meera said.
Okay, and Jaidev will shoot you too back Kunj said and they laugh out.. Kunj held twinkle hand.
What Alia saying?? Suddenly she is here only Malika asked.
Yup she is here only I call here my guilt lesser what I have done with her she really loves him Kunj said.
Life is so unfair pyaar bhi hua toh aise insaan se rahul Said.
She joining ATB kunj added.
What how can? Aryan Said.
She is all trained kiddos better than you all and it's good for her she just wasting her time and life that I don't want I bring her in this world it's my responsibility whatever procedure I will see Kunj said.
Your thought really amazing Kunj Adarsh said.
Kaha se mili tumhe yah Meera Said.
Don't know destiny Kunj said..
Huh, we missing our teammate Stella Elena said.
Me too guys twinkle said.
Come soon yaar twinkle Aryan Said.
Aryan make a girlfriend for you 😂. Rahul is here only Rahul said.
Acha what he will do 😉before she is mad behind that pagal Vihaan shadi karli kunj se huh Aryan Said.
Hmm, tu pehle bolta toh tere se hi kar leti haina bhai 😂twinkle said.
Kunjj see what she saying Meera said.
I don't care kunj said.
Ho aisa kya goa kyun leke gaya tha 😂 because of you Aryan he takes twinkle with himself Rahul said they all laughing.
It's so fun full when you all working yuvi said.
If we all then if singham was there then just work Malika said. 
Who is Singham meher asked.
Our Kunj the great secret agent Rahul said. 
I will see you all in the office Kunj said.
Not me sir sara said.
Haan you will not chamchi Malika said.
Before Kunj sending you for Twinkle shopping now he will send for baby nappies Rahul said.
True Malika said and they Hifi.
After function gets overall went back.
Just family members sitting in the living room.
Twinkle eat you didn't have your dinner also Kunj said.
Don't irritate me please she said and don't know why she is so irritated..
Arey mene kya kiya kunj Said.She gets up and went into her room.
Maa see her Kunj said.
Hota hai, her last days going on na Avantika said and then Kunj understood he makes chocolate milkshake her favourite and went in the room.
She was sitting on the bed and muffed Kunj come and sat opposite of her.
Now don't tease me please she said.
Okay, not teased my wife your favourite milkshake he said and showing her.
Ab meri biwi ne kuch nahi khaya kese chalega aisa so for her I made with my own hands Kunj said she gets happy and took the glass from Kunj hands and started drinking with straw..
I get irritated with this all things she said.
Koi na but you looking really beautiful I don't have words for you he said and went near her face kissed on her cheeks she smiled.
You enjoy your shake he said and earning her all pieces of jewellery very gently placing kisses on her each place she can't take it anymore just clutched his shirt Kunj slide her sleeve and kissed on her shoulder.
She moaned his name. Kunj opens her hairs and caressing her hairs. And kissed on her temple and lips.She hugged him.
After changing they laid down in each other embrace.
You did best to called Alia twinkle said.
Hmm, Kunj tells her everything yesterday he meets with her.
Kunj she really loves MP I'm very sad for her she said and cuddles Kunj.
Kunj if something ever happened to me you please don't leave our baby she said.
What why you talking like this nothing will happen to you twinkle he said and cupped her face.
Kunj I don't know what will happen I mean baby dr said sab theek toh hoga kuch toh hoga nahi na baby ko she said and having tears in her eyes it's normal anxiety.
Shh, nothing will happen everything is cure you and baby absolutely fine dr said yesterday why you unnecessary worried I'm with you he said,
I want my baby safe if something happened to him I can't live without him she said.
Acha what about me don't you love me anymore he said.
Who said this I just love you. You are my everything and baby too kunj she said,
Kunj pulled her nose.
Pata nahi kiya hoga mera after baby comes Abhi se meri jagah le li after toh you both forget me 😣Kunj said and making puppy faces twinkle giggles and cupped his face.
No one take your place in my life you are my husband and my everything baby toh humhare pyaar ka symbol hai she said.
Yes twinkle don't worry me hu always with you he said and she cuddles him tightly.
Tujhe aur humhare baby ko kuch nahi hoga kunj said and assuring her after pregnancy she really gets nervous on very small things before also she was but these motherly feelings making her more.
4 days passed after twinkle and avni baby shower they all just waiting for the babies.
Kunj didn't leave twinkle for a second even take leave from his work she really needs him without anything she started crying he handling her like a small baby.
At late [email protected]
Avni having labour pain yuvi and rest took her hospital while Kunj and twinkle at home.
Twinkle thinking about the baby and moving her hands on the belly while Kunj sleeping who was hell tired. Suddenly she started feeling uneasy she didn't say Kunj when it's increased more. Ahah Kunjj wakes up she patting on his back he immediately woke up with a jerk.
Twinkleee kya hua he asked.
Kunjj it's paining really badly I think it's time she said and started shouting Kunj shocked he immediately gets up and took her hospital. He called abeer he taking twinkle to the hospital they too reached the hospital.
Kunj brings twinkle hospital dr takes twinkle to OT. Tej see Kunj.
Kunj you here tej asked.
Papa twinkle having labour pain I bring here how's avni Kunj said.
Ho really nothing till now tej said and took Kunj with him.
They whole family sitting and waiting for them soon twinkle dr come outside.
Dr how's my wife and baby Kunj asked. Wait Kunj let me go first don't worry everything will be fine I'm sure she said and went in or while tej and Avantika handling Kunj who is really worried about twinkle.
Yuvi and Kunj both looking at OT room light.
Why this dr taking this much time yuvi said and huffing.
Same papa Kunj said.
You both papa keep quiet Manohar said they making faces.
After long hours finally, Ot lights went off they all gets up Drs come out and having a beautiful smile on their faces.
Dr Kunj said. 
Congrats mr Kunj sara you have blessed with a baby boy healthy both mother and baby is absolutely fine dr said Kunj closed his eyes long tears dropped falling down from his eyes.
And my yuvi asked? 
You both brothers blessed with baby boys dr said and they all started hooting.
Soon nurse comes outs holding two small tiny babies in white clothes wrapped yuvi and Kunj looking at nurse they come.
Your baby mr Kunj one nurse.
It's your Yuvraaj other nurse added. Kunj turned and looking at his father. While tej and Avantika looking at lata and Prithviraj
Both went towards nurse and Kunj and yuvi aside.Avantika comes and stands beside Kunj.
Our great-grandchild lata said and forward her for baby son while Prithviraj for Kunj which is surprising for Kunj. Nurse gives both babies to their hands.
One day you told you didn't chance to hold your elder grandson first today your that wish too fulfilled here is your elder great-grandchild lata said Prithviraj nodding in yes and kissed on the baby forehead. Kunj smiled who having tears.
Adarsh and Meera too come.
Take your grandson tej Prithviraj said.
Haan aap dono first tej Said. Late and Prithviraj take off the evil eyes and give the money too nurses. Then tej and Avantika took the baby and Usha and Manohar.
He is so cute maa Meera said.
Haan just like small Kunj Avantika said.
My grandson tej said and kissed on his cheeks.
Arey even both daddies waiting abeer said.
Nahi first their rights Kunj said and hugged his father.
Finally mera beta baap ban gaya hows you feeling tej while Kunj gets emotional tej knows.
Kunj bas over everything tej said and Kunj hummed.
Take your son best feeling he added Kunj took his baby in his hands shivering fully.
He is so tiny maa Kunj said.
Yes, he is small baby na Avantika added Kunj kissed on the baby forehead.
My bacha Kunj murmured and cuddles him. All fighting for both babies. Soon nurses come and took both babies.
Kunj is worried about twinkle finally siyappa queen wait is an over-enthusiastic mother she is 👅he murmured.Soon avni and twinkle shifted to Normal ward.
They just get chance to meet with avni twinkle did wake up it's really very late so rest family members went back to the home just yuvi and Kunj stayed with their wife's finally twinkle woke up kunj entered in the room.
And looking at twinkle who sitting in laying position and feeding the baby Kunj smiled and went towards her.
Hi, he said and twinkle lookup him she having tears in her eyes Kunj sat beside her.
How's you he asked and pecked at her lips.
Fine, see our baby she said. Kunj kissed on baby cheeks also then sits near her. Both just looking at a baby who blinking his small and tiny eyes.
Kunj he is so adorable my baby twinkle said and kissed on his hands smelling his warmth smell.
Who take my baby first papa twinkle said.
Dadu takes him first Kunj said twinkle looking at Kunj.
Really Kunj she gets so happy.
Dekha he wanted to hold his grandson first not get chance but hold his great-grandson first what about avni 😛twinkle asked.
Great Prithviraj sarna blessed with two great-grandsons 😉Kunj said.
So amazing twinkle said. Kunj cupped her face.
Thanks twinkle for giving me this all happiness my dadu never accepted me but today seeing him he said my baby his great-grandson Kunj hugged twinkle she caressing his back.
Haan kunj he really changed mummy ji and papaji forgive him na why don't you she said.
Dar lagta hai twinkle mujhe he never accepted me his grandson even not my baby as well but today I'm shocked but I'm really happy kunj said.
Ab no more tears see our baby come what he will say papa is cry baby twinkle and Kunj chuckled and took the baby in his arms.
Papa not cry baby but mamma Kunj said.
My baby with you my life just filled with happiness Kunj said and kissing on his baby cheeks twinkle smiling.Twinkle place him beside her and patting on his tummy so he can sleep while he seeing his parents both twinkle and Kunj together trio sleeps.
To be continued..
never leave a true relationship for few faults nobody is perfect. Nobody is correct in the end affection is always greater then perfection. Forgive before it's too late.
_______________________________
Hehe back with another episode.
Thanks for comments guys do more 😝I'm greedy 👅kidding. Do read the episode and tell me how's it? Do comment.
Story almost come to end just for you giving twinkle and Kunj scene along with baby in the next everything is solved finally Prithviraj accepted tej and Avantika after realising his mistakes. Yuvi and avni or twinj blessed with baby boy's😍❤️..
okay done for today let's see next 👅.
Bye love you all
Allahafize 😇.