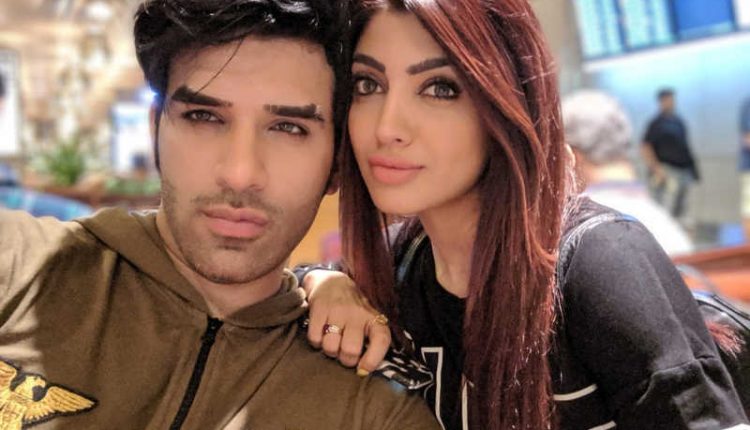 Akanksha Puri BLAMES Paras Chabbra for making their relationship a JOKE on national tv
Paras Chabbra is getting many fingers pointed at him. Since the very first day when he stepped into the house, he never claimed his relationship with his girlfriend Akanksha Puri. These days he is out of the house for surgery of his finger which got injured during a task inside the house.
When everyone assumed he will sort out his differences with his GF Akanksha while he is out, nothing of that sorts happened. In an interaction with BT, Akanksha revealed that he straight away went to the doctors and was taken back to the house after it.
Albeit she talked about the things which Paras has been saying about her in the house. How he was forced to be in a relationship with her and how she was the one who forced him to get her name tattoos on his wrist. To this she said,"The tattoo on his hand was a surprise gift from him. I was in the middle of a shoot when he sent a picture of the tattoo on my phone. And because he had tattooed my signature, I got a tattoo of his name. I never thought that he would cook up this story inside the house."
The actress says that she is shocked with his behavior because everything was fine between them before he entered the house. Now with his changed attitude, she doesn't know if to continue or not. She said"This is not a forced relationship. I am financially and emotionally strong, and I don't need a man in my life. If he tells me that our relationship is over, I will be more than happy to let him go. When he went inside the house, we did have a conversation that he would do anything to play the game, but I never thought he would malign our relationship. I had always told him to keep me out of this. Had I wanted to make things dirty for him, I would have accepted the Bigg Boss offer that had come to me some time ago. I never did that because I am happy acting in my TV show."
Akanksha adds, "If this is a forced relationship, why has he given me his house keys, car keys and bank account details? He doesn't have a manager and I am the one, who is coordinating his clothes and every other requirement inside the house."
She is also upset that Paras has linked her with Sidharth. Paras mentioned in the house that when these two broke up around one and a half year ago, Akanksha had moved on and dated Siddharth Shukla. She says, "Sidharth and I have been friends and would meet occasionally. When I started seeing Paras, he had issues with that, so I stopped meeting him. When we broke up almost one-and-a-half-years ago, it was Paras, who had a brief relationship with an actress on the rebound, and only when he pleaded and his family got involved, did I agree to reconcile. Now, he is saying that I cheated on him. Sidharth is a nice guy, but Paras has spoilt my friendship with him."
She is also miffed about Paras flaunting his expensive perfumes and clothes in the house. She says, "He has struggled for work since 2012. Now, after so many years, he is finally getting good work. So, he knows the importance of money and values it. Whenever he asks for something in front of the camera inside the house, I send him that. I gifted him perfumes, too, but he flaunted it during his argument with Asim (Riaz). He even mentioned their price. I am seeing a completely different side to Paras now."
Is he a good boyfriend? and she replies, "He gets hyper a lot and then he has no control over his language. After some time, he cools down and then apologizes. In fact, he was the one who wanted me to make our relationship public after he felt that I was unnecessarily keeping it private. He may be hungry for work, but he has made our relationship a joke on national television and I can't accept it. I am just waiting for him to come out of the house and confront him so that we can set things straight."