AANKHON MEIN TERI – Episode 24
Aankhon mein Teri
Episode – 24th
Recap:- Naina has become a famous singer , Ahil has his own well settled business , Naina and Ahil went for Honeymoon
___________________________
RAI'S HOUSE
Kamini is watching Naina singing on television .
Kamini : Destroying my daughter's future , She's enjoying her Royal life , See , See her smiling .
Riya : Mom please now forget whatever happened , It's now such a long time since all that happened
Kamini : No , No I won't , How could I forget whatever this girl did with you
Janki comes to her house and Says " She's right "
Kamini shockingly stood up " Wow today the lady , The queen of Sinha's mansion has come to our old poor house "
Janki : Kamini Ji whatever happened , Just forget it , Now let's shake our hands because our goal is one
Kamini : What ! What did you said just now ?
Janki " come let's sit and Talk , Riya could you bring for us a cup of tea "
Riya goes . Janki and Kamini Sat down .
Janki says to Kamini that she has realized now that she did a mistake by not accepting Riya as her daughter in law , The day Naina came into her sons life her whole family broke .
Kamini says that she's right , It's never too late . Janki says that she can't bear this alienated relationship now , Her business is not working well , Her husband is angry with her , So she's tired .
Kamini asks her that how can she help her .
Janki says " Whatever you do I don't care , I just want Naina out of Ahil's life " Janki offers Kamini a lakh for this purpose .
Kamini " Just you wait and watch Janki Ji , How'll I do it "
Janki happily move out and Sits in her car , She Smiles seeing outside " I knew these cheap people can do anything for money , Now I'll show who I am , I'm not gonna sit silent "
Ahil and Naina returned from Paris to their new house . Since it's morning , Naina and Ahil is sitting on dinning table , Ahil tooks a spoonful of oats and puts it in her mouth , The bell rings
Naina : Pinky could you please open the door !
Pinky goes and opens the door and is astonished to see Janki Sinha at the door
Naina : Who's there ?
Pinky : Mom
Janki comes in says sorry to both Ahil and Naina and requests them to come back home , To SINHA'S MANSION . Ahil rejects her proposal but Naina accepts it by saying that it's her original house and she also forgives Janki .
Janki humbly and lovingly welcomes Naina and Ahil back home . One night Naina says to Ahil that " Ahil you're mom might have seen dreams about her daughter in law and I think I could never full fill those , But if I'll try maybe some of them could come true "
Ahil says " No you're a ideal daughter in law , A good wife , And she'll soon realize it "
Naina declines and Decides to do everything what other girls do , She asked AHIL that she wants to learn cooking . Next morning Ahil stood with Naina in the kitchen , By holding her hand and directing her , He made her learn how to make tea .
Naina goes to Janki " Ma ! this is my first kitchen , Which I didn't did after marrying " . Then After Naina and Ahil left for work, Kamini visits Janki .
Kamini : Janki Ji I've a plan
Janki : I was waiting for that only .
Kamini : You must have heard that to kill the king first we've to remove all his guards and man , Then only we can reach him.
Janki : What does it means !
Kamini : For both of us the enemy is only one Naina and here AHIL is her Bodyguard , First we've to remove him then only we can do anything to Naina .
Janki : What's in your mind
Kamini keeps a card on Table " This is a man who kills a person as odered by Paying money , And I've already signed deal with him .
Janki : Done , I want this dust as soon as to be removed from my sons life as well as this house .
Kamini : But he's demanding 2 Lakhs
Janki takes out her purse and Gives a cheque of 2 Lakhs , Kamini " Think that our task is completed "
Janki : The day after tomorrow Ahil is going Delhi for a meeting and Naina would be alone at home , And I want this to be done right that day because after that day is their Anniversary .
Kamini : Oh , So think that I'll give you the best ever gift .
As Planned , The day after tomorrow AHIL leaves for Delhi and Janki has kept a special Poja for his son so she's there in Temple , Naina is left alone in home , Pinky has gone out to get some groceries .
Naina is sitting on bed , Rehearsing her next Song , Soon she hears that someone has opens the door and some footsteps is heard . She becomes conscious and stealthily walks here and there to protect herself.
Trying hard to protect herself the killer finds her and grasped her from behind , Naina bites his hand and frees herself .
Naina runs here and there , She thinks what Ahil told him once " Naina use the technique of echo hearing , Listen what all is near you , Make a picture of it in your mind and then react "
Naina says to herself not to worry and fight bravely .
Naina hears that man is coming closer to her , She finds a glass flower vase , Hid behind curtains , Hears his footsteps reaching her and bangs it on his Head as he came closer . The man fall down .
THERE PUNDIT JI TOLD Janki that Her son's time is not going well , He's in danger from one of his relatives . Janki took a sigh of relief as she thinks that the killer must have assassinated her till now .
Ahil's flight got cancelled and when he reached home , He finds whole space disturbed , Soon he finds Naina yelling , Ahil goes and handles her , She tells him that she had hit a man , And he's dead as she thinks .
The man was taken to hospital and he was saved , On investigation the police found that He's a killer who kills people for money and They got a cheque signed by Janki Sinha from him .
Ahil was distressed hearing this , But he declined , And though someone must have copied the signatures or might have tried to do a fraud , He wasn't ready to accept .
Next day a big Party is arranged as it's Ahils and Nainas anniversary today . Many guests were invited including Kamini . She was totally angry as her Plan have failed .
Naina praised her husband and sings a special song for him " Meri zindagi sawaari
Mujhko gale lagake
Baitha diya falak pe
Mujhe khaat se oothake
Meri zindagi sawaari
Mujhko gale lagake
Baitha diya falak pe
Mujhe khaat se oothake
Yaara teri yaari ko
Maine to khuda mana
Yaad karegi duniya
Tera mera afsana "
At the end she says " Whatever she's today is because of him , He's her star, her savior , And she can do anything for him , Even she can give her soul away laughingly , She can die for him "
NAINA got a big deal , She has to sing in a WORLD SINGING COMPETITION . Naina and Ahil goes to America to attend the function . Naina sings her own written song , The Lori , ' Aa leke chalun tujko' .
She won the first price , She stood first beating 15 countries . After she came back home , A writer Nandidni Sharma , A widow , Visits Naina and asks for permission to write a book on NAINA'S life , Her struggles . She Keeps the tilte of that book , THE BEST COUPLE EVER – AHIANA .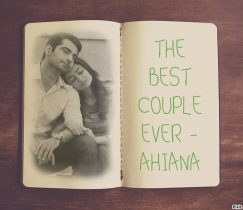 The book became the best seller . And became famous all around the world .
Since then everyone called Naina , AHIANA , This stage name was given to her , After every performance audience used to shout , Once more , Once more , AHIANA ….
---
The next day :- A big mishap happened with Ahil , Naina is pregnant , Janki brawls with Naina . Ahil again leaves the house and shifts to new city .
---
Hope you liked it , Hit a thumbs up of you did , if you wonder the way I'm writing , Then I'd like to say that I'm writing in fast forward way . Three cheers of AHIANA !!!!!
Guys did you remember my last ff on NAAMKARAN , Don't need you , There I changed AVNEIL names as Pari and Veer , Do you want me to change their name for next NAAMKARAN ff , Or should I write Avni and Neil only …