Rishten yeh banae hai pyaar ki rang mein (Chapter-33)

Warning: A non-numeric value encountered in /home/ftpusers/tellyu/public_html/wp-content/themes/publisher/includes/func-review-rating.php on line 212

Warning: A non-numeric value encountered in /home/ftpusers/tellyu/public_html/wp-content/themes/publisher/includes/func-review-rating.php on line 213

NEXT DAY
In Rathore mansion..
Falguni : We have to give a traditional neckalce set to Gitu..
Lucky : Whats the need of that
Falguni : Its tradition of our family that Grooms family should gift a jellewery to bride..
Yuvi : Oh.. now that's intresting..
Naira : So.. Maya di will also get one right..
Maya smiles..
Viraj : But we don't know if they have any such traditions..
Just then Payal enters..
Payal : They have.. and they told that they will be here in few hours..
vikram also enters the place..
vikram : we are going to gitu's house to gift her..
Payal : But that's not possible as Arjun's family are also comming..
Vikram : But.. your presence is not important her.. but In there you have to give her the set..
Payal : Don'y even try.. you know i don't like her at all and.. i will not come that's my final decision..
Payal goes from there..
Viraj : Thank god.  Abhi is not here.. otherwise he would have got hurt.
vikram : Now who will go to gitu's..
Falguni : Don't worry.. we both are also his parents and we wil do this..
---
MEHROTRA MANSION..
Ragini : Mom.. please make it fast..
Arjun : Where are you two going..
Ragini : To maya bhabhi's
Arjun(excited) : Wow..
Jhanvi : Only we are going..
Arjun(sad) : oh.. but why..
Jhanvi : I have to give our heritage jewellery to Maya… When your mom came . your dadi gave this to her and now this belongs to our wife..
Ragini (confused) : Bhai's mom!!!
Arjun and Jhanvi realises what Jhanvi said..
Jhavi ; Arjun's mom means me.. you pagal..
Ragini : Oh..
---
LITHRA MANSION..
Anita welcome Falguni and Viraj inside..
Payal gets coffee for them..
Anita : What made you come here..
Viraj : Actually .. our family had a tradition of giving a jewllery to bride showing our love..So we came to do that..
Anita : Ji.. didn't payal ji and vikram ji came..
Falguni : Arjun's famiky is also comming there.. so she thought that Maya may need her.. so that's why..
Anita : Yeah.. i can understand..
Anita asks payal to call Gitu.. Gitu comes to hall.. was shocked to see Falguni and viraj there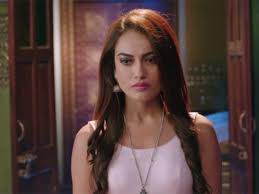 She tries to put a smile on her face but was not possible..
She greets and takes blessings from them
Falguni explains about the tradition to gitu.. and shows her the jewellery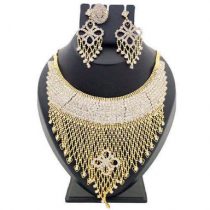 Falguni : Do you like it..
Gitu : Its beautiful..
Falguni : Try it..
Gitu wears the set.. Falguni clicks a photo of her..
Falguni : We have to show this to abhi.
All laughs .. but gitu looks dull
---
RATHORE MANSION..
Jhanvi : Oayal ji.. how are you all
Payal : By gods grace we are all good..
Ragini : Mom.. please make it fast
Jhanvi : We have come to give Maya the jewellery..
Oayak : Ji I wil call maya..
Maya comes down..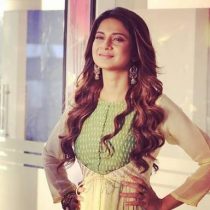 Maya takes there blessing..
Jhanvi : Maya beta.. i wanted to give you this..
Just then Yuvi comes and calls Payal saying that Naira is fighting with lucky.. Payal goes to look that.. Ragini geta a call from Twinkle and goes from there..
Maya : This is..
Jhanvi : This is Arjun's mom's.. and now its yours..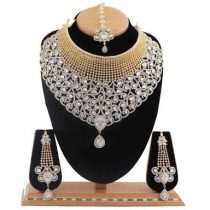 Maya : Arjun's mom's
Just the  Payal comes there and seeing the necklace she also starts praising its beauty..
Ragini : Mom.. i have to go??
Lucky : Whats so hurry..
Ragini : I have a friends b'day party.. today..
Yuvi and lucky drags lucky to aside..
Ragini : What!!
Lucky : We want to meet twinkle again..
Ragini looks furiously at lucky.. Lucky points towards yuvi
Lucky : Actually he..
Yuvi : And i know you can helo me.. please..
Ragini : A treat!!
Lucky : What???
Ragini :today You guys invite me for a treat and i will get twinkle with me..
Lucky : That's not.. possible..
yuvi : Done..
Lucky looks at yuvi..
Payal and jhanvi comes to them..
Jhanvi : What's going on??
Ragini : Twinkle..
All stares at her
Ragini :I heard of a twinkling star falling towards earth today and we were duscussing that.
Jhanvi and payal looks at eachother confusingly..
Jhanvi : Its time for us to leave..
They bids bye.. and while going Ragini signals yuvi to call her.. yuvi gives a yes signal

Warning: A non-numeric value encountered in /home/ftpusers/tellyu/public_html/wp-content/themes/publisher/includes/func-review-rating.php on line 212

Warning: A non-numeric value encountered in /home/ftpusers/tellyu/public_html/wp-content/themes/publisher/includes/func-review-rating.php on line 213