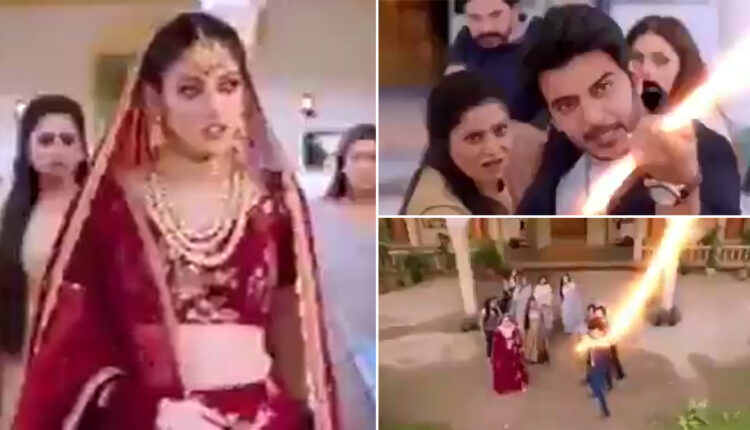 Yehh Jaadu Hai Jinn Ka video of the protagonist bringing 'chand ka tukda' becomes a never ending joke for netizens
Our Indian television shows are very popular for doing things that are even beyond fiction. Recently in a  video from the supernatural television show, Yehh Jaadu Hai Jinn Ka surfaced on social media, and ever since it has been at the receiving end of jokes and memes by the netizens. The video shows Vikram Singh Chauhan literally bringing a chaand ka tukda to earth in his quest to marry Aditi Sharma.  The video has gone viral, and the netizens are having a field day laying out their creativity to describe their thoughts after watching this video.
This video has made the netizens scratch their heads about the logic used behind this particular scene. Aman tries to pull a piece through a brightly lit rope, but his plan fails, and he himself travels to space in a car and chants a few spells using a magic wand, which makes the moon break into pieces. This left the social media crawlers tagging NASA and questioning science.
Watch the video right here:
A user wrote, "Logic and Science be like." Another user tagged NASA and joked that they wasted trillions of dollars on their research on moon. Take a look at other tweets right here:
NASA Has planned to stop 🛑 All Space Operations Commencing Today after watching this Video 📸
⬇️ ⬇️ ⬇️ ⬇️ 🔻 ⬇️ ⬇️ ⬇️ ⬇️https://t.co/EmyeEYqfhc#YehJaaduHayJinKa#ChandKaTukda #AprilFoolsDay #lockdown #mohale #RacismReport #AprilFool @Mohanlal @SrBachchan

— redsunray (@redsunray7575) April 1, 2021
Beyond logic, don't you think?