Woh Chaand Toh Mein Hoon – RED CARPET AND TWISTS (EP 48)
Hey all here is next episode. Thank you so much for commenting and supporting. Please keep supporting.
Episode starts
Romi: Riya what happened? Why are you crying? Bolo na kuch
Riya: Romi…Romi…Kabir
Romi: Kabir?
Riya: Haan…I saw…I saw
She tells him the happenings in London
Romi: Strange…I have heard about look alikes but this is real and I am really shocked. If Im not in your life you could have married him na
Riya: Shut up huh. Having the same face of Kabir cannot bring in that love and moreover you are my love now. You are my everything so dont talk in a silly manner hereafter.
Romi holds her closer and puts her to sleep
Few days later
Oberoi Mansion
Anika is petrified for not finding Shivaay yet
Khanna: Mam..sir had received a call from a private number so it is taking time to trace it.
Anika: I have tried my best to locate Priyanka and Jai but Im unable to find it. Shivaay went for Priyanka but he is not back yet. Poor Priyanka dont know what happened to her
Khanna: Mam but the note says that she is dead
Just then Anika's mobile rings. Its an unknown number. Anika attends the call and puts it on speaker
Voice: Bhabhi..
Anika is shocked
Anika: Priyanka…Priyanka
Priyanka sobs
Anika: Priyanka how are you? Where are you?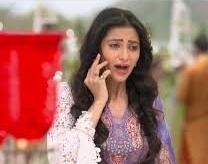 Priyanka: Bhabhi a big conspiracy is done by Jai. Bhai is captured by him. I was also captured but Bhai helped me to esccape. You need to save bhai..and Dr.Mani…Dr.Mani
Anika: Mani uncle?
Priyanka disconnects the call
Khanna: Dr. Mani?
Anika: Aliya's dad and a great neurologist. How is he involved?
Anika calls Adi
Bhalla house
Adi is trying to feed Aliya. Ruhi and Vihaan are there  too
Adi's mobile rings , it is Anika. He connects the call on speaker
Adi: Anika…
Anika tells him what Priyanka told her.
Ruhi: Bhai this Jai is connected to Mani uncle's sudden coma stage right?
Adi: Haan. Anika you dont worry we will be there soon. Lets sort it
He disconnects the call.
Vihaan: Lets inform ACP sir too and involve him in our plan
Aliya: What if that Jai?
Ruhi: Dont worry bhabhi ACP sir can join us unofficially then we wont have any issues.
They get ready while Khanna traces the location of Priyanka.
Kaira home Mumbai 
Kartik: Naira…get ready soon
He walks inside the room and is flattered to see Naira in
Kartik: Hayee
Naira: The gift of Bhai is awesome na
Kartik: Haan..you look like a princess
Naira: Haan Im a princess indeed..wife of a frog prince is a princess right
Kartik hugs her.
Just then Naira's mobile rings. It is Naksh
Naksh: Are you ready Naira?
Naira: Bhai your gift is awesome. I love it.
Naksh: Im so happy
Naira: Where are you bhai?
Naksh: Im going to the temple with Muma. Okay Naira take care. Enjoy lots. I will call you later
Temple
Naksh and Akshara walk in and are surprised to see Swarna and Keerthi there. Akshara and Swarna walk together to the shrine while Naksh and Keerthi trail behind. Suddenly Keerthi slips and Naksh holds her. They share an eye lock.
Moments later they realise the situation and steady themselves
Keerthi: Naksh you go I will do some rituals and come
Naksh: Even I have few rituals
They walk to the same place
Keerthi: You too prayed for this?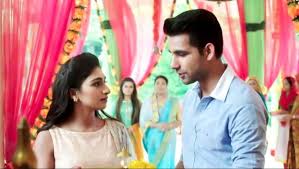 Naksh: Haan..for
Keerthi: Kartik's recovery?
Naksh: Haan
They both admire their thought similarity and do the rituals.
Aditya watches them from a distance.
Award Show Red Carpet
Urvashi and the star kid  Nishant pose for pictures .
Thats when Kartik and Naira enter with Naira's hands in Kartik's .
Once the media spot them they ditch Urvashi and Nishant and rush to Kaira
Reporter: Hello sir so Happy for your quick recovery
Kartik: All credits to my wife
Reporter: Sir seems like you were in Greece
Kartik: Yeah we were in Greece for our honeymoon
He looks at Naira who is blushing on hearing the word Honeymoon
Reporter: Mam there were reports like he was using you for publicity. Whats your opinion?
Naira: Im his wife and if Im gaining him attention then its not that Im being used. Its that we are complementing each other
Reporter: You have been nominated for the best debutant actor of the year and your latest movie is doing great in film festivals and is set to hit screens next week. How do you feel sir?
Kartik: I feel so blessed.
Before any other personal topic is touched Kartik and Naira walk in. The gown makes it uncomfortable for her to walk. Kartik notices this and bends to hold it for her in one hand while his other hand held her hand. The media capture this wonderful gesture. Urvashi burns seeing it.
Precap
1.
2.
3.