WHEN I LOSE YOU : ISHKARA OS { PART C}

Warning: A non-numeric value encountered in /home/ftpusers/tellyu/public_html/wp-content/themes/publisher/includes/func-review-rating.php on line 212

Warning: A non-numeric value encountered in /home/ftpusers/tellyu/public_html/wp-content/themes/publisher/includes/func-review-rating.php on line 213

Links for previous parts are here : https://www.tellyupdates.com/when-i-lose-you-ishkara-os-part-b/
https://www.tellyupdates.com/when-i-lose-you-ishkara-os-part-a/
Continuation from last part
@ City Hospital
Ishana sat beside Om and gently touched his palm…….Shattered memories flashed before her which made her to burst in tears……
Flash back { @ Art Hub}
Omkara : I will be able to complete that statue by next month only..
Ishana : Why ? Om, Is there any problem ?
Omkara ; I need more time…
Ishana : But what about the Fest ? It's coming at this month's end and Om you promised to bring statue by next week….. We need to make arrangements and moreover we can't disappoint any one who arrives for Fest …..
Omkara : Oh!! So now you are speaking like a typical business tycoon…….
Ishana : Om, pls don't say like these……I am just reminding the promise and it's made by you…
Omkara : Ishu I know…… And don't take my words to heart..I am just confused….
Ishana : What's troubling you ??
Omkara : See, you just wish me All the Best!! Troubles will go away…..
Ishana : Om, Pls….Don't try to hide things…….
Omkara : Ishu, I need to leave……And don't worry statue will be there..I mean by next week itself….
Ishana : Wait a minute, just drop me on the dance academy ……
Omkara : Mmhh…..Ishu , Not now…..
Ishana : What ? Om, today I am coming with you and it's done……I need to know where my fiancee goes….
Omkara : Try to understand, Ishu pls let me go now…
Ishana : I am not stopping you, just asking you where are you going ? And it's simple you just give an answer….
Omkara : I have some work…..Now it's fine, you got the answer……Let me go….
Om stepped inside the car and shut glasses….ishu knocked glass and keep screaming …."Om..Om", but Om didn't looked ishu and all of a sudden he started teh car and left the spot…… Ishana felt something fishy on Om's act….
After a few hours, Om reached there with a packet and he walked towards the dark store room……As soon as Om reached there he find lights are on….
Omkara : How is it possible ? Who can do it ?
" You didn't expect that some one will reveal your dark phase, won't you ?" Om gets surprised to see as it was said by none other than Ishana….
Omkara : Ishu, tum!! Ishu listen…… Now it's midnight…..And this time you have to be at home…..Not here..
Ishana : Why me ?? You should be also at your home only……
Omkara : I am not in a mood of arguing with you, Ishu this is not the right time…….Pls…
Ishana : I won't leave until I will get reasonable answers from you…..
Omkara : Ishu, whatever happened at morning, I was almost confused and I behaved like that…..
Omkara : Ishu, stop crying…..[Om stepped towards ishu, soon packet falls and Ishu stares it…..] There's nothing……These are some materials for my my……
Ishana : It's alright…….I stayed here because I thought you will get some time to spend with me……I really missed you much and while lighting lamps before maa…….I felt totally I am alone…..
Omkara : Ishu, today is…….Your maa's ……
Ishu nodded her head……
Omkara : Oh God!!!
Ishana : Before an year, when Maa hold your hand and said to take care her of her gudiya, you assured her that you will never make her to feel that she is alone……But today you have broken the promise which you made to my maa……..Carry on with your work……..Now a days that is more important for you…….
Omkara : Ishu pls……[Om holds her hand] I am sorry,,,,I am really sorry………
Ishana : Om, what happened to you ?? Now a days You are behaving so strange, I wonder is this the Omkara whom I knows from past an year….
Omkara : I will not lie before you, And no more promises also as that has no use……….
Ishana : What ???
Omkara : I am out of control and this is my truth……[Om opens the packet]
Ishana : Drugs!!! That means you are still consuming it……
Omkara : Not always, but Ishu…….I am not able to do anything……..Pls don't stare me like that…….
Ishana : Om…..Look at me……..Why are you not able to look at my face ? Do you love me , Omkara ??
Omkara : What ??
Ishana : Just give the right answer only, else I will ….
Omkara : Ishana!!!! Don't repeat this , you don't know how much madly I loves you, my heart beats for you…..
Ishana : Then why are you not looking at my eyes ?
Omkara : Because I know whatever I am doing is not right and your eyes , whenever it's before me I feels like I am in the target and they are killing me with so many questions and I am not able to answer any of them…
Ishana : Okay, I won't ask you anything ….But pls…….Don't take this deadly thing….
Omkara : Just stop it and leave me alone…..You don't understand what all things I have lost….
Ishana : I would have understood if you show mercy to this painful heart which always waited to see your eyes, your smile and those intense silence which better discovered our feelings whenever we met and sat face to face……May be that was for hardly 10 minutes , but our hearts share so many things and we deeply fall for each other…..The way you finds my emotions from my eyes , the way I tries to convince you , where is that good listener ? Where is that patient innocent soul ? I miss him a lot…..
Omkara : Ishu!!! [ Om cups ishu's face and stares at her eyes ] I am getting frustrated with unending battles and I am molding myself to the world of darkness by injecting this deadly weapon to my body…… I don't want to lose you at any cost, but still I knows that this poisonous drugs has become the threat for our relationship…….But I am not able to over come it…..I keeps trying, but …..
Ishana : Put an end to this word "try", Just say that we will defeat this threat……
Omkara : But I know it's so tough…..And why you said "we" ?
Ishana : Whenever you injects this poison, I will get pain, because I am staying here…….[ishu keeps her finger on Om's chest] Whenever you takes it, I am getting hurt here and if you keeps continuing then one day whole heart will be dark and this threat will win over you deeply that from this inner heart it will stab me and Om then you will never see me again……..
Omkara : No ishu……For god sake don't say like this , your love is the power which makes me to believe in life …..Else I would have gone mad…..I love you, Ishu…..I love you lot…….
Ishana : I love you too, Om…… [Ishkara hug each other]
Scene shifts to Graveyard
Ishana : Om, Seems you are in deep thoughts, is it ?
Omkara : I was demanding a wish before your maa and I am sure she will not deny it..
Ishana : I see, by the way what's the wish ?
Omkara : It's kept inside as secret between maa and son……I can't tell you…..
Ishana : Alright, Ishu will find it by herself…..[om smiles]
Ishana : Thanks maa , for making my Om to smile again……
Omkara : Ishu, Again I am feeling so bad that I disappointed you many times and today I have really hurt you much…….
Ishana : Om, May be hurt, but through that I am glad that at least you talked with me which I missed so long……
Omkara : Yeah, that's true…….
Ishana : Om so now onwards the battle begins from here and I am sure maa has blessed you so that soon we will defeat the deadly drugs…….Okay ?
Omkara : Yeah…….
Next day morning , @ Dance Academy
Ishu wearks anklet and starts dancing……Om stands and watches her dance……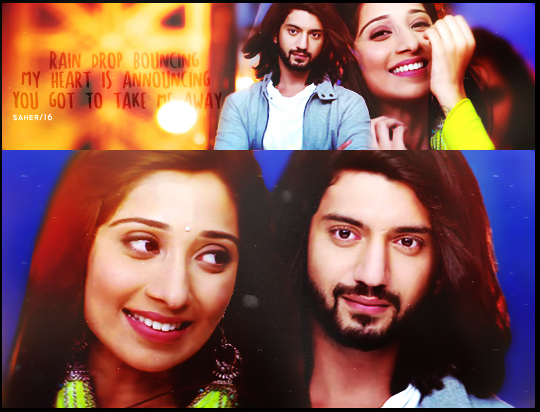 Ishana : Om!!!
Omkara : Before you say anything, You need to see a thing which is very important….Now shut your eyes…..
Ishana : But
Omkara : Just do it, pls….
Ishana smiles and closes her eyes…..Om moves to a side and tells ……Now you can open your eyes…..
Ishu opened her eyes slowly and finds the statue …….
Ishana : Om, You did it ??
Omkara : Our first victory over the threat……..This is what I wished to maa yesterday that she should give me enough strength to make it possible so that I can stand as Omkara before her gudiya …….
Ishana : Om!!! [Ishu rushed towards Om and kissed at his palm] And this is my gift for the victory……
Omkara : Just a small one on this hand !!!! [Om turns his face from her ]
Ishana : Why ??
Omkara : My heart needs more ……
Ishana : I see…….[Ishu turns Om towards her and kisses on his cheek]
Omkara : Now I need to say everything, Ishu ?? You reads well from my eyes ♥♥
Ishana : Mmmh…..Perhaps I don't…...
Omkara : You haven't grow up much that you could make excuses before me…….My eyes will capture you……
Ishana : Now don't stare me like that Zulfi Singh Oberoi….. Well, The battle's first phase went well…Now it's second turn….
Omkara : I know and it's the toughest phase……
Scene shifts to Rehab centre…..
Ishana : Om, Whatever happen, be brave……Rules are very strict at rehab centre and you have to follow it…….They will not allow us to meet frequently, So we will be able to meet by this month end only……..
Omkara : Ishu, This lonliness is going to kill me,but behind it I will be bravely to fight with myself …
Ishana : Om, Once you conquer drugs trust me you will feel you're back……
Omkara : Ishu, This time I will keep my word, I will quit drugs…….
Ishana : I wish this should come true soon…….[ishu and om hug each other] We need to spread colors on the Fest…….
Omkara : Ishu, You have to manage both art hub and academy and I know you will do it without fail…….You keep working on preparations for the fest, Whatever you wants to see in Omkara, you will get it fully…….
Ishana : I will wait for you…….Bye Om, Take care…….
Omkara : You also, bye ishu…….
AFTER A WEEK…...
Ishana : So you have run away from the rehab centre ?
Omkara : I can't stay there any more…….Those rules and the medicines they're providing , I feels like I am swallowing poison…
Ishana : May be that one sounds bitter, but those medicines were better than these deadly drugs……You are proving that you have become a coward!!!
Omkara ; Ishana !!!
Ishana : Don't shout, Om!! I am just showing you the truth…….
Omkara : I will stay like these only, I guess…..Now it's upto you……If you want to end up everything, then go for it…….
Ishana : So you won't stop this habit Om ? Pls don't spoil your health……
Omkara : Just last puff only, after that I will never do it……
[ NB : THIS PART IS EXPLAINED IN THE FIRST SHOT ……https://www.tellyupdates.com/when-i-lose-you-ishkara-os-part-a/
THIS IS THE LINK ]
Scene shifts to the City Hospital……
Ishana : When I was with you at that time believing to see you living a meaningful life, you destroyed my belief and I felt that drugs have become essential for you and I have no more space in your life…….I blamed you that in midst you ran from there, but what I did ?? By separating myself from you, I have also did the same thing only…….. Neither you, nor me never tried to meet at these three years and at these three years what was happening with you, Om ?? I never tried to look back……Om pls say some thing…….Wake up, Om….Wake up…..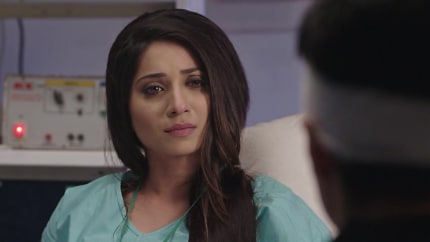 Doctor : I think now it's so hard to get him back…..
Ishana : What do you mean, doctor ?
Doctor : His body has become weak and especially his brain's nerve cells……..They are not functioning normally in him and we needs to do a surgery soon…
Ishana : If by that surgery things will get clear then why are you making late ?
Doctor : He doesn't have the capacity to afford it, Ishana…… And this is a complicated case, before doing this I need to talk with experts……What we can do is now is to keep hope and pray god……May be a miracle can happen…..Once patient gets back to consciousness, you should prepare him to face the worst thing, that is to survive with a weak body for weeks…….And never show your emotional side to him which may affect his health…….Now pls you may wait outside…..I need to check the patient..
Ishana : Ji…..[ishu looks Om and walks away]
PRECAP : I CAN BE FAULTY AT MANY TIMES, BUT I AM NOT WRONG ALWAYS…..MY WORRIES ARE NOW PAST AND I WANT TO LIVE MY WORTHY LIFE…….
AN : Ahh!! Finally Updated this one , guys thanks for all your wishes on my marriage , which means a lot ……Well next part will come damn late as I am lacking time……Kindly wait for the next one….. Love u all……Thanks for reading and supporting…….

Warning: A non-numeric value encountered in /home/ftpusers/tellyu/public_html/wp-content/themes/publisher/includes/func-review-rating.php on line 212

Warning: A non-numeric value encountered in /home/ftpusers/tellyu/public_html/wp-content/themes/publisher/includes/func-review-rating.php on line 213