TWO HEARTS IN ONE BREEZE : KRIYA & KRITARA Three Shots -PART 3
Sitara : You didn't tell anything , Krishna.
Krishna : Sitara can you please come to Lord Krishna Mandir tomorrow ? I will tell my reply there. Please
Sitara : Okay
Krishna made a phone call to Pratigya and insisted Pratigya also to arrive at the temple .
Next day morning AT MANDIR
Krishna : Hi Pratigya
Pratigya :Hi Krishna
Pratigya looked Sitara
Pratigya : Who is she Krishna ?
Sitara : Who is she Krishna ?
Krishna : Pratigya this is Sitara and Sitara this is Pratigya .
Both look each other and says Hi
Krishna : You both are equally important to me. Thing is you both said your love to me . Before telling reply you have to listen my story.
Krishna explained happenings of his village and his family in brief.
I want my Chaachu to get married , my buwa should unite with her husband , I need my Maa's blessings and love , I know she won't be recovered completely but certainly I want improvement in her health. If my Chaacha brings Chaachi, My buwa brings Phoopha and I will bring a daughter in law she will be very happy . For these things I need help of you two.
Sitara : Woh sab toh theek hein, But Krishna you didn't replied who is your love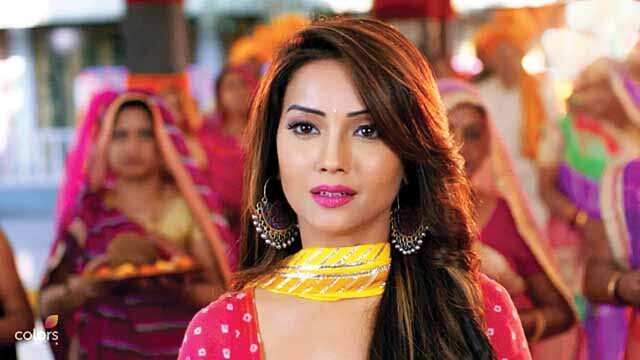 Pratigya : Yes Krishna . I am desperate to hear a reply from you .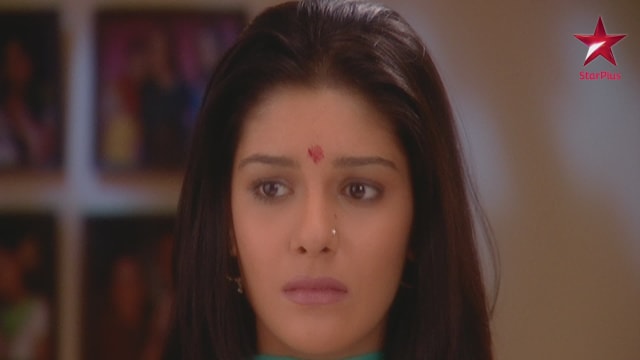 Krishna : You both loves me truely , Hey naa ? I don't want any one should be Radha and any one should be Meera. Meera's love was divine whereas Radha's love was an emotional connect. Lord Krishna wasn't able to marry both of them. I don't want it should happen with you two.
Sitara and Pratigya nodded their heads. Krishna hold both of their hands together
Krishna : I love you two
Sitara : To whom you have said this ?
Pratigya : Did you say this to sitara or for me ?
Krishna : I said I love you two . Two means two only. One plus One that means Two. I love you Two ……I love you Sitara and I love you Pratigya.
Sitara and Pratigya are surprised to hear this .
Sitara : You can like one or two persons , but love it's for one only.
Pratigya : Krishna please I don't have belief in all those stuff which you told . All I need is a reply
Krishna ; If you two love me truely then you both need to help me . You both should come with me to my village. I wants to show that astrologer and villagers that by looking you both nothing is happening with you two . Also I need to solve all the problems of my family. Pratigya I will take care of your sister Pari well. Bring Pari also to my village , she will be very happy. Sitara you don't need to get tensed about your dad. I will take care off him. Tell your dad also to come to our village.
Sitara ; Are you serious ? Krishna genuinely I can help you, but the way you replied has made me confused. Krishna love can be only one .
Krishna : Your fiancee was wrong and I saved you , that's why you loved me. And Pratigya, the guy who was ready to marry her was a cunning money minded man. He ill treated Pratigya's autistic sister and that's why she break up with him. She loved me because I saved her from depression.
Pratigya : We both have reasons for our break up because the guys who came to our lives were extremely wrong . You was the right person who bought a new life to both of us. It's natural that we both have fallen for the same person. But Krishna life partner can be only one. Once the knot is tied it should be everlasting. So you have to select one.
Sitara : I agree with Pratigya , Please Krishna
Krishna : My reply is the same I love you Two .
Sitara & Pratigya : Krishna !!!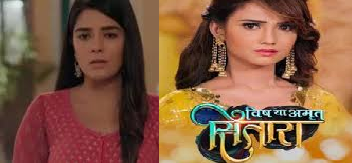 [Two Two Two, Two Two Two, TwoTwo TwoTwo Two
I Love You Two… Nijama I Love You Two
Two Two Two, Two Two Two, TwoTwo TwoTwo Two
I Love You Two… Really I Love You Two
To Both Of You….I truely love you 
Thangamae-nu Sonniye… Vairamae-nu Vazhinjiye
How Can You Do This To Me
Oh Baby Nu Aasaiyaa… Konji Konji Kavuthiye
How Dare You Do This To Me
You Described Me As Pure Gold
How can you do this to me ?
You called me as sweet baby and impressed me 
How You Can Do This To Me?
Oh Baby, Thangamae Entrum Entrum Venumae
Ondraaga Anbaaga Irukalaamae
Onaiyum Onaiyum En Rendu Kolandha Polavae
Eppodhum Eppodhum Naan Paathupenae
Dears, I Need Both Of You
Let's Live A Lovely Life Together
I'll Take Care Of Both Of You,
Two Two Two, Two Two Two, TwoTwo TwoTwo Two
I Love You Two… Nijama I Love You Two
Two Two Two, Two Two Two, TwoTwo TwoTwo Two
I Love You Two… Really I Love You Two] plays
AT VILLAGE 
Kesar : Krishna beta finally you came back !!! Kitne saal ho gaye tumhein theek se dekhkar
Yashwant : Krishna
They both hugged Krishna . Krishna introduced Sitara and Pratigya to them and told them about his love towards both girls.
Kesar : Krishna we can think about this later. Your Maa is desperately waiting to see you. Go inside and see her.
Krishna : No Buwa
Pratigya : I lost my Mom in an accident , Living without Mom is so difficult . Go and see your Maa.
Sitara : Losing Maa is really painful. I lost my Maa when I was just 12 years old. Dad was everything to me. Krishna go and meet your Maa.
Pratigya and Sitara hold Krishna's both hands respectively and three of them went inside the room.
Krishna : Maa
Fathima : Beta !!!
Krishna : Maa
Fathima ; Come near me and sit . Hug me beta.
Krishna ; I am scared really Maa . If anything will happen to you then I won't be able to forgive myself.
Fathima ; If you are not with me my health can never be cured . Beta I need you.
Krishna started crying like a kid.
Pratigya : Krishna keep your hand at your Maa's hand.
Sitara : Haan Krishna , you can do it.
Pratigya and Sitara made Krishna's hands to be held at his Maa's hand. Fathima smiled with teary eyes and hugged Krishna. Krishna tightly hugged her.
Krishna : Maa, I missed you a lot. I missed your love, I missed your affection.
Fathima : Why you went away ?
Krsishna : I was feared whether I will lose you like the way I lose my Paapa
Fathima : Your Paapa was a brave man he died in an accident.
Krishna : But at that time I was a baby in his hand, I would have stared him. And that's why
Fathima : Krishna you have nothing to do with that one. It was an accident only. No one knows about the curse. Even the astrologer himself doesn't knows.
Krishna ; But Maa when I stared that boy in school who mocked me he fell down.
Fathima : He fell down because his leg was slipped . Beta that was a rainy day and whole ground was muddy, it's natural that if we won't look down our leg can slip in soil.
Krishna : And you suffered coughing because of me ?
Fathima : That's because of the climate change , my body is weak and I am unable to bear when climate becomes so cool. I was already suffering little a bit cold when you came there to see me. Trust me your eyes have no connection with that incident.
Krishna : And Pratigya, Maa when I looked her she fainted
Pratigya : Doctor said that I hadn't eaten food and moreover I was very weak. My BP went low and I fainted.
Krishna : And Rocky , his leg was hit
Sitara : There was a side pillar which he ignored totally in anger and his leg got hit there. It has nothing to do with your eyes. That's what we are telling you Krishna your eye sight is not dangerous.  Whatever happened because of circumstances only , villagers your family believed it blindly.
Krishna : I want to meet the astrologer who predicted my eyes as dangerous .
Pratigya ; Sure Krishna . We will teach him a lesson.
At Astrologer's home
KriYaTara arrives there and tells astrologer that Krishna has two love interest , whom he should marry ?
Astrologer : Krishna your eyes are dangerous. This birth you won't get any love, marriage.
Krishna : What's the solution for this ?
Astrologer : Arrange some money ,I will perfom puja and you can marry another girl.
He laughed cunningly.
Krishna slapped him , Pratigya and Sitara also punched the astrologer .
Krishna : By believing your false words I was away from my family. My buwa was separated from Phoopha , my Chaachu was separated from his lover . And now when I got my two true love you are trying to make my marriage with another girl. You are a big fraud. Why you did it ? What's the curse ?
Astrologer : Please stop beating me. There is not any curse. That was just a fake story by me. Luckily some bad incidents took place and all believed I am a real astrologer and I got lot of money from this village. I swear your eyes and eye sight have no problem.
Krishna : Because of you people lost belief in real astrology. It's a treasure of our nation. Don't spoil it like these.
After some days 
A wedding arrangement is going on. Krishna, Sitara and Pratigya are dressed in well manner.
Fathima was seated in a wheel chair to see the whole function. Kesar buwa was happy as all misunderstandings got cleared and her husband Shekhar  came back to her. They both were together to attend the function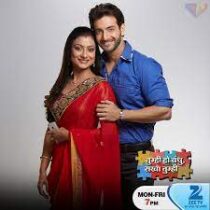 Yashwant marries his love interest Supriya , Supriya's parents blesses them and they became very happy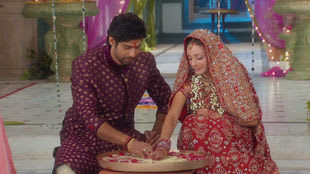 Fathima : Pratigya, Sitara I need a promise from you both , Never leave my son. Always stay with him. You both stay here with my son , you both are the ones who bought my son back to me. I am grateful to you .
She blesses both of them.
Krishna looked Sitara and Pratigya.
After a while Krishna, Sitara and Pratigya are seated in a bench near a water fall. They were enjoying the gentle breeze.
Krishna held both their hands and said : It's hard for me to choose one from you both, I know practically it's difficult. I never demand an engagement, a marriage , a relationship or any sort of bonding. What I need is like these you both should stand with me in my each path. I am able to see Two hearts in this one breeze. That's enough for me .But still if you both feel I am doing injustice to you two you both can leave.
Sitara and Pratigya hugged Krishna. Krishna too hugged them. Three were drenched in tears.
Fathima arrives with Kesar there and looks them.
Fathima : There is a twist in this story Krishna .
Krishna : What ?
Kesar : Krishna you have a twin brother named Krish. Actually thing is years back when your Maa was taken to hospital for pregnancy she gave birth to two children. I was also there. Your Paapa doesn't knows that your Maa have give birth to two babies . That time I was fearing whether astrologer will came and say something which may hurt our family. I seeked help of Yashwant and we hidden one baby from our family. The hospital authorities also supported us and through back door your chaachu took your bhai to another village. He gave the baby to your Paapa's friend's family only. They never came here as they were aware of the curse. As all the issues were solved we invited them and they are with your bhai Krish.
Sitara : Krishna , your family is like a mystery unedning one only. But I like it very much .
Krish came and met Krishna
Krish : Bhai, I heard everything. Nothing can separate us from our family.
Fathima : Now the confusion can also be solved if one of the girl agrees to accept Krish.
Krishna : It's not easy for them , both of them loved me and I also loved them two. We need time. Till then all of us will stay here .
Days passed, Sitara find one day Krish talking to her dad . He was discussing plans about developing business. Sitara also joined them .
Sitara's dad : I selected a wrong person for you without asking you . I want to rectify my mistake. Will you marry Krish ?
Sitara : Dad ,I am okay with this proposal.
Krishna : Are you sure ?
Sitara : Krishna you said you can see two hearts in one breeze and what I find is the kind heart of Krish despite of knowing all truth. If we fails to take a decision our parents show the way and my dad has shown the right way. I am whole heartedly accepting this proposal. I will always stay as true friend of yours Krishna , it's my promise.
Krishna and Sitara shook their hands together.
After a month both Kritara and Kriya gets married .Four of them enjoyed the gentle breeze and it was conveying their love story .
AN : Hope you all like this story. In original neither Nayantara nor Samantha unites with Vijay Sethupathi. I bought a twist by bringing Krish here. Because I don't want a disappointment here. Thanks a lot for supporting this one.