Tujhse Hai Raabta RiKara RuMya ShivIka SS Part 5
Tujhse Hai Raabta…There's A Connection With You…Part 5
The next day…
Gauri came to the main hall.
Soumya:Hi Gauri..
Gauri:Hi Soumya.
Soumya hugged Gauri.

Soumya:How do you feel now?
Gauri:I am alright now.Today I am also coming to college with you.
Soumya:Can you walk well now?
Gauri:Yes.
Om:That means you are fine?
Gauri:Yes..I am fine.
Om:That's nice.That means my massage worked.

Gauri smiled.
Soumya:Om bhaiyya..you did massage for Gauri?
Om got embarrassed:No.
Soumya smirked:Ok ok.
She suppressed her laughter while Gauri and Omkara blushed.
Anika and Shivay returned after the trip.They were surprised to see the house decorated.
Om Gauri Soumya:Welcome back…
Shivay:Why the house is decorated?
Gauri:We decorated the house to welcome you guys.
Anika:We just went out for 2 days.Still such a beautiful welcome!
Shivay:Then what a grand welcome we will get if we go for a long trip?
Soumya giggled.


Om:Go for long trips to enjoy with each other.But not for a grand welcome.
Gauri:Right.

They all laughed.


Then they hugged each other.
All of them were doing preparations for Lohri puja.
Om sat near Gauri.
Om:I will help you.


Gauri:It's ok Omkara.I will manage.
Om:No.As a friend I will also help you.
She smiled.Omkara helped her to do arrangements.
Gauri:You did everything better than me.Now everything looks so beautiful and neat that I can't thank you enough.
Gauri held his hand:Thank you again.
Om got goosebumps when Gauri held his hand standing closer to him.
Om kept his hand over his chest:Ahhh..my heart is beating faster..
Gauri smiled holding onto him closer:Omkara…


Suddenly he realized that Gauri holding him was his dream.He blushed.
Sharmas too came for the puja at the Oberoi Mansion.
Puja was going on.All were praying.


Om:After puja I feel nice.I feel good hopes about future.
Gauri:About what in the future?
Om looked at her deeply:About marrying the girl I love.
Gauri blushed.


Om:What did you pray?
Gauri:I prayed for everyone's happiness.
Om:Did you pray for me?
Gauri:Yes.
Om:What did you pray?
Gauri:I prayed to God to fulfill your wishes.
Om smiled:Then I will surely get the girl I love.
He held her hand.She blushed.
Suddenly they heard Shivay and Anika calling them.
Gauri:Coming di.


Om and Gauri went to the compound where they helped Shivay and Anika to serve food to poor kidswho were gathered over there.
Soumya served them food and said:Eat well and be energetic.So that you all can study well.
Rudra looked at her and thought:Oh ..on this occasion too she is talking only about studies.


Makar sankranti celebrations started…
Naitik Akshara

and Shivay-Anika were flying kites enjoying a lot.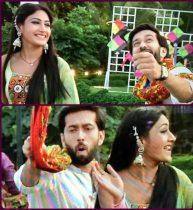 Omkara Gauri were flying kites together.
Unknowingly they got lost in each other.
Omkara pressed his lips onto her cheek

and her forehead making her blush.
Suddenly he realized that it was her imagination.He became shy.
Om thought:My imaginations are getting wilder.
Om pecked on Gauri's head.She felt ticklish.

Then they embraced each other sweetly.

Suddenly she realized that she was imagining it.
She blushed thinking:How can I have such romantic imaginations about me and Omkara?
Om:What are you thinking?
Gauri blushed:Nothing. What are you thinking?
Om blushed:Nothing.
They continued flying kites.
Soumya and Rudra were flying kites individually.Rudra was lost in Soumya.He walked with the kite gazing at Soumya.So he did not see the stone near by.Unknowingly he stepped on it and slipped.Unfortunately he fell over Soumya.Both fell down.Rudra was on top of Soumya.Soumya pushed him angrily.
Soumya:How dare you Rudra?
Soumya slapped Rudra.Everyone including Rudra was shocked.
Rudra:I am sorry Soumya.I don't know how I fell over you.
Soumya:Stop telling lies Rudra.I know that you did it intentionally as you wanted to touch me.
Rudra was shocked.
Rudra:How can you talk like this Soumya?Why should I do that?


Soumya:Because you are a useless flirt who always tried to grab my attention.I know that you were desperate to make me your girl friend.But since that did'nt happen you tried to touch me with your dirty hands.But remember Rudra Sharma.I am Soumya Singh Oberoi.A loser like you don't deserve me.So don't try dirty tricks to touch me.