Hai friends I'm back with another Episode today. Thank you so much for your support through comments. Please keep supporting.
Let's go to the episode now.
Mishti is in her hospital . She is carrying Rithu in her arms as she is sick.
Mishti rushes to her friend Priya
Priya: What happened Mishti
Mishti: Priya Mishtinis running high temperature from night do something
Priya: I'll take care..you don't worry
Priya gets Mishti in her arms and Mishti goes out. She helps her colleague as she is carrying lot of files..Mishti gets some of them and walks her way when she dashes on a guy
The files and Mishti fall down but the guy holds her. Mishti who has closed the eyes in fright feels the grasp to be familiar and opens her eyes to see Abir holding her.
Tears run down their eyes.
Flashback rolls on
That night after the rains and patch up Abir takes Mishti to his room. Mishti hugs him tightly as there was a thunder.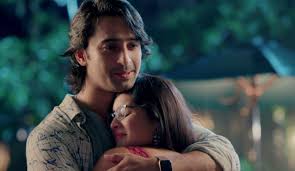 Abir looks down and kisses her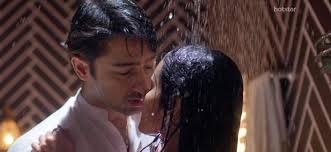 ..as the lights go off Abir and Mishti get intimate.
Yeh Rishtey Hai
Na Pyaar Ke Tere Mere
Lagte Hai Yeh
Mujhko Sagar Se Bhi Gehre
Tumse Pyar Humein Hain
Kitna Jaane Jaana
Tumse Mil Kar
Tumko Hai Batana
Dheere Dheere Se
Meri Zindagi Mein Aana
Dheere Dheere Se
Mere Dil Ko Churana plays in background
They are brought to reality when Rithu runs to them
Rithu: Muma…Muma…who is this
Mishti picks her up in her arms
and turns to see Abir standing there with tears in his eyes
Mishti: Rithu he is AM…
Rithu: Morning..
Mishti: Nahi..
Rithu: Acha Abir Mehra
Mishti nods while Abir is standing there stunned
Abir: Mishti..Yeh….
Mishti: The responsibility which you denied
Mishti walks away leaving a perplexed Abir there.
PRECAP: THE PAST HITS ABIR.