TROUBLESOME LIVES AND UNENDING LOVE TALES – PART 7
FLASH BACK CONTINUATION
AT HOME
Manjusha : Vinod, This home's princess has arrived with her lover
Vinod : What ?
Manjusha : Just look at at the entrance
Vinod and Manjusha finds Archana & Manav holding hands together. Vinod starts clapping and signed Manjusha also to do the same.
Archana : Bhai
Vinod : Don't use that word. I am not your bhai. And congratulations for dropping the project and eloping with this guy.
Maanav : Vinod don't talk rubbish. I am here to drop your sister safely only.
Manjusha : OMG! Now from this trespasser we need to get advices for looking our sister.
Archana ; Bhabhi please. Just stop it and answer to my question.
Vinod : What you want to know ?
Maanav & Archana ;' Truth
Archana : Why you sold me bhai ?
Vinod : After expiry every product need to be sold or thrown and you are a troublesome useless product for my life and I sold you for the right person who needs you desperately.
Manav fumes in anger and he slaps Vinod.
Archana : Maanav, you
Maanav : Why you are still here ? There is no use of talking with this man and his wife who doesn't knows your value. One day will come when these people will be punished for their deeds.
Manjusha : How dare you raised hand over my husband ?
Maanav : This creature deserves worst punishment and if I did not do at least this then Archana will never realize that her decision of saving her dignity and self respect was the best treasure of her life. And you , I feel pity on you that instead of showing right way you are always making your better half as a bad man. If possible just take two minutes and think what you both gained by doing injustice to your sister . Let's go Archana
Maanav and Archana leaves. On the way Archana holds Maanav's hand.
Archana : Maanav,  Where shall I go now ?
Maanav: Hostel .  Until and unless I make an arrangement you can stay at working women's hostel.
Archana and Maanav meets the wardon Savita Tai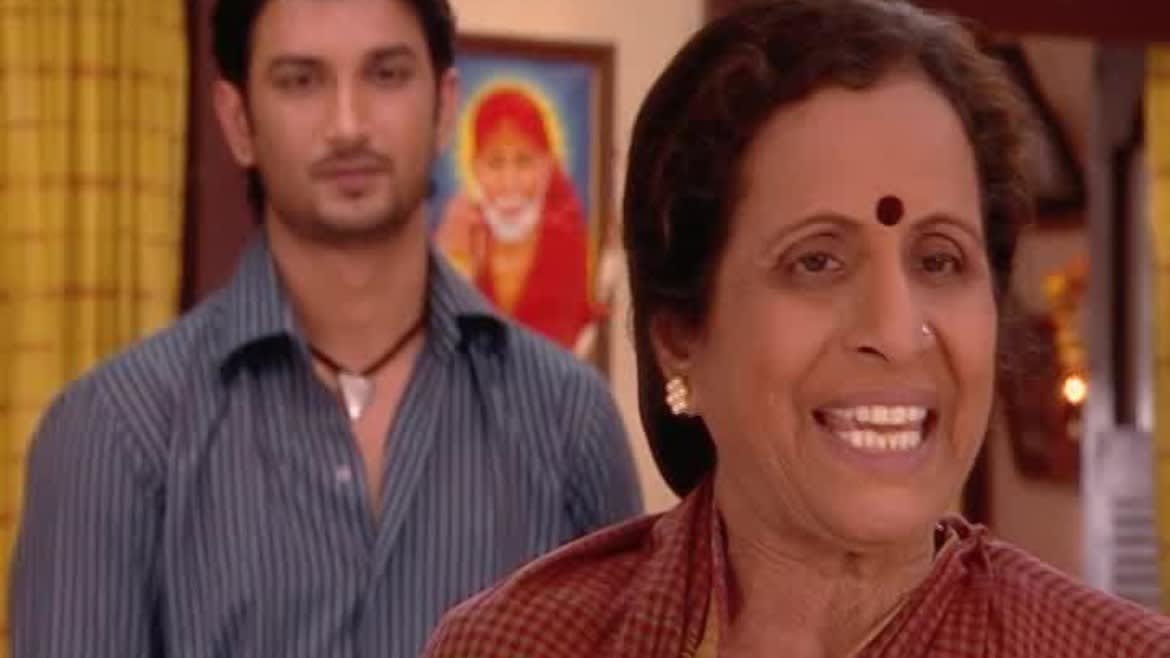 Savita : See Archu , I will call you like that only , Is that okay ?
Archana nods her head . Archu beta As my son has bought you to this hostel I am allowing you to stay here for two months. But I need advance money now itself.
Maanav : Aayee, it's with me
Archana : No Maanav you have helped me a lot. Maaji, for now I have no money. But I promise you by next week I will give you the advance payement.
Savita ; Haan , yeh hui naa baat. Room no 346 This is the key.
Arhchana : Ji
As archu went upstairs Maanav holds Savita's hands
Maanav ; Aayee What's wrong with you ? Why you are so money minded ?
Savita : Then do one thing . You put a garland on her neck and bring her to home.
Maanav ; I wish I could do that
Savita : Ayeee I will kick you out
Maanav : Aayee I was just joking only. Even if I wished also she deserves a best and better person than me
Savita : Why so ? What's wrong in you ? You are hard working, honest  and well behaved man who knows the value of family. Rather than what a girl needs in her life ?
Maanav : Aayee aap bhi naa…. Maanav holds Savita close to him . Let's take a selfie….
Aayee smile please. Why you are making puppy faces ?
Savita : Beta I need to leave now. Sachin will be arriving home. Haan regarding archu I mean it. Remind her to bring advance.
Maanav looks upstairs .. Hello hero now this is a girls hostel . So let me remind you you can't stay here so long.
Maanav : Haan aayee. I know. Just want to see Archana .
Meanwhile Archana comes downstairs and smiles
Archana : Thanks Maanav and Thanks Aaayee
Savita : Why you are calling me aayee ?
Archana : Nothing I felt my mom is with me. You feels me to make so special.
Savita : It's okay. Now forget your pains and focus on your work. You are an actress , right ? But let me tell you you can't act well. At your age while I was doing dramas on stage
Maanav interrupts the conversation. Maanav : Aaayee , Sachin will be waiting. Let's go
Savita : Haan. Archu I will be back within an hour. See my P.A. Sundari will be her only. I am  a busy bee. That's why I have appointed and an assistant .
Maanav and Archana shares an eyelock
Scene shifts to Rikara
Gauri : Omkara ji I am serious. I am not able to focus at my work. The imagination which I holds  about the girl is so different . I am not able to find a suitable person for that character
Omkara : Gauri relax. Be cool and think well. You will get answers.
Meanwhile Omkara gets a call from an unknown number.
Om picks the call.
Omkara : Hello who's this ?
"Sir My name is Archana and we both studied at the same school . I mean sir
Omkara : Archie
Archana : Sir you still remember me ?
Omkara : You crazy girl what happened to you ? And why you are calling me Sir and all
Archana : Thank god you haven't forget me . I need a favor . It's important.
Omkara : Yeah sure. how can i help you ?
Archana ; I need some money. I mean not for free I am ready to do work. I don't know whether you have watched my short film but may be your wife Gauri
Omkara : One second Archie It's better you speak to her.
Archana : But Omkara
Omkara : Gauri this is for you. Put the phone in speaker.
Gauri : Okay. hello
Archana : Mam I am Archana your hubby's classmate.
Gauri : I think i have heard your voice somewhere. You acted in ad film right ?
Archana : Yeah Mam . I worked in one ad film, two short films and in a tv serial also. Mam please give me a chance . Mam I am ready to do any role. Please give me a chance.
Gauri : See Archana I am going to make the most expected serial this year. I can't assure you anything . But let me see your talent at audition. Come to oberoi production house. Let me check and I will tell you.
Archana : Okay mam. No issues. I will come. Thanks
Omkara : Archiee where are you these days ?
Call cuts immediately as battery went low at Archu's phone.
Gauri : Omkaraji you never mentioned about this friend to me
Omkara : She is bit reserved person. And you know what actually we talked at last year of our school.I mean after plus two when we were leaving . She became much ecmotional that day and I assured her that I will remain as best friend for her ever. Then we met merely two or three times only.
Gauri : What ? It seems so interesting . Well let me meet her and  see her talent
Omkara : Yeah
PRECAP : GAURI FACES A DANGER