hey guys!! if you missed the previous episode here is the link :
https://www.tellyupdates.com/they-are-united-chapter-1/
back to the chapter;
While on the other side ranveer was waiting for sirat for so long
what is this sirat  you are never home you are always behind kartik alwayss 24/7 from the time we got married you are there only on our wedding night also you went there because you were thinking if he was not well then you were rejecting husband and wife just got started and you even end it on the wedding day  you were in his arms not mine …during the 7 rounds you were looking at him you even decided to marry him  you completely forgot me and i know that our relationship  just started and that he has helped you a lot but every time you take an excuse for kairav and  go there i asked you earlier  if you loved kartik you replied me no and that you only love me then why him over me !! what if something is happening between you two?  you are similar to his wife maybe  he even got attracted to you ..what about me huh i toh only took a bullet for you and that is no big job right on the day of your match also you took his side, you were with him on the bike we fought but your concern was not on me it was him ! ",said ranveer with frustration . unknown to him sirat was behind him and she heard everything she felt that her heart was stabbed yet again first by her friend and then by her love .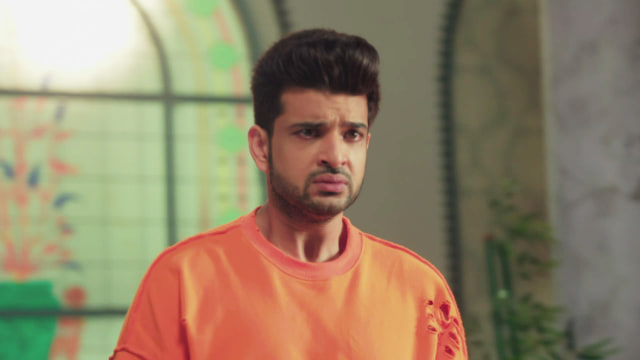 "you have a very good thinking ranveer isnt it !!",said sirat from behind
"finally you got time for me ",said ranveer with sarcasm
" i have my full time to you ranveer but i think you cant see it and you jumped to such a conclusion also?",said sirat with tears
"time really sirat  did you even think how it felt to me when you were concerned about him ? you toh went to your boxing match with him especially on our wedding day",said ranveer shouting
"you were the only one ranveer who told me to go and do boxing otherwise i wouldnt have ",said sirat
"yes  but  you could have gone for boxing with me na why do you have to go with that kartik ?",said ranveer
"shut up ranveer just stop this i have listened to you enough  why do you want to create a fight between us everytime on this topic is our love this weak? ",said sirat
"yes sirat because everytime he comes between us ",said ranveer
"there is no point in talking to you i thought ki today we will sit togethet and plan our honeymoon but clearly i was wrong it was of no use i thought that you understand me very well but I was wrong when your mood is fine that time call me but call me keeping in mind if you love me or not otherwise dont call me back  ",said sirat but she was interrupted by a phone call by kairav she looked at ranveer but picked it up
Sirat : hello
Kairav ; sirat where are you I am waiting for you   you were going to teach me boxing na
Sirat(holding back her tears) : oh yes  kairav I am coming 5 minutes
While kartik was just beside kairav hearing everything and he could make out that sirat was sad . he decided to talk to her when she will be here . while kairav gave the phone to kartik saying papa aap baat karo
Kartik : voh umm sirat  you okay right?
Sirat(looking at ranveer) :  yess kartik i will just come and talk to you
Kartik ;hmm
While sirat hunged up the call but actually the call was still on and shocking to kartik he heard what ranveer said ;
Ranveer: see sirat i told you na this time I won't forgive you
Sirat : i dont need your apology this time ranveer because this time you are wrong , my love is wrong and you know what the conclusion you made   that broke my trust in you and I don't think that this time this relationship is going to  be mended again.bye
While kartik heard everything and he was shocked that the relation of sirat and ranveer was on the verge of ending …he hunged up the call while sirat went out of the house on the way to reach to kairav .
Kartik pov
what i heard was it right ?ranveer and sirat had a fight and its a big one i hope what i am thinking is wrong sirat and ranverr's relationship should not be broken krishna ji please dont bring  out a problem again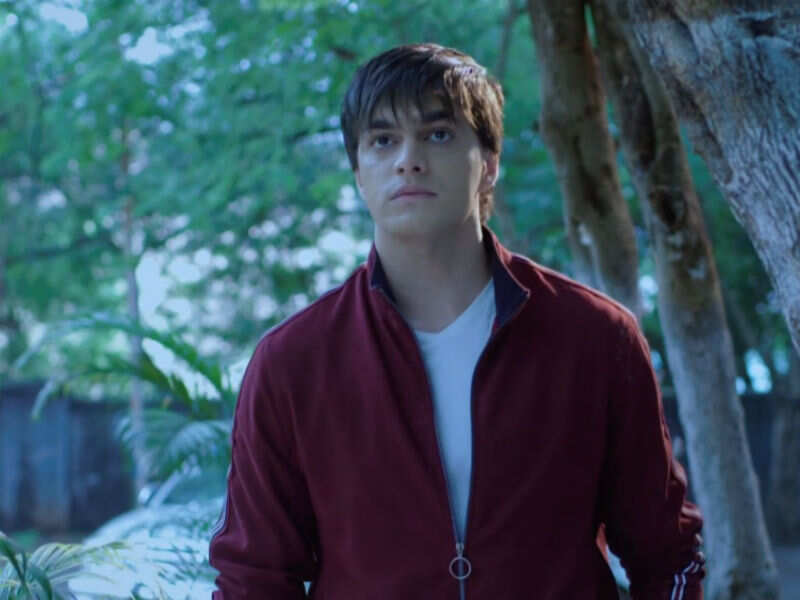 Kartik pov ends
While sirat was going to meet kairav. She was walking but not with a smile but with tears falling from her cheeks and remembering what all ranveer thought about her ;
'what if something is happening between you two'
'you are never home you are always behind kartik alwayss 24/7 from the time we got married'
These words broke sirat from inside learning that ranveer doubted on her for cheating on him it was like the earth turning upside down for her . she was just wondering whether it was her mistake that she could not give him the assurance , was it ranveer's mistake that he did not trust her or was it the fate's mistake that it could not stand both of them being together!!
"why did you do this bhagwan ji why didnot ranveer trust me whyy we just got married i was planning for our honeymoon i even brought the tickets thats why i got late but clarly its of no use now kwhy did he not trust me that line if I was cheating on him is killing me from inside how can someone stoop so low whom should i go to if i tell mauri she will be worried and i cant tell kartik (she remembers the incident when he shouted on her )… whom should i tell this",cried sirat …
While on the other side we can see a girl fighting for her life ;
"we have to get someone who knows her atleast the hospital authority won't allow us to let her stay here more it's been 9 months she is in coma although I am glad that her condition is not deteriorating but its not improving too",said the doctor
"I will search up again sir",said the nurse
"sure go ahead that day when I operated her I did not had any hopes that she would survive but luckily she did and the person is revealed to be ;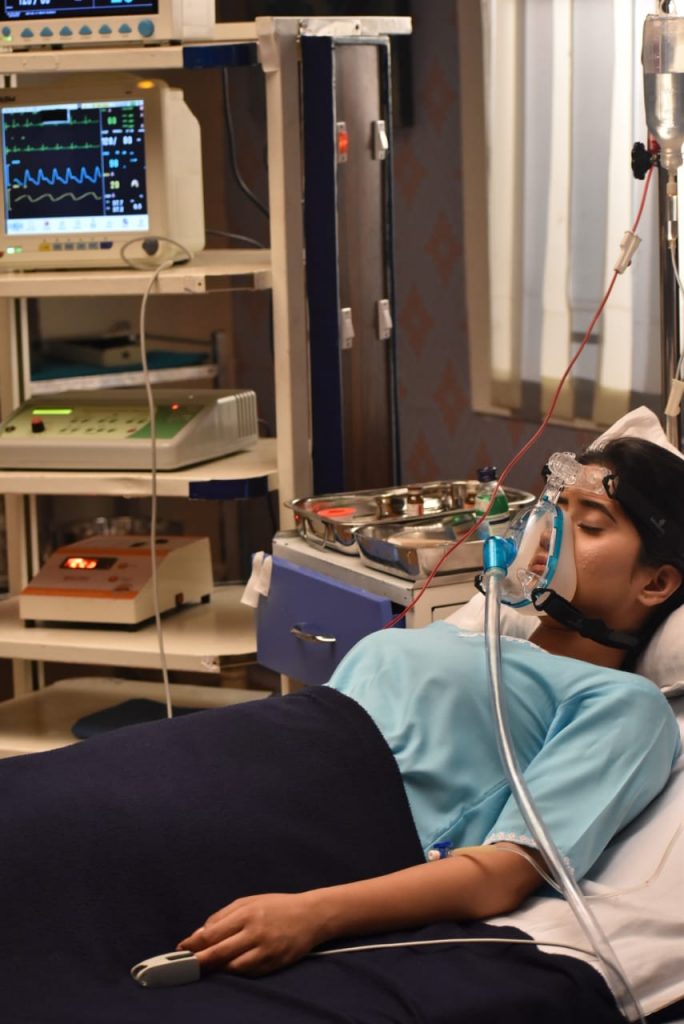 FLASHBACK
The day when naira fell of the cliff she hit her head on the rocks while the angel in her hand broke into pieces . she was struggling for her breath and this was seen by a couple who was trekking nearby ..they hurriedly brought her to the hospital and was submitted in i.c.u . although she was way to critical the statement that the doctor gave in was ;
"luckily she isn't dead but umm she is in coma ..she had hit her head badly due to which she landed in coma and I think she was in depression before and that had too affected do you know her reason for depression that may help us ",asked the doctor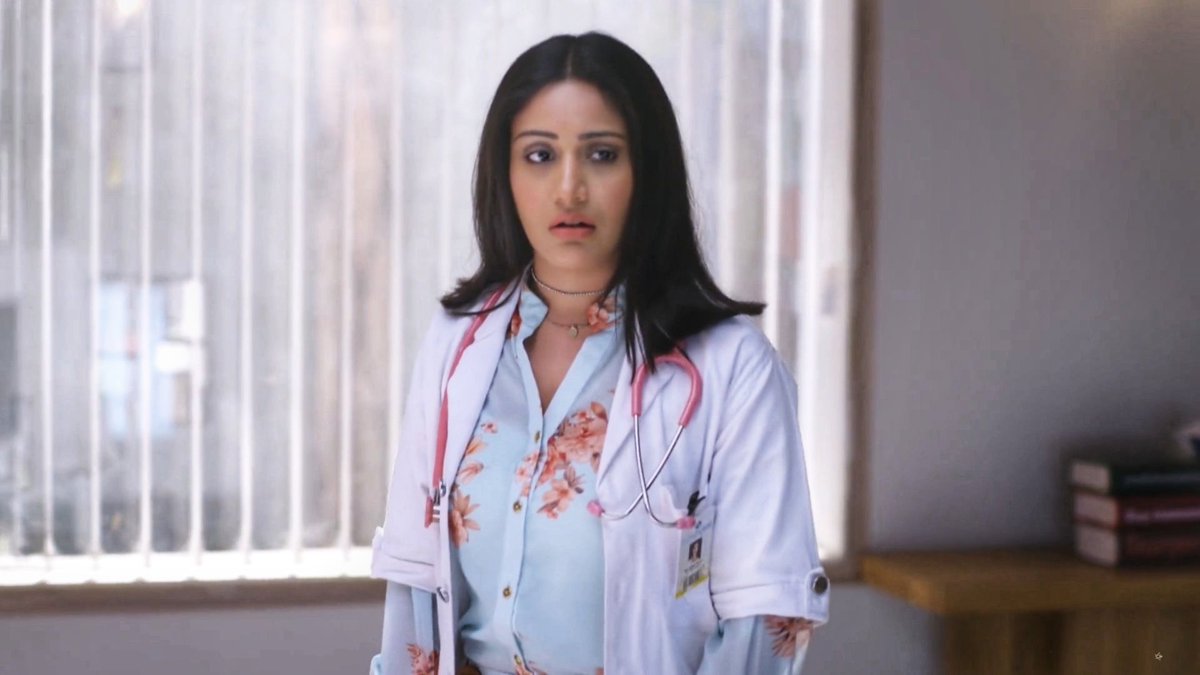 "no doctor moreover we don't even know her we were trekking ad we found her I think she fell off a cliff ",said the couple
"oh we will try to find out about her thank you if it wasn't for you then this girl would have died", said the doctor
From that day onwards naira was in the hospital the bill for the surgery was filled by that couple . from that day the doctors were trying to find her relatives but they did not find anything
FLASHBACK ENDS 
we can see sirat reaching at the resort she wiped her tears and put a fake smile on and went to kairav .
Kairav: sirat you came you took so much of time
Sirat : sorry kairav i am late na lets go come
Kairav: yes!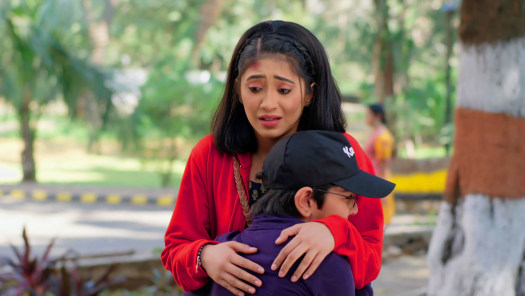 They both practiced boxing while sirat was teaching kairav boxing kartik was just standing in a corner feeling uneasy
Kartik pov
why am i feeling like something is about to happen i am getting a good feelinh also but there is an uneasiness also krishna ji you only tell what should i do i have to spologise to sirat also how should i do it i am not able to understand that
Kartik pov ends
As kairav was new to boxing he was punching while sirat was explaining him how to do it but he was not getting it , it seems. Sirat was trying her best although her mental state was not good because of a big fight with ranveer that just happened . as kairav was punching by mistake he punched sirat with all the power making her fall down . this was all seen by kartik and swarna . kartik rushed to sirat holding her while swarna rushed to kairav asking him to stop .
Kartik : sirat you okay right i am sorry voh kairav 
Sirat : no its okay kartik  I am fine and its not even kairav's fault even when i was learning boxing i also punched my coach a thousand times
Kairav ; sorry sirat by mistake ho gaya
Sirat : its okay kairav
Swarna : sirat you change your dress its torn a bit from the side
Sirat ;yeah kairav ill just come till then you also take rest
Kairav :yes sirat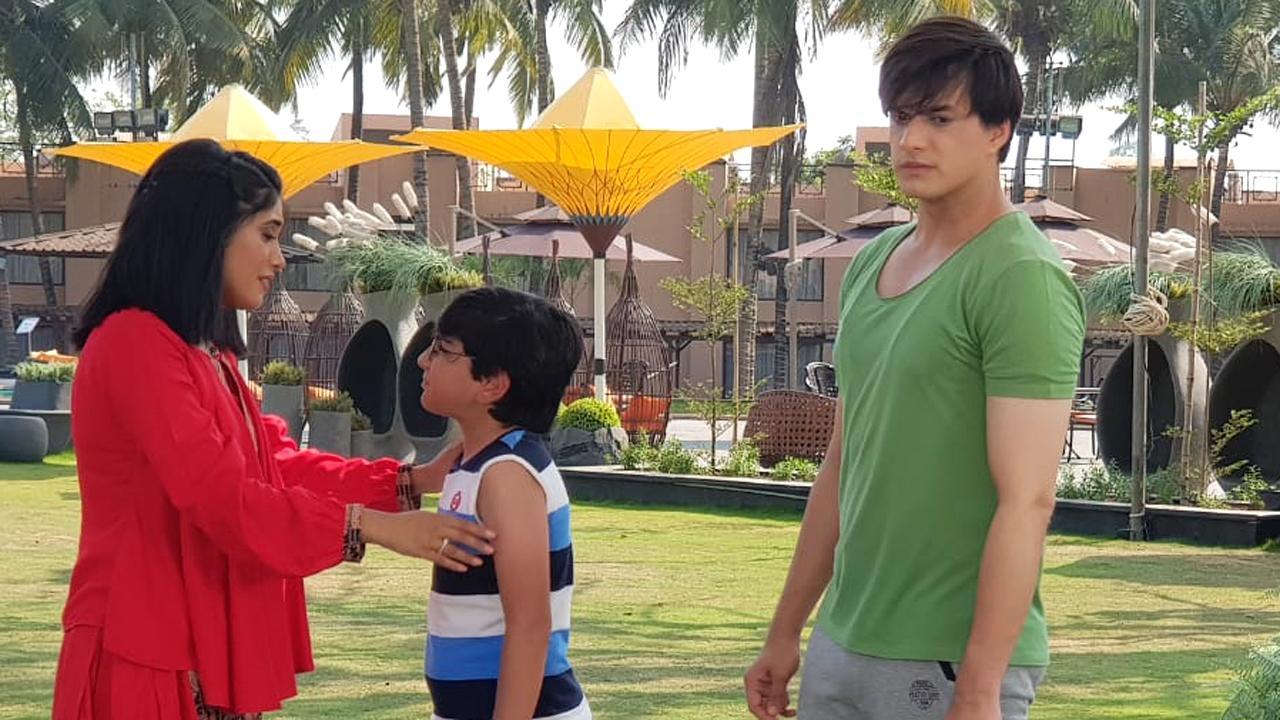 While kairav went to drink water sirat changed in the room while kartik thought to go upto sirat asking her for forgiveness he knocked the door and came upto sirat
Kartik : voh sirat I am sorry
Sirat : aree kartik its okay i told you na even i have punched my coach a thousand of times so no problem
Kartik : not for that sirat before i told you so much shouted at you…
While sirat remembers the incident . she was truly hurt but she just ended the matter saying its okay she might have gone overboard also …
Kartik : no sirat maa told me it was just because of dadi I am so sorry
Sirat: no kartik its okay and also its finished na close the topic
Kartik : hmm
Sirat : can i speak something kartik
Kartik : yeah why not
Sirat : yours and naira's love was really very true
While kartik just smiled to it …
Kartik : so when is your and ranveer's honeymoon planning?
While sirat's smile faded which was noticed by kartik . he was sure by now that whatever he heard on the phone call was true .
"did something happened between you and ranveer?",asked kartik suspiciously
"no not at all ",said sirat hesitantly
"if you consider me as your friend then why are you lieing ?",said kartik
While sirat knew that now kartik knows something ;
"voh kartik nothin has happened its just a small fight and nothing else you only told me na that even you had fights with naira its just small ",said sirat
"even we have fought sirat but in that same fight we dont say that you have broken my trust now will you tell me what happened",said kartik
"see kartik the fight between me and ranveer will get sorted please"said sirat
"no sirat tell me the matter whats wrong what happened till yesterday kal tak toh you guys were totally fine did he do something or what?",said kartik
"kartik listen we will sort out the matter before alsoo …",said sirat but she stopped as she realized what is she saying
"before also what do you mean by that …you guys have fought before the wedding and not tell me a single soul about it !!",said kartik
"dekhiye kartik we did not want to disturb you it was our matter and it got solved and this one will also get solved ",said sirat
"okay if you say sobut remember this sirat that if something happens you will tell me first promise me this..",said kartik
"umm promise but please dont tell mauri about this she will get tensed  ",said sirat
"hmm but the matter is not serious right?",asked kartik
"i dont know",said sirat cluelessly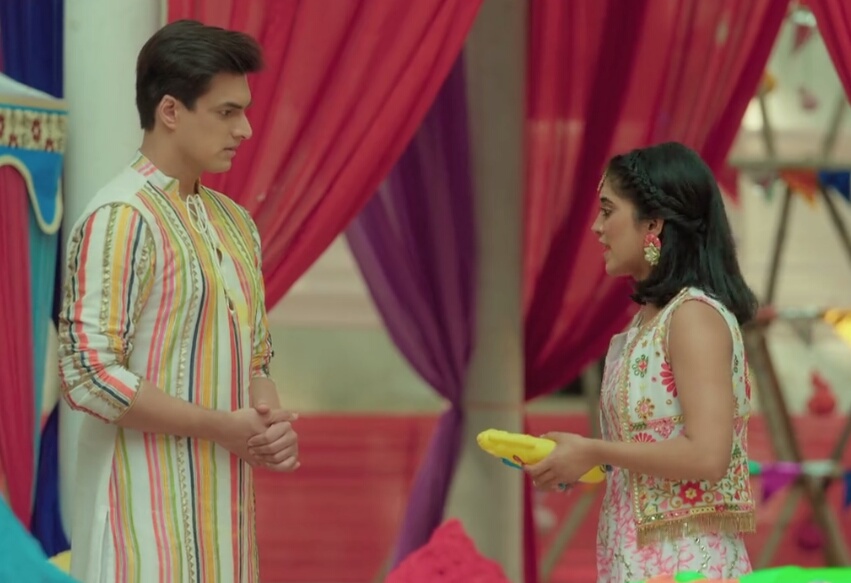 "I hope everything gets fine soon I wont interfere much in your fight varna It may make it worse also ",said kartik . saying this kartik went outside the room
Inside the room,
"its very sirat kartik and its a very big fight  i told you that it will get solved but this time i myself dont know if this will get solved why  ranveer why don't you trust me whyyy",cried sirat and left the room
Unknown to her there was someone with evil intentions over there and It was rhea . she was the one who was trying to break sirat's and ranveer's relationship why because she wanted revenge from sirat as the day when kartik said that for him rhea doesn't even exist from that day onwards rhea thinks its all because of sirat . rhea is the one who is actually putting these things in ranveer's mind just like mitali did to kartik . she recorded first kartik leaving the room and then sirat and send it to ranveer through an unknown number !!! 
precap: miracle !! history to repeat !
                                                                           ************************
hey peeps!! that's it for this chapter!! hope you all like it !! do comment and let me know your reviews 🙂
hope you like the chapter !