Hello Everyone!
Riddhima's P.O.V:
I was sleeping peacefully taking my beauty sleep but some sun rays came directly to my face breaking my most precious sleep. I woke up lazily with irritated face and saw a most handsome face of my life. Vansh and I were sleeping cuddling each other just then reality hit me hard. I was sleeping in his embrace but why.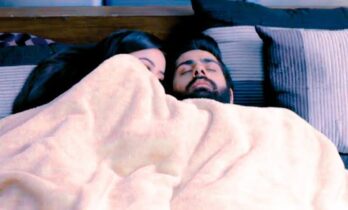 Then yesterday's incident came across my mind where Vansh ate that poisoned watermelon which was meant for me and I panicked. I kept my hand on his forehead to check his temperature and sighed relief as the temperature was normal.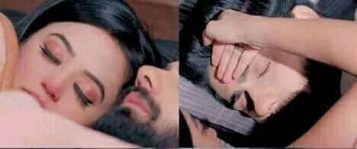 Looking at his face a small smile crept on my face. How can someone is able to be hot, handsome and attractive at same time , aww.. look at his cute chubby cheeks I just want to kiss and bite them.
Wait What? Riddhima you are becoming pervert these days. Lekin abb main kar bhi kyaa sakti hun Jab mera pati itna hot aur handsome hai (what can even I do when my husband is so much hot and handsome)
Me: I love you❤
Vansh: I love you too.❤
He said opening his eyes to meet with mine. I looked him while Vansh pulled me closer kissing my forehead we both again slept hugging each other and it's quite & peaceful sleep after being in my love's arm.
Dua Bhi Lage Na Mujhe
Dawa Bhi Lage Na Mujhe
Jab Se Dil Ko Mere Tu Laga Hai….
Neend Raaton Ki Meri
Chahat Baaton Ki Meri
Chain Ko Bhi Mere Tune
Yun Thaga Hai…
Jab Saanse Bharu Main
Band Aankhein Karun Main
Nazar Tu Yaar Aaya….
Dil Ko Karaar Aaya
Tujhpe Hai Pyaar Aaya
Pehli Pehli Baar Aaya Oh Yaara….
Dil Ko Karar Aaya
Tujhpe Hai Pyaar Aaya
Pehli Pehli Baar Aaya Oh Yaara…..
So it was a small piece of drabble on Riansh hope you'll liked it. Do leave your reviews in the comment section and do shower your love.