hello dear readers..here is the 11th episode.. thank you all for supporting. And special thanks to Kanika ,kaira fan, ishana and sneha for your support… and please do tell your views on this episode too..
Kartik and naira hold their hands together and walks..
Kartik:from when did you fall for me?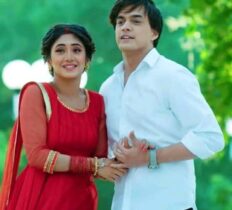 Naira:i don't know..but at the 1st day atself you became my crush but due to some misunderstanding i fought with you and later became close again and have fallen for you. But i realised my love only today morning..
Kartik:waah..so love at first sight. Always we men's used to be like that but you changed the story..
Naira: anyways..how did you fall for me?
Kartik:even i don't know. Whenever you come closer to me..i get heart attacks and i don't know what was the reason but even i realised my love tody morning only..
Naira:wow..we are one of the couples who have confessed immediately after realising the love.
Kartik suddenly holds her waist and pulls her closer..
Naira:kartik..

Kartik: as we are doing differently from others..we should give our relation too a different name..
Naira thinks and smiles..
Naira:then i will name it..kartik+ naira= kaira… isn't it unique?
Kartik kisses her cheeks immediately making naira red..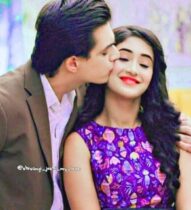 Kartik:you are genius naira..i really love it..kaira..wow.. wonderful name.
Naira smiles..
PARALLEL SCENE
There was a open dhaba and Anurag have made Prerna hide under the table which is covered with cloth and he and teni are sitting above the table and enjoying icecreams..
Teni whispers:brother..who is this women whom are you helping?
Anurag: actually..woh..she..she is my student Prerna.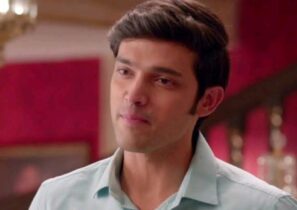 Teni whispers:is she just your student or do you have any other relation too?
Teni giggles while Anurag thinks about Prerna and..
Anurag whispers: actually.. actually i have fallen for her too but dint confessed yet as i realised yesterday night only.
Teni whispers:wow..then i can tease you in the name of your lover hereafter..
Anurag:shut up.. okay.
Teni :then see..now i will tell it louder..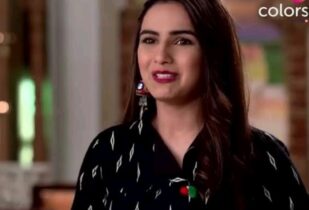 Teni:Prerna di..
Anurag shuts her mouth..
Anurag:be quiet na..i have bought and given you icecream but trying to do injustice.. isn't it unfair?
Teni:but you brought icecreams for hiding your words..so if i don't want to tell it louder then bring me a juice bhai.
Anurag:teni ki satan..
Teni:yes iam..
Teni giggles while Anurag brings and gives her juice and suddenly Niel comes there and gets shocked seeing teni and Anurag..
Niel:you both here?
Anurag:nice to meet you inspector. We came here to spend some fun time as it is Sunday..
Teni:yes..by the way i missed you so much mr.handsome officer..
Niel bites his teeth in anger..
Niel:stop calling me like that you chatterbox..
Teni:then..ok mr.Hot officer..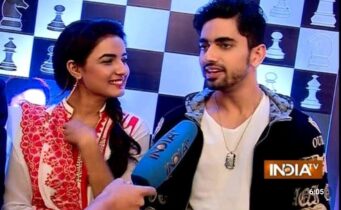 Niel:you..
Teni:yes..it's me only mr.Hot officer..
Teni laughs while Niel gets irritated..
Anurag:sir.. don't mind her..she is like that only. Atleast you are facing her somedays only but we are facing it daily.
Niel:i don't know who is your lucky jijaji who is going to handle your sister for whole life. Infact if he does then i should reward with noble prize only..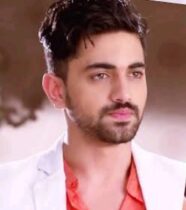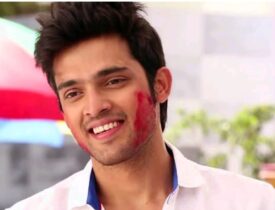 They both giggle while teni gets frustrated..
Teni:bhai..then i will tell what you told in the car to bhabhi when you get married if you make fun of me.
Anurag holds his ears..
Anurag:acha..sorry meri pyaari choti sister..
Niel smiles at them..
Niel:you both are so sweet siblings.. anyways enjoy your trip. But tell me did you see any girl with red and black salwar kameez here?
Anurag and teni stares each other and..
Anurag and teni:no..we never saw such type of girl.
Niel:ohh..that's sad. Ok..bye..iam going. Enjoy nicely..
Niel goes while both of them laughs and Prerna comes out..
Prerna:uhfff..thank you so much Anurag sir. And that you sister..
Anurag:arrey..what's this formaliity? And please don't call me as sir..as iam just sir inside that college campus and not here..so just call me Anurag.
Prerna:but..
Anurag:if you find difficult then we will be friends..so can call me as Anurag.
He forwads his hand..
Prerna in mind:ohh godd..i..i love him but he is just asking for friendship..now what will i do? Arrey idiot Prerna..first accept the friendship then slowly make him your lover.
Anurag in mind:i will make you my lover slowly by making you my friend.
Prerna shakes hands with him..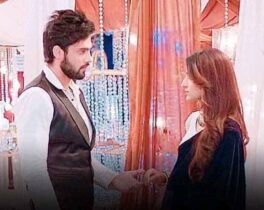 Prerna:ok..we will be friends si..i mean Anurag.
Anurag smiles..
Anurag:great..
Teni:wow..my bhai befriended a girl for first time in his lifetime history.
Anurag stares her while Prerna laughs..
Prerna:and by the way..what's your name sister?
Teni:iam teni Goenka. Anurag's younger sister..
Prerna:nice..
Anurag:by the way..who is that inspector and how is he related to you?
Prerna: actually he is my friend naira's cousin. And even my bhai is friend of naira's bhai..so we all joined together with naira's family for a trip..that's why we are playing boys vs girls.

Anura:wow..cool..
Prerna:you also come and join..
Anurag:ho..how can i??
Prerna: arrey..you are my friend na..so common..

Anurag:ok..as you insist.
PARALLEL SCENE
Naira:kartik..
Kartik: actually tell me what were you playing as hide and seek?
Naira: actually my family along with my friend Prerna and her brother Arjun who is my bhai's childhood friend and neighbourn sisters who also bonds well like our own family have joined together and came here as short picnic..so we were playing boys vs girls..
Kartik:wow..nice..
Naira:you too come and join.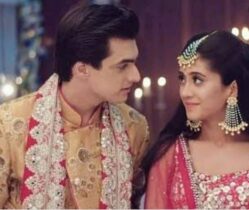 Kartik:but how can i? Nobody knows me..
Naira:you are my lover..so i will introduce you so don't worry. Already bhai and my parents knows that i love you..they only dint see your face that's all.
Kartik:ohh..then my own work is reduced.
Naira:huh?
Kartik:arrey..i shall not make efforts to convince your parents as they have already accepted.
Naira:your parents?
Kartik: my mum and cousin bhai knows it..
Naira gets excited and hugs kartik..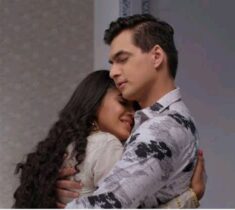 Naira:wow..then we are the luckiest couple as our parents approval is already there so we don't need to worry for any problems..
Kartik kisses her forehead and..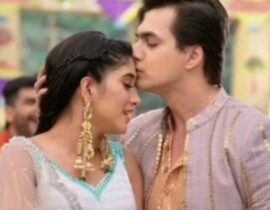 Kartik:yes..you are right jaaneman..
THE SCENE FREEZES.
Naksh and Niel comes face to face with dull face..
Niel:naksh..did you find naira?
Naksh:no..i searched her everywhere but i couldn't find.
Niel:even i couldn't find Prerna.. only 1 minute is left.
Naksh:iam sure we are going to lose.. atleast lets see whether Arjun finds Keerthi and Maya.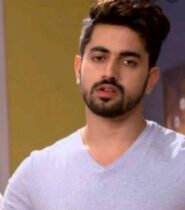 Niel:yes..
PARALLEL SCENE
Maya and Keerthi are hiding behind a truck..
Keerthi whispers:i hope no one finds us.
Maya:they can't find us.. don't worry.
Arjun comes across tht place amd..
Arjun:hello..my dear maya and my sister in law… please come out of my sight na. If you both come out then I'll take a family trip including you to London..so please don't trouble me by hiding.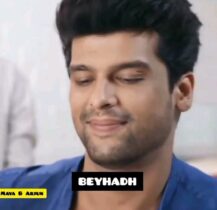 Maya and Keerthi giggles silently..
Arjun:arrey..you both are drinking my energy..iam sure iam going to faint in some minutes. I'll better go and drink juice instead of searching you both as anyways i know iam going to lose..
Arjun goes from there while Keerthi and Maya laughs and they do hifi..
Maya:my bf is as lazy as he was before..i knew if he comes to search us then he won't find us even if we hide openly as he always finds time to eat food.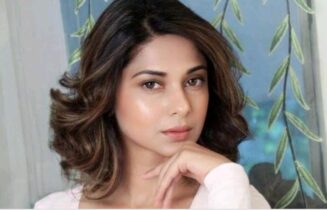 Keerthi:i really couldn't control my laughter when he tried to make us come out by blackmailing di..
They both giggle and walk and suddenly they hit kaira and gets shocked..
Keerthi:naira..
Naira:Keerthi di..woh..he is my boyfriend kartik.

Maya:ohh..that's why naksh was mentioning as kartik when he was making fun of you…
Kartik:hey guys.. please don't take us wrong. You both are acting as if you will beat up your sister..
Keerthi and Maya laughs..
Keerthi:woh..how to call..kartik bhai.. actually naira is our neighbour only but we bond as a family so i consider her as sister and by the way even her own brother has no worries about your love then why will we?
Kartik:wow..nice bonding. If you are my lover's sister then you are my sali..so i will call you as Keerthi sali.
Keerthi:wow.. now atself you started naming the relation it seems.. don't be so desperate bhai..

Maya:yes..naira is our special sister..so we won't let her get married soon..so be patience.
Keerthi maya and naira laughs..
Kartik:arrey don't tease me na.. anyways she is going to be my wife one day..that's why i named.
Maya:then you should name her two brothers first as they are her own and cousin brothers as we are just neighbour sisters.
Kartik:then they are my saale saab.
Naira:great..ok come we will go to them. Now they would be sitting sadly as they have to buy and give us our favourites..
Maya:us..yes..we should ask all our favourite foods.
Kartik:ohh my godd..you girls are so cunning.
Naira hits kartik..
Naira:shut up kartik..it's a game. We challenged boys that if we win then they should buy and give whatever we ask..that's why.
Kartik:ohh..cool..
Suddenly Anurag teni and Prerna comes there..
Anurag:hey kartik..
Kartik:bhai..
Keerthi and Maya gets confused..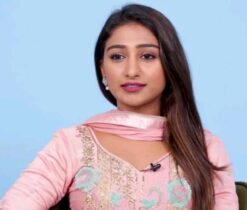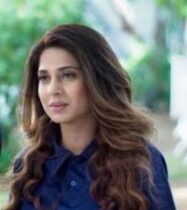 Maya:who are they and how Prerna is with them?
Kartik:maya saali..he is Anurag and teni..my cousin brother and sister.And Anurag bhai is Prerna and naira's professor too..
Anurag: correction bro..now i and Prerna are friends as i helped her.
Keerthi:cool..and by the way we are naira's neighbour sisters. We came along with naira's family for a short trip.
Anurag:glad to meet you all..
Prerna:wait..kartik..why did you call maya di as saali?
Keerthi maya naira and kartik giggles..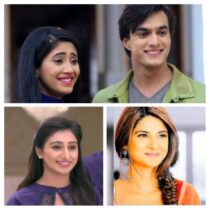 Keerthi:we are like naira's sisters so he should call us saali only na after he marries naira..that's why he is calling nowatself.
Anurag Prerna and teni gets suprised and shocked too..
Anurag:waah.. brother..so you proposed her?
Kartik:yeah..
Teni throws stones on him..
Teni:what's going on bhai? Am i not your sister? Why didn't you tell anything about your love story huh?

Kartik punches Teni's cheeks cutely and..
Kartik:iam sorry miss.chatterbox queen..i..i myself realised morning only..that's why couldn't inform you..iam really sorry.
Teni:fine..but sorry will be accepted only after you buy and give me chocolates.
Everyone laughs while kartik and Anurag stares each other..
Kartik:your sister na..
Anurag:even before sometime i brought her juice as she blackmailed me too..now it's your turn.
Teni:kartik bhai..common go fast and bring it soon..
Kartik goes and buys chocolates while teni and Anurag bonds with three girls(Keerthi ,maya, Prerna and naira)..
Teni:then from now..i shall call naira di as bhabhi..
Naira blushes while everyone teases her..
Prerna: woah..my friend is blushing.
Keerthi:naira.. don't blush so much orelse your kartik will get heart attack if he sees you.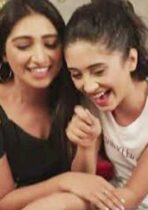 Naira smiles while kartik brings chocolate for everyone and gives to all..
Maya:arrey.. what's the need? Anyways thank you..
Kartik: we are like brothers and sisters.. so it's needed to satisfy my brothers and sisters.
Keerthi:you are right bhai. By the way.. your GF..is blushing so much whenever we use your name.. what did you do?
Kartik looks naira smiling and he too smiles..
Kartik:i gave her love poison.. that's why.
Everyone laughs while naksh Niel and Arjun comes there and gets shocked seeing kartik and Anurag with them..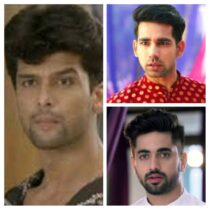 Naksh in mind: this guy.. this guy said he dint see naira when i enauired him but he now he is enjoying with naira and our gang..
Niel in mind: this man and that stupid girl told that they never saw Prerna but they are now standing near along with our gang.. what's going on and who are they to our gang?
Naksh:ohh hello ladies..what's going on? And mister..you are enjoying with the same girl whom i was searching for..
Niel:yes even you too sir..(pointing Anurag)
The others laugh and..
Naira:bhai..he is not mister because he is my boyfriend kartik. And when you was asking about me to him..i was there right in front of you as a doll and he was acting as a customer.
The three men's gets shocked..
Anurag: and by the way..mr.hansome sir..
Niel:huh?
Anurag:ohh..iam sorry..i don't know your name that's why i copied my sister's dialogue.
Niel:iam sorry for not telling my name..iam Niel Singhania. You can call me even a dog But kindly don't call that awkward name which your sister calls..iam really feeling awkward.
Teni: fine.. then i will also not call like that as you feel awkward mr.Awkward sir..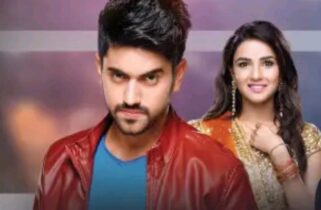 Niel bites his teeth in anger..
Niel:you..
Anurag:ok..ok..calm down both of them. Now i will tell the truth.. infact Prerna is my student and now turned into a friend. When you asked me about a girl..i clearly know that you are searching for Prerna only as she was hiding just under the table which we were sitting and we were helping that's all.
The three men's gets shocked..
Keerthi: now you all lost..so go and get us ice Creams.
Maya:yes.. Arjun..you never did any work to find us as you was enjoying eating alone. So go and get those items for us which you enjoyed alone.
Prerna:i need popcorn..
Naira:i need kachoris..

The three men's gets angry..
Arjun:stop it you frauds..naira and Prerna cheated with that two new comers. So we won't buy for them..
Naksh:yes..Arjun is right.
Kartik goes and hugs naksh..
Kartik:i heared that you have accepted me saale saab. Please don't get angry like this..as it's bf's duty to help GF na.. so fulfill your sister's wish.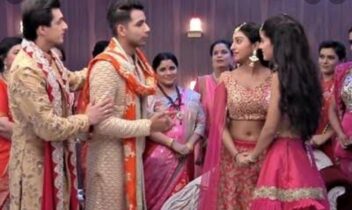 Naksh:hey.. wait a minute.. just morning i made naira realise her love then how come..
Anurag:ji..iam kartik's cousin brother. Even i made kartik realise his love morning only but they proposed immediately when you was searching..
Arjun:kya? Naira loves kartik? What's going on..i don't know anything.
Naira:sorry brother..i dint tell you anything as i myself realised my love morning only.
Niel:hey monkey.. what about me? I was there only in home right..
Naira does sit ups..
Naira:iam so so so so sorry my both bhai's..as we planned for a trip i thought to tell after we come back but unfortunately kartik too came here and we..
Everyone laughs at her cute antics while naksh Arjun and Niel smiles and hugs her..
Arjun:ok..we forgave you.
Niel:yes..but my views is..
Kartik and naira gets tensed..
Niel: the worst proposal ever..why did you propose in unromantic way? You could have pre planned and decorated the place beautifully and proposed..if you want..you could have asked us also..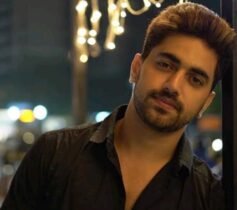 Kartik comes there and..
Kartik:Niel saale saab..but we don't need such decorations to express our feelings..as our beautiful feelings atself make the atmosphere too beautiful. I and naira couldn't control our feelings..so we expressed it.
Naira:and also i dont know to act like heroines to hide feelings for long to suprise the hero..so once i found my feelings i expressed.
Niel hugs kartik..
Niel:i feel so happy..you are right and different too.
Kartik and naira: because we are kaira…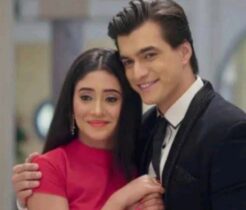 Everyone gets suprised while naksh and Arjun too hugs kartik and naira..
Arjun:i won't question you as my sister's selection won't be wrong but still i will give you warning..
Prerna: enough bhai..it's not Time to give warning as kartik is not taking away naira nowatself..so please let them in peace..
Maya:haan.. rightly said.
Arjun:oii..guys i was just going give warning that to keep Naira always happy and satisfied but you all are warning me as if iam warning for naira's baarat.
Everyone giggles and naksh hugs kartik..
Naksh: welcome to our gang jijaji. Iam just giving you one advaise..she always sleeps cuddling and kicking her mother..so try to practice nowatself to bear her for whole life.
Naira stares angrily while everyone laughs..
Naira:bhaiii…
Naksh: what? I said the truth only na..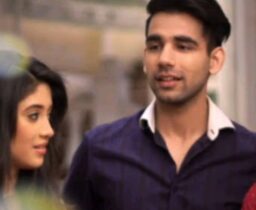 Kartik smiles..
Kartik: don't worry saale saab..i can bear anything whatever naira does for whole life.. not only this birth for every births.
Naira blushes while everyone smiles and later Anurag and teni too gets introduced with naksh Arjun and niel..
THE SCENE FREEZES.
precap:- Fun party. Naira cries..