The game of cheat, war and love #Rinash Character Sketch
Hello guys. Here is the new ff of mine. I hope you like it and you could find it different than my other ffs. I'm trying my best to do different stuff with different events. So let's start with the character sketch. Do tell me your opinion on the comments.
So let's start with the characters:
Vansh Rai Singhania: He is a businessman and the owner of the most famous company in the country which is VR company. He is the owner of the whole VR business and he handles it very perfectly. He is a person who doesn't trust anyone at all. He doubts everyone very much and he always control all the people around him. He is so strict at the business matter and have a different shade with his family. Everyone fears from him and no one could be able to say no to him. He has a biggest enemy and business competitor to him that he do his best to get rid of him. He has a past that makes him feel guilty and blame himself for it.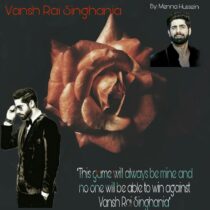 Riddhima Khana: An orphan girl who is living with her best friend Ishani in one house together. She is an employee at Vansh's company. She is working their for 3 years. She is Vansh's personal assistant. She fears from him a lot and they aren't having any friendly talking. She is a sweet and innocent girl who fear from everything and everyone. She is alone and don't talk a lot. Everyone thinks that she is so fool and anyone could rule her with the way he/she wants, but they don't know that her quietness could have another form. Her life will get turned when she will be offered a thing that is so dangerous to her and will not make her life be simple as she used to it.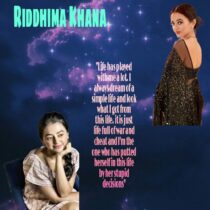 Kabir Sharma: A very successful businessman who owns a company who is against Vansh's company and they are always in a competition. He hates Vansh so much. Hate that it is more than because of just the business. There is something more than this that makes him wants to destroy Vansh completely. He is planning so many games to destroy Vansh with it which Vansh don't know anything about it. He knew Vansh's weak points and he knew how to use it and when. He is a smart man who has his own motive.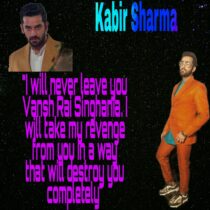 Ishani Korana: Riddhima's best friend who is working as a physiotherapist. She is elder than Riddhima with 2 years so that's why she cares about her as if she is her daughter. She is also an orphan and she is living with Riddhima at a house that they both have bought it when they started their jobs. She loves Riddhima a lot and she is her supporter. She always see her a strong girl not like she always show to people. She feels that she don't know everything about Riddhima as she is feeling that Riddhima doesn't show everything she owns it inside her. She also loves someone secretly.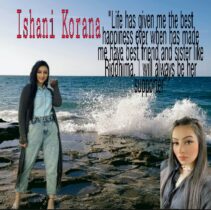 Angre Rai Singhania: Vansh's cousin and his right hand who Vansh trusts him so much and depends on him. He is working with him at VR company. He loves and respects Vansh so much. He sees him his idol and role model. He could do anything just for Vansh. He loves and cares about his other cousin as well and he has a good bond with her.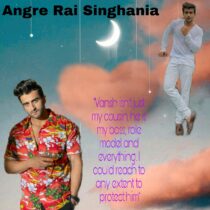 Ahana Rai Singhania: The only sister of Vansh and she is carefree as Vansh is not making her be missing anything. He gets her everything and cares about her a lot. She is a fashion designer and she loves moda and fashion so much. She has a very strong bond with Vansh and Angre and she wishes that she could vanish Vansh's sadness and guilt.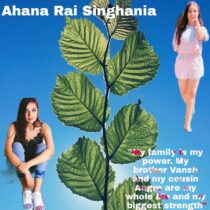 Andrani Rai Singhania: Vansh, Ahana, and Angre's dadi. She is the one who connects the family together as her sons and bahus aren't at VR mansion so she is the one who handles everything related to the house. She loves her 2 grandsons and granddaughter in the same way. She wishes that she could make them get married especially Vansh as he is the eldest.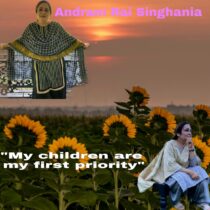 Siya Sharma: Kabir's sister who has so many mysteries behind her and her attitudes. No one knows anything about her and Kabir is doing his best to not make the media sees her or gets any information about her. Some people say that she is dead. Her life has so many mysteries that is connected with other people. No one knows if she is alive or not and Kabir never talks about her.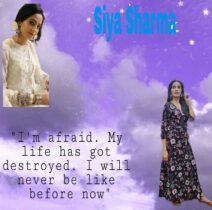 Aryan Malhotra: Riddhima's co-worker who works with her at VR company. They share a strong bond. He trusts her a lot and he treats her as his sister. He feels that she is hiding something very deep and is related to her, but he doesn't like to ask her. He protects her so much and cares about her. He will help her in so many stuff and will have an important role in fixing some stuff in her life which she has destroyed it by her own. He is close to Angre. Regardless that he is an employee at the company, but still he is a close friend to one of the owners of the company which is Angre.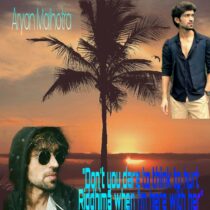 Giyatri Mehta: An employee at VR company who loves her job a lot and she fears that anyone could take her place at the company. She feels jealous from Riddhima because at the last year she starts to take more positions and respect at the company and this makes her afraid that this could affect her place at the company. She could do anything just to protect her position. She wants to always be the one who Vansh trusts her at the company.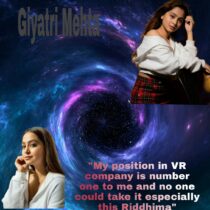 The end of the character sketch. I hope you like it. I didn't have putted all the characters as this ff is concentrated more on the main leads so it doesn't need so many characters. You will understand that more during the episodes. If I needed other characters, I will add inside that's why I didn't talked about whether Vansh's parents are dead or not as we could need them afterwards. Let's see what will happen next. Wait for the upcoming episodes as I'm really doing my best to make it different and contains on it different themes and different motives. Be patient and bear what you will read and trust your author. I know that still I didn't have reached to my special target on the last episode of the previous ff and this is making me sad, but I was really missing updating ffs especially that much time has passed. I hope you could make me succeed in reaching to my target here. My target is to reach to 42 comments( excluding my comments). I hope that you all could make me reach to my target so I could be encouraged to update the 1st episode. The upcoming episode will be published depending on all of yours respond. The next episode will be published when you all could make me reach to my target here. I know that you are all very supporters and you all will help me in reaching to my target. And yeah thanks for my dearest sweetie for the front cover of the ff. And yeah the edits that has done for the characters are mine. I have tried to enter the world of editing so I hope that it went good. Do tell me your opinions and point of views of what could happen next on the comments. So please guys keep supporting me the way you are doing. Please guys don't forget your feedback in the comment section below.