Thankyou Zindagii (Ashlok FF) – Episode 5 (ScareCrow Death)
Recap: The poison from the capsule enters into the soil and it spoils the whole garden. Iti reminds Yug's past through a magical bubble. Astha finds something fishy is going in the house. She finds Veer's diary and comes to know he is one of the two doctors treated Bhabho. His pen is filled with blood as ink. She further finds Krishna's cassette and gets horrified.
The episode starts with,
With a hussy voice it starts as "I'm Dr.Krishna Sharma. This place is not safe for humans. I came here for fulfilling my revenge. But my death has neared me. I don't know whether police could find the cassette. If so, I would admit that this place is full of evil spirits and another one creature in the drawing room." A voice screams loudly in the  cassette and then there is a scream in Krishna's voice. Horrified Astha throws the cassette away. She gets reminded of the blooded leg , garden's horrible look and that included with the scary noises in the cassette. (she is sitting in the storeroom's secret side). She says to herself, "I should inform this to police. Also, I should seek justice for Dr.Krishna. Bhabho seems to be a fraud."
The blankets in the shelf falls on Astha. The same noise is again heard by Astha. Sandhya appears there and holds Astha's neck. Sandhya's look changes into a ghost one and she scares her.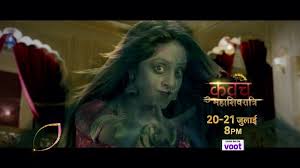 Astha screams but none could hear her voice. Bhabho and Shlok are speaking their fables. Astha's leg is tied to the ceiling and her head is pointed at bottom. Astha screams louder. Sandhya says, "You're sinful. You are supporting the doctors who treated my mom. They deserve death. Finally you know the truth, you too deserve death. I spare you as you're not at mistake. But not anymore." She smirks. Arun and Devguru reaches there and stops Sandhya. Sandhya didn't stop. Arun says, "She is the one who raise our Yug hereafter. We have to protect her but you are going to kill her." Devguru says, "Sandhya, please stop it. She is innocent. You can make her forget what had happened earlier." Sandhya comes back to her normal state. She spells a magic on Astha so that she could forget what had happened to her earlier. Sandhya takes Astha to the place where blanket fall on her.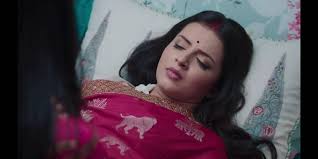 Arun, Sandhya and Devguru leaves the room. Astha gets consciousness and she takes the cassette and moves to her room.
Shlok comes to the room. Astha asks, "Shlok, where were you? I could not see since morning post cleaning the terrace." Shlok – "I should ask this to you, Madam. You were roaming around this house since morning but you didn't see that Bhabho and I are releaxing at living room. What are you doing in the store room?" Astha (strucks) – "Actually, I was searching for my earrings which I left somewhere else. Now I found." She points her earring and smiles at him. Astha – "Do you feel any supernatural spirirts roaming around here and there?" Shlok laughs – "You're too much. But I too feel like that." Shlok thinks something and takes his phone and go through something. Shlok – "Astha, this app EMF GHOST DETECTOR could find whether ghost is existing here or not?" Astha laughs at him. Shlok is mesmerized by her beauty and he kisses her cheeks suddenly. Astha is surprised by his gesture. (Ae Dil Hai Mushkil tune plays)
https://www.youtube.com/watch?v=IVE-qL5q9MI
They had a temporary eyelock. Astha asks, "Have you lost it? Basically if there is any ghost spirits, people would call church father, priest from Goddess Durga Temple and they would conduct yagna and they would control. But you are using one phone application. Mad." Shlok – "My friends had used this earlier when they gone to a forest house. There something supernaturally happens and then they used this app and detected the ghost presence. Then they ran away." Astha looks at him weird. Shlok – "Open this app first. Then if you point this towards someone or someplace, it will show some dots. If there is 1-3 dots, then there is no problem. If the dots exceeds more than 3, there is a spirit." Astha smiles at him again but agrees to his plan. Shlok points at Astha, 2 dots are shown and vice-versa Shlok gets 2 dots. Bhabho gets 3 dots. Bhabho looks at them confusedly. They tested similarly in drawing room (infront of door), storeroom, kitchen, garden and it gets less than three dots. They go to the terrace. It shows five dots. The four spirits are roaming the terrace and they looked at the couple confusedly. Astha and Shlok smiles  seeing the phone but inside they are horrified and goes to their room. Astha – "Something is wrong in the terrace." Shlok and Astha runs fast to the main gate of the house. They point their phone infront of the door. It shows 12 dots and their phone hangs (I'm not sure whether 'hangs' is the right word, its meaning is the phone is not working for sometime) Shlok – "This is the usual problem of my phone. It got hanged. What the hell." Shlok and Astha gets inside.  Astha thinks of  the incident that happened in the storeroom, "I remember everything happened in the storeroom that someone tied my leg in the ceiling and face faces the ground and even she shouted at me. Also, she spells some magic on me to forget everything but nothing works on me. How could it be possible?" The lotus given by Yug to Astha (previous episode) falls from her waist.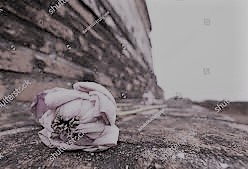 The next day,
Astha is sitting in a park, go through something in her phone. A girl pats her. Astha looks at her and she hugs.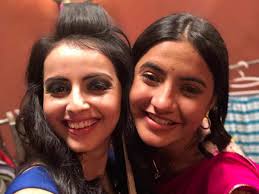 Astha – "Thank you so much, Vidya for making your time for me." Vidya (Meera Deosthale) – "You and I are besties of college. How could I refuse to make time for you in such a horrible situation? Meanwhile, you chose a wrong place for job." Astha becomes dull. Vidya asks, "I am the English teacher of this area. I know almost every happenings of this place. What do you want to know?" Astha – "I want to know how the society thinks about Mrs.Santosh Rathi and her house." Vidya – "She was one of the most respectable ladies of this area and her late family was also renowned. But now nobody wishes to meet her. She is mentally unstable and her son Kapil is an International level playboy.  Two doctors treated her earlier. Both of them are no more." Astha – "Is their death a natural cause?" Vidya – "How could you think like that? They both are clearly murdered mysteriously. Even their family was not allowed to look at their body or to perform last rites." Astha – "How could I know about them more? I read Veer's diary but nothing is mentioned  properly and whatever is mentioned well is torn like some animal ate the book." Vidya – "Also, there is something apart from spirits what you are mentioning." Astha – "How their bodies are identified?" Vidya thinks. Vidya – "Veer was covered by some clothes even his body could not appear. He was tied as scarecrow like that." Vidya shows a scarecrow in the fields.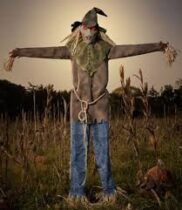 Vidya – "Krishna is also in the same manner but something more is happened to Krishna. I am pretty sure about that." Astha – "Is it your guess?" Vidya – "No, its confirm. She was already mysterious when she entered the house. Then Before three days of her death, she was drowned in a village well. We saved her but she behaves rude and claimed that someone is trying to murder me. Before two days of her death, she danced in the street like she was possessed. Then after one day, we got news of her death. We don't know how it has happened or when". Vidya says, "Astha, Yug, your husband and you must leave the house. Don't get into the dangerous trap."  Astha – "Please Vidya, one more help." Vidya releuctanly asks, "What help?" Astha – "Can I know who did post-mortem for Veer and Krishna?" Vidya – "Astha……" Astha pleads. Vidya – "It was Ms.Ishani Arora, I don't know anything further. There are possibilties that whoever seen the body are dead surprisingly. Whatever you're doing is good but be careful."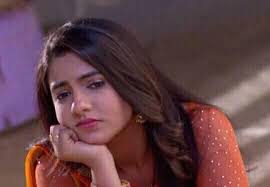 Astha dials a number. From the reciever, "Its Dr.Ishani Arora speaking from Sanjivani." Astha face glows. Astha – "Ishu, meri jaan, I am your school friend, Astha." Ishani (Surbhi Chandna) gets excited and happy,  "Hey, Half mental Astha." Astha – "Ishani, you haven't changed even now.  Ishani  – "Yes. But Astha, you have called me after such a long time. How are you? How is your mom? How is your hubby Shlok?" Astha – "Ishani, I am in Ooty. I want to discuss onething very urgently. Actually, I want your help." Ishani – "Hey why are you getting emotional? We shall meet afternoon 3pm in Violet Cafe?" Astha – "Thankyou so much, dear. I love you so much." She hangs up.
At 3pm, Violet cafe,
Astha and Ishani are drinking coffee and after completing their warm talks, Astha asks, "Ishani, do you know Veer and Krishna, who treated Mrs. Santosh Rathi?" Ishani looks at her horrified. Ishani – "Why are you asking about her?" She sweats. Astha said whatever happened except supernatural experiences. Ishani looks at her in angry, "You've chosen a wrong place for job." Astha – "Please understand me, Ishani. How Veer and Krishna murdered? I want to know please." Ishani – "As a doctor, we were taught how to deal with deadbodies without getting scared. But when I did Veer's post-mortem, I could not even work properly for one week. Krishna's case is too worst. I was compelled to give post-mortem of her too." Astha interrupts, "Is Bhabho…? Ishani – "No way, a human could not murder like this. We were compelled to give report that Bhabho killed Veer and Krishna in a mental asylum. But culprit is someone else." Astha – "Please say how they are murdered."
Ishani – "Veer  is stabbed 7 times in his stomach. There is a big hole in his head that is created by a big nail. His hands and feet flesh are eaten by someone." Astha – "What? Eaten?" Ishani – "Ofcourse yes, his feet bones and hand bones are left and as I could find teeth marks in his bones. The teeth is not of human ones. Its sharp and it gets deeply into the bone. Rest of body flesh are not eaten. Then, as you know, he is covered through a cloth and tied as a scarecrow. For your kind information, those people who seen his body are dead now." Astha – "Veer's murder is horrifying. How are the people died?" Ishani – "I don't know." Astha – "Krrisshnnaaaa…"
Ishani – "You won't leave me it seems. Her murder is the most heartbreaking incident for me. She was my friend in medical college." She narrates her murder in her ears. Astha – "It is like blood is coming from my ears. Its too horrible. How could someone kill a lady to this extent? What is the reason for her death? They must be paid well even." Astha bids bye and leaves. Ishani is sitting there and sees a photo.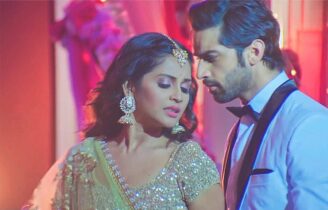 Ishani says to herself, "Sorry Astha. Its for your good as I didn't disclose that Krishna is Veer's lover."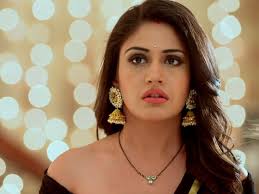 To be continued……