Story so far: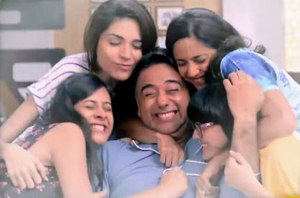 The show starts in a foreign location (Paris). Amaya is from a rich Indian family and is pursuing Disaster Management from Paris University. Today is her last day there. Her family comes to take her to Mumbai with them for the next two months. Amaya's father is her "Superman". He can do just about anything to make sure the smiles on his family members face remains intact.
Rishi Mathur lives in Mumbai with his wife and other 2 daughters, Rachita (Rachi) and Jasmine (Jas). He dotes on his daughters and loves to pamper & spoil them, especially Amu. She is very close to him. She too knows that her one I love You can change mind and make him agree to whatever she asks for, though she generally doesn't have to ask for anything. Her wishes are fulfilled without even asking for anything. Sneha Mathur loves her daughters equally but she always advises them to be careful while spending money. She tries to make her husband understand too but that is so out of question for him and his girls too. The sisters are completely different from one another but the love that they share is what holds them together. As the story moves further, we see Rishi talking to his childhood best friend and business associate Hari, in a deep conversation about their company. They have got 7 days time from the bank to repay the 100 crores loan amount back to the bank. Hari is completely tensed about the whole thing but Rishi is all calm and composed. Deep down he too is very much disturbed but hides it so he doesn't scare any of his family members. He sticks to his plan and heads to Paris with his family to bring Amu back home. His cards get blocked by the bank yet he uses his personal savings to make sure the smiles on his family's face stays. He prepones Rachi's engagement with Mr. Grewal's son, Rohan, as soon as they are back in Mumbai. The news of Rishi Mathur going bankrupt comes out in the open the very same day.
Characters:
Rishi Mathur – His journey to the top has not been easy. He belongs to Banaras and had started off from Borivali to Bandra and finally reached Malabar Hills. He doesn't want his daughters to go through the same struggles all over again. He wants the best for them. His favourite line is, money is not a problem but it is to actually solve all the problems.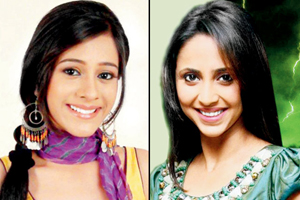 Sneha Mathur – A loving mother and a caring wife. She is rich but money doesn't impress her like it appeals to her husband and her daughters. She is a very down to earth person and tries to teach the same values to her daughters.
Amaya – She is the ultimate fashionista you can ever imagine. She is very particular about her looks, her clothes, makeup and just about everything. She is a complete copy of her Superman and never thinks twice before spending money. She has no plans for future but her Superman is sure she will turn out to be the strongest of all of them when the time will come. She loves to live her life king sized.
Rachita – The 'Miss Perfectionist'. She cannot bear it if a single thing shifts from its place. The urge to set it right is just so irresistible for her. Her future plans involve furniture designing.
Jasmine – The bookworm! She can stay rooted to the same place for days just so she can read without anyone disturbing her. She aspires to meet the Wikipedia Head and the Bill Gates Foundation people so she can work with them. She wants to be on the cover page of Times Magazine one day.
Hari – Rishi's childhood best friend hails from Banaras too. He is completely different from his friend and loves Banaras from the bottom of his heart. It is the best place for him in the whole world. He is an emotional yet sensible person and wishes well for Rishi and his family.
Our Take: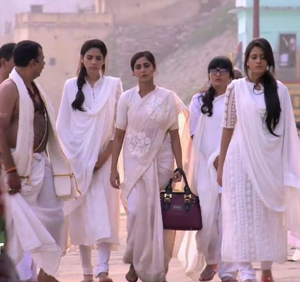 This family saga is sure to keep the audiences glued to their seats to wait for what's going to happen next. The story moves at a very good pace in the first week itself and the characters fit their roles perfectly. Hiba Khan (Amaya) portrays the role of the fashionista shopaholic well but is a very strong girl from the bottom of her heart too who can support her family in the time of need. Gautami Kapoor returns to the small screen after a long time. The journey from Paris to Banaras is surely going to be worth a watch. The twists will bring out the strong attributes of the cool Amaya and shy Sneha when they come face to face with the unexpected. Amaya is different from all the other protagonists from the other serials shown on television so far. She will be seen in short dresses, high heels, even as she walks around the lanes of Banaras. Tere Sheher Mein is like a breath of fresh air which will bring about an interest in the youngsters and elders of the house equally.
Our Rating:
3.5 out of 5
Feel free to post your reviews in comments below.
All off-topic comments will be deleted.