TERE HI ISHW MEIN …. (EPI 3)
New Day…. New Hope
Morning keerti wokeuo and find Naksh getting ready.. She gets shocked and stands in a hurry
Keerti : Are you going somewhere???
Naksh :Yeah.. i have a meeting so i have to do..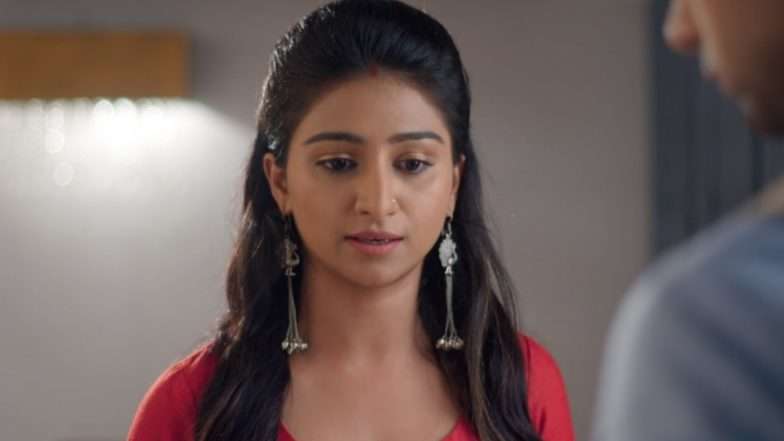 Keerti :I will prepare breakfast..
Naksh :No.. there is no need.. I don't have time.. and you.. there is no need to do such things.. i can handle my things..
Keerti looks at him..
Naksh : And please listen to my words clearly and don't sleep in the couch .. from tomarrow..
Keerti smiles..
Naksh takes his bag and was about to leave..
Keerti : Naksh.. i want to go to mandir today..
Naksh :I don't think its possible…
Keerti :Just tell me the direction i will go..
Naksh :Are you sure ..
Keerti : Yes..
---
SINGHANIA SADAN , UDAIPUR..
Naitik :Tumhari baat hoga Keerti ya Naksh se..
Akshara : Naksh se baat hogayi.. He said everything is fine..
Kaveri :I told you keerti will make him tge old one..
Devyani : True. She has a beautiful attitude towards things..
---
GOENKA MANSION..
Kartik calls kirti
kartik :Hello keerti.. how are you a.. are you fine.. how is things going..
Keerti : Shhh.. Kartik… I am fine.. and everything is perfrct here…
Kartik :Perfect… But here things are worse.. i am missing you a lot.. after Mansi went to Chachi's house it doubled..
Keerti : Then you come here.. for a few days.. I am free after Naksh goes to office..
Kartik :Seriously keerti.. office.. I thought he must be on leave..
Keerti : Leave for what..
Kartik : For honeymoon darling…
Keerti :Shut up.. Tell how are others…
Kartik : Dadi as ussual pooja mein hai , Chachi is gossiping with her friends ; Papa and chachu went to office.. Luvkush completeing there homework..
Keerti : Aur maa..??
Kartik : I don't know..
Keerti : Then ask someone..
He cuts the call and keerti understands why did he do so…
–""'
Keerti's Pov : When will you understand her sacrifies for us.. kartik.. i am sure one day you will accept her.. and will fight for her against everyone..
Keerti gets ready and goes out for mandir. On her way she meets Snadhya aunty..
Sandhya :Aare.. keerti beta were are you going??
Keerti :I am going you mandir… as its my…
Sandhya : Naksh nahi aayi tumhare sath
Keerti :No.. he was having some work at office
Snadhya :So how is our Naksh..
Keerti : Aunty he so sweet and caring yet sometimes strict… but..
Sandhya Um… i can understand.. vaise did he tell you about Tara…
Keerti : Nahi.. kyoun Tara..
Sandhya's phone rings and she gets engaged in it.. after a few minutes she citts it..
Sandhya : Accha .. keeeti were are you going
Keerti : Aunty .. i told you early that i am going to mandir..
Sandhya : Oh.. yeah i forgot… tum na Royal wetern india Turmf rastae se jana.. woh easy hai..
Keerti : But naksh told me to take Chatrapati shivaji… some railwaystation route..
Sandhya :Beta.. that road takes so much time its easy way..
Keerti :Okay rhanks aunty…
Keerti goes…
NAKSH'S OFFICE……
Naksh was busy in his office.. just then his assistant asks him that the meeting is ready he swicthes his off and attents his meeting..
Time passes
The meeting was a quite sucess and it was visible in his face.. he then switches his phone on and was shocked to see Keerti's 48 missedcalls…
He calls her
Naksh : Helloo.. keerti ji aap kaha ho..
Keerti :Naksh i think i am lost.. i don't know..
Naksh :Please send me your location….
Keerti : I am scared..
Naksh :Nothing will happen believe me..
Naksh gets her message and he hurrily leaves for there.. on his way he tries to call her but it was unreachable.. he gets so tensed.. He sees keerti and gets out and runs to her..
Naksh :Aap teek hai..
keerti was so scared as she hugs him .. but Naksh doesn't respond instead of it he pushed her away..
Naksh (shouts) :What are you doing here.. this road doesn't come anywhere in the way in told you.. and even if… you had a dobut.. you had called me on my office phone..
Keerti (scared) : W..woh.. sandhya.. aunty told me that its the easy way…
Naksh :Shut up and get in the car…
Keerti and Naksh drives to their home.. Naksh was hell angry as they reach..
Naksh : Woh road safe nahi tha.. thats why i asked you to take the long way.. Please try to understand things keerti..
Keerti :So..sorry Naksh..
He gest out of the car and closes its door in a bang.. Keerti gets scared…
She also slowly follows him.. Naksh sits in his couch and gets busy in his phone..
Keerti :Naksh.. Can i ask you so..something
Naksh : What???
Keerti :Tara.. who is she..???
Naksh looks at keerti..
Keerti : If you have any problemm.. there is no need to tell.. i just asked casually..
Naksh :Who told you about her..
Keerti : Sandhya aunty..
Naksh :I knew it.. keerti i warn you stay away from her… and i will tell you about tara when right time comes…
Keerti goes inside..
Naksh checks kitchen keerti who comes there sees this.. He was searching fridge and took out an icecream packet.. She noticed it.. and takes it from him..
Keerti :You are diabetic naksh..
Naksh (shouts) : Dont irritate me.. just give it..
She gets scared and gives it to himm.
Naksh pinches her to the wall : I know i am diabetic… and i can take care of my things my own… its better you understand.. and fon't ever waste my time.. in your stupid things