TERE HI ISHQ MEIN…. (EPI 8)
A new day in keesh's life.. they were ready to shift back to mumbai.. Gayu was arranging this as per Devyani and Kaveri's instructions.
Akshara : Why so manythings..
Keerti :Yeah.. Dadi.. we will be back after a while…. you are packing as if we won't ever comeback..
Kaveri : Baat woh nahi hai… the previous time.. due to my sickness i couldn't arrange things for you… and you had to go.. without any deed..  that i know all of sudden it was difficult for you in that new town..
Keerti hugs kaveri..
Naksh came downstairs with his luggage and all.. He huged Yash..
Yash :I wanted to tell you something..
Naksh :What???
Yash :Woh.. keerti..
Yash couldn't complete his words as Mishti takes him aside…
Mishti : Bhaiyyu.. these are the list and i want you to get everything i have mentioned…..
Naksh  : Okay.. sissyy..
Mishti : Don't forget it like the last time..
Gayu :He won't forget.. and if he does so bhabhi is there to make him remember..
Naitik :I think its time .. you both should leave.
Naksh :Ji papa..
They takes everyones blessings and leave..
---
MUMBAI..
They reached mumbai so late . Naksh was hell tired of the journey.. Thus he dozed into the bed as he entered his room.. Keerti kept the luggages and got freshenup.. She saw that Naksh has taken the majority of bed.. She slowly moves his head and body to his side.. and she also sleeps..
Keerti was unable to sleep as for the first time there was no obstacles between them..
Naksh slowly in sleep puts his hand on to her waist.. keerti feels shivering in her whole body..
Gradually she also falls asleep..
NEXT MORNING…
Naksh wakes up.. and he founds him exactly near keerti's neck.. and he realises that he was holding keerti's waist..
He gets up in a jerk.. which leads destroying keerti's sleep..
Keerti :What happened Naksh..
Naksh : No.. nothing.. I am just late for my work..
Keerti looks at the clock..
Keerti : Oh yeah.. you please get freshenup.. I will make breakfast for you…
— Keerti in the kitchem was making breakfast while naksh was getting ready..  She takes his coffee and goes to give it to him…
She opens the door only to find Naksh wraped in his towel..
Keerti :Coffee….Oh no..
Naksh :Can't you just knock..
Keerti :I am sorry..( she smiles…)
Naksh takes his shirt and puts it on..
Naksh :Don't laugh..
She goes out…
Keerti PoV : I know my smile irritates you.. and its nice and cute to see your irritated face..
After a while Naksh comesout..
Keerti : Have breakfast..
Naksh : No.. I am not hungry..
Keerti : Comeon Naksh..
Naksh :I know you did that intentionally..
Keerti :I did what..
Naksh :Entering to my room.. i didn't you were dying for this…
Keerti gets teary… Naksh takes his car keys and walks giving a bang on the door…
Keerti cries..
Naksh is in his car.. he hits the stearing..
Naksh's PoV : What are you doing Naksh.. you are not supose to hurt her.   all i have to do is avoid her… And her smile god!!!… It kills me.. I want her to hate me… and for that i should make her smile dissapear..
—————- EVENING———
Keerti was hurt by Naksh's words … While sandhya aunty enters there..
Sandhya : Beti.. you came… i wanted to tell you something…
Keerti :Ji aunty..
Sandhya :Today.. is my son's wedding aniversery.. and you and Naksh should defentely come… I have invited Naksh the day.. he came here.. while you were not with him.. thats why.. i am inviting you alone..
Keerti :Ji.. aunty.. i will come for sure..
Sandhya :You should… there is a surprise for you..
Sandhya goes by saying this…
Keerti :Surprise for me….
—- Naksh after an hour comes from his office .. keerti was sitting at the couch in living area..
Naksh :Woh.. Today is Arjun and sakshi's wedding aniversary.. and I think its better you should come with me… i don't want anyone to talk about our realation..
Keerti :Give me 10 minutes i will be ready..
As keerti goes in… Naksh checks the utensils kept in the dining tabel
Naksh :She is so stubborn.. Didn't eat anything…
Keerti came out wearing an orange salwar..
Naksh :Why didn't you eat..??
Keerti : I was not feeling hungry.. lets go..
Keerti walked out while …. Naksh followed her..
—– Sandhya's house '——-
It was fully drcorated with White and violet lavenders.. and was so amazing..
Naksh walked towards his friends and introdiced keerti as his wife.. holding her sholder.. while keerti stood a little uncomfortably…
Sandhya came to her running and took her along to introduce her to other ladies..
Naksh also chated with his friends… He knew that keerti may feel hungry.. so he was walked towards her.. so that they can eat together…
On the while he saw someone and got shocked.. He was continuously staring at…
Keerti was with some neighbours.. when a few girls came and stands besides her..
Girl 1 : Naksh singhania is still madly in love with Tara… didn't you guys see how he was …
Girl 2 : But.. i heard that.. he got married then..
Girl 1 :Comeon girls.. its his first love… and ..
Keerti was unable to hear more.. She went from there and… and founf Naksh tensed. She went to her… She called him.. but there was no response from him… Keerti looked to the direction which Naksh was looking..
Keerti :Who is she..
Naksh :Tara…
Keerti felt like a thousands of knife stabbed out her heart…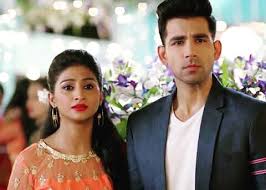 Tara also saw Naksh..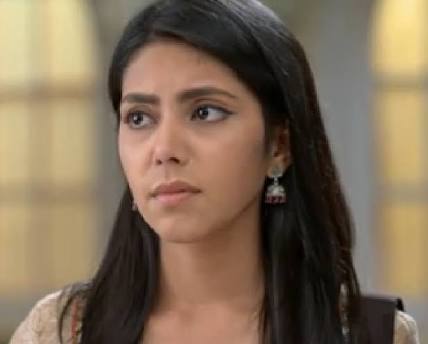 She came and hugged him.. Shouting his name.. and all others noticed it..
Naksh.. got out of her grip..
Naksh :Tara … meet Keerti..
Tara :Keerti ???
Keerti : Keerti singhania..
Tara : I didn't know you had someone named keerti in the family..
Naksh : Tara.. she is my wife..
Tara took a few steps back… Naksh goes close to tara… While keerti takes steps.. back to the home..
Naksh turns to see that keerti went away.. He gets tensed..
Naksh PoV : Why did she go like that.. she didn't knew about Tara..  then why all of a sudden..
Naksb was about to go.. While Tara holds him..
Tara : How.. How can..can you d.d…do this to me.. Naksh.. I loved you..  infact i still.. loves you..