TERE HI ISHQ MEIN…. (EPI 7)
Episode starts with Gayu and Akshara entering the Goenka mansion.. keerti on seeing them takes Akshara's blessing and hugs Gayu..
Suwarna :Aaree.. Akshara ji come in…
Akshara :Toh.. suwarna ji.. is everything fune..
Suwarna :Ofcourse… Teej ki perparation and all
Dadi :Aap.. bathavo.. how are you all
Akshara : Hum sab.. teek hai.. aur as it is keerti's first teej.. we will feel happy.. if you all celebrate teej in Singhania mansion..
Suwarna : Ji.. how is that..
Keerti : Please maa..
Mansih ; kartik and Akhilesh comes there..
Mansih :If keerti's wish is so… then we will come…
Akshara :Thanks..
Akhilesh : Naksh will come by teej won't he..
Akshara :He said he will try his level best to come…
Then the families talks about usual things. Kartik and gayu was talking they were smiling   Dadi was noticing all these. After a talks of hours.. Akshara and gayu leaves with keerti.. 
Dadi :Gayu is a nice girl
Kartik : Ofcousre she is.. simple and sorted not like her cousin..
Kartik goes from her..
Surekha :Are you thinking about kartik and gayu..
Dadi : Yeah..
---
Sighania mansion was fully decorayed foor karwachawth..All the ladies were looking awesome in there tradtional attaire..
Goenkas enters into the mansion.. keerti get happy seeing everyone and hugs them..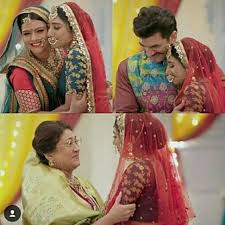 Just then yash and rose also enters..
Akshara goes and hugs them..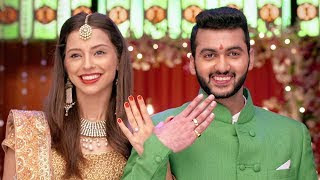 Yash :Naksh kaha hai..
Naitik : He said that he will try to reach.. but his phone is also unreachable so..
Akshara :Its there first teej.. and they are not together..
Suwarana :Don't worry Aksharaji..we can also understand…
Gayu comes there.. and shouts.. The moon has arrived
Dadi : Did you also kept fast..
Gayu : Ji.. Dadi..
Kaveri : Ab.. time nikal ja raha hai.. come on..
All goes to lawn while keerti stays at the livingroom staring at the door..
Keerti's PoV : Its our first teej Naksh.. I needed you today.. Please be here..
She also moves there..
All starts the rituals.. The ladies takes the seive and looks at the moon… and then to there husband.. keerti gets shocked seeing Naksh infront of her…
Keerti :Naksh…
Naksh gives her a fake smile..
They does the whole ritual and males makes their ladies eat the sargi.. ..
Keerti was so happy.. as she had hope he will come but at the sametime she made herself understand that may be he won't come..
As Naksh was talking with others keerti was admiring him..
After the dinner goenkas left..
---
Keerti , Rose and Gayu starts charting..
Akshara : Its too late…. You guys get some sleep..
Keerti :Ji ma..
Rose : Yash aur Naksh kaha hai.
Gayu :Babhies … they both are in the lawn..
Rose : Lets get them.. if we leave them together they will talk till morning..
NAKSH & YASH..
Yash :What happened bhai.. you look tensed..
Naksh : I saw Tara…
Yash :What..
Naksh : We have gotten wrong information.. she .. she haven't got married… infact.. she was waiting for me all these years..
Yash : Were is she now..
Naksh :She is also in mumbai..
Yash :What are you saying.. Naksh.. wh.. what have you decided..
Naksh : I don't.. know.. i..i am confused… keerti and Tara.. i..
Yash :Rose you here…
Naksh turns to see her..
Rose : Naksh.  its late.. please leave us alone for sometimes…
Naksh :Yeah.. sure..
Naksh leaves from there …
Yash :Rose.. Tara..
Rose :I have heard things…
Yash :I wish Keerti.. bhabhi.. is unware of this..
Rose :She is Yash.. She was with me…
Naksh enters to their room to see keerti removing her earings  … She stares at him.. he also stares af her..
Naksh gets teared… Keerti smiles at him…
Goes near him…
Keerti : Everything will be fine Naksh..