DESIRE IN LOVE : SAGA OF TWO HEARTS ……….TWO SHOTS FOR VIDHANI [PART 1 B]
@ Banaras { Sharma Nivas}
Vidha arrives at dhaani's home's entrance and they look at each other's eyes…….
Dhaani : Viplav, Thanks for  being a part of my life……As I said our journey is finishing now…….I know this is really painful for us, but this is right and ….
Viplav : [interrupts] I feel much hunger…….
Dhaani gets surprised……..Dhaani : Viplav!!
Viplav : Dhaani pls give me something to eat…..Otherwise I will eat you…..
Dhaani : What !!!!!
Dhaani stares viplav in surprise and stands like an idol……Viplav looks dhaani's face and makes puppy faces…..
Dhaani : Viplav, Be serious…..This is not the time for making fun……
Viplav : Excuse me, This is not fun, what I said is truth…….I am feeling hungry…..Normally this time I use to have special kind of mexican cuisine , but this is a small town and I know I am not going to get it…….But whatever daal-roti, aaloo ke parathe….I don't care……All I need is food……
Dhaani : What's wrong with you ?? Here I am much worried and you are……
Viplav : So what are you expecting me to do ?? You wants me also join with you for shattering tears and all……You said naa, upto this journey only and all and I need to go ahead…….That's what I am doing……
Dhaani : Oh !! So you have become practical…….Much practical……So Viplav, you don't feel any sort of pain in heart, won't you??
Viplav : Better you give the true answer from your heart , I will give answer to you…….Let me ask you again, do you love me ??
Dhaani : Why you are doing this to me , viplav ??? Why ??
Viplav : I can't get you, first you says I have space in your life and then when I asks what you feels you denies it and then you start burning yours and my hearts and finally you says our journey is ending …….Then when I starts ignoring you tears, you fires me with a question and what about the question which I asked, …….
Dhaani : Stop it [dhaani screams] Just stop it, pls…….[dhaani gets down from jeep and looks viplav's eyes, she wipes her tears] You asked for food naa, come with me…….
Viplav smiles …….Dhaani : You can come as a guest to my home [dhaani shuts her eyes] Nothing else…..
Viplav gets shocked…….He nods his head …..Dhaani opens the gate and extends her hand towards viplav…….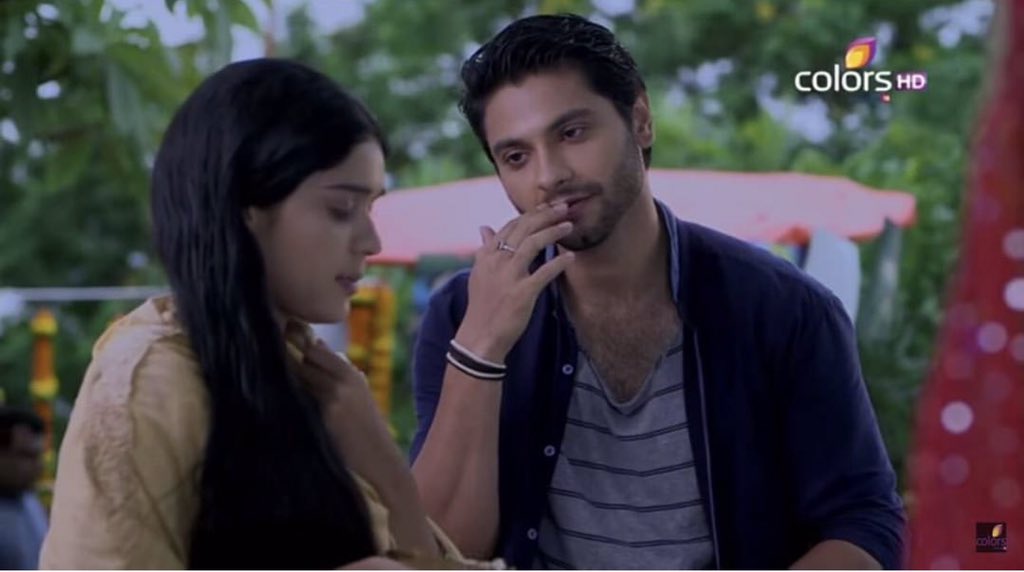 Viplav looks dhaani's face and dhaani nodded her head…..They stepped towards the home……Vidha was about to enter inside, but soon a louder voice stopped them there itself and it was none other than dhaani's mother dulari……
Dulari : Why you came again ??
Dhaani : Maa!!!
Dulari : I feel much shame to say that you are my daughter………
Dhaani : Maa, pls don't say like these…….
Dulari : Because of you our family's reputation has gone, your paapa is no more mukhiya of the village…….
Dhaani : [shocked] What ??? Paapa lost ir ?
Dulari : He was forced to do it  and all  this happened because of you…….Whatever dirt has been drowned on our family before the whole society, it won't vanish so easily, dhaani…….
Viplav : Maaji pls, don't be so rude to your daughter…….You have misunderstood things……
Dulari : No!!! I am well aware about things…….Acting was like a hallucination for her mind and heart and see what she gained from it ?? She ran from her home to escape herself from the biggest harsh truth of life……I accept I was much cruel to her and refused her to accept as my daughter and uttered so many curses on her……..
Viplav : Maaji, I am not getting you, Dhaani told that you and your husband have some personal issues and dhaani was much affected by these….Then she left home and came Mumbai in search of job……And….later she give auditions and…..[dhaani suddenly holds viplav's hand tightly and viplav turns his eyes towards her and remains silent]
Dhaani : He knows that much only, maa…….Pls before viplav, don't say anything……You can scold me later…..It's a request…..Pls……
Dulari stares vidha and turns her eyes towards dhaani…… Dulari : Both of you are looking so tired……Come inside…….
Vidha gets in and dulari signs them to take their seats…….She serves parathas for both of them without looking at their faces……
Dulari : Dhaani, I am going to my room……..Viplav is our guest…..Take care of him……[dulari turns to leave, viplav holds her hand]
Viplav : Maaji, you won't eat with us ??
Dulari : I will eat later only…….
Viplav : No maaji, you have to be with us……One minute…[viplav takes a piece of partha and handovers it to dhaani] Dhaani…..Tell you maa to have this from her beti's hand…..
Dhaani extends the piece towards dulari's mouth…….Dulari fumes in anger…. Dulari : Whatever she gives from her hand will be not less than that of poison……..Tell her to feed me a bottle of poison , I will have it with much happiness so that I can leave this girl from me……[dulari leaves her hand from viplav's hold and walks in anger towards her room, dhaani hold her palm tightly and burst her pain in tears, viplav holds her hand and looks her]
Dhaani : Viplav, Now there is no solution for this…….I will bear it as I am habitat of these things, but you don't need to see all these things…….Viplav you have your food faster and leave…..
Viplav : Dhaani, You can't break down like these……..Dhaani you're really amazing person……….
Dhaani : Pls viplav, I am not a kid that always you will console me by saying everything will be fine…….What you find now is the bitter truth only……I am not her daughter…….
Viplav : What ???
Dhaani : I am the living mistake of the biggest sin committed by my paapa……
Viplav : Shut up, dhaani…….For god sake don't say these kind of things…….
Dhaani : Viplav, you feel fear on hearing truth ?? Won't you ?? What i said is my life's reality only……..Dhaani Sharma is Manik Sharma's illegitimate daughter……
Viplav : Dhaani!!! [viplav screams]
Dhaani : Viplav, better you leave my hand right now…….Else you will feel much pain and I don't want it…….
Viplav : This truth is shocking, but trust me this can never change what I feels for you……..Dhaani, till now you alone was suffering all harsh things in life, but from now onwards I will never leave your hand and it's my promise……We will face everything together…..
Dhaani : Why you are so stubborn viplav ?? Why you are not listening to me ?
Viplav : Because I feels much pain from heart……You asked me whether I feels pain and now viplav tripathi says that he feels immense pain in all those moments when he misses his soul dhaani…….His heart will break in pain as he can't see dhaani's struggles…….His eyes will burn in pain if he will see dhaani's eyes in tears……..He can bear all pains as it's given by dhaani, but he can't handle himself if she will be separated from him and that pain will take his life ……
Dhaani : No!!! [dhaani keeps her palm on viplav's mouth] Viplav……..You can't do it…….I can suffer anything, but I can't live in this world if I will lose you…….
Viplav : [viplav takes her palm from his mouth and stares her emotionally] Why ??
Dhaani : Because I love you, I truely love you from heart, viplav……..I love you…..
Viplav : I love you too dhaani , I love you from the depth of my heart ……..
Dhaani and Viplav breaks down in tears and hug each other……. 
BGM…. "Ishq bhawar me jo duba hai.
aapna aap gawaye
Ishq Ka Rang me rang gya
Ishq Ka Rang me rang gya.
use koi rang na bhaye……..Mere Ishq Ka Rang Safed hein Yaara ……Ishq Ka Rang Safed…" plays…..
After a while vidha released themselves from hug and they wipe each other's tears…..
Viplav : Dhaani, I was eager to hear this from you so that I can make you to realize that I am always with you….
Dhaani : I know, even if I won't told this also, you will never leave me……..As that much you loves me…….But viplav, this is what which made me to feel worried because with me you will also need to suffer a lot……
Viplav : Dhaani, we have expressed what we feels for each other………So be sure that whether the path will be thrones also we will walk together……..And now maaji has to accept you as her daughter and we will try our level best for this…….
Dhaani : It's not so easy, viplav……..The harsh reality which she find in her life, you can't imagine what she has faced……..
Viplav : I can understand, but dhaani…..This is not your fault……..And why you are being punished for this ??
Dhaani : May be in your view I have no faults……But for maa, I am like a storm who has destroyed the peaceful life……..
Viplav : Dhaani, before you get into any sort of conclusions, let me tell you we have to know the whole truth……Do you know anything else about this ??
Dhaani : Not much…….As far as I remember upto 15 yrs old, maa was everything for me…….In fact she was my savior, my best friend and my inspiration ……..I find maa delivering dialogues before mirror and says she was a stage drama artist before her marriage and I use to observe whenever she becomes a character……May be that's what awakened the spirit of acting in me……Everything was going well, one day as i returned from school, I find maa sitting in a corner of house ……Things were find as scattered here and there ….I find the broken photo frame of me ………As i was picking it from floor, the glass piece pierced in my palm and I screamed in pain…..My maa was about to rush near me, but she stopped in middle and stared me with teary eyes only……..It was paapa who lifted me in his arms and dressed my wound…………..From that day onwards I never find love in my mom's eyes, all I find was her hatred towards me……..Once I asked why it happened, she said that I am not her daughter…….As I grow up, paapa himself confessed me once that he had an extra marital affair and I was…….
Viplav : Dhaani!!!
Dhaani : I felt everything as strange and this truth changed everything……..My parents …….They started arguing with each other which became big fights and once my paapa said "Chali kyun nahi jaati, beti ke naam pe kalank ho tum" From that moment onwards my life was changed and I left home without saying anything to any one…..All my focus was to find a job only……. As I felt a job can give me an identity for me…….I was much confused……But when I start becoming those characters on screen , I started living a new life……..And I realized acting is my world……
Vidha stare each others for a while and viplav give a big round of applause for dhaani… Viplav : You know what really you are a strong girl……Till now I admire you as an actor, I love you as a person and now onwards I feel proud to say that I am lucky to have you in my life……Dhaani , nothing is impossible for you……..
Dhaani : You still think that everything will become normal ???
Viplav : Of course!!! You won't trust me ??
Dhaani : Viplav I trust you more than myself……
Viplav : Then hold my hand……We are going to create magic…….[viplav smiles, dhaani holds viplav's hand, they share an eyelock]
BGM…."Ishq ka rang safed piya
Na chhal na kapat na bhed piya
Sau rang mile tu ikk warga
Aatish ho ya ret piya, ret piya
Jis jung mein tera ho rutba
Uss jung ka main toh
Junaid piya, junaid piya
Sohna sohna itna bhi kaise tu sohna
Tere ishq mein jogi hona
Mainu jogi hona" plays….
PRECAP : CONQUERING THE BIGGEST GAMES OF LIFE, HOW THEY WILL GO AHEAD ??