Episode 4
Scene 1
Dadisa comes to meet Draupadi.
Draupadi: Dadisa, where is Govindh?
Dadisa: He is with your father and brother discussing on the administration.
Draupadi: Okay, I'm not feeling well. My heart is not stable. I'll go to the temple and come.
Dadisa: This is wedding jitters. Go and relax in the temple. Everything will be solved.
Draupadi agrees and leaves for to temple.
Meanwhile, a saint throws flowers at Krishna who is standing in the garden and discussing the state. He turns and looks at him and smiles. He excuses himself from Durpad and Dhri and comes to talk with the saint.
Krishna: Parth…
Arjun: Govindh…
Krishna: What are you doing here?
Arjun: I came to see Draupadi.
Krishna: What?
Arjun: Yes, I got curious to see her. So thought to stop here while going to Hastinapur.
Krishna smiles.
Krishna: Fine, she went to the temple. Go and see her there.
Arjun thanks him and leaves.
He goes to the temple and sees Draupadi's carriage coming. He stands far and eagerly waiting to see her face.
She gets down from the carriage and he sees her from her feet and then faces her. He gets mesmerized seeing her beauty. He follows her. She prays to God and leaves. While leaving, they both have an eye lock. Draupadi feels an instant attraction toward him. Just then she is stooped by an astrologer woman. Arjun also stands behind them and listens to their talk.
Astrologer: Long live our princess.
Draupadi greets her. The lady begins to see her palm and predicts.
Astrologer: My dear princess, you are going to be a queen soon.
Both Draupadi and Arjun get shocked to hear this.
Draupadi: But…
Astrologer: You will be praised and hailed as the queen. Because of you, the entire womanhood will be lifted. You are the sign of purity. Your son will rule this entire world.
Draupadi thanks her and leaves in a confusion. She thinks about Arjun and Karn and also about the lady's prediction.
She sits with her friend and speaks about both. Arjun listens to that.
Draupadi: If I marry Arjun, I won't be the queen but if I marry Karn, I'll be the queen. But…
She thinks of Arjun and Karn….
Arjun gets hurt hearing about Karn and he leaves without hearing fully.
Draupadi: But everyone is telling me to marry Arjun and I feel I got attracted towards him at the first sight. But on Karn, I think I'm attracted only due to sympathy. So, I have made my decision. I'll marry Arjun.
She blushes and smiles.
Scene 2
Bhanu comes to Karn's palace and sees him with Duryodhan.
Karn: What a surprise! You could have informed me to come over there.
Bhanu: I need to talk to you about something important.
Karn: Yes, tell me.
Duryodhan is clueless.
Bhanu: I know you have great respect for me. But sorry for hurting your feelings. I'm ordering you not to attend Draupadi's suyamwar next week.
Karn is taken aback.
Duryodhan: Bhanu, what are you speaking?
Bhanu: I'm not telling you. I'm ordering you. If you really treat me as your sister, then please listen to me.
Karn then agrees. Duryodhan gets shocked.
Duryodhan: But you started to like her.
Karn: I don't want to hurt my sister for some woman whom I barely know. I want my sister to be happy.
Bhanu smiles and thanks him. She leaves. Duryodhan also takes leave from Karn and follows her. Karn gets sad and cries.
Duryodhan comes to Bhanu's room and holds her hand.
Duryodhan: What happened?
Bhanu cries.
Bhanu: I feel bad. I think I did wrong. But if I didn't do this, then Vrushali would have taken drastic steps.
Duryodhan is confused.
Duryodhan: Please tell me clearly.
She tells him about Vrushali's love.
Bhanu: Vrushali loved him from the day when he had nothing. She didn't love him after he became king. Now if he marries Draupadi, it will purely depend on his king status.  According to me, Vrushali's love is greater.
Duryodhan agrees.
Duryodhan: Yes, I know the feeling of love. Even I kidnapped you in the name of love. But Vrushali's love is greater than Karn's love. So, I'm supporting you.
Bhanu: Thank you Aryaputr.
Scene 3
The Kingdom of Kashi is shown.
Satyavati goes to meet the king with Ambalika and Ambika.
The king welcomes them. She sees his daughter Valandhara and gets impressed with her.
She is a beautiful diva. Too much purity and innocence on her face. She greets and respects the elders. Ambika and Ambalika praises her.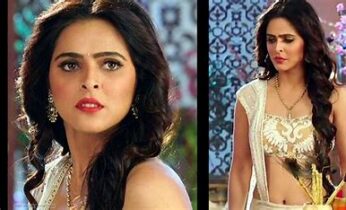 Satyavati: Daughters of Kashi are always beautiful and have a good heart. She praises her daughters-in-law too.
After sometime,
Satyavati: Maharaj, I have a marriage proposal for your daughter. Will you accept it?
The king and queen are surprised and happy. Ambika and Ambalika are shocked.
Satyavati: Will you marry Valandhara to our prince Bhim?
Valandhara also hears this and gets shy. She blushes hearing Bhim. She runs inside. Everyone notices that and smiles.
Ambalika: But Mataji…
King: We are completely blessed to hear this. We are so happy. But Bhim is already married to a girl in the Raksha clan.
Satyavati: Yes, but we haven't accepted her as our daughter-in-law and she is staying in the forest. Bhim visits her only a week a year. Your daughter will be his consort and our daughter-in-law.
King and queen get happy hearing this. They agree.
Satyavati gets happy.
Satyavati: Ok, I'll come with the proper proposal from Hastinapur. I'll take a leave now.
While leaving she goes to Valandhara and blesses her. She gives a portrait of Bhim and she gets happy and blushes.
Satyavati leaves.
Ambalika: Mataji, Bhim won't accept this and love her. She will be dejected.
Satyavati: I know how to make him agree and after marriage, every wife has the ability to make her husband love her. And look at her, how beautiful she is. Bhim will definitely love her. Come let's go.
Ambalika fears Bhim's anger and thinks about what to do…
Scene 4
Srilanka is shown…
A princess is shown sitting in her room and admiring a prince's portrait.
Her friend comes.
Friend: Puravi, what are you doing?
Puravi is the princess of Srilanka and she has feelings for Yudhisthr. She is a beautiful young girl who is of dreams of her future husband and a girl who is a well-trained warrior. She is intelligent and beautiful with brains.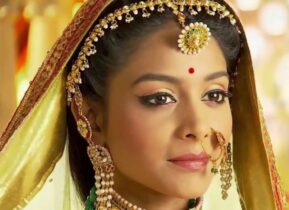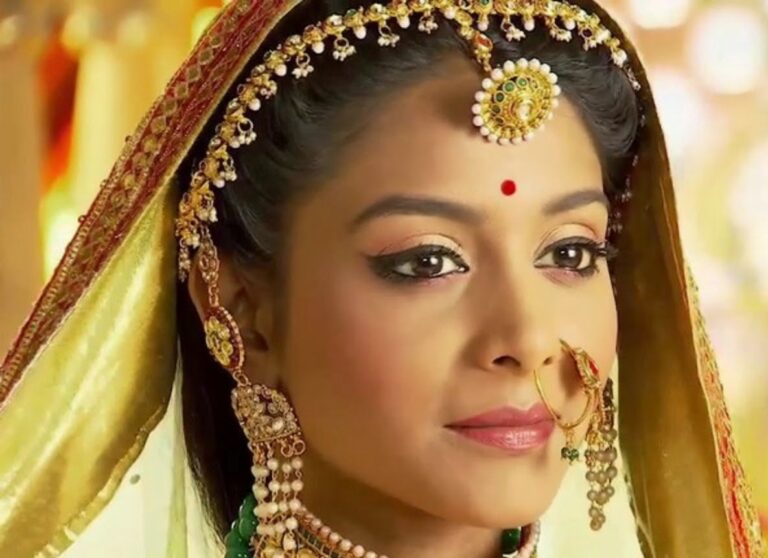 Puravi: I'm speaking with my future husband.
Friend: Do you think will the king agree to this?
Puravi: I know to convince my brother. After the war gets over, I'll ask Arjun to take me with him.
Friend: How did you fall for him even without seeing him?
Puravi: I saw him once he came here. I painted this picture. I fell in love with him seeing his nature with his soldiers. How calm and composed he is. He is the epitome of Dharm. Even he saw me and smiled. At that moment, we exchanged our hearts. I know he will also be thinking of me.
Meanwhile, in Hastinapur, Yudhistr also sits thinking of the girl whom he saw in Srilanka and smiles. He imagines her sleeping near him in his bed. He smiles and blushes…
************************************
Precap:
Kunti gets to know about the relationship of Nakhul and Sahadev.
Satyavati declares her decision to Bhim to get married to Valandhara after Arjun's wedding.
Arjun cries thinking of Draupadi and decides not to attend the suyamwar.
Devika feels sad as Yudhishtr is not spending time with her.
Draupadi's suyamwar preparations start.