Swaragini : my side story (episode 20)
Hai everyone …I am so sorry I promised on celebrity couples for our ragsan wedding but I have hurry with story..I am dragging it unnecessarily so I will go on quickly… also I learnt new thing ..it's a surprise for u ..
That night…
Sanskar : u sure?
Ragini: 100% .. my pain is gone..
Sanskar : angel we can postpone this mehendi function…
Ragini: no Sanskar..it will make her win..I don't want anyone who want to spoil our happiness to win.
Sanskar was shocked..Ragini senses his thoughts
Ragini:I know Sanskar swara deliberately hit me so that this wedding will stop..I know she is my sister but Ur my life..I have decided to look after my self now..
Sanskar smiles..
Sanskar: good decision.
Ragini: but it hurts Sanskar to.see that my own sister is trying to spoil my wedding..( she hesitates) I think she also must have felt the same when I spoiled her marriage with laksh.
A tar escapes her eye..
Sanskar: no angel I understand swara went through same pain infact she had to prove everyone that she was innocent but u were not responsible for those ..u were drugged ..u were not in senses..but swara is in full senses..
Ragini: hmm.
They talk for sometime and disconnect the call..he keeps thinking about swaragini..Ragini is deeply hurt by her sister's behaviour..
Laksh comes there
Laksh: thinking about Ragini.
Sanskar: no thinking about my brother…
Laksh becomes sad..
Sanskar: sorry laksh all because of me.we could have proven swara's innocence in many ways but we did that fake marriage drama and now swara thinks I loved her..
Laksh: no bhai …forget that..promise me u will keep Ragini happy
Sanskar : promise u promise me that u will sort everything with swara…
Laksh: I can't bhai..swara is beyond sorting now..
Sanskar pats his shoulder
Next day it was mehendi function…ragini was dressed in beautiful orange coloured lehenga with floret jewellery .with open hair..she was looking like angel.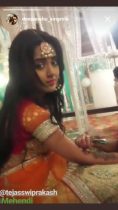 Swara looked at her and smirked.. she went to the mehendis..she injected some liquid into the cone meant for Ragini…
Here Ragini was seated for mehendis..
Maheshwaris also came for mehendis..
Ragini was about to get mehendi when Sanskar stops them
Sanskar: even I want to apply mehendi
Every look amused.
Ragini:Sanskar what r u doing..
Sanskar : areh even I want to know how much u love me.
Mehendi girl was about to.put mehendi.sanskar asks her to.apply it on his chest..
Sujatha: chest?
Sanskar : haa I want the depth of my angel's love to reach the roots of my heart.
Ragini blushes..swara gets tensed..
Ragini's name was designed on Sanskar's chest…
Sanskar was biting his bottom lip tightly..Ragini observed that he was sweating..
Ragini :Sanskar u ok?
Sanskar nods..
They apply another mehendi to Ragini…ragini was tensed about Sanskar…something was definitely wrong …
Finally mehendi was done…
..here swara comes out of hall frustrated
Swara: shit..I mixed acid in that mehendi for Ragini but instead Sanskar applied it….
" you what?"
A sudden chill passed through swara..she turned around..
It was laksh fuming with anger..
"laksh wo."laksh runs inside worried followed by swara…
"ragini" called laksh.." that mehendi….is it hurting…is it paining..please wash it.."
Ragini was confused.." laksh I am fine..what happened.."
Laksh was tensed as he didn't want to take swara's name..
"wo I saw acid bottle..I think acid is added to.ur mehendi".
Ragini widens her eyes…she looks behind her at the person who was controlling his pain from a long time..
She rushes to Sanskar..r
Ragini: Sanskar..how could u not tell me…r u.mad
Sanskar: sorry ragini.i had to save u but I didn't want this thing to upset u
Ragini was still upset ..
Sanskar : moreover see…this way Ur name will remain forever ..they say burnt mark never leaves..
Ragini was about to touch it..
Sanskar: no it will hurt Ur hand..
Ragini: didn't it pain..
Sanskar: it did pain but it was Ur name..so no problem
Ragini hugs him from other side.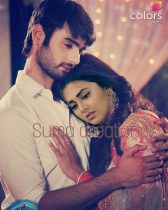 Laksh glares swara…
Next day it was haldi..
Laksh come story swara..
Laksh: what did u plan today..
Swara: actually nothing …I have big plans..let them.celebrate before the big boom.
Laksh holds her tightly…
Laksh: stop it swara..
Swara jerks him and leaves..
Ragini was getting ready .. she was dressed in beautiful yellow lehenga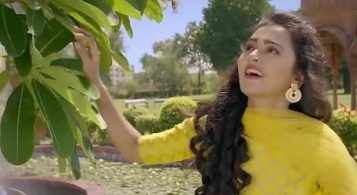 ..Sanskar came from behind and hugged her..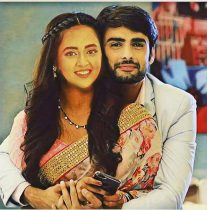 Sanskar: ummmm looking very beautiful..
Ragini smiles.
Ragini: stop it…everyone must be waiting let me go..
Sanskar : areh it's my angels haldi ..I have to apply first
Ragini gets shocked..
Ragini: r u mad…if u apply first everyone will tease me.. especially pari bhabhi and.maya..please..
Sanskar: I know na they will tease u ..that why I will apply in such a place where no one will ever come to know.
He takes haldi from the bowl which was on table and rubs it on his hands..
Ragini moves back..and Sanskar moves forward Ragini hits the wall and Sanskar locks her against the wall..
Ragini gets nervous…and turns around to escape him…he smiles and slide his fingers grazing her scapula…ragini shivers at his touch…he smiles more and unties the knot of her blouse..Ragini stiffens and becomes more nervous..she starts winding the duppatta along her fingers..
Sanskar applies haldi on her back which was hidden under the fabric…
Ragini blushes..
He ties the knot and turns her around…they were facing each other…his face was very close to hers…he applies turmeric on his lips and comes close to.her but she covers her lips with her hand…he turns her face to one side and kisses her behing her ear this applying turmeric there…
Sanskar : see now no one will ever know that I applied haldi first
Ragini: but they will know..
Sanskar : how?
She takes haldi and pats it on his face and runs…
Sanskar smiles to himself..
Finally haldi is competed
It was finally most awaited day…the wedding day…
Ragini was dressed in beautiful maroon coloured rehenga…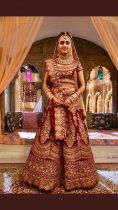 Sanskar was dressed in off white sherwani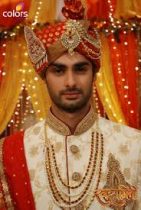 Sanskar could not take his eyes off her ..but Ragini seemed a bit dull and tired..
Sanskar: u r killing me with Ur looks ..
Ragini smiles nervously
Sanskar: what happened ..r u ok..
Ragini: haa but I feel so tired…
Sanskar : wedding stress..so.many rituals ofcourse u will be tired.
She smiles at him..
..they stand up for pheres but suddenly Ragini runs from there covering her mouth …everyone gets tensed…sanskar starts worrying…he goes behind her …she is seen vomiting
Dadi: ladoo r u okay..
Ragini: haa dadi
.
Sumi: maa she is sick ..since last night she is vomitting..she fainted twice now..
Sanskar: Ragini why didn't u tell me this.
Ragini was about to tell him but she falls unconscious in his arms.. Sanskar gets worried for her
Episode ends done…
Precap : Ragini's pregnency test.. positive or negative???
What do u think?