Lord Shani's wrath is very much known as per Hindu mythology. Shani is the giver of justice on the basis of only deeds. Colors' brought up a great mythology on the life journey of Shani, since the birth chapter. Shani's judgmental traits and his clashes with his father Lord Surya makes the concept of the show.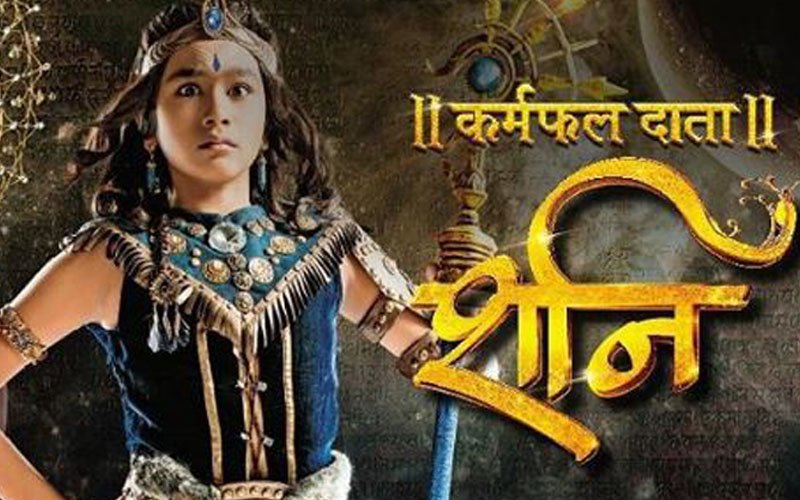 After the making of universe, Devas and Asurs battle is going on since ages. Asurs want their right in Swarglok. To punish the sinners, a unique Dev will be born, who is mentored by Lord Shiv. By getting humiliated by his father, justice was the only motive of Shani's life. Karmfal Daata Shani brings an interesting tale of Shani's perception towards punishing the sinners. As a little baby, Shani could not bear a tear in his mother's eyes, and brings eclipse on his father Surya to ruin his pride. Everyone regard Shani as a danger sign, but the show will bring the real story of Shani's life.
Main Characters:
Shani: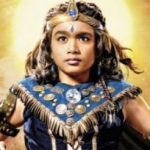 Shani is the only power who judges every Dev, Devi, and humans by their deeds. Shani is known to do justice with the being with whom injustice happened. Shani is not scared to even punish Swarglok members. Shani is smart, judgmental and apt thinker. He is rough and not affected by relations and emotions. Shani is totally unbiased and just supports truth and right things. Shani's decisions often surprise everyone. Shani does not care what anyone thinks of him and his decisions. Shani is an obedient and loving son. Shani is perfect in his own deeds, and punishes anyone who does bad deeds. There are often clashes of Shani and other's opinions.
Surya: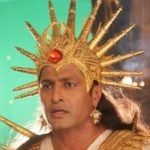 Surya Dev is the Lord of light and life. Surya is giver of knowledge. Surya is supreme entity. Surya is a blessing for humans. He spreads his light in the world. His love is equal for everyone, but when he gets angry, the light gets harsh to burn the enemy. Surya has lots of ego, and that is his weakness. Surya does not forgive anyone easily. Surya's pride is the only thing which can overpower his wisdom. Surya's pride is taken down by his son Shani, who brings an eclipse on the powerful Surya.
Sandhya/Chaya: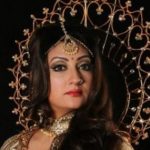 Sandhya is Surya's wife and strength. She is loving, caring, loyal and devoted to Surya. She has two children Yama and Yami. Her children mean life to her. She can't bear Surya's radiance and burns little whenever she goes close to Surya. Sandhya goes to do penance and gain resistance and strength to bear Surya's heat. Sandhya leaves for a Tapasya without informing Surya. She leaves behind her shadow Chaya. Chaya is her clone who looks after Sandhya's children. Sandhya comes back and gets to know Chaya giving birth to another son Shani. Sandhya gets too raging seeing her clone cheating her. Chaya is the shadow and thus can beat Surya's heat. She is a caring mother to Yama, Yami and Shani. Chaya has a bigger heart than Sandhya. Chaya spends her life taking care of children. She protects Shani from Surya's wrath and Inder's greed.
Cast:
Kartikey Malviya as Shani
Salil Ankola as Surya
Juhi Parmar as Sandhya/Chhaya
Diwakar Pundir as Vishnu
Tarun Khanna as Shiva
Kunal Bakshi as Indra
Tinu Verma as Shukracharya
Gufi Paintal as Vishwakarma
Story So Far: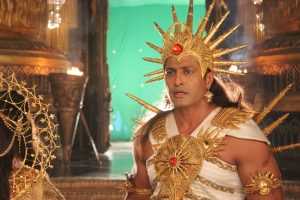 The introduction scene brings the fight of the Asurs and the Devtas. The asurs are adamant to get their rights on the Swarglok. Their fight is never-ending and going on since ages. Surya Dev and his wife Devi Sandhya are seen. Sandhya is with her children Yama and Yami. Yama is the giver of death, while Yami signifies a calm flowing river. Surya calls Sandhya to do his abhishek tilak. While Sandhya does the tilak, her hand burns by his heat, which gets unbearable for him. He asks her to bear the heat as she is none other than Surya Dev's wife. She asks him can't he lower his heat for his wife. He tells her that he gives light to the entire world and can't tone down his heat for a single person. When the Asurs go to kill Indradev, Suryadev reaches there and kills many Asurs by his heat. Surya joins Indra in the war.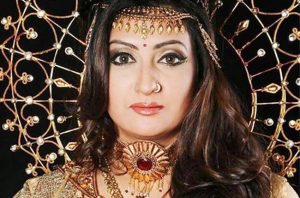 Sandhya decides to fight her own war. She meets her father Vishwakarma. She asks him for some solution to solve her problem. He tells her the solution to go away from family and do a strict tapasya. Sandhya determines to do a tapasya and gain great strength to bear his heat. He shows her the potion which can create anyone's shadow, and asks her to stay as shadow to bear Surya's heat. The Asur fight goes on. Mahadev appears there. Asurs ask him about their rights on the heavens and ask for justice.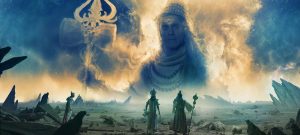 Mahadev tells them about someone's birth, the man who will do justice with everyone based on their deeds, Shani. The war gets over. Sandhya makes up her mind to create her shadow. She creates Chaya. Surya meets Chaya and assumes her to be Sandhya. He is glad that she can bear his heat now. Sandhya looks at them. Sandhya gives all instructions to Chaya and asks her to maintain distance from her husband Surya. She meets her children and cries. Sandhya leaves for Tapasya. Brahmadev, Vishnu and Mahadev together create a power Shani and destine him to take birth in Surya's house. Chaya stays away from Surya.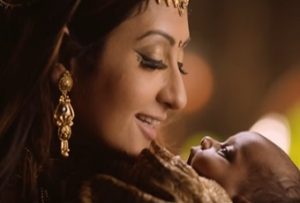 Surya reminds her duties towards her husband and asks her not to be rude towards him when she can now bear his heat. Soon, there are huge celebrations seen in the house by the birth of Chaya and Surya's son. Surya gets much disappointed seeing his son, who is completely opposite to him. Surya tells Chaya that this boy can't be his child, and asks her to leave from the palace. Tears roll down Chaya's cheeks as Surya humiliates her. The tear falls on Shani's leg. Shani gets angry and does justice with his mother, by bringing an eclipse on Surya. Surya loses his brightness and turns dark. He gets frozen.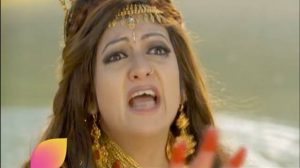 Chaya covers up Shani and the eclipse gets away. Surya screams in pain. He is sure that Shani is not his son as a son can never hurt his father. Chaya swears its Surya's son. Surya abandons his son formally. Surya curses Shani to die when any sun ray falls on him. He asks Chaya to take her son away and find such place where sun rays do not reach. Chaya leaves from the palace. Chaya runs to the edge of the cliff and jumps down when the sun is about to rise. Surya made a jungle, Suryalok where his sunrays can't reach. Surya's energies get less and Indra marks this observation. Vishwakarma comes to meet them and tells of the new weapon he made, which is much more powerful than ever.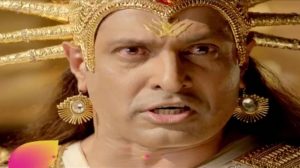 Chaya cries by recalling Surya abandoning her son. Shani gets angry seeing his mother crying and earth begins to shake. Chaya understands its her son's anger and calms him down showing her good luck and happiness to get such a loving son. Vishwakarma tells Indra that the one who will lift the weapon is born. Mahadev, Brahmadev and Vishnu do the Naamkaran of Shani. The name Shanay reaches the earth from the skies. Chaya names her son Shani. The weapon flies in the air. Vishwakarma is sure the owner of the weapon is close, the one who will only do justice and not see any relations.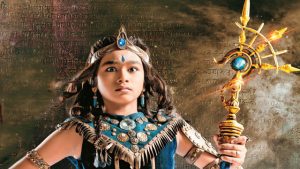 Indra fails to lift the weapon and gets curious to know who is that supreme power. Chaya thinks of Sandhya's words. She was leaving Shani, but stops. She does not leave Shani alone and protects him from Surya's anger. She goes to meet Surya to convince him for accepting Shani. Surya declines and asks her to fulfill her duties towards other two children Yama and Yami. Chaya showers love on Yama and Yami. She asks Surya if she can get Shani here. He refuses and asks her to balance her motherly duties. He asks her to not let Shani's shadow get close to his children. Indra wants to control the new power sent by Mahadev, while Shakracharya wants to know of the power to speak out the injustice and pain they went through. No one could find about Shani.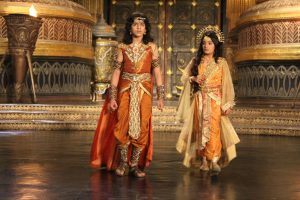 Chaya succeeds in taking care of Shani, Yama and Yami. Ten years pass, and young Shani is seen. Shani stops two men from cutting a tree which is home to several birds. Shani warns them to come on right path, else he would bring them on right path. Shani injures a man and then heals his wound, for making them understand what he can do. The men apologize and run away. Shani follows the man and makes him leave his evil thought by intention, not by his fear. Shani holds the guy's hand when he was falling down the edge of the cliff, and sunray falls on Shani's hand. His hand burns by the sunray.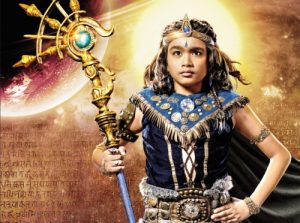 Surya also feels this and gets angry. Yama and Yami bond with Surya. Yami hiding in water form comes out of the pot. Surya asks her not to hear elders' conversation by hiding. Surya tells Chaya that Shani came between his way today. Chaya asks whether Surya burnt him. Surya says Shani chose this path himself and one who plays with fire will burn. Chaya worries for Shani. Chaya lies to Yama, Yami and Shani about prayers and balances her time with them. She rushes to meet Shani. Chaya takes care of Shani. Shani wonders why Surya burnt his hand, when Surya gives life to everyone. Chaya thinks how to tell Shani that she is Sandhya's shadow and his father Surya hates him. Chaya asks Shani not to ask troubling questions.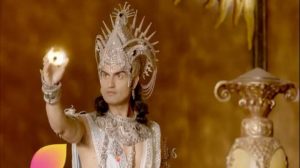 Shani reminds all the unanswered valid questions he has, but he never asked her. Chaya tells him that will get all answers on right time, as per his name Shani. She gives him a stone and asks him to hold stone by closing eyes, whenever he feels lonely, he will have his mother by his side. Indra gets Shani's news by the men. Indra gets happy to know of Shani's location. Indra decides to meet Surya. Shukracharya also gets Shani's news. He thinks to meet Shani and tell their problems, before Indra reaches him. Asur comes in Suryalok and earth shakes by the giant foot steps. Shani wakes up and goes to see. He sees the Asur catching birds to eat. The bird turns to human form and shouts for help. Shani comes to his rescue. The boy turns to bird and flies away. Asur follows the bird. Shani is after them to rescue the bird and steps outside Surya lok. Chaya is worried and shouts for Shani. Shani fights with the Asur, while Chaya looks for Shani.
Our Take: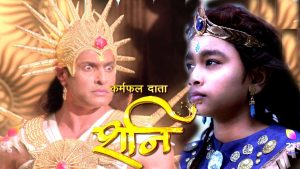 The life journey of Shani was never seen before on Indian Television. The concept is very much fresh. It brings the charm in the dramatically loud concept by the amazing performances by the cast. Sahil Ankola matches up very well as the egoistic and angered Surya Dev. Juhi Parmar pulled off both her characters of Sandhya and Chaya with grace and perfection. Kartikey Malviya is superb as the young Shani, with powerful dialect. Gufi Paintal as Vishwakarma is a delight to watch. The supporting cast is effective.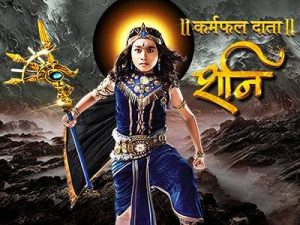 The concept of Lord Shani is entertaining and brings out many unknown facts of the dreadful Lord. The visuals are outstanding as in any sci-fi movie. Much efforts are seen in the eye delighting sets and scenes. Locales are beautiful. Every scene brings drama, along with attracting visuals. The flow of the story never broke. The fights between the Asurs and Devtas marked the beginning of the show, and set standards of expectations from the viewers. The detailing on Asur's characters, costumes and Asur lok, along with the characters defined in Swarglok is really pleasing.
Overall: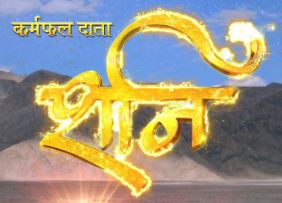 Stunning visuals, strong performances, high drama dose and insight on Lord Shani makes the show very much watchable. One who like mythology shows will love this one. A fair attempt by Colors.
Our Rating:
4 out of 5
Feel free to post your reviews in comments below. All off-topic comments will be deleted.