Hii…. I'm back with next part of my story…. 
let's start….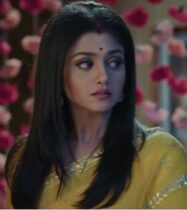 Kavya saw aarush crying and consoles him…
Kavya: Don't cry baby… See.. Mumma is here…
Kabir saw dhruv looking at kavya…
Kabir: You must be thinking who's she…
Dhruv hides his tears… And says… Hmm…
Kabir: She's kavya my.. I mean pooja's friend….
Dhruv: and who's this kid?…
Kabir: He's aarush… Kavya's child…
Dhruv leaves from there without saying anything…
Kabir: Bhaii… Listen…
Dhruv leaves saying: I have a important meeting today so i have to do some paperwork… I'll had breakfast in my room…
Kabir: But bhaii….
Kabir thinks: What happened to him suddenly?…
Kabir saw aarush and kavya and go near them…
Kabir: Hey champ!… What happened?… Why is my hero looking sad…
Aarush points towards his knees: It's hurting…
Kabir: You're my champion right…Now come here… We'll have breakfast together…
Kavya smiles….
Suman: Kabir…
Kabir: Coming mom…
They had breakfast together….
Pooja is sitting in her room looking at a photo…
Kabir who was passing by her room… See her crying and stops there…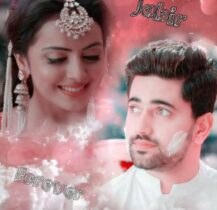 Pooja: This photo….
Tears fell on the photo…
Pooja: Why god?.. Why you made my destiny like this?… I always loves him… And I'll always love him…. Remember….. That was the most beautiful moment of my life… I can spend my whole life with that beautiful moment…
Kabir: Main bhi…
Pooja: You here?…
Kabir: Humare mohabbat bhi sahi thi… Chahate bhi sahi thi… Frr bhi na mil sakey… Shayad kismat yhi thi…
Pooja: kuch khudgarz hum bhi hua tha…Humne bhi toh inn mohabbat ke rahon ko moda tha…iss adhuri daastan mein….Khata toh humari bhi thi…. Humne he toh sab kismat pe choda tha…
Pooja breaks down in tears…
Kabir; Pooja… Pooja plz… Don't cry… I'm sorry plz forgive me…
Pooja hugs kabir…
Pooja: In these years there was not even a second when i didn't think about you….
Kabir: maine bhi…
Pooja: I can't bare this pain anymore…
Kabir: Main bhi…
Pooja: Kabirr…
Kabir: You know pooja this all happens because of my mistake…. Ayaz always said to me that one day I'll surely regret… And i spend these years dying… I craved for seeing you but i can't because it was me who apart our ways… I was wrong… You're my life pooja… I can't live without you…
Pooja: main bhi…
They both smiles while embracing each other… Kavya who was passing by smile seeing them….
Kavya: Jo raahein bhatak gyyi thi apni manzilon ka raasta wo aake phir milli kahi… Manna thodi derr se he sahi pr ekk adhuri daastan toh puri hui…
She leaves from there…
Aarush is playing in hall… Kabir comes from outside… Aarush go towards him… Calling Papa…
Suman who is in kitchen listen this and utensils fell from her hand…
Kabir rushes towards kitchen….aarush also follow him…
Kabir: Maa what happened?… Are you alright?…
Suman: Why he is calling you papa?…
Kabir didn't reply…
Suman: Tell me kabir…
Aarush: Papa ko toh Papa he kehte hain…..
Suman: What?…
Suman fells on floor unconscious…
Kabir : Maaa….
Kabir takes her to room…..Pooja calls doctor…
Doctor after checking suman…
Doctor: What she was doing before being unconscious?…. Did she get any sort of shock?…
Kabir: Why are you asking this?.. Maa is alright na??
Doctor: Actually mr. Kabir… Her health is not well… And as you know she is a already a heart patient..
Kabir Intterupts: Heart patient?…
Doctor: So you don't know…. I already tells mr. Dhruv about her condition?… I also tells him specially to look after her health… And sort of shock can harm her condition….
Kabir: Ok.. Doctor… We'll take care of maa…
Doctor leaves…
Kabir: Where is kavya?..
Pooja: She is with aarush… He's scared…
Dhruv comes there running…
Dhruv: Maaa… Kabir what happened to maa?…. How is she?… What doctor said?… Kabir?.. Say something?….
Pooja: Calm down dhruv… Sit here… And drink some water…
Kabir: Bhai why didn't you tell me?….
Dhruv: What Kabir?…
Kabir: You didn't tell me that in my absence maa becomes ill?… She is a heart patient?.. And you doesn't feel like that it's important for me to know?… How this all happens?…
Dhruv: Kaise btata kabir?… No one was aware about your location?… Even you changed your number also?…. I asked all your friends about you… But….
Kabir: How this happens?…
Dhruv: Maa was very stressed… After you leave she starts feeling lonely… She has only pooja with her….. But after some time she also leaves… And maa got to know that you both sacrifices your love for me…She breaks down…. She was not having enough courage to see her both child sad and hurt… And after pooja leaves i also made myself busy in my work …i usually start come home late….So maa becomes completely alone and lonely… And one day when i came home i saw her lying unconscious in her room… I took her to the hospital… There doctor tell that she had a minor heart attack… But her condition can be worsen if she get any sort of shock….he specially tells me to keep her happy…
Kabir crys: This all is my mistake… I never becomes a good son, a good brother, and a good lover…. I becomes so selfish… For going away from my pain i left my mom alone… I'm the worst son ever…
Pooja: It's my mistake also… It was my decision to go from there…. How i becomes so selfish?… Suman maa always treated me as her own daughter and today because of me she is in this condition….
Suman in weak voice: Kabir… Pooja….
Kabir pooja go near her…
Suman: It's not your mistake my children… It's my destiny… And kabir don't be so happy… I'm not gonna die before seeing your and dhruv's kids…
Kabir and dhruv: Maaa….
Suman smiles….
Dhruv's phone rang…
Dhruv cuts the call…
His phone rings again and again….
Suman: Dhruv… Receive the call…
Dhruv: No mom… It's my manager… Actually i left a meeting in between… Now you're more important..ignore it….
Suman: Dhruv… I'm ok now… Go.. Attend this call…
Dhruv: But maa…
Suman: Dhruv…
Dhruv leaves from there…
She saw kavya outside the room… He looks at kavya with teary eyes…
Kabir: Kavya… He's my brother… Dhruv…
Kavya: Hii… I'm kavya…
Dhruv leaves from there without saying anything….
Kabir: I don't know what's wrong with him nowadays….
Kavya: How r u now aunty?….
Suman: I'm alright…. How is aarush?…
Kavya: Just a bit scared… He saw you felling unconscious….
Aarush cames to kabir…..
Aarush: Papa… What happened to aunty?…
Kabir: Nothing… She just fainted… See… She is completely fine….
Suman: Kabir… Why is he calling you papa?….
Aarush: I tell you before also… Papa ko toh papa he kehte hain….
Suman: Papa?… Kabir I'm asking something….
Kabir: Maa.. Wo ..
Suman: He's your child?… Is he your child kabir?…say something?…is kavya your wife?….. No… Nhi… Yeh nhi ho skta… You'll marry pooja only… No… You can't leave pooja again….
She again fainted…
Pooja: oh… No… Now what we will say to maa….
Kavya: I'll leave from there…. I can't hurt your family kabir….
Kabir: Acha.. Where will you go kavya?…
Kavya: I don't know… Just far away from your happiness. . . . You did a lot for me… I don't want to be a burden on you….
Kabir holds her from arms…
Kabir: Burden?… You considered yourself as a burden on me…. Listen carefully… You're not any burdan… You're my friend… My responsibility… I promised vyom that I'll take care of you… Sooo… You're not going anywhere… And if leaves then we'll leave together….
Kavya hugs kabir…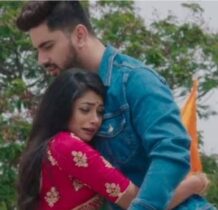 Kabir: Don't cry… I'm always there….
Pooja who was stand besides them… Feels hurt unknowingly…. And leaves from there without saying anything….
Hope you guys like it…. I added some shayri's also in this part… I mean something like shayri…. Tell your views in comment… And also tell… I'll add more shayri's or not… Or do you like them?… Bye… ❤…