Hii…. I'm back with next part of my story… 
let's start…. 
Flashback
Pooja is sitting in her rooms corner and crying bitterly….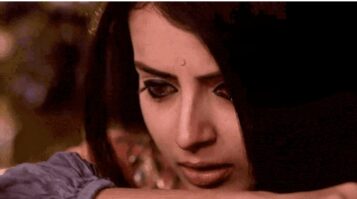 Kavya: He still loves you..
Pooja looks at her confusingly…
Kavya: Yes… Pooja he still loves you…
Pooja: It doesn't matter… He moved on in his life and…
Kavya: You're misunderstanding….
Pooja: There's nothing to understand… I know from before that he must have been moved on in his life but doesn't know why?… I'm..
Kavya Intterupts: Because you still loves him… Pooja… You misunderstanding…. I and kabir are not couple… And aarush is not kabir's son…
Pooja looks at her confusingly…
Kavya: Actually i meet kabir in bhopal…. In very less time kabir becomes our best friend…
Pooja: our?…
Tears fell from kavya's eye…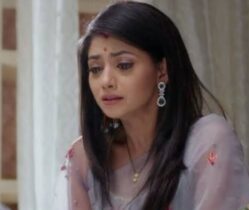 Kavya: Vyom… He was my boyfriend… He was a police officer…. He and kabir becomes best friends in very less time….they're close more than real brothers….. I and vyom wants to marry but our families were against us… So kabir helps us in eloping from house…. And he does all arrangements for our wedding…. He doesn't let us feel like our family is not with us… He was always there whenever we need him…i and vyom were having a very beautiful life…. And one day… My world shattered… That was the happiest and the saddest day of my life… That day i lost the reason of living and also had a new reason of living…. That day i lost my vyom…and that day i got to know that I'm Pregnant…. I didn't go back to my family… Because i knows that they'll never accept my child and force me to marry again…. I was all alone… Crying on my fate…. That day kabir supports me as a True friend…… He never let me feel alone… He helps me in bringing my aayush in this world… In fact he never let aayush feel the absence of his father… Kabir does a lot for me…. He always listen to my problems… But he never tells me that how lonely he was… Today when i read his diary… I got to know how much pain is buried inside his heart…. Believe me pooja he still loves you… He's living just to see you happy… Plz… Pooja… Give one more chance to this love… Don't hurt yourselves…. There he's living like a death body and here you're just taking breathes but not living…. You both are incomplete without each other…. Why you both are sacrificing your lifes … Plz… Complete each other…. I know you both still loves each other….
Yeh jinn dard ke rasto pr chl rhe hoon… Bss aab inhe chod do…. Jinke manzila ek hain ab unke raahon ko bhi jod do… Plzz….
Tears fell from kavya's eye…
Pooja: But kavya….
Kavya: Pooja you're coming tomorrow…
Flashback ends
Pooja: kavya… I came here just because of you… I managed today… But how you'll handle suman maa…
Kavya: I don't know….
Door bell rings…
Suman: It must be dhruv… He'll be very happy seeing you and pooja here…
Kabir: Wait… I'll open door….
Kabir opens door…
Dhruv: Kabir…
Dhruv hugs him….
Dhruv: I really missed you…
Kabir: I also missed you bhai…
Aarush calls kavya so she leaves from there…
Dhruv sees pooja…
Dhruv: Pooja… Am i dreaming?…
Pooja smiles: No….
Dhruv hugs pooja…
Dhruv: How r u?…. You know how worried i was for you?… I tried my level best to find you?…
Kabir interrupts: Wahh bhai.. Wahh….you don't love me?… You doesn't even ask how i am?… Badalte rishta….
Dhruv: I was wondering that why you didn't start your dramebaazi yet?…
Kabir: But bhai…
Dhruv: where i was?… How r u pooja?…
Pooja: I'm good… I really missed you all….
Kabir: Bhaiii…
Dhruv laughs…
Dhruv: Aree my brother… A lot of things happens in your absence… Come I'll tell you….
They leaves…
Suman: After so many years… I saw my sons happy….i just wish they always stay smiling….
Pooja smiles and leaves from there…
Next day…. Morning….
Aarush is playing in hall and he strikes with table and his knee got hurt… He starts crying while calling kavya…
Dhrun was talking on phone… He listen aarush crying and came out of his room…
 He say a girl running down from stairs …. Phone fells from his hand…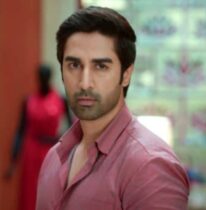 Tears fell from his eyes…
Dhruv: K… Ka…. Kav… Kavya… Here..
Hope you guys like it… Tell your views in comment… Bye… ❤…