Here is a new FF on Saath nibhana sathiya 2 for Vaishnavi .
The c.s is.as follow –
Their a difference from the track . That baa and bapuji have died in accident .
C.s
Anant Desai -business man , Rude behaviour after parents death ,Kind hearted
Gehna – An orphan from poor family , struggling to study
Kanak – From a rich Family , doesn't like gehna as she is poor
Tia- Best friend of gehna ,helps and encourage Gehna
Radhika- Loves Anant and Anant treat her as Friends
And an extra vamp character – Riya – want Anant s property , best friend of Kanak desai
This is a small FF .I am sry as I haven't seen this serial ,but I will try my best to make you happy. If you want I will definitely add character .
As this was a small part so I thought I will publish episode 1 together with this .
Episode 1
Morning ☀️
Gehna – Good morning . Now I should get ready as I am going to find job.
Anant – I miss you .why you lived me ?
Anant s PA s PA- Sir today 1 girl is coming for interview today.
Anant -OK I will go in my normal way.
Gehna-God help me for passing interview.
At Market
Gehna is walking and hits Anant .
Anant – can't you see ?
Gehna- You cannot see .you hitted me .
Anant- I can see
Like this argument continues and Radhika comes and say
Radhika – Anant , why are you taking stress .come that girl is waiting for interview.
After sometime ,
At office ,
Anant – Come in for interview.
Gehna comes wearing black dress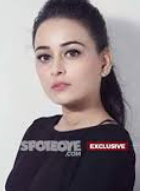 Anant see at her and then suddenly
Gehna- you
Anant – You
Anant – Call any employer and tell him to take interview .I don't want to take.
Gehna in mind – Oh no ,this guy again , first pushed me and now doing overacting . Uhh … I think I should live but for college I need money .I think I need to have patience .
After interview ,
Precap: Gehna is …………, KANAK and Riya entry
Hope you like it.
Bye