Short recap – After breakfast , Singhania plans to lunch and meet all Goenka (they only meet Akhilesh and Surekha ) Kartik is sad ,but eager to meet naira , Maheshwari will come too with Kartik except Badi dadi , Omkarnath ,his wife (Don't know name) ,anshu ,jas and vishambhar nath and shaurya . So from Maheshwari Family only Rajshri kuhu and Nishant would be there.
---
Naira comes down wearing a cute gown.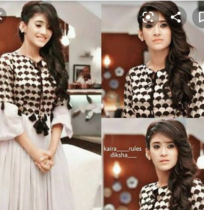 All together compliment Naira .
After 5 min , Maheshwari Family came with Kartik .
Rajshri – Radhe Krishna
Singhania- Radhe Krishna
Our jai was staring at veeru  and in mind said haaye.
Goenka entry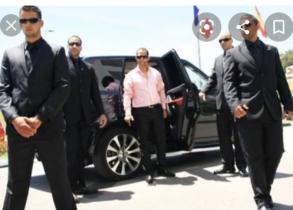 The man in center is Goenka s. Singhania s were shocked 😲 to see.thia. Kartik was angry 💢 and sad in mind.
All entered in house and  suhashini dadi quietly said to Suwarna – how Kittu has chosed the girl ,they can't match our standard , Don't let Kittu know this . Suwarna -ji majji
First Singhania and then Goenka in unison Radhe Krishna .
Naira was watching from terrace and smilling at Kartik.
All were seated at sofa .
As we all know dadi doesn't like naira at first  ,it is same in story .
Nobody spoke a word ,it was silence 🤐.
Then the kids luv kush ,nannu ,kuhu came and tell we are hungry .
On the lunch table,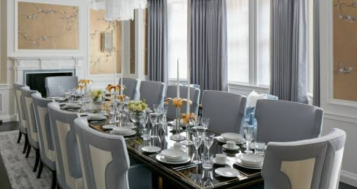 Everything was decorated . Rajshri dadi started to give kachoris to all .
Dadi – eeu .so much oily . I am sorry but we just eat organic food which come from Italy and our water from Vegas .
Singhania feel bad.
Kartik- Dadi ,but I love this kachoris hmm.. 😋 yummmy
Next luv kush -Wow hume aur chaiye .
While lunch there was a small talk of business (there's a twist )
Manish G – Naitik ji where do you work ?
Naitik was about to tell but ,then Akhilesh says – Our  meeting with Singhania Diamond 💎 has been postponed .
Naitik – I am the owner of Singhania Diamond 💎 but due to my heart attack ,I couldn't focus.
Dadi s and Goenka men except Kartik were shocked 😲 . Their mouth was funny . After talking about business  and lunch ,Naira enters with gayu .
She was looking like a doll in the image.
She touches feet and sit on sofa
.Kartik ask -dadi whether Kirti will come or not.
Dadi – Excuse me , she is coming but not damadji as they are having work.
ON A ROAD
Naksh  Coming to his car happily Hits Kirti who was looking for cab . Her purse 👛 fall down and both knee down to pick up and share a eyelock.
Naksh- Umm. Sorry
Kirti – It's ok .
Kirti- uh excuse me ,u know where is Singhania sadan .
Naksh – Well I live their . That's my house.Are you Kartik sister ?
Kirti -Yes
Naksh -Come I will drop you .
Kirti – Thankyou.
Both sit in the car and naksh on the radio ,A speech on love plays .
In the house 🏡,
Suwarna- Your daughter is so beautiful I like her and put black dot near her eye.
Kartik get's angry and is about to say something just then Kriti and naskh enter .
Goenka s are shocked to see them together.
After meeting all ,
Dadi whisper to Kirti – Why you came with him ,you could book a cab ?
Kirti was about to say something but just then , akshara speaks
Akshara- I am sry to interfere but duggu told me everything and narrates the incidents .
After every talk  blah.blah.blah…
Episode Ends
Precap – Goenka- We have decided  that naira will become …….
Here is the 1 episode .I haven't made interesting  as I was bored 😜  .Hope you all like this .